NBA Rumors: Latest on Kobe Bryant, LeBron James, Carmelo Anthony & More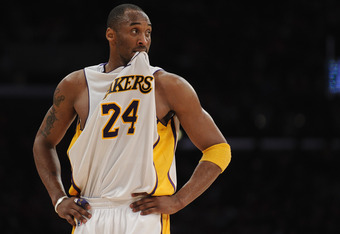 Harry How/Getty Images
Kobe Bryant and the Los Angeles Lakers have a monster game tonight against the Dallas Mavericks, one that will help determine playoff seeding. But is it the San Antonio Spurs that the two-time defending champions have their sights set on?
As the Spurs continue to struggle under the weight of injuries and the grind of the regular season, the Lakers are coming on strong. Now it's a race to the finish to see who can finish with the top seed in the Western Conference and home court advantage.
While the Lakers are charging, LeBron James and the Miami Heat are still jockeying for playoff position in the East. The Heat have major flaws, but are they too much, and will the Heat come crashing down come playoff time? What about Carmelo Anthony and the Knicks, who have been nothing short of disappointing since the team pulled the trigger on the deal that brought Anthony to the Big Apple?
We'll be talking about all of these storylines and so much more as we go around the NBA. As always, if you have any thoughts, leave them in the comments below.
Ronald Martinez/Getty Images
LA Lakers are the Two-Time Defending Champions, But Why Do They Want to Avoid Portland and Memphis in the Playoffs?
The Los Angeles Lakers have been one of the best teams in basketball for the better part of the past four years, however, even the best squads evidently have opponents they don't want to see in the postseason.
According to Mark Medina of the Los Angeles Times, four players of the team expressed concern about two teams that could face the Lakers in the postseason.
"Based on the four players who were willing to trade their honesty in exchange for anonymity, three of them equally expressed concern about Portland and Memphis, while one other believed the Grizzlies would be the toughest opponent," Medina writes. "Meanwhile, Lakers executive Magic Johnson spoke pretty frankly before the Lakers' 102-84 victory Sunday over New Orleans about which potential first-round opponent would give the Lakers the most trouble: Portland, because of the "hate factor," he said.
"They don't like us and we don't like them," Johnson said Sunday, walking in a corridor underneath Staples Center. "That would be a very physical and tough series, even though we would win and we're better overall. But they really know how to play us; they're well-coached and they're tenacious." "
Portland is such a sneaky team in the Western Conference, and no one is talking about the Blazers. This is a team that has a ton of talent, featuring LaMarcus Aldridge, Gerald Wallace, Andre Miller, Wes Matthews, and if this group can get anything of value from Brandon Roy, this is a deep unit that can beat any team in the Western Conference.
While people are focusing on teams like Oklahoma City and Denver as teams that can make noise in the postseason, but the Blazers are the team I'm focused on. Aldridge has played amazing basketball this year, and if Marcus Camby can stay healthy and continue to be a defensive presence on the interior, there's no reason the Blazers can't make a deep run and maybe pull a couple of upsets along the way.
One thing is for certain though, it's going to be a fun time watching the Western Conference playoffs and it's becoming more and more clear that no one is safe from elimination.
This article is
What is the duplicate article?
Why is this article offensive?
Where is this article plagiarized from?
Why is this article poorly edited?
Gregory Shamus/Getty Images
Detroit Pistons Are Up For Sale, But As Negotiations Drag On, Karen Davidson Has Become Frustrated
The Detroit Pistons have been up for sale for a long, long time. However, there has not been a deal, as Tom Gores continues to negotiate with Karen Davidson on a price for the team.
Gores has requested more information, and according to Gregg Krupa and Vincent Goodwill of the Detroit News, Davidson is not happy with how things have gone.
"One source close to Davidson last week said the process is so utterly problematic, she feels as though she has lost control of it," the report says. "Her concern, in part, is that while Gores continually requires more information, too few details of an agreement are in place, despite more than two months of exclusive negotiations.
"While the NBA is looking for a purchase price that reflects its valuation of the franchise, $420 million, the negotiations have yet to yield a path to that price or one more agreeable to Gores.
"Much remains in play, sources say, including whether Davidson and Bill Davidson's children will retain a portion of the franchise or are paid significant revenue from the entertainment properties, including the DTE Energy Music Theater."
This year, mainly because of the uncertain money situation and partly because of incompetence on the part of general manager Joe Dumars, the team has not made a single roster move this season. It's no wonder the Pistons are a walking trainwreck on a nightly basis. This team has a coach that has no idea what he's doing, a general manager who has sat back and let it happen, and an owner who can't sell the team, handcuffing the moves the Pistons can make.
This is a franchise that needs a full shakeup, and the sooner Davidson can sell the team, the better, because this saga has taken way too long and at some point, you have to come to a deal. If not, this team that her father cherished is going to continue to waste away in mediocrity.
Every Piston fan needs to pray for a quick solution to this sale, because the longer it takes, the chances of productive changes in the offseason go down the drain.
This article is
What is the duplicate article?
Why is this article offensive?
Where is this article plagiarized from?
Why is this article poorly edited?
Ethan Miller/Getty Images
Dominique Wilkins Was Attacked By A Former Referee, But What Should Happen To His Attacker?
Dominique Wilkins, arguably the most iconic player in the history of the Atlanta Hawks, was attacked yesterday by Rashan Michel, a former referee who has worked NBA and college games.
According to Sekou Smith of NBA.com, Wilkins caught his attacker with three solid punches while the star was relatively unharmed. While you have to commend Wilkins on being able to rock Michel like that after being ambushed, it's time to focus on what should happen to his attacker.
Michel, was arrested and charged with one count of simple battery according to the Atlanta Journal-Constitution. Eventually, he posted $1000 bond and was released from jail. If I'm the one sentencing this guy, he has to get some jail time, a fine and a decent chunk of community service. While I'm sure the penalty will be much less severe, nothing will be worse than the humiliation of getting rocked by Wilkins after trying to jump him.
If I'm his friend, I would never, ever let him forget that Wilkins puffed his eye up like a balloon with three quick shots to the face. That is just embarrassing, especially when you consider that Michel was the one initiating the attack.
What a shame, but he deserved everything he got, especially when the fight started because of money Wilkins allegedly owed for suits he got from Michel. If you're a grown man, and you can't solve your issues like a responsible adult, then you deserve to get the most strict punishment possible. Fighting never solved anything. It makes you look foolish, especially when you try to assault someone and end up getting the crap kicked out of you.
I commend Wilkins for defending himself and Michel should be ashamed of himself for his actions. Sometimes, people never grow up. Michel looks like one of those people after this news.
This article is
What is the duplicate article?
Why is this article offensive?
Where is this article plagiarized from?
Why is this article poorly edited?
Nick Laham/Getty Images
Isiah Thomas Continues To Live In Denial, Takes Shots A Multiple NBA Legends.
If you haven't read Bill Reiter's profile of Isiah Thomas, you're missing out, and it contains some fascinating information about the star player and failed executive.
During the course of his interview with Thomas, the topic of Michael Jordan, Larry Bird and Magic Johnson comes up and how Thomas is looked at compared to those legends. After that, the former Knicks executive and coach goes off.
"I have no problem saying this at all," Thomas said to Reiter. "They're all 6-(feet)-9 and Jordan was 6-6 and a half. If they were all 6-1, it wouldn't even be a question. They wouldn't even f---ing rate. If they were all my size, s---, they wouldn't even be talked about.
"I beat the s--- out of them when they were that big. If we were all the same size, f---." He stops to laugh good-naturedly. "Make them 6-1 and let's go on the court."
Seriously Isiah? No, seriously? As if it wasn't bad enough that he thinks he has some pull in the offices of the New York Knicks, he's talking in hypothetical situations that are outlandish at best. Who cares how short you were and how big those legends were?
No one underrates Allen Iverson because of his stature, in fact, he's praised for how much he achieved in the NBA despite his smaller size. Thomas has two championship rings, yet he can't stop talking about the legends of this game, essentially tearing them down only to inflate his massive ego.
For someone who has been nothing short of a failure in most of his dealings since his retirement, he thinks awful highly of himself. Thomas was one of the greatest players of his era, yet he's obsessed with the players he shared the spotlight with. It reeks of desperation to stay relevant, of Thomas trying to boost his stature after his horrible tenure with the Knicks.
Thomas will continue to ramble on and make himself look foolish as these legends are continued to be revered. Meanwhile, people will shake their heads at Thomas' foolishness and desperation make him a laughingstock.
This article is
What is the duplicate article?
Why is this article offensive?
Where is this article plagiarized from?
Why is this article poorly edited?
Ethan Miller/Getty Images
Dominique Wilkins Got Into A Physical Altercation With A Former Referee, But What Caused This Fight?
In one of the stranger stories in recent memory, after last night's game between the Atlanta Hawks and the Orlando Magic, Dominique Wilkins, one of, if not the most iconic player to ever put on a Hawks uniform, was attacked by Rashan Michel, a former referee who has worked NBA and college games.
"He said he was approaching Dominique because Dominique owed him about $13,000 and wasn't paying for the suits, but the security guard grabbed him and after that Dominique punched him first, and he responded," Frank Ski, a radio host that interviewed Michel said to the Atlanta Journal-Constitution.
Too bad that Michel's attack went over like a lead balloon, the report from Sekou Smith of NBA.com says that Wilkins landed three solid punches to Michel, giving him the huge swollen eye you see in his mugshot. You know, if you're going to try and jump someone, you might be better served if you can actually beat up the guy you're attacking. Not only do you look insane for trying to attack him, you look even more foolish for getting your clock cleaned in front of a crowd of people.
The better question is, even if you did have a beef with him, why would you try to attack a man that is about 6'7, 200 pounds? That's just asking to get the crap kicked out of you and this isn't going to end well for Michel. The whole thing sounds like something straight out of the WWE.
Somehow I doubt he's getting the money for those suits. In fact, we should be asking the question of why Wilkins would not pay someone for suits. It's not like he's exactly strapped for cash. The whole thing sounds fishy to me and I wouldn't be shocked if there wasn't more between these men than what we know now.
He may want to get a measurement for a prison uniform though, because that's where he's headed.
This article is
What is the duplicate article?
Why is this article offensive?
Where is this article plagiarized from?
Why is this article poorly edited?
Miami Heat Beat the Washington Wizards As LeBron James Threw It Down Over His Defender
Last night, LeBron James put another player on a poster, this time it was Othyus Jeffers of the Washington Wizards.
When Miami gets out in transition, it's a deadly team to try and defend, as few players, if any, can run a fast break quite like LeBron James. The two-time MVP knocked the ball free and when he gets out in transition, there's no stopping him. Sure, he got away with an elbow to the back of a Wizards player, but I've seen worse non-calls in my life, but he took the ball from Eddie House and just rose up over Jeffers and slammed it in his grill.
Here's a word of advice for Jeffers the next time he finds himself in that situation. While it may be admirable to stand in there and get hit by the equivalent of a moving car, just get out of the way and let the man throw it down. You know that in the Washington locker room today, his teammates are showing him that all day long, reminding him of how LeBron did him dirty on SportsCenter's Top 10.
The fast break is going to be key to Miami's success in the postseason. It's as simple as that The Heat struggle in the halfcourt sets, and this team, with James and Dwyane Wade, is built to get out and run. That's going to be tough against teams like Boston and Chicago, squads that can play defense and get back quickly out of a missed shot.
If Miami can do that on a consistent basis, then the Heat are going to be a tough out for any team in the Eastern Conference. However, if the Heat cannot run and tap that immense advantage, then this team won't go deep into the playoffs. Keep your eye on the transition game, because if Miami is running, then there is no reason this team can't play for a championship this summer.
This article is
What is the duplicate article?
Why is this article offensive?
Where is this article plagiarized from?
Why is this article poorly edited?
Streeter Lecka/Getty Images
LA Lakers Are Charging Towards the Top Spot in the Western Conference, But Can Kobe Bryant and Company Get Home-Court Advantage?
At the All-Star break, no one thought the Los Angeles Lakers would be in the hunt for the top spot in the Western Conference.
This was a team coming off of a humiliating loss to the Cleveland Cavaliers and looked like a group that was suffering from fatigue. However, Kobe Bryant said we'd see a different squad after the break, and boy have we ever.
The Lakers have only lost one game since the break, a loss to the Miami Heat, and have won 15 of 16. Meanwhile, San Antonio has started to crumble under the grind of the season and an injury to Tim Duncan.
Entering tonight, the Lakers are just 3.5 games back, but if you talk to Bryant, this isn't a team that's concerned with seeding and the standings down the stretch.
"It doesn't matter to us whether we catch them or not," Bryant said to the Los Angeles Times. "We try to win every game. If we catch them, so be it. If we don't, so be it."
I don't believe that for a second. Kobe Bryant is one of the most fierce competitors this sport has ever seen and you know he wants to not only catch the Spurs, but pass them and lock up home court advantage, not only to give his team the best chance to win another championship, but to stick it to everyone who wrote this team off earlier in the season.
Helping the Lakers out is the schedule for the Spurs down the stretch. San Antonio still has games against Atlanta, Boston, Houston, Phoenix and a matchup against the Lakers in mid-April. Without Duncan and all of those games against teams that are either in the playoffs or in the hunt, there is a huge window of opportunity and the Lakers are going to jump through it.
This is a team on fire, a squad playing its best basketball at the right time of the season and no one wants to see the Lakers in the postseason. They have more size than any other group in the league and Bryant is a postseason killer. As if that wasn't enough, this is Phil Jackson's last playoff run and you know that his players want to send him out on top.
Keep a keen eye on the Lakers as we near the postseason, but this looks like a team that's going to grab the top spot in the Western Conference before it's all said and done.
This article is
What is the duplicate article?
Why is this article offensive?
Where is this article plagiarized from?
Why is this article poorly edited?
Nick Laham/Getty Images
New York Knicks Landed Carmelo Anthony, But How Much Did Isiah Thomas Have To Do With It?
Isiah Thomas is back in the news after an excellent profile by Bill Reiter of FoxSports.com.
In the long piece, the topic of Carmelo Anthony comes up. As the Knicks were making a push to land the superstar forward, rumors circled around New York about Thomas' involvement based on his friendship with team owner James Dolan.
The rumors undermined Donnie Walsh in New York and when asked about his involvement, if any, Thomas was cagey with his response.
"I do have a lot of friends," Thomas said to Reiter. "And I am asked to advise in a lot of different scenarios. Players, coaches, and ... " A very long pause. "I won't comment on the Knicks situation, but I do like helping the Knicks, and I do want them to do well."
Look, Thomas may be in close with Dolan, but for him to make it seem like he has any sway whatsoever on what the Knicks do in terms of personnel is an insult to the current group in power and he should focus on how he can't coach Florida International's basketball team to a decent season and how he was run out of town for being absolutely terrible in terms of making roster moves.
The man has no sway over anything. If the rumors were true, Thomas was tapped to make a pitch to LeBron James to get him to come to New York. How'd that work out for the Knicks? That's right, the effort was a total failure, just like Isiah's entire tenure in the Big Apple.
No one wants to listen to a failed executive show them a vision for a franchise he helped destroy. In fact, the only reason this Knicks team is in the playoffs because Donnie Walsh was a miracle worker and managed the team the way you're supposed to.
Thomas is nothing more than an NBA pariah, a failed executive who nobody in the league would touch with a 10-foot pole. Yet he has these delusions of grandeur that he still has some sway with anyone more than a bumbling idiot of an owner who has mismanaged two professional franchises while holding on to dreams of being a rock star.
Both Thomas and Guitar Jimmy deserve each other, because both of them live in a constant state of denial.
This article is
What is the duplicate article?
Why is this article offensive?
Where is this article plagiarized from?
Why is this article poorly edited?
Noel Vasquez/Getty Images
New Jersey Nets and Jay-Z May Be In Hot Water After The Part-Owner Was Photographed Talking to Kentucky Basketball Players
Jay-Z may have very little to do with the New Jersey Nets in his role as part-owner, but he's still a very public face of the team and many believe he has a lot of sway in bringing high-profile players to the franchise.
While he's known more for his role as a rapper and a celebrity, he still has to obey the rules of the NBA, which makes his meeting with the Kentucky basketball team troubling. According to Ken Berger of CBSSports.com, Hov may find himself on the receiving end of David Stern's brand of justice.
"The hip-hop mogul's visit was documented in photos and video showing him congratulating players in the Kentucky locker room, which happened to have been occupied by two potential lottery picks -- Brandon Knight and Terrance Jones," Berger writes. "As noted here, this offense would seem to be comparable to Celtics GM Danny Ainge sitting with Kevin Durant's mother during the 2007 Big 12 tournament. Ainge was fined $30,000, a slap on the wrist in exchange for the opportunity to schmooze a top prospect's mom. But given that standard, Jay-Z should be docked $30K for each college player who was in the locker room."
While that may be chump change to someone like Jay-Z, Stern has to crack down on this. Sure, the rapper has nothing to do with the operations of the team, but he still can't be shaking hands with players that will certainly be going in the first round of the NBA Draft this summer. If I'm Mikhail Prokhorov, I'm sitting him down for a little tutorial on league rules, because I don't know what he was thinking when he decided to go talk to college basketball players, knowing he owns part of an NBA franchise.
Yes, the meeting was innocent, but you cannot have any gray areas with this type of thing. In fact, Stern would never allow one. This is his empire, you just happen to live in it if you're involved with the league. He runs the NBA with an iron fist and a notorious temper and zero hesitation to crack down on someone who steps out of line. The fine will come down on the rapper, and it's going to be a big one, because that's how the commissioner is.
I bet you the next time Jay-Z wants to talk to someone after a game, he'll think twice, because his wallet will be a little lighter in no time.
This article is
What is the duplicate article?
Why is this article offensive?
Where is this article plagiarized from?
Why is this article poorly edited?
Chris Trotman/Getty Images
Carmelo Anthony Was Huge As New York Downed New Jersey Last Night, But Are the Knicks His Team?
Last night was Carmelo Anthony's best game in a New York uniform.
Anthony, the object of the Knicks' desire for months, dropped 39 points in a 120-116 win over the New Jersey Nets last night. New York needed every point as Amar'e Stoudemire sat on the bench in foul trouble.
After the performance, Tim Smith of the New York Daily News made a bold proclamation.
"Anthony is now the leader of the Knicks," Smith writes. "He is The Man, and it didn't take a 128-foot billboard a few blocks from the Garden to tell us that. It took him putting together back-to-back 39-point, 10-rebound games during which he was spectacular at both ends of the court. All of this was done while a tired Amar'e Stoudemire was saddled with foul trouble and watched most of that third-quarter comeback from the Knicks' bench.
"It feels good, especially right now," Anthony said. "It's a good time that it's happening, must-win situations, games we really need coming down the stretch to get into the playoffs. It's almost the perfect time for me to get into a groove like this.""
I'm sorry, but no, Anthony is not, and should not be the leader of this team. Stoudemire is the one who embraced New York when no one would. He's the one who attacked the task of being a leader when people questioned his ability to do so. Furthermore, he's the one who put this team on his back for the early part of the season and kept the Knicks in playoff contention.
Stoudemire is tired because Mike D'Antoni ran him into the ground night after night in the early part of the season. Despite that fatigue on the court, he's the leader of this team on-and-off of it. Anthony isn't going to answer the tough questions, he doesn't rally his teammates the way Stoudemire has this season and he hasn't shown leadership abilities anywhere other than on the box score.
While Anthony may steal headlines by dropping point after point in big games, it's Stoudemire's team. It has been since he signed on the dotted line last summer, and no trade is ever going to change that. How did Anthony as the leader work out for the Denver Nuggets?
This is a team that will thrive if the pressure isn't on New York's new star to carry the burden on the court and off of it. Stoudemire will take heat off of Anthony and in the end, the Knicks will be better for it.
Let's not rush to crown Anthony the king of New York just yet.
This article is
What is the duplicate article?
Why is this article offensive?
Where is this article plagiarized from?
Why is this article poorly edited?
Rob Carr/Getty Images
LeBron James Says Derrick Rose Is The MVP, But Should The Crown Stay With King James?
LeBron James is the two-time reigning MVP, but yesterday, he said that Derrick Rose deserve the crown when it's time to vote for this year's award.
"What he's done for that team, with all the injuries they have and them being first in the Eastern Conference," James said according to Shandel Richardson of the South Florida Sun-Sentinel. "They're playing some really good basketball. He's playing some unbelievable basketball."
While James is correct that Rose and the Bulls are playing unbelievable basketball, I'm not fully sold on Rose as the MVP of the league just yet. In fact, it may be James who deserves the award just as much as the young point guard phenom. We've seen that Chris Bosh has the tendency to disappear during long stretches or even full games. Furthermore, we saw what this Miami team looked like without James last year. With him playing next to Dwyane Wade, the Heat are one of the best teams in the Eastern Conference.
While his scoring and assist numbers are down from last year, it's clear that James is still the most versatile player in the game today. Few players, if any, exhibit his court vision and possess his immense physical tools. Despite my lack of approval for how he landed in Miami, there's no denying that he's a force on the basketball court, can take over a game on any given night and post up a triple-double while making it look easy.
Even if you want to say James doesn't deserve the award because of some of the Heat's struggles against the top teams in the league and his partnership with Wade in Miami, Dwight Howard should still be in the discussion, simply for the fact that Orlando has one of the best records in the East, despite a shoddy roster of inconsistent outside shooters.
Rose has had an incredible season, but it's too early to be crowning him the MVP of the league. There is plenty of basketball left.
This article is
What is the duplicate article?
Why is this article offensive?
Where is this article plagiarized from?
Why is this article poorly edited?
Rob Carr/Getty Images
John Wall Lost His Cool and Punched Zydrunas Ilgauskas, But What Should Happen To the Point Guard?
Last night, an ugly incident marred what should have been a great game.
During the second quarter of last night's game between the Miami Heat and the Washington Wizards, John Wall snapped and punched Miami center Zydrunas Ilgauskus after catching an elbow on a clearout move by the big man.
Wall was promptly ejected and has to know that a suspension is coming from the league, even if he didn't want to think about it after the game.
"I can't worry that about that right now, just try to keep practicing and try to get ready for the next game and see what decision the league makes," Wall said to the Washington Post. "I'm disappointed with how I reacted to it. I let my teammates. I let my organization down."
Watching the video, which you can see here, it's obvious that Wall just snaps. I guess that's what happens after you watch Nick Young chuck up shots all year long. But in all seriousness, it's just one of those things that happens in sports sometimes. Frustration builds up during the course of a game and the course of a season. At that point, even the slightest offense can set a player off.
Wall said all of the right things after the game, and that's commendable, despite his immature actions on the court, but what I don't agree with is Michael Lee of the Washington Post's assessment of why this ugly incident happened.
"In many ways, John Wall really had no choice. In this league, reputations are formed quickly, and once they are established, they stick," Lee writes. "So when Miami Heat center Zydrunas Ilgauskas was casually peppering Wall's face with errant elbows, he responded the only way he knew how -- by defending himself."
That is not what happened. Wall did not punch a center because he had to save face in front of the rest of the league. No one would have thought less of the guard for getting hit with a couple of elbows on a simple clearout move by a veteran player, especially a much bigger one. In the heat of the moment, Wall took exception to the contact and snapped. I find it hard to believe that he had any thought process that involved his reputation around the league.
The fact of the matter is that Wall lost his cool in a close game and it impacted the way the rest of the contest finished. Furthermore, he's going to get a suspension from the league rather soon, and one game sounds fair, seeing as he missed most of the duel against the Heat.
This article is
What is the duplicate article?
Why is this article offensive?
Where is this article plagiarized from?
Why is this article poorly edited?
Kevin C. Cox/Getty Images
Kobe Bryant Raised Some Eyebrows By Commending Andrew Bynum For His Flagrant Foul, But Is The Laker Star Wrong?
When Andrew Bynum was called with a flagrant foul on Minnesota's Michael Beasley, you were hard-pressed to find someone defending what the center did.
Bynum didn't make a basketball play in that sequence. In fact, he might as well have been playing football. The center jumps up and leans in with his shoulder, keeping his hands down and burying himself right into Beasley's chest.
It sends him flying to the floor and almost breaking his arm as he crashed to the hardwood. Bynum was promptly hit with a flagrant foul and was eventually suspended two games by the league. It was a fair punishment for a dirty play.
After the incident, Bryant said he was proud of Bynum, raising some eyebrows. Yesterday, Kobe was a guest on Pardon the Interruption and was asked to clarify those comments.
"I don't know about all that, I just thought it was a good foul. I was proud of him for taking a stand and protecting our paint, and protecting the basket," Bryant said according to TheLakersNation.com. "Now whether that is controversial, or people interpret it as whatever they want to interpret it as, so be it, but I'm proud of our bigs for protecting the basket."
There is a big, big difference between protecting your basket and almost breaking someone's arm. If you're going to play tough interior defense, you have to make a play on the ball, not just throw your shoulder into someone out of frustration. It was a dirty play by a clean player and sometimes those things happen during the heat of competition.
Bynum got a fair suspension for his troubles and that should be it. To say you're proud of someone for almost injuring another player sends a bad message, because if someone did to him what Bynum did to Beasley, I'm sure he wouldn't say that the player was just protecting his basket. I'm also sure that David Stern isn't too happy to hear his biggest star commending a dirty play that someone was suspended for either.
While I get that Bryant is defending his teammate, he needs to realize that Bynum deserved the criticism he got and that it was a dirty play that has no place in the game of basketball. There's a reason we don't see some of the hard fouls that we saw in other eras of the game. It's because they were reckless, dangerous fouls that can seriously injure someone, and if Bryant doesn't see that, how's he going to feel when it happens to him or one of his teammates, impacting his chances at another championship?
Somehow I doubt he's going to be proud of that player.
This article is
What is the duplicate article?
Why is this article offensive?
Where is this article plagiarized from?
Why is this article poorly edited?