Muhammad Ali: Is Ali vs. Mike Tyson Greatest Fight Boxing Fans Never Got to See?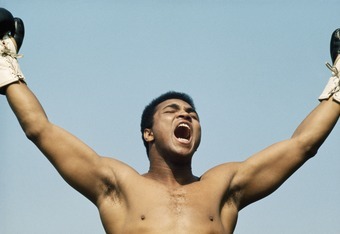 Muhammad Ali and Mike Tyson were perhaps the two greatest pound-for-pound fighters in boxing history. It is a shame that their careers never overlapped.
Although even if they did, who knows if they would have ever fought. After all, Manny Pacquiao and Floyd Mayweather Jr. are two of the greatest fighters in recent time, and they can only seem to battle everywhere but inside the ring.
But if Ali and Tyson both fought each other while each man was in his prime, who would win? And also, would it be the greatest matchup that boxing fans never got to witness?
Years ago, ESPN listed the The 50 Greatest Fighters of All-Time. According to them, Ali was No. 2, while Tyson as only No. 50. Therefore, they would certainly not think that the two of them in the ring would be the best fight that never happened.
They would have probably voted that "Sugar" Ray Robinson vs. Ali would have been the best fight to ever take place. Or perhaps Lou Louis vs. Henry Armstrong. Many fighters are listed ahead of Tyson on their ranking, so seeing him battle Tyson would not be too high in their opinion.
But in the minds of the fans, nobody would vote for many other matchups besides Ali and Tyson over the last 50 years. Sure, "Sugar" Ray Leonard against Pacquiao or Mayweather Jr. would be fun to watch. Jake LaMotta against Jack Dempsey would also have been legendary. But we never got to see any of those bouts take place due to different generations of fighters.
So, with all of that being said, who would have won between Tyson and Ali? It is nearly impossible to predict a winner. I know it is a cop-out, but both fighters were so different in the ring. They could both pack a punch, but Tyson was an animal, while Ali was full of finesse as well. One was more of a fighter, while the other was a boxer.
Ultimately, I'm not going to pick a winner. I would rather hear what all of you have to say. Who would win a fight between Tyson and Ali when both men were in the prime of their career?
Also, is their a bigger dream fight that you would prefer to see, and who would win that bout?
For more on both of these legends, as well as their video games, make sure to check out Bleacher Report Contributor Jesse Lewis, who takes a look at Mike Tyson's Punch-Out!! and the Top 10 Boxing Games of All Time.
Most recent updates:
This article is
What is the duplicate article?
Why is this article offensive?
Where is this article plagiarized from?
Why is this article poorly edited?