Brock Lesnar: Can Lesnar Defeat His Fellow 'TUF' Coach Junior Dos Santos?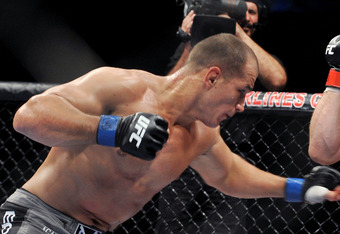 Brock Lesnar and Junior dos Santos are currently working as coaches in The Ultimate Fighter, but they will soon shift their attention to each other for their June 11th match in Vancouver.
In all likelihood, the winner of this match will end up getting a shot at Cain Velasquez and the UFC heavyweight championship, whenever the champ can return to the ring. Velasquez defeated Lesnar for the title last October.
Kaleb Kelchner of Cageside Seats previews what both men need to do - as well as avoid - if they expect to come out victorious.
"With the majority of Lesnar's past fights, the deciding factor was whether or not his opponent could stop his take downs, or spring back up after one, and the same goes for this fight," says Kelchner. "JDS has yet to face a wrestler even close to Lesnar's caliber, but was able to avoid being held down by Roy Nelson. Roy Nelson is far from Brock Lesnar though, and whether Lesnar can get JDS down, and keep him down, will be the key to victory for either man. A massive worry for Lesnar though, is that he has to avoid taking a monster punch from JDS while he attempts to get the fight to the mat. We saw in both the Carwin and Velasquez fights that Lesnar can be tagged while he tries to close the distance, can Lesnar work on that hole in his game enough to avoid being embarrassed once again?"
Kelchner also said that he was a bit surprised at the acceptance of Lesnar to take on dos Santos. Kelchner said that the former WWE star "could have pushed for a fight with Frank Mir, that would have been far more winnable, in my opinion at least, but he chose to take on the most dangerous striker in the UFC's heavyweight division. Whether it's the challenge, or the money that influenced Lesnar more, we don't know, but either way, I'm surprised he took it."
Lesnar has proved himself as an elite competitor in the UFC, but I'm not sure he can win this match. He may have the size and reach advantage, but dos Santos is on a roll that I'm not sure even Lesnar can stop.
For more on this matchup, make sure to check out Bleacher Report Featured Columnist Jon Schafer 13, who takes a look at The Ultimate Fighter 13: Brock Lesnar Has No Chance Against Junior Dos Santos.
Most recent updates:
This article is
What is the duplicate article?
Why is this article offensive?
Where is this article plagiarized from?
Why is this article poorly edited?