Andrew Luck and the Top 25 QBs in Pac-10 History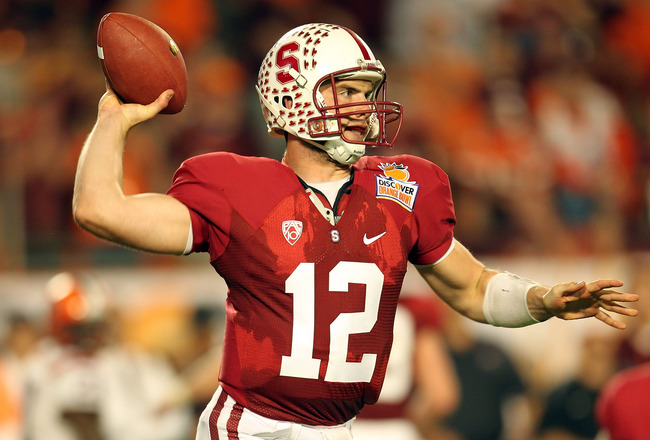 Mike Ehrmann/Getty Images
The Pac-10 dubbed itself "The Conference of Champions," but they should really be called the conference of quarterbacks. The Pac-10 has always been the conference with more elite quarterbacks than anyone else in the nation.

Today, they are led by arms like Andrew Luck, Matt Barkley, Nick Foles and Darron Thomas. Previously, they featured some of the greatest ball-slingers in football history like John Elway and Warren Moon.

The following are the top 25 quarterbacks in Pac-10 history.
25. Jason Gesser, Washington State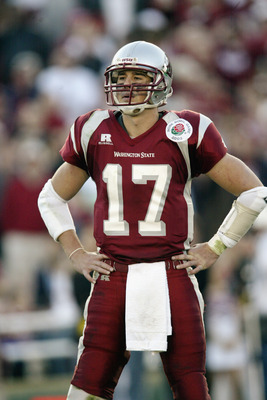 Scott Halleran/Getty Images
Gesser's statistics are not incredible, but he was more wins than any other quarterback in Washington State history.

In three seasons (2000-2002) as starting quarterback, Gesser threw for 8,104 yards and 69 touchdowns. He also finished his career as the third-most efficient passer in Pac-10 history.

He led the Cougars to two-straight 10-win seasons in 2001-2002 and also led Washington State to their last Rose Bowl.
24. Dennis Dixon, Oregon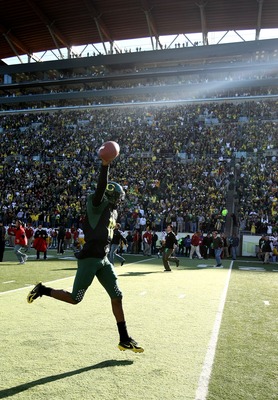 Jonathan Ferrey/Getty Images
Dennis Dixon did not have a great career at Oregon, but in 2007, he might have been the best player in college football.

Before being injured against Arizona in the 10th game of the season, Dixon had 2,136 yards passing and scored 29 total touchdowns. His Oregon Ducks were separating themselves as the best team in college football at that point in the season.

It is hard to argue that any single player meant more to their team than Dixon. When he went down with an injury, Oregon ended their regular season with three-straight losses.
23. Morley Drury, USC
Morley Drury was known as "The Noblest Trojan of Them All." In 1927, he ran for a then-school record 1,163 yards and led USC to a 8-1-1 season. He was named a first-team All-American in 1927 and 1969 was named on the All-Time Pacific Coast Team.

Other than football, Drury also played baseball, basketball and water polo at USC.

Drury played in a different era of football, so his numbers don't stack up well against others on this list. However, he should still be honored as one of the best in conference history.
22. Cotton Warburton, USC
Warburton is better known for his work in Hollywood. He was a film editor and won an Oscar for his work on the movie "Mary Poppins."

Before Warburton was in show business, he was the starting quarterback at USC. From 1932-1933 he led the Trojans to a record of 20-1-1, also being named an All-American in 1933.

Cotton was known for his unparalleled speed and his incredible leadership on the field.
21. Andrew Luck, Stanford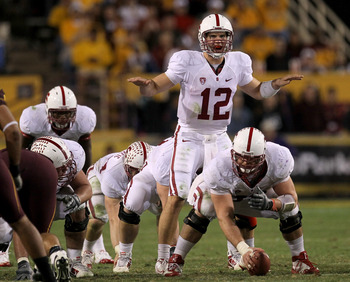 Stephen Dunn/Getty Images
Andrew Luck is the best quarterback in college football today. I feel he has to finish his career at Stanford to truly earn a higher spot on this list, but he appears to be on his way up.

In two seasons at Stanford, Luck has thrown for 7,720 yards and 24 touchdowns.

Last season, he led the Cardinal to a Orange Bowl victory and was named a second-team All-American.

Luck is exceptionally talented and is entering this upcoming season as the Heisman front runner.
20. Norm Van Brocklin, Oregon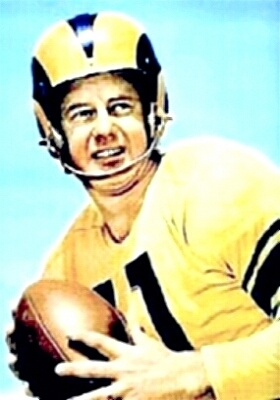 Norm "The Flying Dutchman" Van Brocklin had a 16-5 record during his time at Oregon. His most memorable season came in 1948 when his team tied California for the Pacific Coast Championship.

Along with being named an All-American that season, he also led his team to a Cotton Bowl appearance. It was the first major bowl a Pacific Conference team had ever made other than the Rose Bowl.
19. Andrew Walter, Arizona State
Donald Miralle/Getty Images
Statistically, it is hard to find a better quarterback in conference history than Andrew Walter. He ranks second in conference history with 89 passing touchdowns and fourth all-time with 10,617 passing yards.

Walter had as strong as arm as the conference has ever seen and was a great leader.

His statistics may be overblown because he played in an offense that liked to throw the deep ball.
At the same time, he carried the Sun Devil offense. How he played in most games decided whether or not Arizona State would win.
18. Akili Smith, Oregon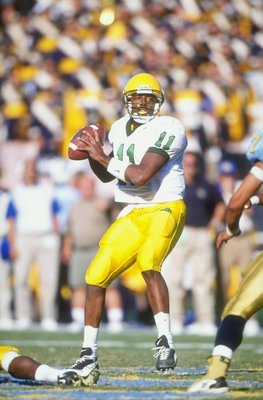 Tom Hauck/Getty Images
Akili Smith made himself out to be a big-time NFL prospect during his time at Oregon, only to fall flat in the pros.
Smith looked like a running back, was blazing quick and could throw the ball a mile. He is easily one of the most talented players in Pac-10 history.
In just a senior season for the Ducks, Smith threw for 3,763 yards and 30 touchdowns and was the first Oregon quarterback to ever be named the Pac-10 Payer of the Year.
17. Aaron Rodgers, California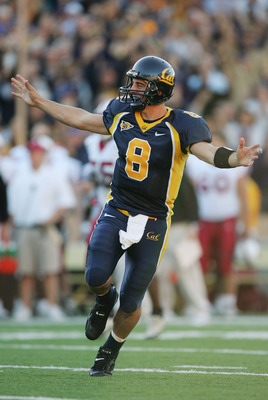 Jed Jacobsohn/Getty Images
Aaron Rodgers has earned everything he has gotten his whole career. In his early college days, like in his early NFL career, he was not given much of a chance.

However, Aaron Rodgers was one of the most consistent and efficient quarterbacks in conference history.

In his two seasons from 2003-2004, he threw for 5,469 yards and had a quarterback rating of 150.27.

It is crazy to think that Rodgers is actually better in the NFL than he was in college. But he just led his Green Bay Packers to a Super Bowl victory.
16. Warren Moon, Washington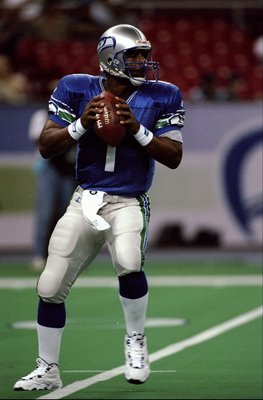 Otto Greule Jr/Getty Images
Warren Moon was truly a player that was ahead of his team. He would have fit in much better in the spread offenses of today.

Moon did not have the greatest statistics in college, but was unbelievably talented.

He had his best season in 1977. He threw for 1,584 yards and nine touchdowns, but more importantly, he led his team to a Rose Bowl victory over Michigan.
15. Drew Bledsoe, Washington State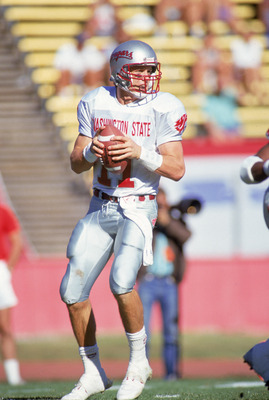 Otto Greule Jr/Getty Images
Drew Bledsoe was masterful in his three seasons at Washington State. In his 1992 season, Bledsoe led the Cougars to a Copper Bowl victory over Utah.

His career numbers are very impressive. He threw for 7,373 yards and 46 touchdowns from 1990-1992.

Unlike many quarterbacks on this list, he carried his success over to the NFL and enjoyed 13 exceptional seasons at the next level.
14. Pat Haden, USC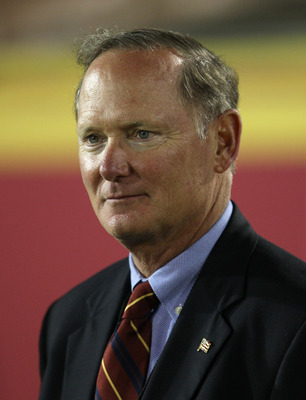 Stephen Dunn/Getty Images
Pat Haden is a true champion. In his three seasons at USC, he appeared in two Rose Bowls and won three national championships.

Haden threw for 3,288 yards and 33 touchdowns in his career at USC. He is also one of the greatest Academic All-American of all time.

Currently, Haden is the athletic director at USC.

I feel that Haden is the model of what a Pac-10 quarterback should be. He achieves on and off the field, but most importantly, he wins championships.
13. Cade McNown, UCLA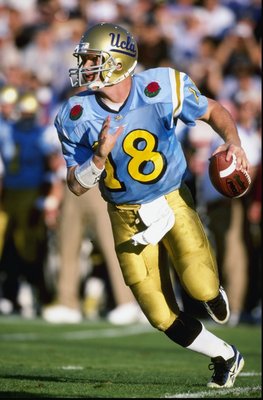 Tom Hauck/Getty Images
Cade McNown was a complete bust in his pro career, but that cannot be said about his college career.

In four seasons as a starter at UCLA, McNown threw for 10,008 yards and 61 touchdowns.

His two most memorable seasons came in 1997 and 1998. In both seasons, he led his team to conference titles both seasons and was in the top 10 of the Heisman ballots.
12. Joey Harrington, Oregon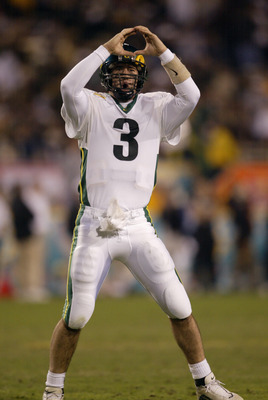 Brian Bahr/Getty Images
Joey Harrington is recognized as one of the biggest busts in NFL history. The same cannot be said about his college career.

In three seasons at Oregon, Harrington had a record of 25-3.

His senior season was his best in his college career. He threw for 2,415 yards and 24 touchdowns en route to leading his team to a Fiesta Bowl victory over Colorado in 2001.

It is a shame that Harrington's poor NFL reputation has tainted his legacy. His days of being a Heisman finalist at Oregon seem long behind him.
11. Rodney Peete, USC
Mike Powell/Getty Images
Rodney Peete was a two-sport athlete during his time at USC, but his work on the football field is what he is remembered for.

He was the first USC player to ever win the Johnny Unitas Award as the nation's best quarterback. He also took his team to back-to-back Rose Bowls in 1988 and 1989.

In his three seasons as a starter, he threw for more than 2,000 yards and tossed at least 10 touchdowns in each.
10. Carson Palmer, USC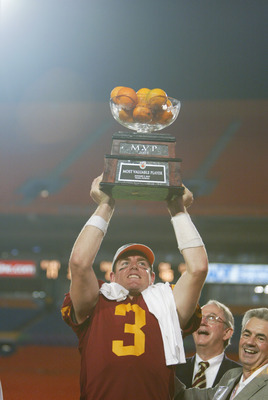 Eliot J. Schechter/Getty Images
Carson Palmer started all four of his seasons at USC, but waited until his senior year before he was great.

In 2002, Palmer led the Trojans to a Rose Bowl victory over Iowa. He threw for 3,924 yards and threw 33 touchdowns that season, good enough to earn him the Heisman Trophy.

When Palmer graduated, he was USC's all-time leader in passing yards, completions, total offense and career touchdowns.
9. Marques Tuiasosopo, Washington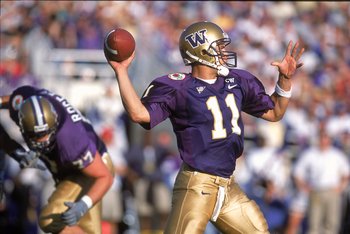 Stephen Dunn/Getty Images
Tuiasosopo was one of the greatest duel-threat quarterbacks to ever play in the conference.

He ran for 1,279 yards and threw for 4,335 yards during his four-year career with the Huskies. In that time he led his team to four bowl games, including a Rose Bowl victory against Purdue in 2001.

Tuiasosopo appeared to be the second coming of another Husky on this list, Warren Moon.
8. Ryan Leaf, Washington State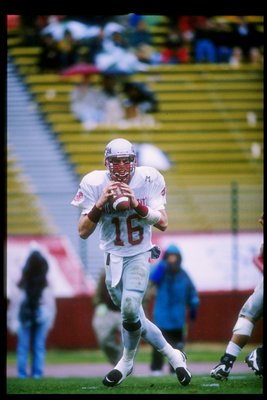 Otto Greule Jr/Getty Images
Before he had a complete meltdown in the NFL, Ryan Leaf was one of the decorated quarterbacks to ever play Pac-10 football.

Throughout his career, he was a first-team All-American, Pac-10 Offensive Player of the Year and even held the Pac-10 single-season touchdown record for a short period of time.

Leaf didn't just enjoy individual success—he also led his Cougars to their first ever Pac-10 championship and their first Rose Bowl in 67 years in the 1997 season.
7. Terry Baker, Oregon State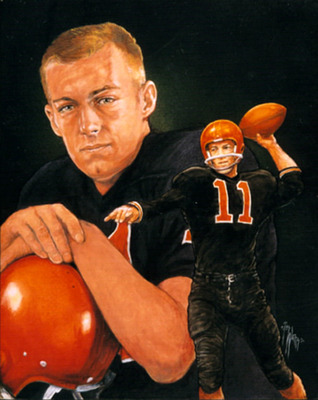 In 1962, Terry Baker became the only played to ever win the Heisman Trophy and play in the NCAA basketball Final Four in the same year.

He was the first player ever to be named Heisman in conference history and was also named the Sports Illustrated Sportsman of the Year.

In his Heisman campaign, Baker threw for an unheard of (at that time) 1,738 yards.
6. Gary Beban, USC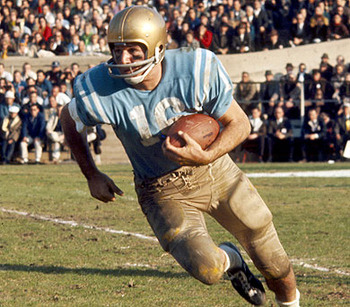 Gary Beban might be the most forgotten player in Pacific Conference history. However, Beban makes a strong argument to find himself near the top of this list.

In 1967, he had one of the greatest seasons in college football history. He beat out USC running back O.J. Simpson for the Heisman Trophy and the Maxwell Trophy. He was also named an All-American in that same season.

He won a Rose Bowl against top-ranked Michigan State in 1967 and boasted an impressive 24-5-2 record during his time at UCLA.
5. Jake Plummer, Arizona State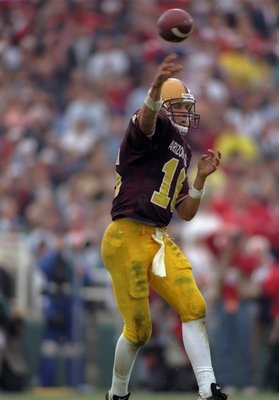 Jed Jacobsohn/Getty Images
Jake Plummer is similar to Carson Palmer in that he was not legendary until his senior season. However, he was different from Palmer in his game style.

Plummer didn't have the strongest arm or blazing speed. But he had a never-say-die attitude and did whatever it took to win.

In his 1996 senior season, Plummer was the best quarterback in the country and led his Sun Devils to an undefeated season and Pac-10 title. He threw for 2,575 yards and 24 touchdowns in that magical season.

"Jake the Snake" means as much to his program as any player on this list. He is regarded by many to be the greatest Sun Devil ever.
4. John Elway, Stanford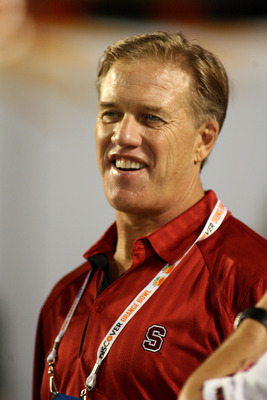 Marc Serota/Getty Images
It is a shame that Elway played on such a pitiful team because he was one of greatest college players ever. The only reason he is only fourth on this list is because of his lack of success in the win/loss column.

Elway broke nearly every Pac-10 passing record during his career at Stanford. He threw for 9,349 yards and 77 touchdowns during his four years of college ball.

He was the Pac-10 Player of the Year on two separate occasions and was a consensus All-American in his senior season.
3. Troy Aikman, UCLA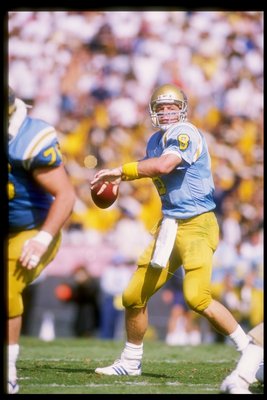 Mike Powell/Getty Images
Troy Aikman started his college career at Oklahoma, but he transferred to UCLA for his last two seasons and the rest is history.

In his two seasons as a starter, he went 20-4. He won bowl games in both of his seasons and won the school's first ever Davey O'Brien Award (best quarterback) in 1988.

His career numbers at UCLA are very strong. He threw for 5,298 yards and connected for 41 touchdowns in his two seasons.

The former consensus All-American continued his success in the NFL and led the Dallas Cowboys to three Super Bowls.
2. Jim Plunkett, Stanford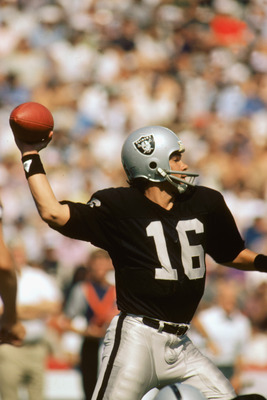 Tony Duffy/Getty Images
The significance of Jim Plunkett is unparalleled in Pac-10 history. He was the first quarterback that started to shift the conference's reputation to a pass-heavy league.

During his career at Stanford from 1968-1970, Plunkett rewrote the conference's record book. He set single-season records in passing touchdowns (20) and passing yards (2,673).

However, his most historic accomplishment came in his senior season when he won the Heisman Trophy. The year was dubbed "The Year of the Quarterback" because Plunkett beat out Joe Theisman and Archie Manning for the honors.
1. Matt Leinart, USC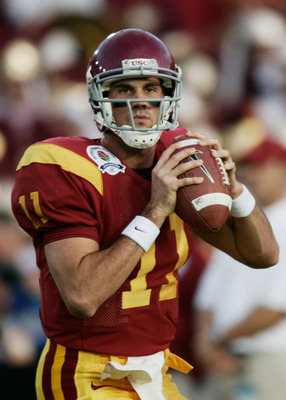 Donald Miralle/Getty Images
I am not sure you can argue that there was ever a better college quarterback in college football history. His first career pass he ever threw at USC was a touchdown—and that set the tone for the rest of his career.

In three seasons at USC, Leinart was an unbelievable 37-2. He threw for 10,693 yards, 99 touchdowns and only 23 interceptions in his career.

His most memorable season game in his junior season of 2004, in which he led his Trojans to a BCS title and was also awarded the Heisman Trophy. He then opted to return for his senior season, despite being projected as the first overall pick.

In 2005, he was nearly as successful as he was in 2004. However in 2005, he was the runner-up in the Heisman ballots and the BCS title game.
Keep Reading