Kim Kardashian and the Hottest Pop Star WAGs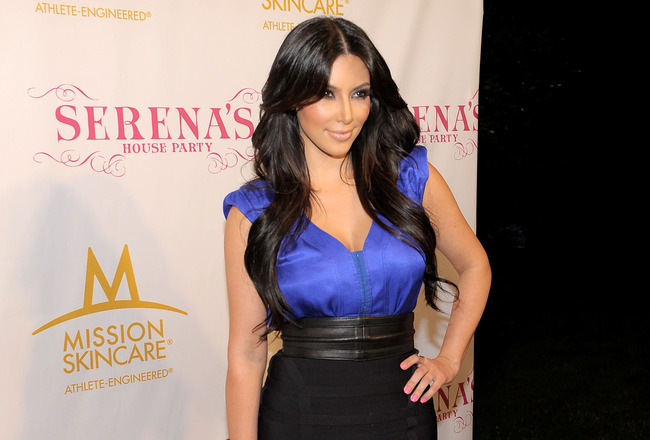 Charley Gallay/Getty Images
Earlier this month, Kim Kardashian thought she possessed enough musical talent to create a song. Everyone except her and her family knows that is the dumbest idea ever, but they have enough money to do pretty much anything they want, so she released a single called "Jam (Turn it Up)."
We at Bleacher Report are always looking for an excuse to make a list about hot women. Kim Kardashian proving yet again she brings nothing to the table except her looks was reason enough for one. So here it is, the Sexiest Pop Star WAG'S.
Enjoy!
P.S. This list takes both looks and musical talent into account.
P.P.S. Nicki Minaj and Posh Spice barely missed the list. Mainly because they scare me.
No. 17: Dafne Fernandez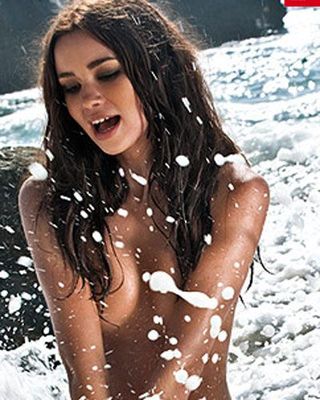 She is singing. I swear! Would I lie?
I can't find photographic evidence that Dafne Fernandez is a singer. But several websites tell me she is, so it must be true because the internet never lies.
She might have just sang in the shower one time in high school, but she is insanely attractive, and at the end of the day, that is all that really matters.
She once dated No. 9 ranked tennis player Fernando Verdasco. I assume they lit several mattresses aflame with all that Spanish heat.
No. 16: JoJo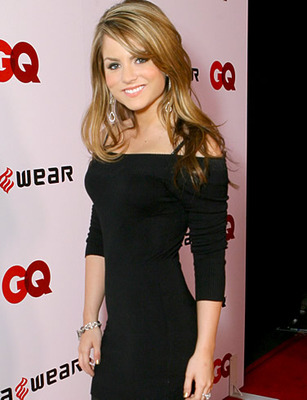 Call me a pervert all you want. But back when she first became popular, I was underage too, so it's okay.And she is 20 now, so get off me.
She has pretty much fallen off the planet since she released "Leave (Get Out)" in 2004. She has guest starred on Hawaii Five-O and was in that bad Robin Williams movie RV.
She has at least done more than Freddy Adu, who she dated in 2005-2006. Hell, I've done more than Freddy Adu and I quit playing junior college baseball in 2008.
No. 15 Jessica Simpson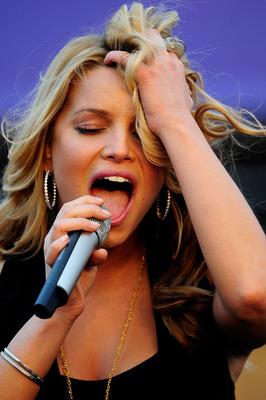 If I could ever make Jessica Simpson make this face, I would spontaneously flex all the time because I would deserve the right.
Rusty Jarrett/Getty Images
What is so amazing about Tony Romo!? He has only won one playoff game for God sakes and he gets to mow down blond bombshells left and right!
Known an Yoko Romo in Dallas, Jessica Simpson was voted the 95th overall best Artist of the Decade, according to Billboard. She has two multi-platinum albums to her name. In 2008 she decided to venture into the country music business because that is where bad musicians go when they give up on their pop careers. (Example A: Darius "Hootie" Rucker).
Like Christian Bale in American Psycho, I always have Jessica Simpson's Hardees commercial playing on loop on all my televisions while I work out in my underwear.
Right now she is struggling a bit to keep the baby fat off, but I still think she is hot as hell.
No. 14: Hilary Duff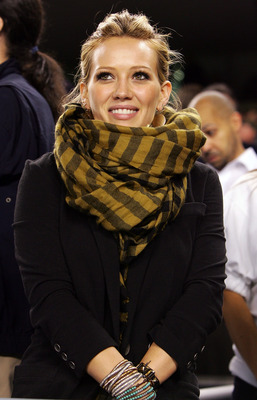 Just a down right cutie.
Jim McIsaac/Getty Images
God bless Hilary Duff. She couragously went through her awkward stage on Lizzie McGuire and matured into a hot blond who is now married to Pittsburgh Penguins center Mike Comrie.
You don't really hear much about her these days. I am assuming it's because she is actually a good girl instead of an attention-seeking whore. (What is Lindsey Lohan up to these days?) And wouldn't you know it! She apparently has three platinum albums to her name.
Disney has created some monsters, but I will always give Mickey Mouse a firm handshake for giving us this cutie.
No. 13: Hayden Panettiere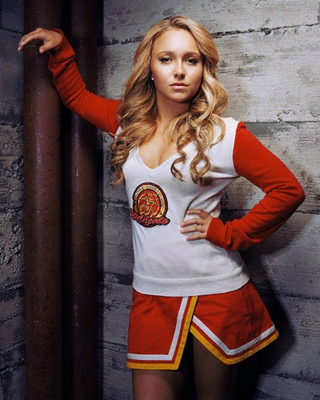 Hayden Panettiere sings you say? She came out with the song "My Hero is You" for the movie Tiger Cruise and "I Fly" for Ice Princess, both Disney Channel movies.
Although I am judging how well they sing, I never said they had to be good at it. Come on. Not only did I put Kim Kardashian on here, she is on the freaking title!
But Hayden Panettiere deserves to be on here for her looks, hands down. I even forced myself to watch Heroes after season one, only because I hoped I would see her in a cheerleading outfit just one more time.
Shortly after stomaching through that turd of a show, someone informed me she is in Bring it On: All or Nothing. I did what every level headed man would do in that situation. I rushed to Wal-Mart, bought it immediately and displayed it proudly in my DVD collection for everyone to see.
She is currently with boxer Wladimir Klitschko. Coach Bill Yoast would be so proud.
No. 12: Kim Kardashian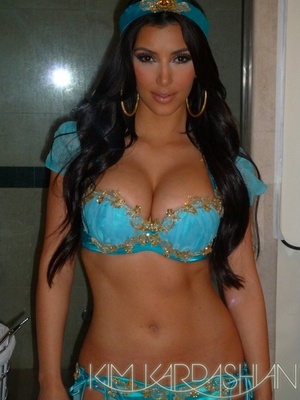 This is unfair. Look how big and beautiful her eyes are!
Many people wonder how Kim Kardashian became famous enough for her own reality show. She hasn't created anything for the betterment of mankind and she isn't smart by any stretch of the imagination. It must be because she can sing right? I mean, listen to this! It's the digitally-enhanced voice of an angel right?
It might have to do with her enormous boobies. It might have something to do with the fact that I could have an entire three course meal on her backside. It might even be because she distracts me from an ogre of a woman known as Khloe Kardashian. (Lamar! What are you doing! Just stop it).
Oh wait. I know. It's probably because this jersey chaser can be seen naked, performing sexual acts on the internet with rapper Ray J. (The term rapper was used VERY loosely). It also doesn't hurt she is the step- daughter of U.S. Olympic Gold Medal winner Bruce Jenner.
But hey, I'm not complaining because I will always have pictures and the mute button when she is on television.
Cheers to Reggie Bush, Miles Austin, Christian Renaldo and Kris Humphrey.
No. 11: Danielle Peck
I really need to stop ragging on country music, because apparently all their female representatives are absurdly gorgeous.
She was linked to Josh Beckett back in 2006. I curse his name because I am just plain jealous he was lucky enough to snag a lady like this raven haired beauty.
I also hate him because I'm a Cubs fan and he took a huge dump on my dreams back in 2003 when he randomly decided to shut the Lovable Losers down in Game 5 of the NLCS. But I made peace with that after several trips to the psychiatrist.
Who was I talking about again? Oh yeah, Danielle Peck. She is really hot. And her last name makes me giggle every time.
No. 10: Mandy Moore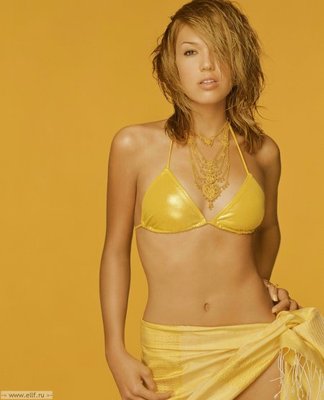 Mandy Moore is known more for her work in movies, but she originally got her break when she was part of the teen pop craze in the late nineties. She released "So Real, I Wanna Be With You" and "Mandy Moore." If the names of those albums reveal anything, it's that she started acting for a reason.
Moore and Andy Roddick dated from 2002-2004. She was my personal number one for a time and few can compete with her when it comes to the short hair look.
I feel like a cheater when I say this, but Roddick moved up in terms of hotness when he married Brooklyn Decker. It's okay though. Moore will always have her rock solid acting ability to fall back on. I was so close to typing that last sentence without laughing.
But in all seriousness, Moore will always have a special place in my heart. Thank you for existing Mandy.
No. 9: Nicole Scherzinger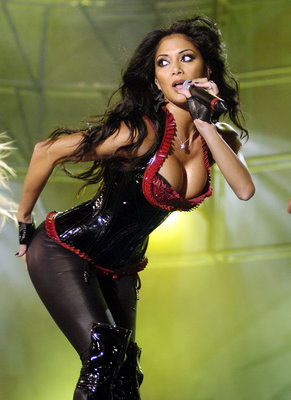 Nicole Scherzinger is a member of the Pussycat Dolls. They might have accomplished something musically, but I wouldn't know because I was so distracted goggling at their pictures that I couldn't pull up anymore information.
I'm not sure how I did it, but I somehow stumbled upon the fact that she is with 2008 Formula One World Champion Lewis Hamilton.
What's crazy is Nicole Scherzinger almost didn't make this list. Not because of her looks, because she is arguably the hottest one on the list. She barely made it because I have a very hard time saying that any type of racing, Formula One or otherwise, is considered a sport.
But I talked myself into this one because they at least have to turn right AND left. I also just wanted an excuse to go through the thousands of pictures of her half-naked, so I let this one slide.
No. 8: Ciara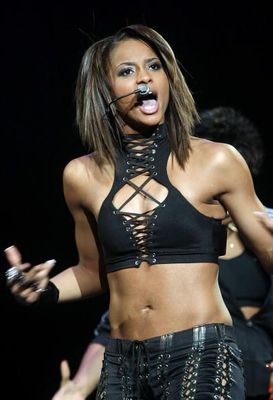 This incredibly fine, incredibly disease-free, brown-skinned beauty reeled in Reggie Bush back in 2007. That's a lot more than the majority of NFL defenses can say.
She has also been seen alone with Amar'e Stoudemire at fine restaurants in New York City. So I think it's safe to say they have a thing right now. How do I know? We have spies specifically for this type of thing.
She also dated Bow Wow. You can argue with me all day that Bow Wow isn't an athlete, but I saw "Like Mike" and he dunked over a full grown man, which then brought the entire stadium to a hush for a good minute. And he was only a child no less.
But anyways, Ciara has two No. 1 singles under her belt and continues to cause men across the world to sprint to their computer seconds after their wives/girlfriends close the door to do whatever it is women do. Oh, you guys are sick. They rush to the computer to listen to her music you perverts.
No. 7: Letoya Luckett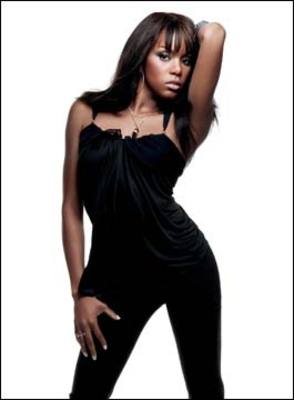 This former member of Destiny's Child has been linked to Matt Kemp and Washington Wizard's Deshawn Stevenson.
Gossip and rumors are flying all over the web that Matt Kemp has juggled her and Rihanna at the same time. I would scour more chick sites for info, but I don't want to have to start using tampons any time soon.
Some would frown upon Kemp's behavior, but I have yet to stop applauding Kemp for his ability to do that in LA.
Funny story about Luckett. She first found out she was replaced when she first watched the "Say My Name" video. That must be a similar feeling to an athlete waking up in the morning, turning on Sportscenter, and finding out he has been traded.
No. 6: Sarah Harding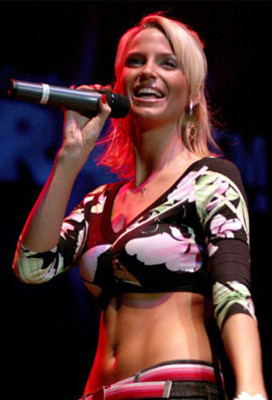 Sarah Harding got her start with Girls Aloud from the British reality program Popstars the Rivals. She's had five albums that have been certified platinum by the British Phonographic Industry and twenty successive top ten singles.
They are ahead of the curb across the pond. While the United States was too busy putting together stupid boy bands, Europe was doing everyone a big favor by compiling half-naked chicks and throwing them on stage to sing and dance.
It took me awhile to compose this slide because all I could do was imagine myself constantly giving her raspberries on that flat stomach of hers.
Harding has been known to have dated Norwegian footballer John Arne Riise.
No. 5: Nadine Coyle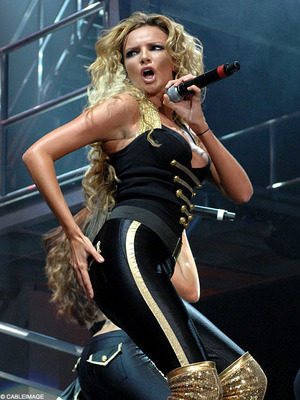 Nadine Coyle is a fellow member of Girls Aloud, along with Sarah Harding and our next girl. I had never heard of this Euro Pop group until working on this project, but whoever put them together is a downright genius and should be treated as such.
If former Cowboys cornerback Jason Bell was a smart man, he would require his fiance to look at him like this at least 16 hours a day.
Seriously, If I were him I would teach her her to walk with her head looking backwards, just so she could look this sexy at all times. And yes, she would have to always have her hand firmly planted on that amazing butt too.
I'm not sure how long the relationship would last if he did that, but people always say you're not living if you're not trying new things.
No. 4: Cheryl Cole
Feel free to look. She is single now
This is Cheryl Cole. She is part of the group....wait...Girls Aloud? Again?!
I have never even stood next to someone as sexy as Cheryl Cole, so I will never be able to wrap my mind around why someone would ever cheat on her. But I am also not an English soccer player like Ashley Cole, so I don't know what it's like to peel hot tail off me left and right.
Cheryl divorced Ashley after she learned that he had cheated on her with five other women. As far as I know, she is still single. Gentlemen! We have a chance now!
No. 3: Carrie Underwood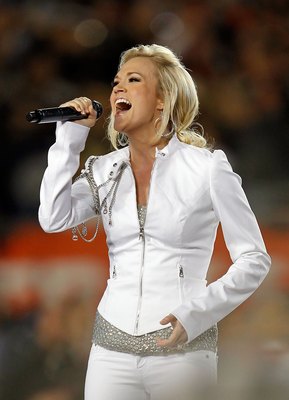 If I am ever lucky enough to hug Carrie Underwood, I will proudly declare to everyone I meet that I was touched by an angel
Jonathan Daniel/Getty Images
Carrie Underwood is an angel sent from God to prove to humanity that even country music can become bareable.
Underwood is the first female to win back-to-back Academy of Country Music Awards for Entertainer of the Year, is a multiple Grammy Award winner and a multi-platinum selling artist.
She is the most innocent creature I have ever seen on the planet. And I am certain she is a virgin, and no one can sway me otherwise.
She is so nice, in 2007 she even gave a guy who can't handle a simple football snap a real chance. But everyone makes mistakes.
I could stare at her eyes for 12 hours straight and have done so on multiple occasions. And you know she is a strong woman because she survived that black hole known as American Idol.
Her husband, Nashville Predators Center Mike Fisher, should consider himself the luckiest man on earth. It's not often God gives treasures like this away.
No. 2: Rihanna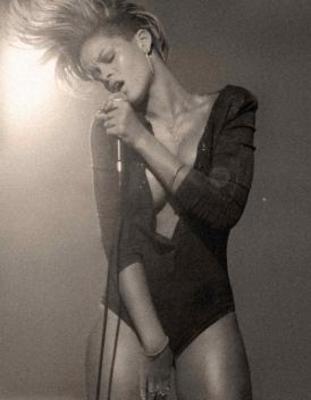 I just don't know why she couldn't have used her right hand to hold the microphone instead
I always knew Chris Brown was an idiot when he thought he was cool for his hat tricks, the song he wrote specifically for a Double-Mint gum commercial and his overall poopy music. But then he beat up Rihanna like a red-headed stepchild and still hasn't ever really apologized for it. There are special places in Hell for crimes like that and I have faith he will be punished.
But this isn't about Chris Brown. This is about a sex goddess who has been linked to Los Angles Dodgers outfielder Matt Kemp.
This four time Grammy award winner has nine number-one singles on the Billboard Hot 100 and has sold more than 15 million albums worldwide.
In an era where it is as easy to illegally download music as it is to talk Ke$ha into bed, her songs have sold over 28 million digital singles in the US and she is one of only four artists to have been uploaded over a billion times on YouTube.
She sings songs about S&M and somehow doesn't make me think about creepy 50-year-old businessmen receiving punishment from a leather-clad porker somewhere in a low budget motel.
Rihanna also has an uncanny ability to pull off some of the most insane hair styles on the planet. She might be the only girl to shave her head and, strangely, become more attractive
This babe has real talent and has proven it by staying around for six years. And if Jay-Z approves, so should everyone.
No 1: Shakira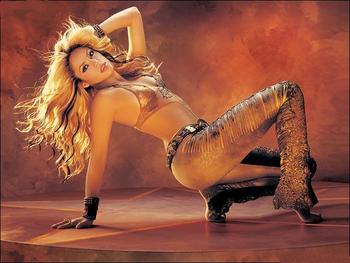 This Golden Globe nominee and two-time Grammy Award winner is the highest-selling Columbian artist who has sold 10 million albums. But more importantly, she has probably caused 10 million men to sell their souls just to be able have one night with She-Wolf.
Shakira is No. 1 for several reasons. Physically, she is in outrageous shape and she is 34. At that age, she could teach me a trick or ten. She also has fiery Latin passion. And I have no idea where this skill could possibly be put to use, but she can bend her body in ways God never intended.
The only problem with her is that after you broke up, no woman could satisfy you the way Shakira did.
FC Barcelona's back center Gerard Pique is the luckiest bastard on earth. I honestly don't know how he finds time to make it onto the soccer field.
Keep Reading