Minnesota Vikings: Top 5 Young Vikings Most Adversely Affected by the Lockout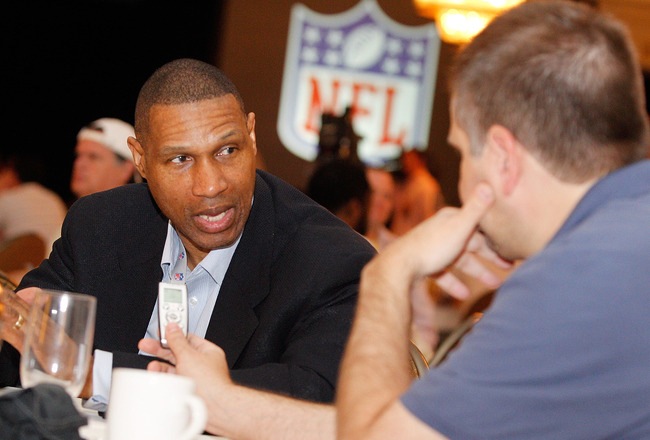 Sean Gardner/Getty Images
The NFL lockout continues to loom overhead like early morning fog, and with it, comes a bevy of interesting situations that a lot of fans and writers are beginning to explore.
One of those situations is how, exactly, the lockout will affect the younger members of the Vikings' roster.
I thought I would take a look at such a question, and see what potential results could be on the horizon for the Vikings and the 2011 NFL season.
Joe Webb, Quarterback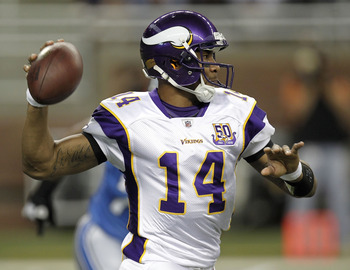 Gregory Shamus/Getty Images
I think Joe Webb is an obvious mention for several reasons, but the biggest has got to be forward development.
With no guarantee of a season and no foreseeable veteran acquisition on the horizon, Webb's development automatically takes a hit.
Webb loses time acclimating to the speed of the pro level, but more importantly, he misses valuable practice time facing and learning the various defensive reads within the game; an aspect crucial for a quarterback's development.
Will he continue to work? Yes. But will it be in the same capacity as any given regular off-season? Not quite.
The rumor from several Vikings' insiders is that Webb is nowhere near ready to be a starting QB, while offensive coordinator Bill Musgrave has said he is impressed with Webb.
Either way, the lockout will have some serious negative impacts on Joe Webb.
Toby Gerhart, Running Back/Fullback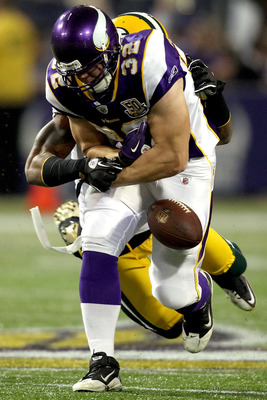 Matthew Stockman/Getty Images
Remember this guy? Toby Gerhart made a name for himself by showing flashes of brilliance as Adrian Peterson's backup in 2010.
Of course, his stat line would suggest otherwise—81 rushes for 322 yards and a single score. 21 receptions for 167 yards—but it was his effort that became memorable…at least for this writer.
Adrian Peterson will not only be a FA (2012), but has also curiously stated in a recent interview:
"I thought maybe -- after a few years of doing good -- there'd be deal by now," said Peterson. "But whatever. That's OK." —Minneapolis Star-Tribune
In the same vein, coach Leslie Frazier has said the Vikings will do everything they can to lock up Peterson for the long term.
But while all of this is happening, Gerhart could stand to gain a little extra ground when it comes to work.
With Peterson and the brass in the ring, Gerhart could wind up seeing more work which would be a great situation for his own development, as well as, the Vikings.
If we assume that Peterson and the Vikings iron things out, and Gerhart does see some extra work because of the current lockout situation, that backfield could wind up being stronger than expected.
Percy Harvin, Wide Receiver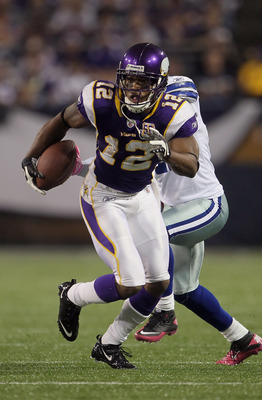 Jeff Gross/Getty Images
The Vikings have Percy Harvin locked up through 2014, which is a good thing. But the looming lockout could wind up affecting Harvin the most.
The Vikings wanted to feature Harvin more last year, but simply couldn't thanks in part to his own health issues (migraines) and the Brett Favre debacle.
So the notion was to try again in 2011 to feature Harvin more, and isolate him within the offense.
Well without a viable starting quarterback in the mix, and the lack of free agency really mucking things up, featuring Harvin might not be as easy as Frazier thinks.
It's a shame for Harvin because the guy is nothing but shear talent just waiting to reach his full potential.
It appears he may have to wait just a bit longer.
Asher Allen, Slot Corner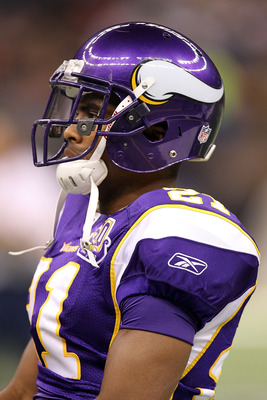 Ronald Martinez/Getty Images
Asher Allen is technically in his contract year this season. And while Vikings' fans will debate on his overall value, his future is directly affected by the lockout.
What does the boy play for, job retention in Minnesota or as a showcase slot corner looking for a new contract?
And who will he play against? The elite slot receivers and wideouts of the league, or the not-so-elite.
These are questions that not only affect him now, but also at the end of his contract year when the Vikings, and other teams, evaluate his actual value.
It may seem like a small aspect, but to a football player, it's not small at all.
Everson Griffen, Defensive Lineman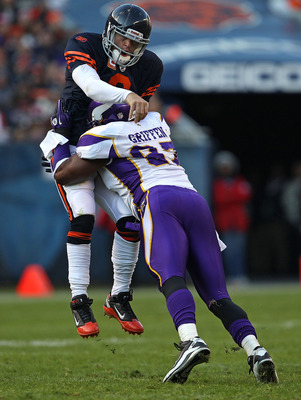 Jonathan Daniel/Getty Images
Griffen is an interesting situation to say the least; one that deserves some attention.
The Vikings wisely locked up Brian Robison to a three-year deal, suggesting they are expecting Ray Edwards to move on to greener pastures (good luck with that, Ray).
But coach Frazier, and the Vikings brass, also expect Griffen to play a bigger role this season since they are not sold on Robison.
But in order for that to happen, Griffen will have to clean up his act a little bit.
If Griffen can sure himself up, he stands to be a bigger part of the Vikings' defensive plans regardless of the lockout or not, but what type of competition he will face is another question.
Keep Reading

Minnesota Vikings: Like this team?