NBA Playoffs 2011: 10 Reasons New York Knicks Will Regret Waiving Corey Brewer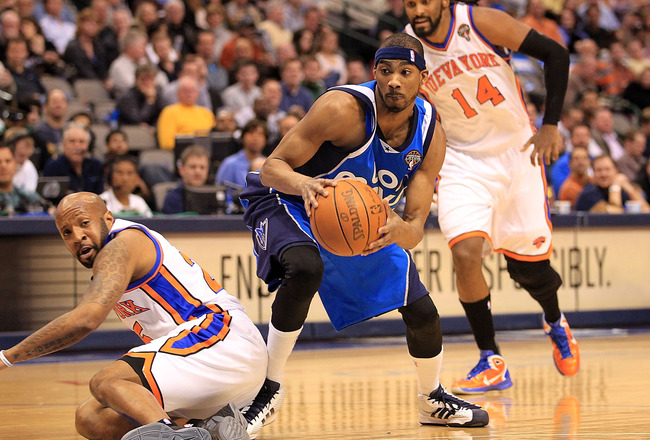 Ronald Martinez/Getty Images
As the Knicks struggle to find their identity heading into the NBA playoffs, the last thing on New York's mind is Corey Brewer.
Brewer came to the Knicks from Minnesota as part of the trade that brought Carmelo Anthony to the Big Apple. He spent all of about three seconds on the roster before the Knicks waived him at his own request.
At the time, the Knicks were not able to guarantee Brewer minutes, and thought the decision to waive him was best for both parties.
Well, that could turn out to be wrong.
As New York prepares for the playoffs, Brewer is sporting a Dallas Mavericks uniform, which is a shame because he could have been an integral part of the Knicks system.
Brewer had the potential to really make an impact on the Knicks, a team that is pining for someone else on their roster to step up and make a contribution.
New York knows that Amar'e Stoudemire, Chauncey Billups and Anthony cannot bring the Knicks deep into the playoffs by themselves. And while Shawne Williams, Toney Douglas and Landry Fields have all stepped up in one way or another, the Knicks will really regret waiving Brewer come playoff time.
And here are the top 10 reasons why.
No. 10: Brewer Adds Size to the Lineup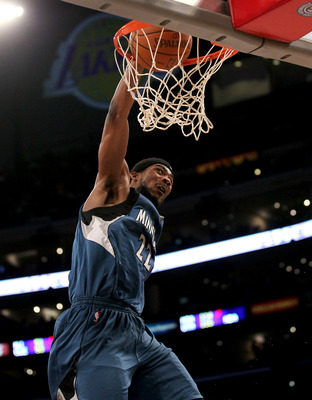 Stephen Dunn/Getty Images
Now, many people might feel that Brewer does not bring that much size to a roster.
At 6'9" Brewer does not stand out in the height department on paper, but he has long, lanky arms. This comes in handy when defending players on opposing teams and it is also valuable on offense because he has the ability to reach up and tip the ball in or grab a key offensive rebound.
As Mavericks coach Rick Carlisle put it, "He's a deceptively tall kid." Brewer may only be 6'9", but he gives the impression he is much taller.
Furthermore, New York often has Shawne Williams at 6'9" playing center on the floor while Amar'e Stoudemire and Ronny Turiaf are taking a breather. So Brewer's size would have been a welcomed presence and given the Knicks even more options when Stoudemire heads to the bench.
So while many may discount Brewer's height from making a real difference for New York, others, like me, realize that the Knicks can use all the height they can get.
Especially come playoff time.
No. 9: Brewer Brings Energy to the Floor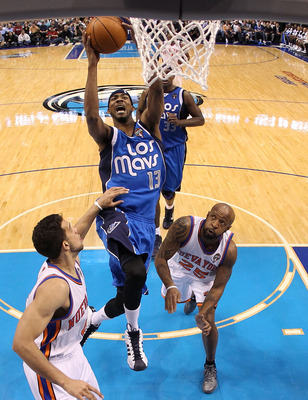 Ronald Martinez/Getty Images
Ronny Turiaf has become a fan favorite in New York because of the tenacious manner in which he plays.
And Corey Brewer is the same way.
Brewer plays with an unlimited supply of energy and intensity every game. Whether his team is up or down, he is going to play with fire.
This could have helped the Knicks in the playoffs in a variety of ways.
Brewer, as Turiaf does, has the ability to pump up the home crowd and keep them on their feet, which provides distractions to the opposition.
Also, Brewer's energy is contagious when he is on the floor. When players see him playing to the max and fighting for every loose ball and running the floor, they get pumped up and do the same.
Brewer had this effect on Michael Beasley and Kevin Love in Minnesota, and when he is on the floor in Dallas, Dirk Nowitzki even seems to get on board the energy train.
True story.
The Knicks need another game amplifier on their team in the playoffs. Teams play at a whole other level in the postseason and it would be nice to have a player that could push New York to do the same.
Between Turiaf and Brewer, the Knicks would never be short on energy or momentum.
Unfortunately, this will not be the case.
Dallas gets to reap the benefits of Brewer's contagious energy.
No. 8: Brewer Can Drive the Lane Effectively
Brewer, as he shows here in this video clip, can drive the ball quite effectively.
In this clip, he blows by Carmelo Anthony and the rest of the Knicks for an easy dunk. And he has the potential to do this all the time.
Brewer is a better ball-handler and decision-maker than people give him credit for. He is only averaging eight points per game this season, but he has the potential to do so much more because he is so great at driving the lane.
If defenders give him even a little bit of room, Brewer is going to make them pay. And when he drives the ball, he is going to finish and finish strong.
The Knicks could use this type of play, especially in the playoffs. Besides Amar'e Stoudemire, New York does not have someone who can powerfully drive the lane and finish strong.
Anthony drives the lane, but he goes through a lot of east-to-west business before doing so, and he rarely finishes the way Brewer does here.
Yes, come playoff time the Knicks could use another player who can drive the lane while protecting the ball and then finish strong at the rim.
It's a shame that they had a player like this in Brewer and let him get away.
No. 7: Brewer Has Enormous Potential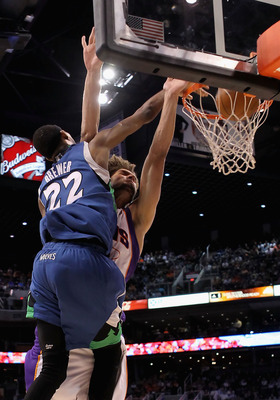 Christian Petersen/Getty Images
Many people tend to forget that Corey Brewer is only 25 and in his fourth season.
He still has room to grow and all indications are that he will continue to improve.
Brewer only averages eight points and 2.5 rebounds per game, but this is in limited playing time.
The only season he averaged 30 minutes a game was 2009-2010 and he was able to put up 13 points a night. And as he matures and develops as a player, he has the potential to be absolutely lethal.
If Brewer was able to get steady playing time and be in a system that plays to his strengths, he could be a guy that puts up 16 or 17 points a night. Additionally, if he played on a regular basis, he could easily grab six or seven rebounds a game.
The Knicks are still experimenting with their roster and trying to figure out what they have to work with, which is why Brewer's potential only could have helped them.
It is not as if they would have had to take minutes away from someone else to give him in-game opportunities. Only five or six guys are guaranteed minutes for New York right now anyway.
This is why it is so puzzling that the Knicks told Brewer they could not guarantee him minutes. Based on Brewer's enormous potential, New York should have jumped at the chance to see what he could do in game situations.
And with enough experience and practice during the rest of the regular season, Brewer could have made significant contributions in all aspects of the game come playoff time.
But I guess we will never know how effective he could have been.
No. 6: Brewer Is a Perfect Fit for Mike D'Antoni's Offensive System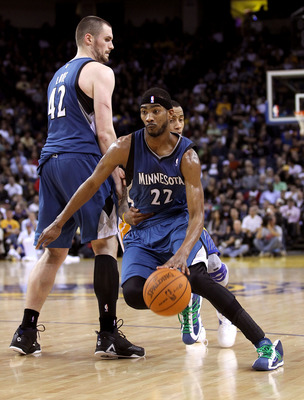 Ezra Shaw/Getty Images
Corey Brewer is a very explosive offensive player.
He does not put up a lot of points, but that is a result of playing in a half-court offensive system back in Minnesota that did not play to all his strengths.
Brewer's quickness makes him a perfect fit for Knicks coach Mike D'Antoni's system.
Now, Brewer's offensive numbers have been nothing to brag about, but back in the 2009-2010 season, he did put up 13 points per game for Minnesota. If he gets minutes and touches, he will put up some numbers.
His outside shooting is rocky, but like Carmelo Anthony, Brewer is a streaky player. If he gets hot, his shots will keep dropping all night. Furthermore, Brewer is money within 15 feet of the basket. He excels at cutting to the hoop as well, which makes him a solid pick-and-roll partner.
The Knicks could use a player like Brewer in their offensive system when Anthony is on the bench.
Shawne Williams has done a tremendous job, but Brewer is even quicker and would provide the Knicks a little more cushion when Anthony is not on the floor.
And this will become even more important come playoff time. If Anthony gets into foul trouble, which he is prone to do because he is a subpar defender, Brewer and Williams would be able to hold down the 3 spot together until Anthony can return.
A little extra insurance never hurts.
Especially come playoff time.
But the Knicks let their insurance go, which they may come to regret.
No. 5: Brewer Is Versatile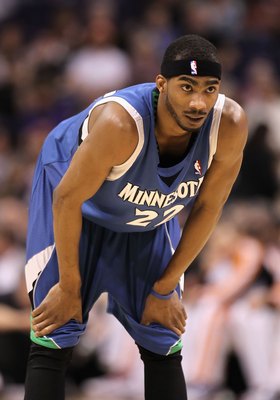 Christian Petersen/Getty Images
As noted previously, Corey Brewer is deceptively tall.
And this makes him extremely versatile, especially if he were in New York's system.
At 6'9", Brewer can easily play the 3 or 4, and his long arms, coupled with the Knicks lack of size, means that he would even be able to play the 5 when called upon.
New York is thin when it comes to people who can play center and power forward. After Amar'e Stoudemire, Ronny Turiaf and Jared Jeffries, there isn't much else.
The Knicks have experimented with Sheldon Williams as of late, but he is foul prone. Having Brewer on the roster would allow the Knicks to insert him down low at the 4 or 5, thus ensuring Shawne Williams is able to stay on the wing and play to his strengths.
Brewer's long arms allow him to be inserted in such positions. At 188 pounds, he may not be as strong as the rest of the league's centers, but he will have no trouble getting a hand in their face.
The Knicks could use a utility guy like this who can play 3, or even 4 positions on the floor. It gives them added depth, which is essential to making a strong playoff run.
During the playoffs, teams are already broken down from the rigors of an 82-game regular season, and although rotations often shorten up to ensure the best players are on the floor in the postseason, having Brewer on the roster keeps New York's options open.
However, the Knicks options are now limited, because they waived Brewer before they had the opportunity to see just how valuable he could be to the success of the team.
No. 4: Brewer Is a Stellar Defender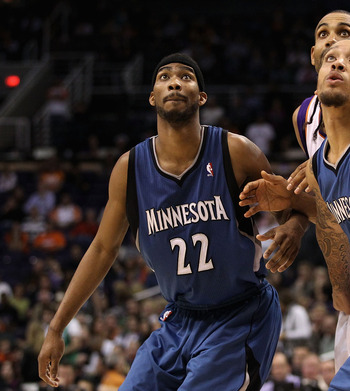 Christian Petersen/Getty Images
While with Minnesota this season, Corey Brewer averaged 1.6 steals in only 24 minutes per game.
He is a stopper on the defensive end. Brewer is agile and versatile enough to cover guards and forwards.
His ability to play defense with his feet and not his hands is something the Knicks will miss in the playoffs as they watch Carmelo Anthony and Shawne Williams get into foul trouble.
Also, Brewer is an expert at drawing the charge on the defensive end. He is willing to sacrifice his body in order to get an offensive foul called on the opposition.
By creating turnovers through his defensive abilities, Brewer in turn gives his team more possessions and chances to score on the offensive end.
He was a great pickup for the Mavericks because, should Dallas meet Kevin Durant, Kobe Bryant or Manu Ginobili in the playoffs, Brewer should be able to keep them in check.
This is something the Knicks could have definitely used. New York has high chances of facing a number of elite offensive players, such as Derrick Rose, LeBron James, Dwyane Wade and Paul Pierce, in the postseason. Brewer could have helped lock any of the aforementioned players down.
So should the Knicks wind up playing against any of the Eastern Conference's elite wing players, Brewer will be sorely missed.
No. 3: Brewer Would Have Been a Refreshing Upgrade over Anthony Randolph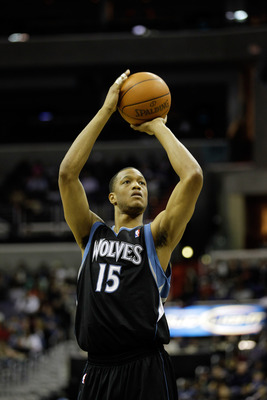 Rob Carr/Getty Images
The best thing Anthony Randolph ever did for New York was bring Ronny Turiaf with him.
Randolph was thought to have enormous potential, like Corey Brewer does. But he turned out to be a bust for the Knicks.
There is one thing that separates these two players though: willingness to work.
Randolph felt a sense of entitlement because of his potential. He did not think that he had to prove anything to anybody, which is ridiculous.
He slacked off in practice and was almost immobile in his infrequent visits to the floor during actual games.
Brewer is the complete opposite.
He has a chip on his shoulder and works hard in practice. When he is on the floor, he is giving you everything he's got and he feels entitled to nothing.
This would have been a great attitude to have on New York's roster, especially come playoff time.
A player with something to prove is a dangerous player, which makes Brewer as dangerous and any.
He is always trying to improve and he, unlike Randolph, is very coachable and willing to change his game to fit the needs of the team. This is the type of work ethic and personality you want to have on your team.
It would have been a refreshing change to go from a young player like Randolph, who seemed unwilling to try and adjust his game to make a significant contribution to the team, to a player like Brewer who is truly a team player with an abundance of determination.
Come playoff time, the Knicks will wish they had a player like Brewer on their bench who they could turn to and know that he is prepared to play, no matter what the circumstances.
No. 2: Brewer Is an Improved Version of Jared Jeffries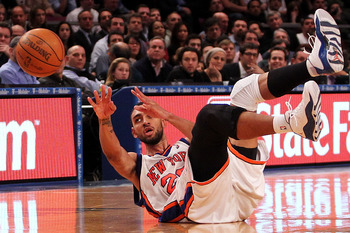 Chris McGrath/Getty Images
When Corey Brewer was traded to the Knicks, he instantly became their best wing defender.
His strong defensive abilities are similar to that of Knicks forward Jared Jeffries.
However, Brewer is a more improved version of Jared Jeffries.
Jeffries may have two inches on the 6'9" Brewer, but that is his only advantage. In fact, Brewer's insane wingspan makes up for that height difference and allows him to defend guys much taller than he is.
The real advantage Brewer has over Jeffries is his offense though. Brewer has the potential to actually be dangerous on the offensive end.
Most of Brewer's damage on the offensive side comes within 15 feet of the basket, and although he is not a great outside shooter, he is capable. Jeffries on the other hand is not capable of making any contribution on the offensive end unless it's on a layup opportunity.
Brewer can post up and even drive the lane, which is not Jeffries' strong suit. He is strictly a defensive player.
Come playoff time, the Knicks will value Jeffries' defense, but it comes at a price of playing with only four guys on the offensive end. Brewer would not have put the team in this situation. Although his offensive game has room for much improvement, he still provides a slight offensive punch within 15 feet of the basket.
That is more than anyone can say for Jeffries.
So while Brewer's strength is defense, he has his moments on offense. Unlike Jeffries, he is not a player a team can afford to just allow to roam the floor, which makes it harder for teams to double-team other guys like Amar'e Stoudemire and Carmelo Anthony.
New York will most certainly come to regret waiving Brewer as they watch Jeffries on the offensive end during the playoffs.
No. 1: Corey Brewer Is Fiercely Determined
Corey Brewer will always make plays like the one in this clip.
No, he is not a known shot-blocker, but look at the determination he shows when he blocks Al Harrington's fast-break opportunity.
He never gave up on that play, and this is something the Knicks could have used. It goes beyond defense and offense and energy, and into the realm of providing that push a team needs to regain momentum.
And what is more about this clip is although Harrington winds up getting the basket after the block, Brewer did not stand off to the side to admire his work. He got right back in Harrington's face and made him earn those two points.
This is the kind of determination the Knicks need on their roster. Only too often do they look stagnant when playing offense or defense. They need a guy who is always moving and never giving up on a play.
That guy is Brewer.
Well, it could have been Brewer.
The Knicks waived him and now the Dallas Mavericks get to enjoy the endless determination that Brewer possesses.
Brewer is a player that is so athletic that he can compete against players who are deemed better than him. No one is able to just walk all over him.
He shows grit and toughness, and any team would be lucky to have a guy like that on its roster; a guy that plays with that type of fire and determination.
Funny thing is the Knicks had a guy just like that on their roster for a short time.
This guy in fact.
But they willingly let him get away.
And they will come to regret this come playoff time, when they need that spark and hustle to regain momentum.
Keep Reading

New York Knicks: Like this team?