Fiesta Bowl Strippers: Officials Made Sure Arizona Politicians Had a Good Time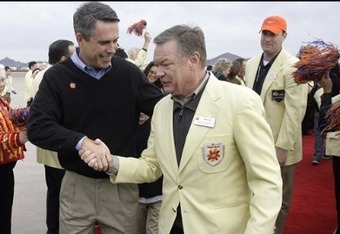 Fiesta Bowl President John Junker Fired After Strip Club Scandal Comes to Light
Fiesta is in the bowl's name, but this is ridiculous.
A memo to CEO types and presidents, never conduct your business at a strip club. As hard as you might try to explain it away, no one will buy it.
Let me tell you a tale about a man named John Junker. He used to be the CEO of the Fiesta Bowl. That is until he was fired Tuesday for his part in a recent scandal that is just now coming to light.
It seems Junker and top officials involved with the bowl funneled funds in order to make local Arizona officials happy. How happy? You might ask. Here is a tidbit from the New York Times report by Katie Thomas that reported on the case.
"Top executives at the Fiesta Bowl...funneled campaign contributions to local politicians, flew other Arizona elected officials around the country at the bowl's expense, racked up a $1,200 bill at a strip club, and even spent $30,000 on a birthday party for the chief executive, according to an investigative report commissioned by the bowl's board of directors."
Don't go anywhere. It gets better. Junker had an excuse for visiting the strip club. He was on a scouting mission people. You see, athletes frequent the seedy underbelly of strip clubs. Therefore, Junker was mandated to find out what the fuss was all about. Here is what Junker had to say.
"We are in the business where big strong athletes are known to attend these types of establishments. It was important for us to visit, and we certainly conducted business."
I am sorry we took up so much of your time Mr. Junker. Continue on. Did the man really think this excuse would fly? Are we to believe that he had no idea what a strip club contained, so he had to investigate the matter.
While there, he states that they conducted business. I am sure that they had contracts, spread sheets and power points opened while strippers danced the afternoon away. Who goes to a business meeting a strip club?
Shady officials, it seems. I certainly do love college football.
Related Story: 100 Hottest WAGs of All Time
Most recent updates:
This article is
What is the duplicate article?
Why is this article offensive?
Where is this article plagiarized from?
Why is this article poorly edited?