2011 NFL Mock Draft: Which of the Top QBs Land with Arizona Cardinals?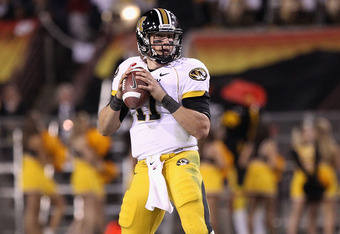 Arizona Cardinals Pass Up Other Needs In 2011 NFL Mock Draft
Kiper: Von Miller, OLB, Texas A&M
McShay: Cam Newton, QB, Auburn
Banks: Von Miller, OLB, Texas A&M
Kirwan: Von Miller, OLB, Texas A&M
Rang: Von Miller, OLB, Texas A&M
My take: Blaine Gabbert, QB, Missouri

I certainly leave my self open to mockery about my mock draft. I've made a few "gutsy calls," but the greatest (worst?) might be seeing Von Miller falling to 11.
Banks might be right when he says "cemented his reputation as the draft's biggest impact defender with a boffo showing in terms of testing and drill work at the combine," but true linebackers are rarely taken this high. Even though I like Miller and think he'll be a perennial pro bowler, I'm not certain a top 10 team wants to spend their pick on him.
Arizona would love to have an impact, interior defender like Marcell Dareus or Nick Fairley to correct their woeful run defense, but they are gone, leaving Ken Wisenhunt with a tough choice.
Adding another young quarterback to this roster is problematic--especially if they hope to re-sign Larry Fitzgerald--but Gabbert is the best pure passer in the draft and has tremendous athleticism. He continues to rise up draft boards (as high at number one in Kiper, Banks, and Rang's mocks) so there is unquestionable promise there.
And although Cam Newton would be a nice choice as well, I think Wisenhunt will be intrigued by the remarkable accuracy Gabbert showed at his pro day.
For More Draft Coverage, Check Out Our 2011 NFL Draft Page
1. Carolina Panthers: Da'Quan Bowers, DE
2. Denver Broncos: Marcell Dareus, DT
3. Buffalo Bills: Nick Fairley, DT
4. Cincinnati Bengals: Patrick Peterson, CB
17. New England Patiriots: Mike Pouncey, OG
18. San Diego Chagers: Ryan Kerrigan, DE
19. New York Giants: Gabe Carimi, OT
20. Tampa Bay Buccaneers: Cameron Jordan,DE
5. Arizona Cardinals: Blaine Gabbert, QB
6. Cleveland Browns: A.J. Green, WR
7. San Francisco 49ers: Robert Quinn, DE
8. Tennessee Titans: Tyron Smith, OT
21. Kansans City Chiefs: Akeem Ayers, OLB
22. Indianapolis Colts: Anthony Castonzo, OT
23. Philadelphia Eagles: J.J. Watt, DE
24. New Orleans Saints: Cameron Heyward, DE
9. Dallas Cowboys: Prince Amukamara, CB
10. Washington Redskins: Cam Newton, QB
11. Houston Texans: Von Miller, OLB
12. Minnesota Vikings: Jimmy Smith, CB
25. Seattle Seahawks: Stephen Paea, DT
26. Baltimore Ravens: Brandon Harris, CB
27. Atlanta Falcons: Justin Houston, OLB
28. New England Patriots: Adrian Clayborn, DE
13. Detroit Lions: Nate Solder, OT
14. St. Louis Rams: Julio Jones, WR
15. Miami Dolphins: Mark Ingram Jr., RB
16. Jacksonville Jaguars: Aldon Smith, DE/OLB
29. Chicago Bears: Derek Sherrod, OT
30. New York Jets: Muhammad Wilkerson, DE
31. Pittsburgh Steelers: Aaron Williams, CB
32. Green Bay Packers: Jabaal Sheard, DE
Most recent updates:
This article is
What is the duplicate article?
Why is this article offensive?
Where is this article plagiarized from?
Why is this article poorly edited?