Luol Deng and the Chicago Bulls' All-Decade Team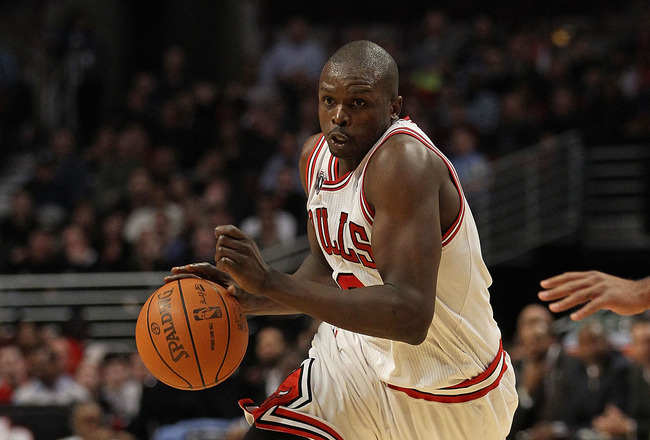 Jonathan Daniel/Getty Images
Sometimes you have to be blind before you can see the light.
The Chicago Bulls experienced such a blindness for much of the last decade. Despite their tailspin into the depths of NBA mockery, the present and future of the team are in part due to the team's misfortunes from 2000-09.
The revolving door that was the United Center housed some pretty lousy players. Those lousy players provided Chicago with some decent draft picks. Some of those picks will be on this list.
Here is the best of the worst (or mediocre) from last decade's Chicago Bulls.
All statistics courtesy of Basketball-Reference.
Point Guard: Kirk Hinrich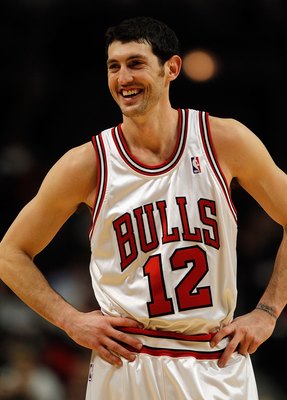 Jonathan Daniel/Getty Images
Kirk Hinrich was the seventh pick in the 2003 NBA draft, the same one that included LeBron James, Carmelo Anthony and Dwyane Wade.
All things considered, the Bulls got a pretty solid player from a good class.
Captain Kirk never averaged fewer than 10 points and one steal a season. His assists dipped to four by the time he was traded, but he battled through injuries.
A defensive stalwart, Hinrich was integral in the slight progress Chicago made before the arrival of Derrick Rose. Hinrich also had a hand in guiding Rose during his rookie season.
It can be argued that his loss led to a hole at the two guard, despite the solid contributions from Keith Bogans and Ronnie Brewer.
Contract aside, Kirk Hinrich was arguably the best Bull of the decade.
Shooting Guard: Ben Gordon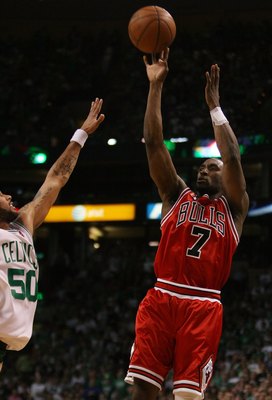 Elsa/Getty Images
The following offseason, the Bulls had another two lottery picks, one being the short-statured Ben Gordon.
The third overall pick in 2004 was known for his streaky shooting at UConn, but managed to have a smooth transition to the NBA. Gordon was the main scoring threat for Chicago during his five years.
Gordon was a consistent scorer, never shooting less than 40 percent from the field. He also developed a killer touch that showed in the 2009 playoffs in one of the best series in playoff history, a seven-game set against the Boston Celtics in the first round.
Durability was one of his better qualities as well, playing every game in three of the five seasons on the West side.
Small Forward: Luol Deng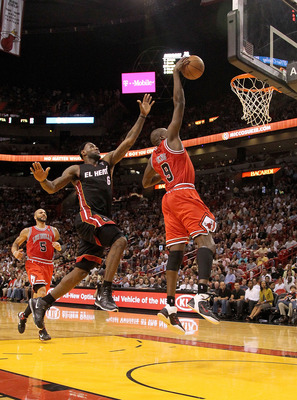 Mike Ehrmann/Getty Images
The second lottery pick in 2004 was Sudan native Luol Deng, who was originally drafted by the Phoenix Suns but was traded to Chicago for Jackson Vroman and their 2005 first round pick. That pick turned into Nate Robinson.
Chicago, by all accounts, has won that deal.
Despite not playing up to expectations attached to his lengthy and expensive contract, Deng has been a model of consistency at a prime position. His 16 points and six rebounds over six-plus seasons is nothing to sneeze at, especially when you consider his extended injury report.
The arrival of Derrick Rose has given new life to Luol, and his consistent health and penchant for big buckets as of late has been a bright spot for the once highly-touted prospect from Duke.
Power Forward: Donyell Marshall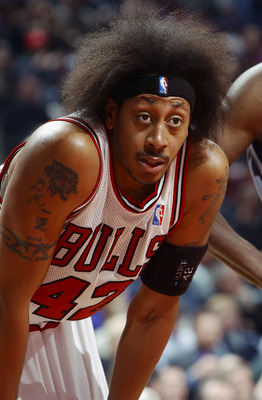 Jonathan Daniel/Getty Images
This is how bad the position was for Chicago the last decade.
Marshall played a whopping 94 games in his one-plus season in Chicago. His production was very high in his short stay, averaging 13 points and nine rebounds on teams that could not muster 30 wins in those 94 games.
Donyell Marshall had a long and productive career. Nothing flashy, but one that spanned 15 seasons.
Center: Tyson Chandler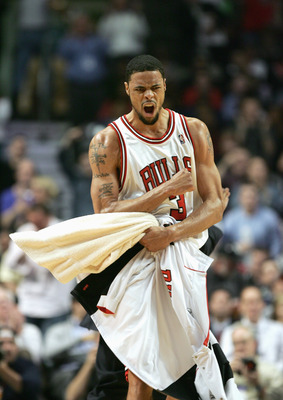 Jonathan Daniel/Getty Images
Elton Brand appeared to have a bright future in Chicago after being drafted in 1999. It was so bright that he was expendable.
Tyson Chandler was drafted by the Los Angeles Clippers and sent to Chicago for Brand, essentially. Chandler and newly drafted local product Eddy Curry were supposed to revive basketball in Chicago.
Chandler never fully blossomed in Chicago mainly due to his immaturity. Once he was shipped out, he turned into a much better scorer to add to his solid defensive abilities.
Chicago at least saw Chandler develop his interior defense over five seasons.
Bench: Chris Duhon, Guard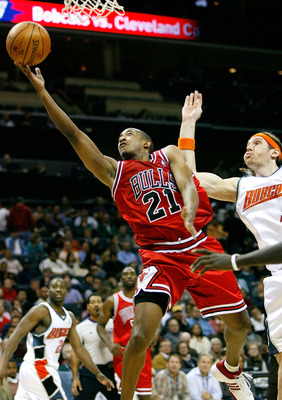 Kevin C. Cox/Getty Images
Chicago managed to have a pretty good draft in 2004. Chris Duhon was Chicago's second round pick, and most would say he was not expected to do much.
His best quality? Winning. He did that a lot in college with Luol Deng.
Duhon started half of the games he played in Chicago, and was a good secondary assist man to Kirk Hinrich, averaging five a game. Duhon was also a solid defender and intelligent ball-handler.
Bench: Jalen Rose, Guard
Jonathan Daniel/Getty Images
Rose spent his time in Chicago shooting and agitating.
Rose averaged 20 points a game in a little over two seasons, adding four assists and three rebounds.
Every team needs secondary scoring, and Rose would be a nice option for a second unit on most all-decade teams.
Bench: Andres Nocioni, Forward
Jonathan Daniel/Getty Images
"Noch" was the heart and soul of the Chicago Bulls before being traded in 2009.
His gritty, in-your-face play endeared himself to the Chicago faithful, and his quotes were fodder for sports radio hosts.
Bench: Marcus Fizer, Forward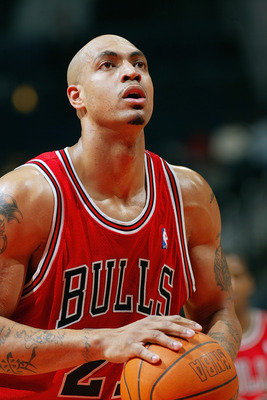 Jamie Squire/Getty Images
Fizer did not live up to his potential as the fourth overall pick in 2000, but he was serviceable.
Power forward was not a strong position for Chicago, as previously mentioned. His 10 points and five rebounds per game over 4 seasons were not terrible for a player who found much more success in college at Iowa State.
Bench: Joakim Noah, Center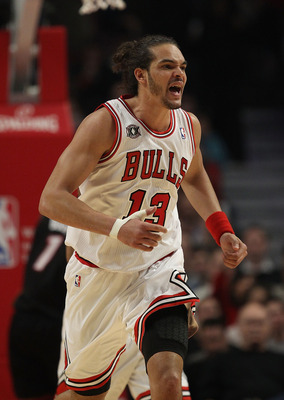 Jonathan Daniel/Getty Images
Fans were confused with the selection of Noah as Chicago's first round pick in 2007. The Bulls wanted a center, and the pick was between Noah or Spencer Hawes.
Hawes may have looked better as a scorer, but Noah was projected to do more as he grew up.
Noah has grown up into a superior defender and emotional leader at an early stage in his career. Chicago had a chance to land Carmelo Anthony for the goofy-looking New Yorker, but chose to keep him and maintain its stronghold in the paint. That shows how high Chicago management is on Noah.
Bench: Brad Miller, Center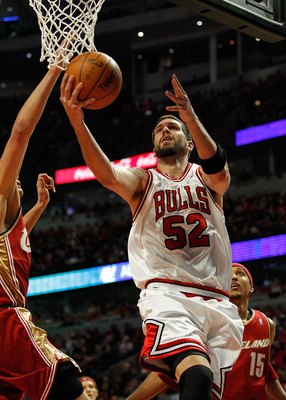 Jonathan Daniel/Getty Images
Brad Miller bookended the decade in the Windy City. He started as a potential-laden center who was expendable for Ron Mercer, and turned into a savvy veteran for a young frontcourt in Chicago.
His ability to shoot away from the net helped cause mismatches against most centers.
Miller's leadership and valuable knowledge earned him a nice multi-year deal in Houston despite being 34 when he signed.
Keep Reading

Chicago Bulls: Like this team?