NBA Free Agency 2012: Derrick Rose, Kevin Love and Other RFA's Who Might Leave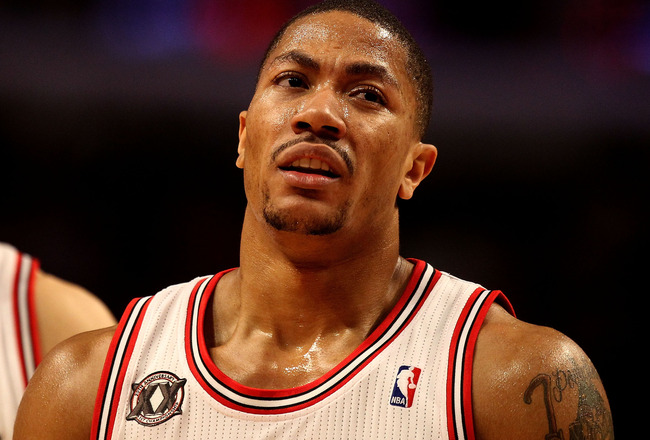 Jonathan Daniel/Getty Images
The 2011-2012 National Basketball Association season is, at present, in serious jeopardy in light of an expiring Collective Bargaining Agreement. A lot of changes are likely to infiltrate the NBA in the inevitable give-and-take between owners and players. In a time of extreme uncertainty, one thing is for sure: Derrick Rose, Kevin Love, Danilo Gallinari, Eric Gordon, Brook Lopez and Russell Westbrook will all be restricted free agents at the end of next season.
Before I continue, the specifics of what it means to be a restricted free agent need to be explained. In summary, restricted free agents are allowed to entertain offer sheets from interested teams, but are at the mercy of their current team. The current team has seven days to match any offer sheet or come within 10 percent of the offer. A more detailed explanation of restricted free agency can be found here.
These six franchise building blocks will be in an interesting situation one year into a new CBA. All will be 24 years old and due major pay raises in a market that no team is sure about. There might be new stipulations governing free agency and team payrolls.
All this is to say that no one really knows what will happen with these young superstars and that it should not be taken for granted that their current teams will be able to re-sign them. Because of this, conversation can be reasonably had over whether these players would leave, where they would go and the reasons why.
How likely is each of these young superstars to stay with his current team?
Danilo Gallinari, Denver Nuggets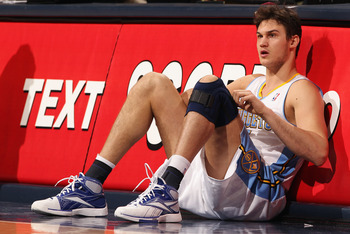 Doug Pensinger/Getty Images
As you know, Gallo, the 22 year-old Italian sharpshooter, was traded to the Denver Nuggets as part of the Carmelo Anthony trade with the New York Knicks.
In just his third year, Gallinari has established himself as a consistent No. 2 or 3 scorer at about 15 points per night.
He missed eight of the 15 games with a fractured toe since being traded, so he has yet to establish a rhythm.
However, in four games that he has started and played starter's minutes, he has averaged over 15 points a game while pulling in six rebounds a game.
The Nuggets are, improbably, 11-4 since Carmelo and Chauncey Billups were dealt, and have fended off "rebuilding mode" by playing themselves into the playoffs.
The Nuggets lead the NBA in scoring and offensive efficiency and rank second in pace. For the offensive-minded and perimeter-oriented Gallinari, these fit his game like a glove. The Nuggets are essentially a mirror of his former team, but slightly better. The environment is great for him, and I can't think of another that would fit his game better.
There is one caveat to this point, though, and that is the fact that he hasn't played on a team that plays a "normal" style, so we can't correctly say that the style he's played in suits him best.
Still, the Nuggets will have huge cap space in the summer of 2012 and will be able to pay Gallinari a lot more than some other teams.
Add that to the favorable offensive system, and Gallinari has a lot of incentive to stay with George Karl, who has thrown himself into the Coach of the Year running with the improbable roll he's had his team on.
Gallinari's chance of staying in Denver: 80 percent
Derrick Rose, Chicago Bulls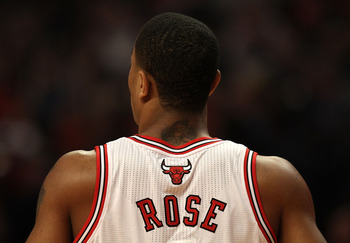 Jonathan Daniel/Getty Images
After playing on Team USA last summer, Derrick Rose came back to the Bulls and made The Leap.
Everyone knew he was good and that he would continue to improve, but no one anticipated before this season that he would be this good, this fast.
Rose has improved emphatically in the scoring department over his three years, upping his average by four points per game each year. His current 24.9 is tops among point guards, and his 7.9 assists, 4.2 rebounds and one steal are all career highs.
He has truly entered the elite, not just in certain areas, but also as a complete player.
His contract actually runs through the 2012-2013 season, but he can still opt out as an RFA next summer. However, the end year of his contract is immaterial, because there is no way he doesn't sign a long-term extension with the Bulls in the next 12 months.
Rose and the Bulls have no limit to how good they can be. He's already elevated himself to MVP territory already, and his full potential will be realized as a long-term member of the Bulls, who might see Rose lead them to several championships.
Rose's chance of staying in Chicago: 100 percent
Kevin Love, Minnesota Timberwolves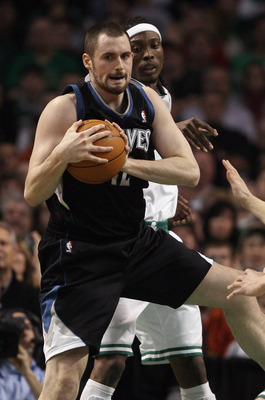 Elsa/Getty Images
Kevin Love is having one of the five best seasons of any player in the league this year on the second-worst team. This is why I think he'll be on his way out when his contract expires, if not sooner, for many reasons that I described several days ago.
Right now, Love is a massive bargain at $3.6 million. His contract extension, in the neighborhood of six years and $70 million, is imminent from the Wolves. They would be elated to lock up their franchise player long-term, but I don't think it's a lock that he will sign the extension when he could be free to leave in a little over a year.
The Wolves currently stand to roster Darko Milicic, Luke Ridnour and Nikola Pecovic after next season, with team options for Martell Webster at $5.7 million, Wes Johnson for $4.3 million and Wayne Ellington for $2 million. Other restricted free agents include Michael Beasley and Anthony Randolph, both for minimums higher than Minnesota will be willing to pay.
It's easy for Love to look at his 17-57 team that has lost seven straight games and panic about his NBA future and legacy. Will I ever make the playoffs if I don't get out of here? How will I possibly compete for a championship unless I leave for a good team?
It is much harder to imagine Love examining the same set of circumstances while thinking, "Yeah, we're OK. We're getting better and might be competitive soon. The weather isn't that bad. My skin would get burned too easily in LA, Miami or Oklahoma City, anyway. I'm fine here." I have a hard time coming to the same conclusion as the masses who cite his outspoken desire to stay in Minnesota. Remember, don't believe everything you hear, people.
If he signs the extension with conviction and the Wolves start to make progress, shame on me. Until then, I'm going to heed to what my eyes show me and my rationality speaks to me.
Love's chance of staying in Minnesota: 40 percent
Brook Lopez, New Jersey Nets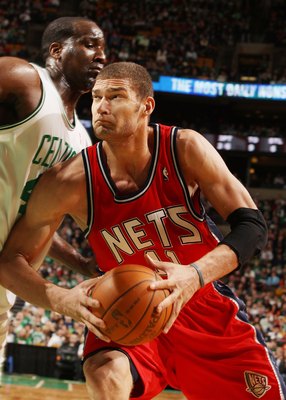 Elsa/Getty Images
The third-year center out of Stanford has had a perplexing year to say the least.
His regression is the inverse of Rose's progression, and it isn't easy to pinpoint the reasons why. After two fantastic seasons, he looked primed to break into the elite 20-10 group this year, where he would live for the rest of his career.
Instead, his rebounding and shooting numbers have sharply declined. His shooting percentage is down almost two percent from last year to 48 percent, while his 5.8 rebounds are three less per game than last year's 8.7.
For some reason, heading into his third year and pre-prime, he stopped rebounding. I don't know who can explain it, but he just looks different this season, almost like he's sleepwalking through the schedule with no energy.
Maybe he's been hampered by some secret injury and will not come public with it. Maybe he's not as good as his first two years suggest. Maybe he's staging a silent protest in hopes of getting traded.
If he wants to get a big raise from his current $2.4 million after 2012, he has got to boost those rebounding numbers and get his shooting back. He needs to recapture the dominance that he displayed last season, when he looked like a top five center.
If he stinks next year, teams will not knock down his door with extravagant offer sheets, especially in light of a potential hard salary cap. If that is the case, New Jersey, who seems committed with its words to building a contender, will be perceived favorably by offering a modest raise to about $5 million per year.
If they could get Lopez back at that price, it would be for a huge discount, even in light of his peculiar regression.
Franchise-caliber centers are in short supply and huge demand in the NBA, so Lopez will definitely be coveted. This might all come down to how what teams are willing to offer him.
Lopez's chance of staying in New Jersey: 65 percent
Eric Gordon, Los Angeles Clippers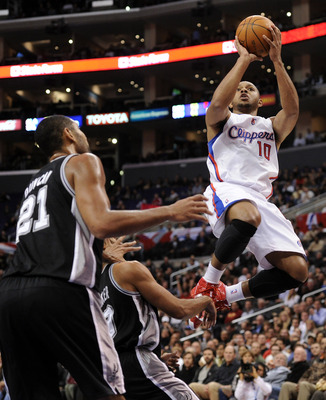 Harry How/Getty Images
Gordon has emerged as an elite scorer in his third season out of Indiana, easily clearing his career highs in scoring (23.2), field goal percentage (46), rebounding (3.0) and assists (4.4).
Once thought to be a one-dimensional shooter, the 22 year-old shooting guard has progressed beautifully in rounding out his game. He is just as likely now, if not more so, to get in the lane or to the hoop as is he is to shoot a three. His ability to finish near the basket is surpassed by surprisingly few, and his efficiency means that he doesn't disrupt from a team-centered attack.
A year ago, his likelihood of leaving was much higher, mired in a situation with a lackadaisical Baron Davis and uncertainty over Blake Griffin.
What a difference a year can make. The Clips have equaled last season's win total with eight games to play, and the future is brighter than ever. No, really, it is.
Last year, Blake Griffin, DeAndre Jordan and Eric Bledsoe were not playing or not on the roster. Now, they make up the core, along with Gordon, of the Clippers' long-term strategy. All are 22 or under and love playing together.
Gordon's legacy will be significantly better than the alternative, if he can stick with the team that drafted him and help guide them to a sustained level of competitiveness. The Clippers are already drawing sellouts, even as they lose, and the LA/STAPLES Center atmosphere is unparalleled in the league.
Why would Gordon leave to play somewhere else?
Gordon's chance of staying in Los Angeles: 85 percent
Russell Westbrook, Oklahoma City Thunder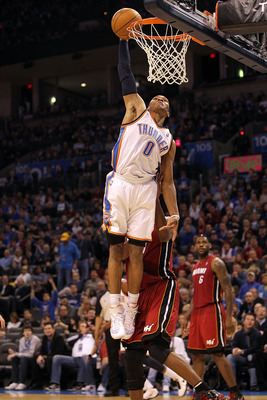 Ronald Martinez/Getty Images
Westbrook's progression is similar to that of Rose's and has dictated a major shuffling of the NBA's point guard hierarchy. Can anyone make an honest case for keeping Russ' 22.3 points, 8.3 assists, 4.6 rebounds and 1.8 steals out of the top five point guards discussion?
The statistical trajectory that the Thunder point guard has taken is staggering and unsustainable; his current averages are sustainable, though. Couple the numbers with maturity, leadership and an acquired killer instinct, and Westbrook could blow by everyone on his way to slam dunking the "best point guard" title for himself.
Russ is another guy on a young, cohesive squad that is unlikely to move, barring an unforeseen fallout with his boy Kevin Durant. Russ, not Durant, sets the tone for the team with his uptempo and energetic style. The qualities he brings to the table would be next to impossible to replace.
The Thunder might be the Western Conference mirror of the Bulls in terms of trajectory, style, chemistry and roster makeup. Both teams are the future of their respective conferences and could grapple for the title every year once Kobe's Lakers and the Boston Three Party's Celtics are gone.
Russ will not forego a chance to be a part of that equation.
Westbrook's chance of staying in Oklahoma City: 95 percent
Keep Reading