2011 MLB Predictions: Will Cliff Lee and Roy Halladay Each Win 20 Games?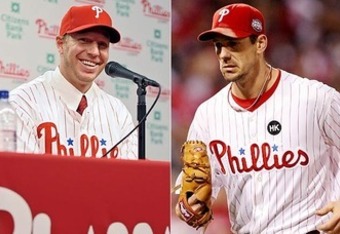 2011 MLB Predictions Could See Phillies Boast Two 20-Game Winners
With the new addition of former Texas Rangers ace Cliff Lee, the Philadelphia Phillies have the chance in the 2011-2012 campaign to do something that hasn't been done in nearly 20 years: have two 20-game winners on their squad in a single season.
Ironically enough, the last team to boast such a duo was the defending champion San Francisco Giants, who saw John Burkett (22-7) and Bill Swift (21-8) eclipse 20 wins in 1993.
But don't think it's not possible in the modern age, with Lee and baseball's best pitcher, Roy Halladay, toeing the rubber for the Phillies.
We all know Halladay is capable, winning 21 games for the Phils last year in his first season with the club, as well as winning 20 with the Toronto Blue Jays in 2008. He's always a threat to win 20 games.
Lee won 22 games with the Cleveland Indians in 2008, but has seen his win totals dip since, in part because of the state of the Indians organization and the state of the Seattle Mariners organization.
He went 7-4 in 12 starts with the Phillies in late 2009, so there's a chance if he pitches for 30-plus starts this season he could hit 20 wins.
But a lot of that depends on the Phillies' offense, who scored the seventh-most runs in MLB last year, but also were inconsistent at times and have lost Jayson Werth since, who drove in 85 runs for his former club.
There is Roy Oswalt, too, however, who has won 20 games twice in his career, but that was a while back.
What it all adds up to for me is a team that will probably see one 20-game winner in Halladay, but nothing more.
The Phillies don't have as powerful a lineup this year as last season, and they will probably deal with injuries from time to time, ranging from Chase Utley (who starts the season on the DL) to Jimmy Rollins.
Don't think manager Charlie Manuel doesn't know this, either.
Via the AP's Rob Maaddi:
"We're missing two big run-producers right in the middle of our lineup," (Manuel) said. "We've got people that are going to have to step up and do better than they've been doing or prove that they're better big-league players than what they have been."
This includes right fielder Ben Francisco, who I have a hard time seeing as a viable replacement for Werth's past production.
For Greg Pinto's take on why the Phillies are the favorite in the NL (bet you can't guess one of the reasons), go here.
Most recent updates:
This article is
What is the duplicate article?
Why is this article offensive?
Where is this article plagiarized from?
Why is this article poorly edited?