The 50 Funniest Fantasy Baseball Team Names
Leon Halip/Getty Images

Ah, fantasy baseball is upon us once more.
While fantasy football is preferred by many, I enjoy managing a team every day over the course of a 162-game season. I like setting my lineup based on pitching matchups, scanning the waiver wire each day in search of a player on a hot streak, and scrolling through the endless texts about potential trades.
It's like a sports geek getting to be the manager and front office. It's awesome.
But beyond the deft wheeling-and-dealing, nothing sets a team apart quite like a good name. So, in that spirit, I've compiled a list of the 50 funniest team names for your fantasy squad.
Some of these you may have come across. While I purposefully didn't search for any funny team names, I have seen a few over the years I've liked and committed to memory. But the large majority are simply my (mildly clever) gift to you.
As always, be sure to leave your team names in the comments.
Now, without further ado, let's play ball!
Begin Slideshow

»
Kevork Djansezian/Getty Images

The version the Killers did about fantasy baseball. It's basically a song about the joys of home runs, RBI and the frustration of strikeouts.
J. Meric/Getty Images

Robinson Cano certainly did that last year, ending any debate whether or not he was the top second basemen in fantasy baseball.
Christian Petersen/Getty Images

Especially this offseason, when Young demanded to be traded, namely because of his desire to play in the field rather than be a designated hitter.
Ronald Martinez/Getty Images

Sigh. I don't care for country music. I certainly didn't care for Randy Travis. So I dedicate this reference to you, proud hicks of the world.
J. Meric/Getty Images

This is how I imagine Derek Jeter's contract negotiations went this offseason:
Dimpus Burger Guy: [into mic] Litrecola? Do we sell litrecola?
Thorny: Will you just order a large, Farva?
Farva: I don't want a large farva. I want a god (bleep) litre o' cola!
A. Messerschmidt/Getty Images

Oh, the Mets. So many expectations, so little success. Who could forget them blowing a seven-game lead with 17 games to play in 2007?
Hey, Jason Bay, are you there? What about you, Carlos Beltran?
Keep smiling, Mr. Met—we know you are dead inside.
Marc Serota/Getty Images

And draft David Wright once Evan Longoria is off of the board. He is the one player I have legitimate respect for on the Mets.
Christian Petersen/Getty Images

If you don't get this reference, please either see or read "Fear and Loathing in Las Vegas."
For everybody else, be careful—this is bat country.
Christian Petersen/Getty Images

Kevork Djansezian/Getty Images

The original Chinese proverb, "One joy scatters a thousand griefs," is a positive saying. But see, in my idiom about Jim Joyce ruining Armando Galarraga's perfect game, I'm flipping the script.
Wait, what's that? You don't care?
If you have to explain it, it's not that funny?
Right. Proceed.
Ronald Martinez/Getty Images

What the film should have been called: "You Shouldn't Waste Your Money on this Movie."
What your fantasy Hollywood team should be called: "You Don't Mess with the Lohan."
What your "I'm a Middle-Earth Geek" team should be called: "You Don't Mess with the Rohan."
And I'm spent. Thanks for playing.
J. Meric/Getty Images

Hey, even obscure bench players like Ryan Doumit of the Pirates deserve love now and again.
This, however, is not advice for your fantasy team. Just go ahead and avoid the majority of the Pirates.
Mike Ehrmann/Getty Images

The Good: The Phillies.
The Bad: The odds the Braves will overtake them for the NL East this year.
The Uggla: A roster upgrade that will do little to change the above. I mean, have you seen this guy attempt to field his position?
He is aptly named.
Elsa/Getty Images

Justin Sullivan/Getty Images

Don't lie, kids. Especially to a grand jury.
Harry How/Getty Images

James Loney may be getting the message very quickly that his lack of power could make him expendable and open up a roster spot for hot prospect Jerry Sands.
Norm Hall/Getty Images

Yeah, this is a shout out for the Mortal Kombat nerds out there. I'm not sure if Dallas Braden is a deadly fighter, but he did throw a perfect game last year, so he's got that going for him.
Christian Petersen/Getty Images

In no way, shape or form does this team name promote the listening to of Peter, Paul and Mary songs.
Andrew Burton/Getty Images

Or, more accurately, all over his pitches.
Al Messerschmidt/Getty Images

Unless you would prefer "Gone with the Lind" here.
You sap.
Hannah Foslien/Getty Images

You had no idea Matt Capps was hard like that, did you?
Relievin' ain't easy, yo!
Kevin C. Cox/Getty Images

1. That movie was really strange.
2. There are few safer bets than Braun in fantasy at this point. So lock him up, and sleep easy knowing he will consistently produce.
Andy Lyons/Getty Images

Which pretty much sums up the expectations for the Pirates' offense this season.
Andrew McCutchen will produce, and little else is certain.
For the four Pirates fans out there raising a fuss, I know there are some young players like Pedro Alvarez who have a lot of potential.
But c'mon, it's the Pirates. Betting on a losing season is as safe as abstinence.
Jared Wickerham/Getty Images

Or eventually the closer role, to be more precise.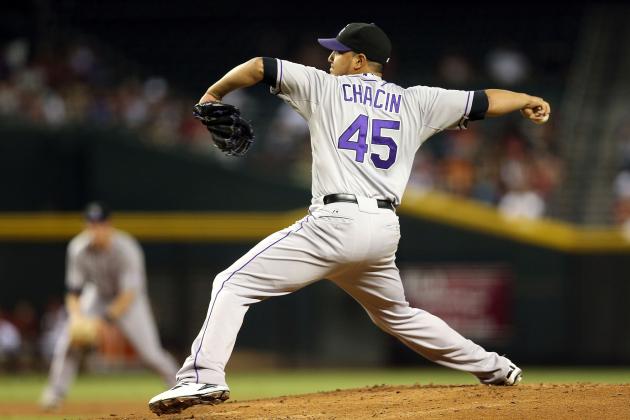 Christian Petersen/Getty Images

Say it with me kids: Jhoulys Chacin.
Oh, I apologize, let's try that again: (Yo-lease Cha-seen).
Andrew Burton/Getty Images

Though, if you have Sabathia, your day of rest will come every fifth day, when the big man is slated to start.
So kick back and relax. You've got nothing to worry about with CC dealing on the hill.
Christian Petersen/Getty Images

And if you do, you've likely noticed that the he went 18-8 last year with a 2.97 ERA and 1.11 WHIP, earning him a trip to the All-Star Game.
Slide him into your rotation as a decent number two or an excellent number three, and be glad you did.
Harry How/Getty Images

Kevork Djansezian/Getty Images

And the reigning MVP has earned the love after his stellar season last year.
So, pitchers, be wary of trying to be Votto's "backdoor slider man"—he will make you pay dearly.
J. Meric/Getty Images

Vlad is bad, for sure. Unfortunately, Vlad to the Bone is also incredibly injury-prone. So relying on him to play 152 games like he did last year is a risk, even as a DH.
Bob Levey/Getty Images

I'm a bit embarrassed that I recall this band. Because, obviously, I don't have "Kiss Me" playing in my iPod right now.
I swear I don't.
Sigh.
Jed Jacobsohn/Getty Images

Let's compare:
Both were powerful men.
Check.
Both kept up the act even under the most intense scrutiny.
Check.
We didn't learn of their true identity until the damage was done.
Check.
J. Meric/Getty Images

So let's do it like you did when you won both the 2008 NLCS and World Series MVP.
I prefer this version of the song.
Christian Petersen/Getty Images

Let me guess—those of you who are into this reference are also fans of the Nuggets, Blazers, Justin Smoak of the Mariners, ex-NFL and current Arena Football League quarterback Jeff Smoker, ex-MLB pitcher Bud Smith and running back LeGarrette Blount.
Now that you've had your laugh, wipe the Doritos from your hemp shirt, brush your teeth, and go outside to reacquaint yourselves with the sun.
Hannah Foslien/Getty Images

Because he keeps rocking the hits.
Boom!
Christian Petersen/Getty Images

With the power numbers he puts up, you would think teams would find more playing time for him.
Gosh!
Last year, Napoli played in a career-high 140 games, and responded with 26 home runs and 68 ribbies. Though, his .236 average and .316 OBP didn't help his cause.
Leon Halip/Getty Images

Drunk driving is not cool, kids.
Ezra Shaw/Getty Images

Inspired by the lovely twins from Austin Powers in Goldmember, obviously.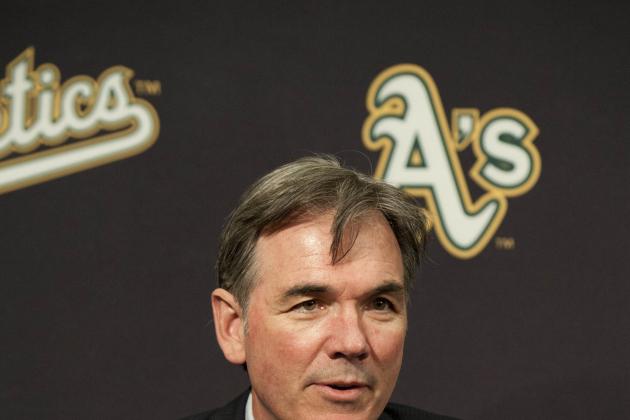 Kyle Terada-USA TODAY Sports

Unless you just looked up and smiled at the picture of Bill James you have hanging over your bed, you may not know what I am talking about here.
WAR stands for wins above replacement, a stat used by sabermetric junkies to determine the value of a player as compared to the average "replacement player" that might come off of a team's bench.
So this team is a suggestion to all of the stat geeks, locked away, crunching numbers in a basement somewhere.
Christian Petersen/Getty Images

If Jered Weaver and Dan Haren live up to expectations, the Angels could challenge the Rangers for the NL West this season.
Even if they don't get off to a quick start.
Jeff Gross/Getty Images

And drafting Blake DeWitt for your fantasy team is the soul of failure.
J. Meric/Getty Images

I know, I know, it was a rib injury. So close to being perfect. But hey, I enjoy this one anyhow, so just roll with it.
J. Meric/Getty Images

His swing is harder than a gangster, for real for real.
Nick Laham/Getty Images

I have no idea if he is grouchy. Though, if I was 6'11", I might be. Mostly because people would be constantly pointing out how tall I was.
That must be annoying, people pointing out how tall Jon Rauch is all of the time.
But I mean, he is really tall, you know?
Jim McIsaac/Getty Images

Antonio Bastardo is a middle reliever for the Phillies.
And an easy target for fantasy team names.
Al Messerschmidt/Getty Images

This wouldn't fly in Philadelphia for two reasons:
1. We already call him Chooch.
2. There isn't a starter on the staff—not even Joe Blanton—who fits the "Thelma" bill.
Although, I sometimes suspect that Ruiz wouldn't hesitate to kill a man if the situation called for it...
Mike Ehrmann/Getty Images

But you already knew that the Devil was a Braves fan. How else do you think they won 14 consecutive division titles?
Christian Petersen/Getty Images

A healthy addition to a well-balanced lineup.
Christian Petersen/Getty Images

And they can't believe their good luck, bumping into an Angel like that.
Rimshot!
Kevork Djansezian/Getty Images

Hakuna Tejada!
What a wonderful phrase
Hakuna Tejada!
Got caught up in craze
It means no more steroids for the rest his days
So quit that GHB
Immediately
Hakuna Tejada!