NFL Predictions 2011: Breakout Players, Division Winners and Super Bowl Locks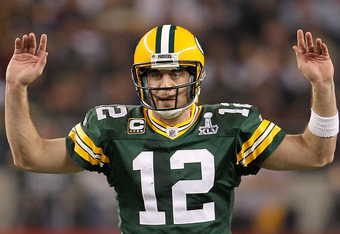 Jamie Squire/Getty Images
While the NFL lockout may be dominating the news right now, we're not giving up hope on seeing some football in 2011 as we look forward to the season and make some predictions about how we'll look back on the season this time next year.
Will the Green Bay Packers make it back to the Super Bowl, or will some team emerge from out of nowhere to storm to the biggest stage in professional football? Will Michael Vick continue to improve his play, or will he take a step back? How will the rookie head coaches do in their first campaigns on the sideline?
We'll also be talking about breakout players, division winners and so much more as we look forward to what hopefully will be an amazing season. As always, if you have any thoughts, make sure to leave them in the comments.
What do you see happening in the NFL in 2011?
Jed Jacobsohn/Getty Images
NFL Predictions 2011 Involve the Oakland Raiders, A Team that Took A Huge Step Forward Last Year, But Can Darren McFadden and Company Make the Next Step?
For years, the Oakland Raiders were the laughingstock of the NFL.
This was a franchise that was the example of what not to do if you're trying to become a successful organization. Al Davis looked lost and looked like the game had passed him by. However, last year, under head coach Tom Cable, the Raiders became a dangerous team, with running back Darren McFadden breaking out and becoming the dominant force that everyone thought he would be when he came out of college.
The quarterback situation was one that was mediocre at best, but the Raiders won games with a strong running game, a tough defense and some clutch plays from wide receiver Jacoby Ford. However, it wasn't good enough for Davis, who fired Cable after the season and replaced him with Hue Jackson. It was a puzzling move, but when you realize it's the Raiders, anything is in the realm of possibility. Coming into next season, hopes are going to be high, but if I'm a fan, I'm tempering my expectations for 2011.
The quarterback situation is still something that leaves much to be desired and that's something that's going to hold this team back. Jason Campbell is not a starter in this league and neither is Bruce Gradkowski. Until the Raiders get someone under center who can play at a high level, then this is going to be an organization that can have decent campaigns, but cannot get to the point where it can play in some of the biggest games of the season.
McFadden is going to be a dominant force next year, as the wideouts in Ford and even Darrius Heyward-Bey, someone who has been looked at as somewhat of a bust, will continue to develop. These players just need a quarterback to help bring the whole thing together. The only problem is, that player isn't on the roster at this moment. Decent isn't good enough in this era of the NFL.
You need a quarterback to win playoff games and championships, and the Raiders simply don't have one.
This article is
What is the duplicate article?
Why is this article offensive?
Where is this article plagiarized from?
Why is this article poorly edited?
Christian Petersen/Getty Images
NFL Predictions 2011 Focus on the Dallas Cowboys, But Can Dallas Rebound After Last Year's Disappointment?
The Dallas Cowboys were supposed to be contenders.
This was a team that looked to be a favorite to make it to the Super Bowl, to be one of the major players in the NFC and make a deep playoff run. Yet, Dallas missed the playoffs and fired its head coach in the middle of the season as the Cowboys were embarrassed week after week. After that, Jason Garrett took over as the head man and things turned around.
Following the change, the team started to play with passion, focus and discipline, and it showed on the field. The Cowboys started to turn things around and Garrett will be back next year to try and take advantage of the momentum he created.
Tony Romo will also be back, and he's been productive during his time in Dallas, yet, the heat might be on the quarterback.
During a mailbag for the Dallas Morning News, SportsDay writer David Moore said the following after question about Romo and his shortcomings.
"I don't know that he takes forever to read defenses," Moore said. "I think he does a pretty good job in that department. As for not having done anything, well, he only has one playoff victory. That is how his career will be judged. If he doesn't lead the Cowboys past the second round soon, the club will begin to look elsewhere. But they're not at that stage yet."
If the Cowboys get rid of Romo at some point because of a lack of postseason wins, it's one of the more puzzling front office decisions I've ever seen. Let's get something straight. The Cowboys have never fallen short because of Romo, except maybe the game against Seattle where he fumbled the snap. Even then, one play doesn't fully win or lose a game and putting it all on the quarterback is the easy way out.
Only in Dallas, could a quarterback like Romo, a player that countless teams would love to have on the roster, possibly end up on the hot seat at some point in his career. Despite this madness, I expect the Cowboys to rally around Garrett and start producing victories in the NFC East and compete for a Wild Card spot come playoff time.
If not, I'd be a little bit worried about my job security if I'm Jason Garrett and Jeff Fisher is floating around in coaching free agency.
This article is
What is the duplicate article?
Why is this article offensive?
Where is this article plagiarized from?
Why is this article poorly edited?
Doug Pensinger/Getty Images
NFL Predictions 2011 Turns Its Attention To the Teams That Will Shock and Let Us Down Next Season
Every year, there is a team or two that we think is going to make a deep run into the postseason, only to flop and flame out horribly (I'm looking at you, Cincinnati).
As we look forward to 2011, which teams are going to let us down? Well, first off, I'm going with the San Diego Chargers. Last year, Norv Turner and company stumbled out of the gate and never recovered, eventually missing the playoffs. Naturally, you'd think that a team with Philip Rivers under center couldn't possibly let us down two years in a row. Well, I don't see this team bouncing back. Turner is not the type of head coach that can get a team to rally around him and play well deep into the playoffs at this point.
There simply isn't enough talent on this roster. It's not like the team that Turner inherited all of those years ago. The Chargers have holes on the depth chart, especially at wide receiver, and the Chargers are getting passed by teams like the Kansas City Chiefs and the Oakland Raiders in the AFC West. The days of this team dominating the AFC West are long gone.
In the NFC, a team that's going to let us down is the Detroit Lions. Listen, I'd love to believe in this team, I really would. I'd love nothing more than to see the Lions make the playoffs and make those fans, who have been miserable for so very long, happy once again. However, I have a hard time believing that this team can make the leap to the next level with a quarterback that has had horrible luck with shoulder injuries.
I love Jim Schwartz as the head coach, I love Calvin Johnson and I love Ndamukong Suh, I just don't love this team's chances to make the leap to the next level. Detroit looks like a team that's going to take a step back next season. I hope I'm wrong, but I doubt it.
This article is
What is the duplicate article?
Why is this article offensive?
Where is this article plagiarized from?
Why is this article poorly edited?
Dilip Vishwanat/Getty Images
NFL Predictions 2011 Focus on the St. Louis Rams And Their Chances To Make A Playoff Push Next Season
Last year, the St. Louis Rams went from the first pick in the draft, to a team that was fighting for a playoff spot on the final week of the season.
Sam Bradford came in and helped turn everything around with limited offensive weapons outside of Steven Jackson in the backfield and made a serious push for the NFC West crown, only to lose to the Seattle Seahawks in the final game of the season. If St. Louis can get a weapon for Bradford to throw to in the draft, like Julio Jones, then the Rams are going to be a deadly team in the NFC.
Bradford has shown that he has what it takes to perform at the next level, and now that the Rams have a quarterback to build around, it's only going to get better in St. Louis. Sure, Seattle will also be in the mix, but the quarterback situation is not ideal and I don't see Pete Carroll's squad continuing the success that we saw last year.
Furthermore, teams like Arizona and San Francisco don't have the quarterback play needed to succeed in the NFL. It's almost impossible to win in this league without a franchise player under center and neither the Cardinals or the 49ers have that type of talent at the quarterback position.
The Rams are well-coached, young and talented, and all of those things bode well heading into next season. Look for St. Louis to continue to improve and compete next year as it takes home the NFC South crown and Bradford makes his first playoff appearance.
The NFC West is a weak division, and the Rams will feast on this mediocre competition and it will buoy St. Louis' record. This isn't a team that can beat the best squads in the league, but it's certainly a group that can make the playoffs and we've seen that anything can happen when you have a home playoff game, even against the best teams in the league.
The Rams are legit, and they'll prove that in 2011.
This article is
What is the duplicate article?
Why is this article offensive?
Where is this article plagiarized from?
Why is this article poorly edited?
Elsa/Getty Images
NFL Predictions 2011 Is All About the Super Bowl, But Who Will Play On The Biggest Stage In Pro Football?
While the Green Bay Packers are the reigning Super Bowl champions, next year, there will be a new champion.
That may be a bold thing to say at this point, but the odds are in my favor, with there not being a repeat champion since 2005, when the New England Patriots won back-to-back Super Bowls. Before that, we hadn't seen a repeat since 1999, when the Denver Broncos won their second championship.
It might be cliche at this point, but I love New England's chances to get to the Super Bowl. Last year was not supposed to be the year the Patriots made their run at a championship, but Bill Belichick managed to lead New England to the best record in the NFL.
With a young and improving defense along with two first round draft picks, New England will be a dangerous, dangerous team and a squad that looks like the class of the AFC.
In the NFC, the team I'm looking for is the Philadelphia Eagles. Michael Vick is improving, he's got great wideouts in DeSean Jackson and Jeremy Maclin to go with a young running back in LeSean McCoy. Philadelphia is one of the most consistent teams in the NFC, and with Vick being a gamechanger under center, anything is possible.
Andy Reid is still a major question mark in terms of his decision-making on the sidelines, but I love the talent the Eagles have on that roster, and they're going to be a scary, scary team next year in the NFC. I'm not a huge fan of their secondary, but that offense is so fast, and so explosive that it can take on even the toughest defenses the NFL has to offer. There will be plenty of competition, but the Eagles look like a force to be reckoned with in the NFC.
This article is
What is the duplicate article?
Why is this article offensive?
Where is this article plagiarized from?
Why is this article poorly edited?
Ezra Shaw/Getty Images
NFL Predictions 2011 Are Focusing on the Stars of Next Season, But Will Mike Williams Be on of Them?
Last year, the Tampa Bay Buccaneers came out of nowhere to make a serious run at a playoff spot in the NFC, coming up just a bit short.
However, this is a young team, with plenty of talent that can push this team to the next level, and one of those players is Mike Williams. The young wideout, who proved himself to be a steal in the fourth round of the 2010 draft, exploded last season for 65 catches for 964 yards and 11 touchdowns. In a draft highlighted by Dez Bryant, at least in terms of the wide receiver position, it was Williams who stole the show and became Josh Freeman's favorite target.
With Freeman improving, along with LeGarrette Blount and Kellen Winslow in that offense, Williams is going to prove himself as one of the best wideouts in football. Tampa Bay is a team that you have to watch out for in the NFC South, and Williams will be one of the guys who leads the Buccaneers to the next level.
There are plenty of young players looking to make that leap to become a superstar, but Williams is the guy that you should watch for, as he moves from a guy that's known in fantasy leagues and by the most die-hard fans, to a guy that is a household name.
He certainly has all of the tools to become one of the best receivers in the game, it's just a matter of Freeman staying healthy and consistent in his ability to get him the ball. I love Tampa Bay's chances of maturing into a contender and I love Williams' chances to keep performing after a strong rookie season.
This article is
What is the duplicate article?
Why is this article offensive?
Where is this article plagiarized from?
Why is this article poorly edited?
Andy Lyons/Getty Images
NFL Predictions 2011 Focus on the AFC South and the Indianapolis Colts, But Can Peyton Manning Continue to Dominate the Division?
Since the creation of the AFC South in 2002, the Indianapolis Colts have won the division seven out of nine times. The only other team to win the crown was the Titans in 2002 and 2008. One of the things that will be key to that success is Peyton Manning.
Manning is a free agent, and the two sides have talked, but nothing got done before the lockout and they can't proceed on another contract. Despite the lack of forward progress on a deal, Indianapolis owner Jim Irsay has faith a deal will get done, despite his frustration that Manning is not already signed to a new deal.
"It should get done," Irsay said to USA Today. "I think it should have gotten done before all this. It takes two to tango. So, you would have to probably ask (agent) Tom Condon and get any feedback from him. It should get done and it will get done."
The one team that is standing in the way of the Colts' continued success is the Jacksonville Jaguars. The Jaguars made a great run at the division title last year, only to fall just a bit short. Indianapolis has always had some issues with Jacksonville and if the Jaguars can get a potent pass-rusher, then David Garrard and company are going to have a great chance to unseat the Colts next season.
However, in the end, its the Colts' crown to lose, and if Manning can carry Indianapolis to the division title with all of the injuries the team had last year, imagine what he can do with a healthier squad in 2011? That should be a frightening thought for every team in the AFC South and the rest of the NFL.
The dominance Indianapolis has displayed over the past decade is something that will continue as long as Manning is the man under center for the Colts.
This article is
What is the duplicate article?
Why is this article offensive?
Where is this article plagiarized from?
Why is this article poorly edited?
Chris Trotman/Getty Images
NFL Predictions 2011 Involve Michael Vick and his Future. Will He Continue to Succeed, Or Will He Take A Step Back?
Michael Vick was one of the pleasant surprises of last season.
He came off of the bench in the first game of the season against the Green Bay Packers and took the starting job and never looked back. Vick was in the discussion for the Most Valuable Player award for most of the season and he led the Philadelphia Eagles to the playoffs, before losing to the Packers in the Wild Card Round.
Vick will be the starter next year in Philadelphia and will be looking for a long-term contract and that will keep him playing at a high level. The quarterback has financial issues and he knows that he needs to go out there and earn that big contract and can't get complacent like he did in Atlanta, otherwise, it's going to be trouble.
That is something Vick is well aware of as he heads into 2011 in Philadelphia.
"We haven't talked about long-term negotiations or my future," Vick told Comcast SportsNet Philadelphia. "We just talked about what we can get done this year. I think that anything else that happens is solely on me. I think I dictate the situation based on my play and performance and my actions on and off the field. So that ball is in my court, I think. The most important part is going out and playing good football and trying to bring something to the city that we've been looking for, for a long time."
Furthermore, he's also in a great system with the Eagles, a system that plays to his strengths and doesn't try to turn him into something that he's not.
He'll never be a drop back passer, but in Philadelphia, he doesn't have to be and he can make plays with his legs, or down the field to his speedy wideouts. We're looking at a hungry, talented, dangerous player and that's going to make the Eagles a threat in every game they play next season. Look for Vick to continue his amazing play and lead Philadelphia back to the playoffs, where they'll be favorites to make it to the Super Bowl.
This article is
What is the duplicate article?
Why is this article offensive?
Where is this article plagiarized from?
Why is this article poorly edited?