NFL Lockout, Brett Favre, Matthew Stafford and Monday's Top NFL News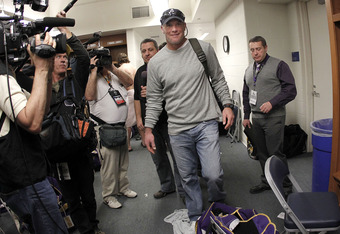 Gregory Shamus/Getty Images
Despite the NFL lockout, the undead creature known only as Favrenstein's Monster continues to haunt the NFL.
Rumors now have Brett Favre going to Carolina. Take a moment to let that sink in while I go commit suicide.
In NFL news worth talking about, Matthew Stafford continues to communicate to his coaching staff just how well his shoulder is because Twitter updates do not violate the rules of the lockout.
Meanwhile, draft preparation continues, prospects rise and fall and I still do not want to talk about Brett Favre. I am going to have to get my gas mask and have a stiff drink first, but we will examine that horrid rumor.
Thanks for stopping by as I hit all the big stories of the day with analysis, commentary and a sense of humor. When Favre enters the news cycle, you have to keep it light or you will go insane.
Aqib Talib In Trouble Again With The Law And This Time Guns Are Involved
Aqib Talib remains a "person of interest" in a shooting incident that fortunately did not end in any deaths.
Talib allegedly fired shots at his brother-in-law in Texas, according to several media reports.
This is not the first time Talib has been in trouble with the law, and he has been in trouble on the field as well.
St. Petersburg Times columnist Gary Shelton is very blunt in his assessment of Talib.
"For a long time now, Talib has been a talented troublemaker, a walking bad decision followed by controversy and headed toward scandal," writes Shelton. "He does not hear the scolding, he is impervious to lapel-shaking, and he is beyond the benefit of doubt. The drugs in college. The fights with teammates. The assault. The suspension. And now this.
"Here's a question: Can Talib's career withstand another scandal?
"Here's another: Should it?"
Shelton goes on to point out how talented Talib is and how talented players tend to get more free passes than the less talented ones. He also points out the problem with this mindset, but we are of one mind at this point.
No other profession outside of professional sports would tolerate keeping an employee who starts fights with everyone and constantly is getting arrested. With his background, once the allegations of "shots fired" came up, he would be escorted to the door by security.
The NFL should be no different. If Talib chooses to waste his talent, that is his choice. There are plenty of other talented individuals coming into the league every year who would be happy to have his job without bringing his baggage to the table.
Talib has had his chance to reform and has chosen not to take that path. There is no reason for the Buccaneers, or the NFL, to keep tolerating this mess. It is time for everyone involved to move on.
For a look at the NFL Draft, check out 2011 NFL Mock Draft: WIll Mark Ingram move Into The Top 10.
This article is
What is the duplicate article?
Why is this article offensive?
Where is this article plagiarized from?
Why is this article poorly edited?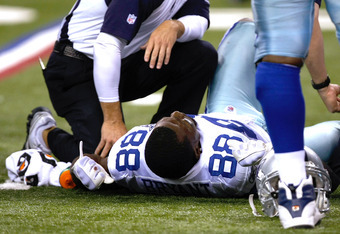 Lawsuit Names Bryant And Involves Unpaid Bill For Jewelry
Dez Bryant has been in the news a lot lately. First he was ejected from a Dallas-area mall and then allowed back in, now he is being sued by a jewelry store for $246,000 in unpaid bills.
According to Profootballtalk.com, who obtained the report first, Bryant owes a private jeweler the money for custom jewelry made last year.
"Per the complaint filed today in the District Court of Dallas, Texas, A+A Diamonds, Ltd. d/b/a Rafaello & Co. alleges that Bryant received $267,000 worth of jewelry—and that he has paid only $21,000," wrote Florio.
So we have yet another case of an entitled celebrity, in this case a pro athlete, who does not want to pay for jewelry. Why is it only celebrities get to walk around with thousands of dollars in jewelry that have not been paid for?
There is the Lindsey Lohan case that immediately springs to mind, and if we sat here for awhile and thought about it, we could come up with more.
You or I could get a payment plan for a ring or piece of jewelry, but not for $246,000. When you take a person and give them a ton of money in jewelry and do not make them pay for it up front, you are just asking for trouble.
Bryant has been in the headlines for all the wrong reason lately, and none of this is coming as any kind of surprise. Bryant has the money to pay for this stuff but does not.
Why?
The obvious answer is: He does not think he owes the jeweler anything, but that ignores the deeper problem of entitlements and the "better than you" attitude many celebrities and pro athletes have. They get it because "we" give it to them, but at some point a line needs to be drawn.
Some athletes have great falls (see Vick, Michael) but other athletes go through life like this letting their lawyers handle everything and going blissfully about their day.
Bryant better put up or shut up in 2011, or he may find his $8.5 million guaranteed salary the only dwindling asset he will have left.
For a look at the 2011 season (If there is one), check out 20 Players Who Need To Put Up Or Shut Up.
This article is
What is the duplicate article?
Why is this article offensive?
Where is this article plagiarized from?
Why is this article poorly edited?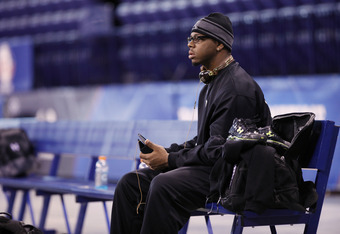 Bowers Reportedly Failed Two Physicals, Workout Scheduled For This Weekend
Da'Quan Bowers has gone from a potential number one overall pick to falling out of the Top 10 on some draft boards.
Sports Illustrated's Peter King is reporting Bowers failed two physicals at the Combine. Pair that up with only one successful season in college, and many GMs are getting cold feet on taking Bowers high.
"He will need to look healthy at the workout and perform convincingly in any further physicals, because, as one scout told me this weekend, 'He's failed at least two team physicals that I know of'' on the heels of meniscus surgery after the season. Three months ago, Bowers was a candidate to be the first pick in the draft," wrote King.
I always say, "watch the game tape." Nothing is a better indicator of how an athlete will do in the NFL. The question on Bowers now is if he is a one-year wonder. That is something you can not predict. But if his knee holds up in the workouts, than all you can do is try and decipher the tape.
Was Bowers getting better as the year went on? This would indicate he was growing and learning.
Clemson is top school, so it was not as if Bowers was making big plays against guys who will be low-round draft picks, undrafted free agents, or out of the sport entirely this fall.
Bowers believes in his skills, and like a lot of athletes lately, took to Twitter to express himself.
"Seems everybody who picks up a pin knows more about my health then me!!! Not!! #failure!! 4 days!!"
You have to like Bowers enthusiasm and willingness to throw it all out there. Bowers may have had to cancel workouts prior to this, but all that means is his knee did not heal up quite as fast as he had hoped. It happens.
What is important is the knee get healthy. It does not matter how his knee is in March, it will matter how his knee is in late July when training camps open (should they open).
Bowers may have questions, but these questions all are easily answerable. If Bowers did not think his knee was ready for a workout a few weeks ago, he was right to cancel the sessions. Of course, the media may be making a bigger deal out of it than it really was.
We will find out in 2011.
For a look at the 2011 season (If there is one), check out 20 Players Who Need To Put Up Or Shut Up.
This article is
What is the duplicate article?
Why is this article offensive?
Where is this article plagiarized from?
Why is this article poorly edited?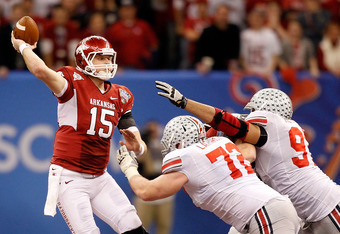 Mallett To Visit Miami And Cincinnati As Teams Do Their Homework
Ryan Mallett has all the arm strength any NFL general manager would want out of a rookie prospect. But once you move past the arm, the package starts to fall apart.
Mallett has been criticized for his footwork, some of his decision-making skills, and the fact there are some drug rumors surrounding him he never has categorically denied.
Still, the Cincinnati Bengals are a team known for caring less about a player's character makeup, and the Dolphins just pushed out Bill Parcells from the front office and hired an offensive coordinator who is allergic to the end zone.
ESPN's James Walker noted this week Mallett has a private workout scheduled with the Miami Dolphins.
"The Dolphins are exploring other avenues at quarterback after an inconsistent 2010 season from starter Chad Henne," wrote Walker. "Miami's endorsement of Henne this offseason has been lukewarm, at best, and the Dolphins would like to add viable competition for the starting quarterback job next season. The Dolphins will host an additional two-day visit with Mallett on April 14-15 in Miami."
The Dolphins see Mallett as an ideal candidate at this point because they have no second round pick. If character issues drop Mallett, the Dolphins will have an easier time trading back up into the second round to get him than trying to get one of the first-round quarterbacks.
As for the Bengals, the coaches realize Carson Palmer is gone but the owner is too stupid and too stubborn to move on with his life. This is why the Bengals consistently are awful in the last 20 years, bad ownership.
However, Mallett could be there for the Bengals at the top of the third round because of character concerns. His attitude at the Combine raised comparisons to Jimmy Clausen and Ryan Leaf.
We all know what kind of bust Leaf was, and Clausen already is in the lead car of the train to Bustville.
Mallett's attitude definitely will keep him out of the first round, but depending on how teams draft, Mallett could fall all the way to the third round because of concerns he will melt down once he gets into the NFL.
I am a Browns fan, so I know first-hand from watching Derek Anderson that a huge arm means nothing if there is an equal amount of nothing between the ears. Anderson never got it together in Cleveland and then really fell apart in Arizona.
In a way, I think Mallett is perfect for Cincinnati because he has a lot of question marks and has high bust potential. Considering the Bengals draft history, it is amazing Mallett is not being considered with the fourth overall pick.
For a look at the 2011 season (If there is one), check out 20 Players Who Need To Put Up Or Shut Up.
This article is
What is the duplicate article?
Why is this article offensive?
Where is this article plagiarized from?
Why is this article poorly edited?
Trading Down Does Offer Some Perks For Carolina
The Carolina Panthers possess the first overall pick in the NFL Draft. The good part of that is they can take any player they want. The field is wide open.
The bad part of the equation is you have to be the worst team in the league the year before to "earn" the first overall pick in the draft.
However, the Panthers traded their second-round pick away last year and could use more picks in the Top 50 of the draft. Which brings us to the possibility the Panthers decide neither Cam Newton nor Blaine Gabbert are worth spending the pick on but another team does.
Darin Gannt of the Charlotte Oberver talks about this in a column.
"But after trading this year's second pick to get wide receiver Armanti Edwards, the idea of amassing more picks could appeal to (Panthers General Manager Marty Hurney) as well since they're short on what he and owner Jerry Richardson refer to as "currency."
The Panthers drafted three quarterbacks in last year's draft, including Jimmy Clausen. They originally gave the keys to the kingdom to Matt Moore but poor play and injury put Clausen on the field where he failed in an almost epic fashion.
When you compare Clausen's performance to Colt McCoy's, who played a limited amount of games with virtually no wide receivers and a lame duck coaching staff that never figured out how to run an offense in two years, you can see why the Panthers already are ready to move on from the Clausen experiment.
McCoy threw for 1,576 yards and six touchdowns and finished with a 74.5 QB rating in eight games.
Through 13 games, 10 of which Clausen started, he threw only 1,558 yards for three touchdowns and finished with a 58.4 QB rating.
Both quarterbacks threw nine interceptions on the year.
That comparison is a very fair one as both teams were terrible and had anemic offenses, so this should tell you all you need to know.
This is not to say Clausen could not have a great offseason and come back this year and be dominant, but I am saying I doubt very seriously it could happen.
The Panthers should trade down, though, and take their chances with what is available later. None of the quarterbacks in this draft have that "can't miss" feel Sam Bradford did, so do not overlook any good deals that could come along.
With a rebuilding team, more picks are better.
For a look at the 2011 season (If there is one), check out 20 Players Who Need To Put Up Or Shut Up.
This article is
What is the duplicate article?
Why is this article offensive?
Where is this article plagiarized from?
Why is this article poorly edited?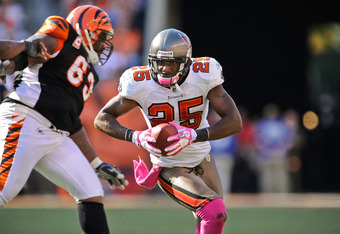 Buccaneers Cornerback A "Person of Interest" In Shooting
The list of NFL lawbreakers could be growing by one more if Aqib Talib is involved in a Dallas-area shooting.
According to the Dallas Observer, Talib is the target of a police investigation.
"After a March 21 altercation involving his sister, his mother, his sister's boyfriend, two guns and at least five shots fired, former local high school football star and Tampa Bay Buccaneers' cornerback Aqib Talib is a "person of interest" on a Garland Police Department incident report and, pending an investigation, could be arrested and charged with anything from discharging a firearm within a municipality (class A misdemeanor) to aggravated assault with a deadly weapon (second-degree felony)," wrote Richie Whitt of the Dallas Observer.
The report is very long and very detailed, and does not present a favorable picture of Talib in the whole deal.
Talib is one of the Buccaneers best players on defense and if they lose him to a personal conduct policy violation, or jail time in a worst-case scenario, this will set the Buccaneers back in their quest to keep competing with Atlanta and New Orleans in the NFC South.
Talib already has been in two documented confrontations with the team, and was suspended for one game last year for an altercation with a taxi driver.
To say Talib may have some anger issues is not putting myself out on a limb. Talib needs to get a hold of himself quickly, or he will be in jail.
Mike Florio of Profootballtalk.com goes one step farther.
"At the risk of crossing into the melodramatic, this lockout needs to end before a player with real needs for counseling and/or oversight and/or a direct line of communication to his head coach gets into real trouble, or even worse gets killed," he wrote.
The line of NFL players getting arrested is growing and what is sad is this is not surprising. Talented, entitled athletes with a lot of time on their hands tend to do stupid things. It is a reason coaches try and keep players occupied in the offseason. If they are at the facility, they are not getting in trouble.
For a look at the 2011 season (If there is one), check out 20 Players Who Need To Put Up Or Shut Up.
This article is
What is the duplicate article?
Why is this article offensive?
Where is this article plagiarized from?
Why is this article poorly edited?
Both Sides To Blame For Lockout, But Players Were The Ones Who Walked Away
When you have millionaires fighting with billionaires, taking sides can be hard to do.
Not for me, though. I decided shortly after the lockout happened exactly who was to blame and I have not shied away from my opinion the blame for the lockout is 75 percent the players fault and only 25 percent the owners fault. I could be swayed to as close as a 60/40 split, but that is as far as I would go.
One of the first things to remember is the players were the ones who walked away from the bargaining table with an offer in hand. They may not have liked the offer, but it was a starting point.
One of my favorite sources for all things NFL is Profootballtalk.com, and Mike Florio wrote a great post this morning on the matter. Of particular note is his point about the lawyers running things now, which never is a good thing.
"Once the union decertified and filed an antritrust lawsuit, the lawyers took the wheel," wrote Florio. "And with David Boies running the show for the league, the attorneys are playing a game of chicken that, in the end, only they may win. Regardless of the damage done to the owners, the players, the fans, and/or the sport, the lawyers will get paid. And the longer this lasts, the more money they'll make."
The whole mess has gotten so ridiculous, one Cleveland Browns fan filed a lawsuit over the use of his Personal Seat License in an attempt to break the lockout, according to the Cleveland Plain Dealer.
"By participating in the lockout of the players, the Browns have affirmatively acted to destroy the value of the PSL agreement as it relates to Lanci," the lawsuit reads. "Lanci asked the court for more than $25,000 and for an order ending the lockout so the season can go on."
The lawsuit is believed to have no merit and many experts who have weighed in on it believe it will be tossed at the first hearing. I hope it proceeds just for pure entertainment value, but that is my opinion.
The owners have taken an arrogant stance through the whole thing, and have given the players no reason to trust them. While this is a huge mark against the owners, the players are winning no friends by running around and calling the owners offer the "worst" they have ever seen.
People who make millions are not getting any kind of bad offer, no matter how weighted the revenue split may be. I can understand the players do not want to give anything up, but this is the owners' business to run, and in any other line of work, the players would all be looking for new jobs right now.
Former Union Head DeMaurice Smith decided this was "war" last fall, which only goes to show you the union never took the negotiations seriously. If the union was not taking things seriously, it should come as no surprise the owners were preparing for a lockout.
A union head who does not sound interested in negotiating is a union head who should be fired. But the lawyers are running things now and the fans are the big losers.
For a look at the 2011 season (If there is one), check out 20 Players Who Need To Put Up Or Shut Up.
This article is
What is the duplicate article?
Why is this article offensive?
Where is this article plagiarized from?
Why is this article poorly edited?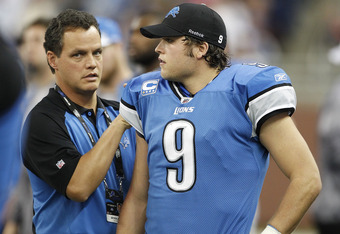 Stafford Claims Twitter Is Not About Talking To Coaches
Matthew Stafford is a smart guy, and he can say whatever he likes but the reality is what it is. Stafford is using Twitter to communicate his rehab progress to his coaches.
Stafford turned to Twitter this past week to let everyone, which would include the Lions coaching staff, how his injured shoulder is progressing.
"Didn't get twitter to let coaches kno how I'm doin...they know. Just want our fans to know how were doing..."
On March 26, Stafford tweeted, "Feelin good after throwing a lot yesterday...bout to go hoop and see where my game is after not playin in way to long...then watch bball."
At this point in the offseason, that is all the coaches would want to know is how the arm feels after it has been worked out. So Stafford gets to tell them without really "telling them."
However, Stafford does not need Twitter, as was pointed out today by Gregg Rosenthal of Profootballtalk.com, who reported NFL Spokesman Greg Aiello said players can talk to team doctors as long as it is not done at the team facility.
"Trainers are also allowed to get information from the doctors about the reports," Rosenthal wrote.
With this rule clarified, there is no reason for Stafford to try and clear things up on Twitter. He can schedule an appointment with the team doctor at his private office, or the doctor can make a house call. When the doctor returns to the team facility, he can report to the coaches everything he saw.
This clearly is allowed and is a good thing. The lockout rules are in place to keep teams from getting a competitive advantage, but keeping up on the progress of an injured player under contract is something outside of the spirit of that rule.
Besides, as Stafford has so clearly demonstrated, there are ways to get around the lockout rules using social media. As long as Stafford is telling everybody what is going on, the league and the NOT-NFLPA do not have much room to cry foul.
For a look at the 2011 season (If there is one), check out 20 Players Who Need To Put Up Or Shut Up.
This article is
What is the duplicate article?
Why is this article offensive?
Where is this article plagiarized from?
Why is this article poorly edited?
Someone Started A Brett Favre Rumor, They Must Be Destroyed
It has become an annual tradition around the NFL to speculate whether or not Brett Favre really is retired and if he is going to come back for one more season.
Charley Walters of the St. Paul Pioneer Press may be the one to blame for this mess.
"Don't discount the possibility of Brett Favre, who turns 42 in October, returning next season, but not with the Vikings. Maybe Carolina," Walters wrote.
Walters provides no backing for his opinion, so we will assume Walters hates Carolina Panthers fans and wanted to torture them. It is his opinion and he is entitled to it.
That being said, the Panthers swiftly denied the rumor and then ran screaming into the ocean to verify the location of Atlantis.
Yahoo! Sports Shutdown Corner had a humorous take on the situation, part of which I must relate here.
"Given how this offseason is shaping up, I'm not sure I wouldn't welcome another round of Brett Favre unretirement rumors," wrote Matthew Darnell. "What have we got to lose? After the disastrous downward spiral of Favre's last few months in the league, what might happen next? How do you top a 6-10 season with a sub-70 quarterback rating and a penis-picture-texting scandal?"
Here is what is really scary to think about. Favre could be a better option at quarterback for the Panthers than Jimmy Clausen should the Panthers pass on a quarterback in the first round of the draft.
Here is something even more horrifying. If the regular season is affected by the lockout, reducing the number of games to 10 or 12, might Favre think he can make it through a shortened season and unretire again?
Favre knows he just can not make it through a 16-game season anymore. That was proved last year when the physical toll of the game finally caught up to him.
But a 10-game season? Favre might think about it.
Excuse me while I go find some expensive Scotch to drink.
For a look at the 2011 season (If there is one), check out 20 Players Who Need To Put Up Or Shut Up.
This article is
What is the duplicate article?
Why is this article offensive?
Where is this article plagiarized from?
Why is this article poorly edited?