Dez Bryant: Shopping Mall Ban Can't Keep Bryant out of Money Trouble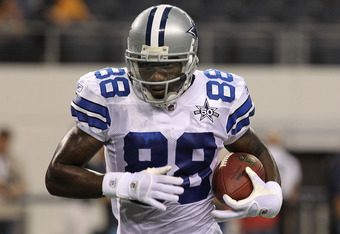 Dez Bryant thinks that he can shop wherever he wants, provided he pulls up his pants.
Although, those options may be dwindling quickly.
Last week, Bryant was given a criminal trespass warning and ejected from an upscale mall. Reportedly, he and his cronies had their pants well below their waist which left their underwear well on display.
On a completely unrelated note, they were not underwear endorsed by Tim Tebow, so that is why they got the boot.
Bryant was not arrested or anything like that, so Roger Goodell is unlikely to suspend him. However, his former ally in Deion Sanders went on to say that Bryant "needs help."
No word as to whether Sanders offered to help him or not.
But that all comes on the heels of Bryant's latest situation.
It turns out that not only does Bryant have a problem with getting banned from malls, but he also struggles to realize that you must actually pay for merchandise that you have custom ordered at these shopping plazas.
Pro Football Talk learned that Bryant failed to pay for around $246,000 worth of custom jewelry that he ordered in 2010. He owed $267,000, but has only paid $21,000 to date.
Supposedly, the jeweler is a bit peeved. I bet now he wishes that Bryant had gotten banned from his establishment.
Mike Florio of PFT through NBC Sports pointed out that "Bryant signed a contract last year with $8.5 million in guaranteed money, so he can afford to pay his bills. It's unclear why he hasn't."
This should be the end of the line for Bryant, at least when it comes to public shopping venues. This would be the portion of the article where you can do your best Jack Nicholson impression talking to Bryant, and tell him the "You can't handle the mall!"
Its the truth, I know.
Hey, actually, it is the truth. That's kind of funny.
Calvin Watkins of ESPN Dallas reported that "Bryant has a history of problems at the mall, according to the police report, including an incident at a store where police had to intervene after the wide receiver cut in line and a parking citation for parking in the fire lane. Bryant was also involved in a "major disturbance" at one of the mall's restaurants with an unknown woman. Police were called, but both Bryant and the woman were gone before they arrived."
Dez, you have to be putting all of this together. The mall should not be in your future. Shop from home from now on to avoid these unnecessary distractions. You strike me as someone who cannot handle all that much to begin with, because you got tricked in to paying for your entire team's meal last Summer.
At this rate, you better hope that you play at a very high level before your next contract is on the table. Because at this point, you will be flat broke before this current deal expires.
For more on Bryant's indiscretions, make sure to check out Bleacher Report Contributor Rob Kelley, who takes a look at Dez Bryant: Just How Much Does It Take to Get Kicked Out of a Mall?
Most recent updates:
This article is
What is the duplicate article?
Why is this article offensive?
Where is this article plagiarized from?
Why is this article poorly edited?