NFL Draft 2011: News and Draft Projections for All 16 AFC Teams
Joe Robbins/Getty Images
While the lockout may be dominating the news when it comes to the NFL, it doesn't mean we shouldn't be focusing on the draft so that we can get you ready for one of the biggest days on every football fan's calendar.
We'll be breaking down every single AFC team and their draft needs so that you can get a feel for what each squad needs and where the respective general managers will go with that selection on draft day. There is always a lot of drama and a lot of intrigue in the first round of the draft and this year will be no exception.
Will we see Cam Newton land in the AFC and join his teammate at Auburn, Nick Fairley, in the conference? You'll find out all the answers on the inside as we go through the draft to give you all of the latest information and possibilities.
As always, if you have any thoughts or questions, be sure to leave them below.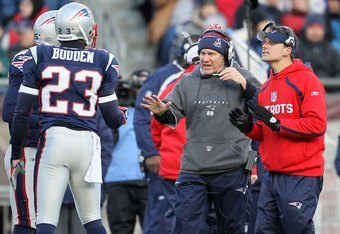 NFL Draft 2011 Features the New England Patriots With Two Picks in the First Round, But Will They Be Spent on Defense?
Last year, Bill Belichick did a complete defensive overhaul and it paid off as the New England Patriots had the best record in football and looked to be on their way to another Super Bowl before the New York Jets stunned the Patriots and went on to the AFC Championship Game.
Thanks to a trade for Richard Seymour with the Oakland Raiders years ago, the Patriots have two first round picks and it looks like New England will pick up right where it left off by going to the defensive side of the ball with these selections.
While New England would love to have Mark Ingram if he somehow fell past the Miami Dolphins, it doesn't look like that's going to happen. With that in mind, J.J. Watt out of Wisconsin is just the guy Belicheck would bring in to get a pass-rusher on the defensive line.
"Watt has the size and skill set to be a very good fit at defensive end in Bill Belichick's version of the 3-4 defense, and putting Watt and a healthy Ty Warren around NT Vince Wilfork would quickly turn the defensive line from a weakness into a strength," ESPN's Todd McShay writes in his latest mock draft.
I like Watt. He's big, strong and can get after the quarterback. New England has strong play on the defense, but could really used a lineman to help those young secondary players out. Watt presence on that line would make the Patriots even more fearsome on defense.
However, if the Patriots want to use their latter pick to address the offensive side of the ball, ESPN's Mel Kiper has a suggestion.
In his latest mock draft, he has Miami's Leonard Hankerson going to the Patriots, and that may not be a name you've heard in terms of the first round, but when Kiper talks about him, he sounds like just the guy the Patriots need.
"The Patriots have the underneath options, but could use a threat that can stretch defenses and cause matchup problems against smaller corners, and Hankerson provides that," Kiper writes. "At 6-foot-2 and 209 pounds, he's a physical wideout and creates another option for Tom Brady."
We saw in the playoff game against the Jets that Brady didn't have anyone open underneath and that killed New England all day long. If the Patriots can get the deep threat back, then Brady is going to have a ton of options every time he drops back to pass. Hankerson can get down the field in a hurry, and even if he's a decoy, you have to respect his talent.
Plus, would it really shock you if Belichick picked someone out of the blue and stunned us all on draft day?
This article is
What is the duplicate article?
Why is this article offensive?
Where is this article plagiarized from?
Why is this article poorly edited?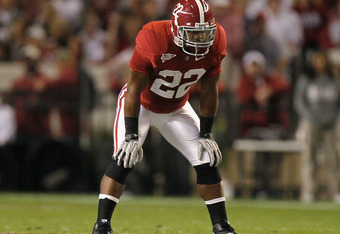 NFL Draft 2011 Is Coming Up And Mark Ingram Has Been A Target for the Dolphins, But Will the Heisman-Winner Head to Miami?
Since the draft order was set, Mark Ingram has been the favorite to head to Miami.
The Dolphins need a running back badly now that Ronnie Brown and Ricky Williams aren't getting any younger and may not be back with the team next season. Ingram is the best running back in the draft and there aren't many contenders to keep the former Heisman-winner from heading to South Beach.
In fact, the only competitor may be the Dolphins themselves. Miami has done its due diligence on the quarterbacks in the draft and have either met, or set up meetings with Cam Newton and Ryan Mallett. You know the Dolphins would love to have Newton to bring some star power back to Miami, especially after missing out on Jim Harbaugh in the offseason.
If Newton is there when Miami goes on the clock, which I think is a distinct possibility when draft day arrives, then the Auburn quarterback is coming off of the board. Chad Henne is terrible and it's time to face that fact and get someone else in there under center.
The Dolphins have to get a quarterback in there at some point, but if Newton and Blaine Gabbert are off of the board, then Ingram is the guy, and no one will second-guess that selection.
"Ingram is a producer -- he has great balance, runs with great pad level, balance and leverage, and explodes from contact," ESPN's Mel Kiper wrote in his latest mock draft. "Once he gets through the initial hole, he's a terror on the second level. Miami just makes sense for him."
What's not to like about all of that? Ingram is a guy who will not disappoint at the next level. It's guaranteed production and that's what you're looking for in the first round. There is a lot of work that needs to be done in Miami, and it has to start with Ingram being the centerpiece of the draft. The Dolphins can get a quarterback later, but there aren't many running backs that can produce the way Ingram will at the pro level.
This article is
What is the duplicate article?
Why is this article offensive?
Where is this article plagiarized from?
Why is this article poorly edited?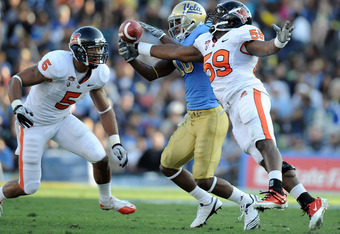 NFL Draft 2011 Will Give the Kansas City Chiefs Plenty of Options In Terms Of Addressing Needs
The Kansas City Chiefs were the surprise of the NFL last season.
No one saw the Chiefs winning the AFC West, yet Matt Cassel and Jamaal Charles led the way as Kansas City won the division before being battered out of the playoffs by the Baltimore Ravens.
While the team has plenty of offensive firepower, the offensive and defensive lines could use some upgrading and that's where most people focus when they talk about the Chiefs' and the upcoming NFL Draft.
However, general manager Scott Pioli won't tip his hand either way.
"Yes, we need to fill needs," Pioli told Adam Teicher of the Kansas City Star, "But I'm not going to go so need-based that we make short-term decisions. For us, there is some combination of best player and need, but it's not the same formula every time. It's not always 50-50. Sometimes it's 70-30. Sometimes it's 80-20. That's part of the strategy when you're on the clock — knowing what other opportunities are out there."
Do you really expect anything less from someone who came from the New England Patriots? Of course he's not going to give us any idea of what he's thinking, but if I'm the Chiefs, I'm looking to bolster the defense and I'm taking a really hard look at Akeem Ayers out of UCLA, the player ESPN's Mel Kiper has going to Kansas City in his latest mock draft.
"Ayers surprised a lot of people with some mediocre workouts two weeks ago, given his reputation for athleticism, but that can't drop him too far, because the tape doesn't lie and his skill set is such that he can help a team early," Kiper writes. "A good fit on the edge in the Chiefs' system, Ayers fills an obvious need at outside linebacker in the 3-4 and isn't just a pass-rusher. More in the Mike Vrabel mold, he can cover, rush and tackle well against the run."
The Chiefs don't have many playmakers on the defensive side of the ball and Ayers is a guy who may not be a workout warrior, but can really make plays on the football field, and isn't that what you want? Ayers is a guy who has fallen down the draft board because of the poor workouts that Kiper talks about, making him a steal at this point in the draft.
If Kansas City doesn't want a pass-rusher, Walter Cherepinsky of Walterfootball.com has an alternative for the Chiefs. He has Phil Taylor, the nose tackle out of Baylor as the man going off of the board and he is another player that would be a massive steal.
Taylor had issues at Penn State before transferring to Baylor and turning himself around and becoming a pro prospect. Had he stayed with the Nittany Lions and realized his potential, we'd certainly be talking more about him, but those slip-ups and his transfer have really hurt his draft stock.
If Kansas City got either of these two players, it would certainly change the way we look at its defense going into next season.
This article is
What is the duplicate article?
Why is this article offensive?
Where is this article plagiarized from?
Why is this article poorly edited?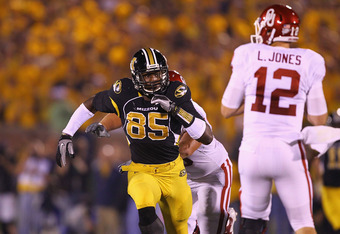 NFL Draft 2011 Has The Jaguars Picking Late In the Draft With Needs on the Defensive Line
The Jacksonville Jaguars surprised a lot of people last year, making a run at the AFC South crown and giving the Indianapolis Colts all they could handle down the stretch.
However, the Jaguars fell short and appear to be a couple of pieces away from making it to the next level. One of those is the defensive line, where Jacksonville simply failed to get pressure on opposing quarterbacks, exposing its secondary all season long.
The Jaguars are set on finding someone to get after the quarterback in the draft, and there are plenty of options to choose from. ESPN's Todd McShay and Mel Kiper both have the Jaguars going with Aldon Smith out of Missouri. Smith is a bit of a project, but he certainly has the motor to get off of the edge and really create problems for opposing quarterbacks.
Jack Del Rio is in a position where he has to start putting results on the board and I'm not sure if he can wait for Smith to round into a dominant pro player. If I'm Jacksonville, I'm pushing for a guy like Ryan Kerrigan out of Purdue. He's a player who can simply get after the passer and he even has some coverage skills in him if need be.
"Ryan Kerrigan is the type of player that general manager Gene Smith looks for," Walter Cherepinsky of Walterfootball.com writes. "He's been in school for four years. He's a 3-year starter. He's an Academic All-America. He has a non-stop motor and a blue-collar attitude. He's a team captain with no character concerns."
Kerrigan seems like a sure-fire prospect and a guy that would fit perfectly in Jacksonville and anchor that defensive line. Jacksonville has a team that can compete for a playoff spot in the AFC. Had the Jaguars gotten after the quarterback down the stretch, we might have seen this team make the playoffs.
A solid defensive end could help shift the balance of power in the AFC South. Jacksonville just has to get the right one, and it looks like Kerrigan.
This article is
What is the duplicate article?
Why is this article offensive?
Where is this article plagiarized from?
Why is this article poorly edited?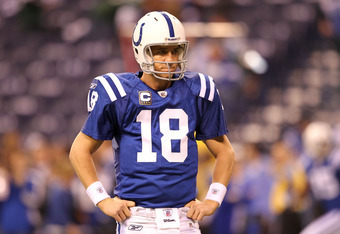 NFL Draft 2011 Gives the Colts Plenty of Options if They Want To Upgrade the Offensive Line
Last year, Peyton Manning put the Indianapolis Colts on his back and carried them to the playoffs.
Manning did it while losing countless players to injury and playing behind an offensive line that was banged up and unable to protect the star quarterback like it used to. It's also a unit that's not getting any younger and is in dire need of an upgrade through the draft.
If Indianapolis is going to sign Manning to a long-term extension, it has to protect its investment. With that in mind, ESPN's Todd McShay has the Colts taking Nate Solder out of Colorado to help keep Manning upright.
"The offensive line is definitely the top priority for the Colts, who had big problems at the end of 2010 because of their inability to run the ball effectively," McShay writes. "Indianapolis has missed on recent O-line picks like Tony Ugoh and Mike Pollak, but Solder is the best available prospect and has a lot of upside if he can be coached up in terms of consistency and technique."
While I agree the line is the top priority for the Colts, that unit wasn't the reason Indianapolis couldn't run the ball at the end of the season. The Colts couldn't run the ball because their running backs were either banged up, weren't any good, or both.
Solder is the best offensive tackle in the draft, and the Colts would be thrilled if they had a chance to snag him late in the first round. There are other players available, like Anthony Castonzo, who Mel Kiper has going to the Colts in his mock draft.
Castonzo is a solid player, don't get me wrong, but Solder has the most upside of any offensive lineman in the draft, and if he's on the board, it's going to be a slam dunk that he lands in Indianapolis. It really all depends on who is left when the Colts are on the clock.
While the names may change, Indianapolis will take an offensive lineman.
This article is
What is the duplicate article?
Why is this article offensive?
Where is this article plagiarized from?
Why is this article poorly edited?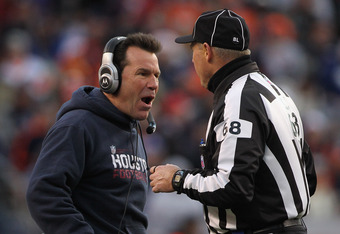 NFL Draft 2011 Will Be A Major One for the Houston Texans, But Can the Team Fix Its Shoddy Secondary?
The Houston Texans were a joke on defense last year.
This was supposed to be a team that made it to the playoffs for the first time in team history. However, the Texans missed the playoffs, like they always do, disappointing their fans. A major reason was a secondary that let everyone throw all over them, seemingly at will. Houston even managed to give up a Hail Mary touchdown pass in the final seconds against Jacksonville.
Houston has the 11th pick and naturally, you'd think the team would want to go after a cornerback at this juncture. Well, think again.
Wade Phillips is coming in to be the defensive coordinator, and with the switch to a 3-4 defense, it has opened up other options for the Texans once they are on the clock. ESPN's Todd McShay has the Texans taking Robert Quinn, the defensive end out of North Carolina.
"DC Prince Amukamara is a possibility here, but my gut tells me the Texans will opt against using a first-round pick on a cornerback for the second year in a row," McShay writes. "Upgrading the pass rush is another way to improve the secondary, and Quinn would be a solid fit at ROLB in defensive coordinator Wade Phillips' 3-4 scheme. Quinn could provide serious heat opposite LOLB Connor Barwin to go along with an exceptional inside tandem of DeMeco Ryans and Brian Cushing."
If McShay's gut is right, then the Texans are more stupid than they look. How could you possibly have a unit that was that terrible, and then not upgrade it through the draft, especially with a player like Prince Amukamara on the board? If Houston passes on Amukamara for a defensive lineman, then this team deserves to miss the playoffs.
Sure, McShay is right about how a solid defensive pass rush could improve a secondary, but that's when you have an average secondary, not when you have one of the worst units in the history of professional football.
Despite this glaring need, it looks like it's going to be a defensive lineman, with other options being Cameron Jordan, Aldon Smith or J.J. Watt. If this happens, don't feel sorry for this team when it misses the playoffs.
This article is
What is the duplicate article?
Why is this article offensive?
Where is this article plagiarized from?
Why is this article poorly edited?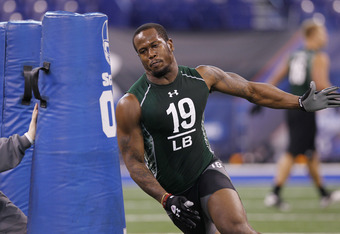 NFL Draft 2011 Will Kick Off the John Fox Era in Denver, But Where Will the Broncos Go With Their Pick?
To be frank, the defense for the Denver Broncos is a trainwreck.
John Fox inherited a team that has numerous needs all over the defensive unit, leaving his options wide open for draft day.
There are plenty of players who could really become impact players on Denver's defense, and ESPN's Todd McShay has the Broncos taking Von Miller out of Texas A&M with the second pick to help change the team's fortunes.
"The Broncos are transitioning to a four-man front under new head coach John Fox and defensive coordinator Dennis Allen, and upgrading the defensive front seven tops their priority list. Dareus should be the pick if he's available but he's not in this scenario. So, if it comes down to a choice between Peterson and Miller, I would choose the pass rusher (a greater need for Denver) with an identical grade. Miller can provide an immediate upgrade at SLB and he also would team up with a healthy Elvis Dumervil to help resurrect a pass rush that had a league-low 23 sacks in 2010."
While McShay loves Dareus for the Broncos, I'm in love with Miller. He's flown up the draft board since the end of the season and with good reason. Miller has a great motor, great strength and has looked like a player that is set to dominate opposing offenses for years to come. The man is a football player in every sense of the word, and he's going to give opposing defenses nightmares and provide pressure on the quarterback, something that was sorely missed last season.
While McShay may not see Dareus making it past the first pick, Walter Cherepinsky of Walterfootball.com does and has the defensive tackle going to the Broncos.
"Marcell Dareus is the best player who makes sense for the Broncos," Cherepinsky writes. "Dareus, who weighed in at 6-3, 319 pounds at the Combine, had a faster 10-yard split in the 40 than 291-pound Nick Fairley. Mike Mayock recently said that Dareus will not make it past Denver.

Fox recently indicated that he wants to upgrade the defensive tackle position, as indicated by the release by Justin Bannan and Jamal Williams. Dareus would fill Denver's greatest need, so this is a perfect fit."
Dareus is a player that has shot past Nick Fairley on most draft boards after his impressive showing at the combine and he's certainly a player that can be a game-changer up front. Denver needs someone who can make an impact and make opposing offenses uncomfortable. Both Dareus and Miller do that, now it's up to the Broncos and who they like more with the second pick in the draft.
This article is
What is the duplicate article?
Why is this article offensive?
Where is this article plagiarized from?
Why is this article poorly edited?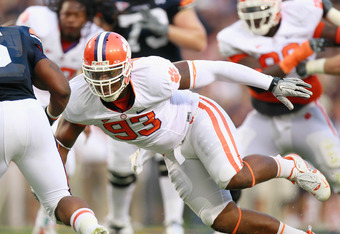 NFL Draft 2011 Is Coming Up, But Will the Cleveland Browns Select Da'Quan Bowers, Or Will His Knee Issues Send Him Down the Draft Board?
I thought I'd never say this, but the Cleveland Browns are a team on the rise.
With Colt McCoy looking like a steal under center and Peyton Hillis setting the tone with his bruising running style, the Browns made waves last year, beating New England and New Orleans, but still struggled to find some consistency.
Team President Mike Holmgren is looking to get to the next level, and one player that can help do that is Da'Quan Bowers out of Clemson. Bowers is a physical freak who has all of the tools to be a dominant force in the NFL. He has drawn comparisons to Julius Peppers, and if he can reach that potential, that's a scary thought for the rest of the teams in the AFC North.
ESPN's Todd McShay has the Browns going with Bowers, but does mention concerns about his knee, which was operated on to repair a torn meniscus. However, that hasn't scared off Tony Grossi of the Cleveland Plain Dealer, who sees the Browns landing Bowers as well.
One scenario that is emerging is that Cleveland could trade down in the first-round to gain some assets along the way.
"I think we're open to it this year," Holmgren said to Grossi. "We have a couple of [needs] I'd like to deal with, specifically. We'd move down for the same reason you'd always trade back."
For a team like Cleveland, who could certainly use some presence on the defensive side of the ball, Bowers would make a lot of sense. Then again, there are multiple areas of need on that unit and the extra assets could help turn the team around faster.
It's going to be interesting to see what happens once Cleveland is on the clock, that's for sure.
This article is
What is the duplicate article?
Why is this article offensive?
Where is this article plagiarized from?
Why is this article poorly edited?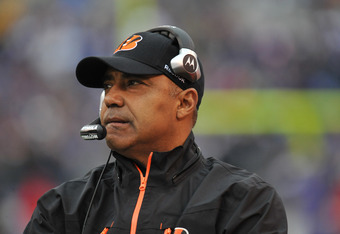 NFL Draft 2011 Will Be the Start of a New Era in Cincinnati, But Where Will the Bengals Go First?
Things were a lot simpler for the Cincinnati Bengals before Carson Palmer spoke up.
Once Palmer said he wanted out of Cincinnati, it changed everything in terms of draft strategy. A quarterback wouldn't have been a thought for the Bengals until the later rounds of the draft. Now, the top quarterbacks are all on Cincinnati's radar along with a couple of other players as the team looks for the next great pro prospect.
It's natural to look at a quarterback, with the Bengals scouting multiple players at the position, including Ryan Mallett out of Arkansas, who has bust written all over him. Not only is he one of the worst decision-makers under center, he also has the tendency to say stupid things, flashing his arrogance.
When asked if he was being unfairly portrayed by the media after his day at the NFL scouting combine, Mallett decided to once again put his foot in his mouth.
"Oh, you get used to it," Mallett said to the media. "I've had it before. I always look at it as I must be doing something right. It's always been something ever since high school."
Brilliant. Simply brilliant. This is the perfect example of someone who thinks they're a lot better than they actually are. Mallett is a guy who has come up small in a lot of big games, with his final play in Arkansas being a terrible interception to give Ohio State the Sugar Bowl.
The Bengals need to stay away from this crop of quarterbacks and look to address the skill positions. ESPN's Todd McShay has Cincinnati taking A.J. Green, the wide receiver out of Georgia.
"Using a top-10 pick on a wide receiver isn't always a wise move but Green is a special player," McShay writes. "Lots of wideouts are big and fast, but Green's route-running savvy, toughness, body control and ball skills separate him from most other receivers. The Bengals could also deal with the reality of the Carson Palmer situation and draft Newton in this scenario or upgrade at defensive tackle, but with Terrell Owens gone and Chad Ochocinco likely on his way out, Green becomes the best value here."
Green is a beast, simply put, and the Bengals can either convince Palmer to come back or try and get a veteran through a trade or free agency, but a quarterback cannot be the direction of this team on draft day. Marvin Lewis is on thin ice as it is, and I wouldn't want to stake my job to the future of any of the quarterbacks in this draft.
The Bengals should go with Green and hope that it can get a quarterback either later in the draft or through other means.
This article is
What is the duplicate article?
Why is this article offensive?
Where is this article plagiarized from?
Why is this article poorly edited?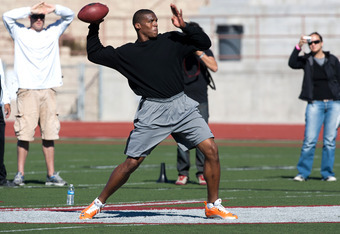 NFL Draft 2011 Will End the Cam Newton Drama, But Will Buffalo Be His Destination?
The Buffalo Bills have not had a franchise quarterback in years.
It's been a never-ending carousel of washed-up veterans, unprepared young players and busts that has resulted in the Bills being stuck as a team that is perpetually rebuilding. Yet again, Buffalo finds itself in the top-five of the draft, holding the third pick.
Where the Bills go with that pick, is another story.
Quarterback is an obvious need, and there should be plenty of them on the board when the Bills go on the clock. In fact, ESPN's Todd McShay has the Bills taking Blaine Gabbert out of Missouri with their pick.
"Gabbert has a higher ceiling than current Bills QB Ryan Fitzpatrick, and with his football intelligence, accuracy, size, arm strength and mobility Gabbert has all the tools to become a very good starter in the NFL," McShay writes.
While Gabbert certainly has a higher ceiling than Fitzpatrick, I'm not sold on him being the best quarterback out of this draft class. We haven't seen a lot of Gabbert, and frankly, his draft buzz came out of nowhere. I thought the former-Missouri quarterback would have been better suited to spend another year in school rather than test the NFL waters early and I think some team is going to be mighty disappointed with him when it's all said and done.
However, the Bills may still go with a quarterback, but look elsewhere on the draft board. According to Tony Softli of 101ESPN in St. Louis, Buffalo may go with Cam Newton at three, with head coach Chan Gailey pushing hard for the Heisman Trophy winner and national champion out of Auburn.
Newton would be worse than Gabbert and would be a total project for Buffalo. The Bills wouldn't be able to throw him in right away and let him develop. It would take years to get him ready to be a starting quarterback, and by then, Gailey will have certainly lost his job and a new guy will be in place.
There are other options for the Bills, like outside linebacker, as Von Miller has visited the team in recent days. In terms of a draft strategy, it seems like it all hinges on this first selection, the only issue is that no one knows where the team will go.
This article is
What is the duplicate article?
Why is this article offensive?
Where is this article plagiarized from?
Why is this article poorly edited?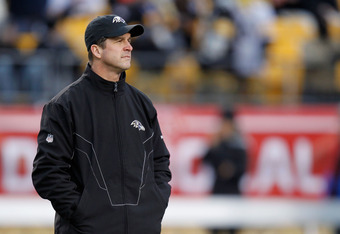 NFL Draft 2011 Is Upcoming, But Will the Baltimore Ravens Target A Cornerback, Or Go Elsewhere With Their Selection?
It was another year and another disappointing season for the Baltimore Ravens.
Baltimore had a great regular season and dominated the Kansas City Chiefs in the first-round of the playoffs, only to blow a lead and a golden opportunity against the hated Pittsburgh Steelers in the Divisional Round, with crucial mistakes on both sides of the ball playing a major factor in sending the Ravens home.
The secondary was a unit that was shaky all year and is one that is in dire need of an upgrade heading into 2011. Baltimore is selecting with the 26th pick in the first-round of the draft and a lot of eyes have been on Jimmy Smith, the cornerback out of Colorado.
"The draft stock of Smith is the most volatile among first-round prospects," Matt Vensel of the Baltimore Sun writes. "He is a top-15 talent with height, speed and cover skills, but some teams have reportedly removed him from their draft boards after chatting with him about his off-the-field transgressions. That's why Smith might be available when the Ravens are on the clock late in the first round."
Baltimore has never had issues in terms of bringing in guys with character issues in the past, so I don't see why it should start now, especially with a strong leader like Ray Lewis standing in the locker room. Smith would be an instant upgrade at the cornerback position and would give the Ravens a young player to build around and anchor that unit into the future.
Not everyone agrees, like Mike Preston of the Sporting News, who doesn't even have cornerback listed as a need for the Ravens, which is so laughable I don't even know where to start. ESPN's Todd McShay has the position listed as a need, but sees the Ravens passing for Cameron Heyward out of Ohio State.
"Addressing their cornerback need with a player like Jimmy Smith is an option but Smith comes with character baggage and isn't worth the risk here," McShay writes. "Heyward comes with some risks, too, after undergoing Tommy John surgery on his left elbow after the college season, but he's expected to make a full recovery and all you have to do is watch the tape of his Sugar Bowl performance against Arkansas to see how much potential he has. And something tells me Ray Lewis would take Heyward under his wing and teach him a thing or two about being a pro."
I don't get it. If you're going to take the guy that's a risk, why not take the guy, who based on talent, is a total steal for you at this point in the draft, instead of taking the guy that has health concerns? Smith is the guy that should come off of the board for the Ravens, but it looks like Baltimore is shying away from it at this juncture.
This article is
What is the duplicate article?
Why is this article offensive?
Where is this article plagiarized from?
Why is this article poorly edited?