Kansas Jayhawks Basketball: What Went Wrong Against VCU?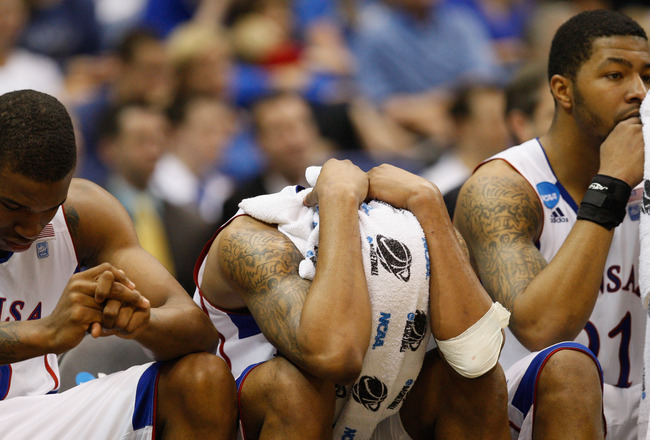 Ronald Martinez/Getty Images
The Kansas Jayhawks fell to the VCU Rams in the Elite Eight, 71-61.
For Bill Self and his resume, this is another loss to a mid-major that should have never happened.
Self, as head coach of the Kansas Jayhawks, has now been eliminated from the tournament by Bucknell, Bradley, Northern Iowa and VCU. All of those losses came in his eight years at Kansas.
There isn't a certain reason for it, but Self seems to have trouble with the mid-majors.
Several Jayhawks have also ended their careers on sour notes with the loss.
Now that the dust has settled, it's time to find out what really happened against VCU. Here are the main reasons KU lost in the Elite Eight.
Josh Selby, or Lack Thereof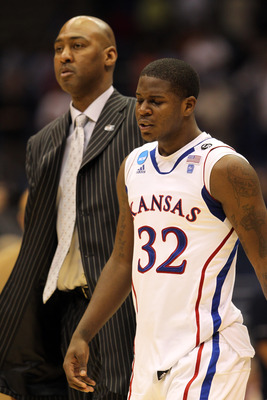 Jamie Squire/Getty Images
Now I'm not saying that Josh Selby had a beyond belief bad game. The whole team basically had a bad day.
However, Selby's game was representative of his season so far. Selby finished with two points and one rebound on 1-of-5 shooting.
The bigger issue with Selby is where this kid has been the whole year.
Selby was easily one of Bill Self's most highly-ranked recruits out of high school, but he played nothing like it this year.
He only cracked the starting rotation a few times, never showing enough consistency.
Selby did sit out a few games due to a foot injury, which was supposedly still bothering him. Self has said that Selby will require surgery on the foot after the season.
Josh Selby had the most disappointing season for any Jayhawk this year, and will surely be back in a bigger role next season.
Tyshawn Taylor's Inconsistencies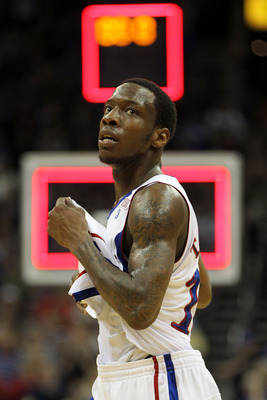 Jamie Squire/Getty Images
Like the theme of Tyshawn Taylor's entire career, the junior guard was off and on Sunday.
Tyshawn did finish with 14 points, easily his best stat of the day. Taylor also went 0-of-2 from three, including 2-of-5 from the charity stripe.
When the big plays were needed, Tyshawn couldn't answer.
Taylor had a chance to cut the lead to five with just over seven minutes remaining, but missed a wide-open three-pointer.
Taylor will most certainly be back for his senior season and needs to play like it. Tyshawn has the ability to light a game up, and hopefully this game can light the fire under the controversial guard.
Kansas' Lack of Defense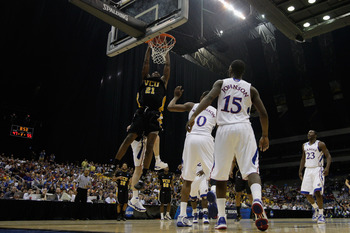 Jamie Squire/Getty Images
This factor was as obvious as day. Kansas couldn't defend worth a lick on Sunday, especially in the first half.
The Jayhawks gave up 41 first-half points and trailed by 14 at the break.
Kansas was letting VCU shoot, and shoot VCU did. The Rams drilled three after three, killing Kansas' confidence with each one.
The Jayhawks were giving VCU far too much room, allowing them to pull up from around 23 feet.
Apparently Bill Self didn't get the squad ready for VCU's shooting, which had been carrying the Rams throughout the tournament.
Tyrel Reed's Terrible Shooting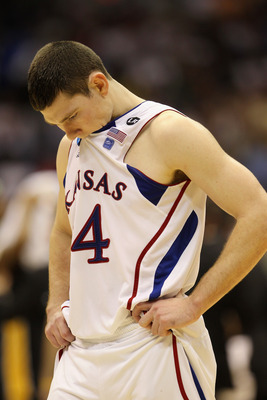 Jamie Squire/Getty Images
Tyler Reed, usually an extremely consistent shooter, was anything but that on Sunday.
Reed went an abysmal 1-of-7 from three-point land, easily the worst he has shot this season. Forget this season, this was the worst shooting display Reed ever had, in the biggest game he's ever played in.
The senior has displayed a great shooting stroke, making it that much more difficult to watch him suffer.
Unfortunately for Reed, he won't get another chance at redemption. Reed finished his college career just one win behind Shane Battier for the most college wins in a four-year span.
You can't help but feel bad for Reed, who has done everything Kansas has asked of him.
The Inability To Adapt to VCU's Style of Play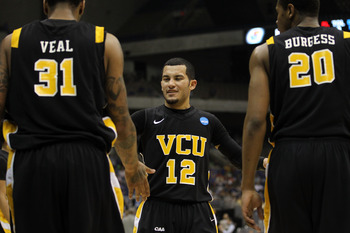 Ronald Martinez/Getty Images
From the very beginning, it was apparent that VCU's up-and-down style of play disturbed Kansas.
The Rams got out and ran on Kansas, causing the Jayhawks to make quicker decisions.
Not only did VCU run on offense, it pressed on defense. VCU ran a full-court press on Kansas, causing multiple turnovers.
Even when Kansas didn't turn the ball over during the press, it was clearly bothered. The Jayhawks rarely got off high quality shots, which definitely caused more frustration.
The odd part about this factor is Kansas' experience against run-and-gun teams. The Jayhawks' biggest rival, Missouri, plays a very similar style.
Evidently, Bill Self wasn't expecting this attack from VCU, who caught the Jayhawks off guard very early.
Free Throws, Free Throws, Free Throws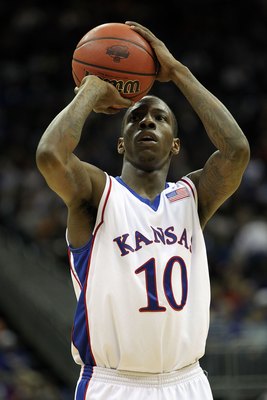 Jamie Squire/Getty Images
Yikes.
Hate to say it Kansas fans, but this free-throw display was comparable to the showing when Kansas lost to Syracuse in the national title game.
The Jayhawks finished the game 15-of-28 from the line, just a hair above 50 percent.
Kansas has struggled with free-throw shooting all season, but this one came at a bad time.
They say free-throw shooting can kill a team, and Kansas learned this the hard way.
Bill Self vs. Mid-majors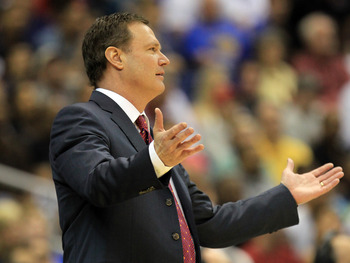 Ronald Martinez/Getty Images
Hate to say it, but Bill Self officially has a problem with mid-majors.
As said before, Bucknell, Bradley, Northern Iowa and now VCU have all eliminated Kansas from the Big Dance. Those four losses have occurred over an eight-year span.
Unfortunately for Self, this is something that doesn't cure itself over night.
Maybe it's a lack of preparation, maybe it's an underestimation of the team, maybe it's pure luck. Nobody knows the real answer to why this happens, but Bill Self would sure love to know.
This one will sting awhile for Kansas fans, and even longer for Bill Self.
Missed Three-Pointers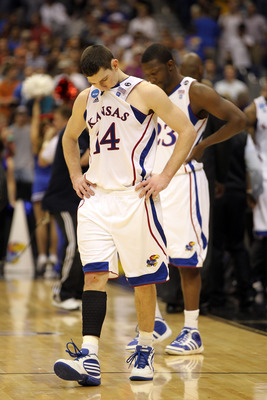 Jamie Squire/Getty Images
The missed threes were very un-Kansas. Not that Kansas is a typically great three-point shooting team, but the Jayhawks can certainly knock them down.
Kansas finished a horrendous 2-of-21 from three-point range, calculating out to 9.5 percent.
The Jayhawks' shooting woes shouldn't be attributed to VCU's defense. Kansas just straight-up missed open look after open look.
Shooting 2-of-21 is a head scratcher for Kansas, making us wonder what exactly happened.
You would have to go back into the history books to find a game where KU shot under 10 percent from three-point land.
Chalk it up as a bad day and try to move on, Kansas fans.
Keep Reading

Kansas Jayhawks Basketball: Like this team?