NBA Draft 2011: Which March Madness Stars Will Declare for the Draft?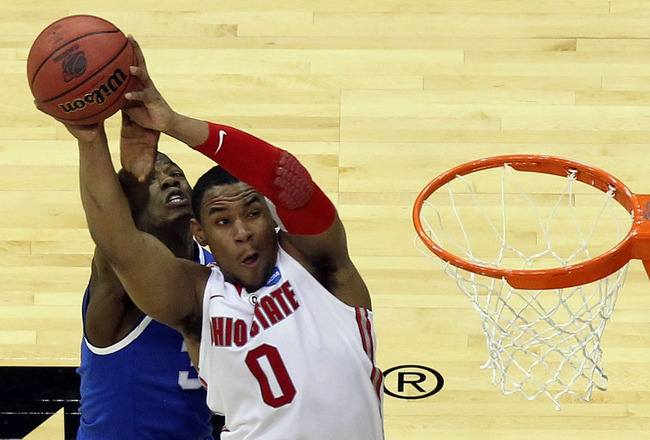 Nick Laham/Getty Images
NBA Draft 2011 is coming soon, and with the way some players have excelled in the NCAA Tournament, it's figuring to be a promising draft class filled with athletic freaks, show-stopping shooters, and defensive menaces.
We've seen North Carolina's youthful duo of Harrison Barnes and John Henson show the impact they can have on the big stage, UConn's Kemba Walker and BYU's Jimmer Fredette shoot the bright lights out, and Ohio State's Jared Sullinger proved to be the beast we all knew he was from the start.
You've also got Kentucky's Brandon Knight and Terrence Jones, just to name a few more.
But, the question is, who will actually declare for the 2011 NBA Draft?
And as the collective bargaining agreement is set to expire after this season in the NBA, will we have a similar situation to the NFL, with a lockout possibly leading to a suspended 2011-2012 season?
Well, follow along basketball fans, and I'll give you what the experts are saying and my take.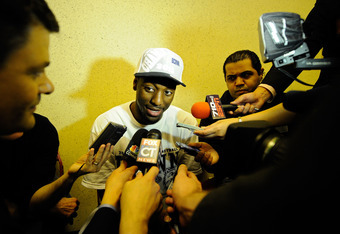 NBA Draft 2011 Should Favor Kemba Walker Highly After March Madness Brilliance
Despite being a junior, it appears Connecticut Huskies guard Kemba Walker will reportedly graduate early this summer.
If he stays longer, however, that would be a big mistake.
An early graduation would be the perfect fit for Walker, whose NBA Draft stock has soared in the postseason, from the Big East Tournament to the NCAA Tournament, where he has the Huskies headed to the Final Four.
Before the NCAA Tournament, ESPN Insider Chad Ford wrote about Walker, "He's fearless. If there was one guy you'd put your money on to have a big tournament, it's him. The rest of his team may let him down, but Walker has earned the respect of everyone, including NBA GMs. A likely top-10 pick."
And that was before March Madness.
It's hard to imagine Walker not being the No. 1 guard taken in the 2011 NBA Draft if he declares, given how much of a game-changer he's been. He's been arguably the difference in some of the Huskies' close NCAA Tournament games.
As Pro Basketball Talk's Kurt Helin pointed out, "He didn't turn scouts heads much at summer programs but his game has taken a big leap forward this season...He brings tremendous energy. He may not be a Derrick Rose/John Wall type of talent, but name a team that does not need a solid play at the point."
And that's another reason Walker will see his stock high in the draft; a lot of teams are looking for solid guards and there aren't a whole lot of potential game-changers in this year's class.
Forget what Walker does the rest of the way in the NCAA Tournament, he's gained major props from the NBA community, and I expect him to surpass Duke's Kyrie Irving if Irving declares.
For Ross Coleman's take on Walker's draft stock, go here.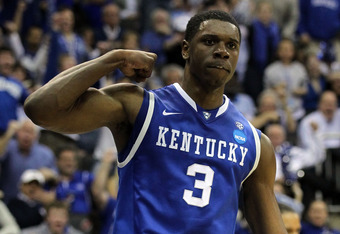 NBA Draft 2011 Could Mark the Best Year for Kentucky's Terrence Jones to Declare
Entering the NCAA Tournament, Kentucky freshman Terrence Jones' NBA stock was fluctuating wildly, but after a Wildcats run to the Final Four and an uprooting of North Carolina, Jones would be wise to declare for the 2011 NBA Draft.
As ESPN Insider Chad Ford noted before the tourney, "Early in the season, there was talk about him as a potential No. 1 pick. The past month, he has struggled to stay in the top 10. If he can help take Kentucky deep, he'll be a very high lottery pick this summer."
But beyond the Wildcats' deep run in March Madness and Jones playing well along the way, there is also an incoming recruit that could shift Jones' stock in 2012.
Writes Marc J. Spears of Yahoo! Sports, "Kentucky freshman forward Terrence Jones might have another reason to enter this June's draft. The Wildcats are high on small forward recruit Michael Gilchrist and would probably want Jones to play more power forward if he stays."
Although Jones has played some power forward already for the Wildcats, he could see himself mainly playing the power forward spot, matched up against bigger opponents that could make him look worse, especially on the defensive end.
That is why Jones can't take chances and should declare for the 2011 NBA Draft.
Of course, there's always the other side of the coin, where Jones proves he can play against bigger opponents and raises his stock in the process, but there's really need for him to take such a risk, given he already will probably be a high lottery pick.
Not to mention a certain fiery episode with him and coach John Calipari in January.
Don't worry, Terrence, you aren't a "selfish mother bleep" if you declare this summer.
For Shane DePutron's take on where Jones could land, go here.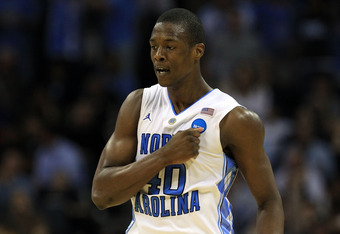 NBA Draft 2011 Has Harrison Barnes a Virtual Lock as a Lottery Pick if he Declares
Entering the NCAA Tournament, a lot of people figured Harrison Barnes' decision to stay at North Carolina would largely lie in if he excelled in the postseason.
Well, despite the Tar Heels getting knocked out of the tourney by the Kentucky Wildcats Sunday, Barnes has certainly excelled during March Madness.
He never scored less than 18 points in the tournament, and he effectively showed why he is so highly regarded, using the multiple tools at his disposal to show he can be a complete player in the NBA.
Barnes has said from the start that he won't be a one-and-done player, but as the News & Observer's Robbi Pickeral notes, "Remember: big man Sean May had every intention of returning to the Tar Heels in 2005, until he raised his draft stock during the postseason."
Bobby La Gesse of the Ames Tribune, who writes from the same town in Iowa where Barnes played high school ball, points out North Carolina's star freshman joins a long list of NBA stars that declared after performing well in tournament:
In past years, we've seen players like Carmelo Anthony, Dwyane Wade, Deron Williams, Jeff Green, Tyrus Thomas and Curry lead teams to deep NCAA tournament runs.

All of them became lottery picks and used their fantastic play in the NCAA tournament to increase their bank accounts. Most of these players were in a spot Barnes is in right now, projected first-round picks who moved to the top of the draft.
Not only would Barnes be amiss returning to the Tar Heels after showing vast improvement throughout the season, he would be a fool, with no guarantee that his stock would be this high again.
We all wouldn't mind a star giving college basketball a little more, but from Barnes' perspective, his stock has jumped dramatically and he still has that "potential" factor NBA scouts drool over.
If he even slightly performs worse next season, he loses a great deal of this potential in scouts' eyes because it marks him leveling out.
For Shane DePutron's take on where Barnes would land if he declares, go here.