Arizona Wildcats: 5 Best Games from 2010-2011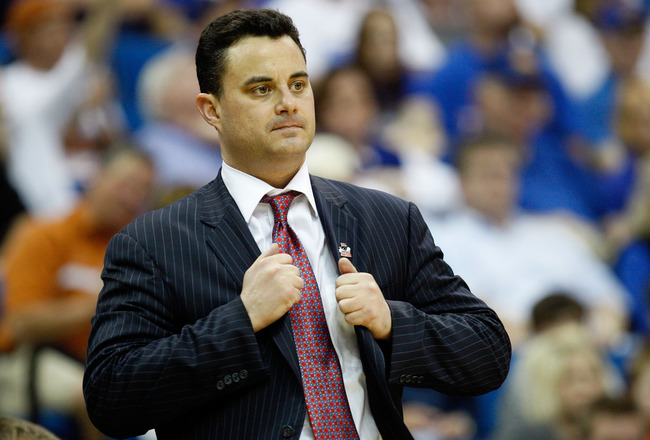 Ronald Martinez/Getty Images
After a deep run in the NCAA tournament, the Arizona Wildcats season is officially over. We've seen this teams ups and downs throughout the season. From only beating Northern Arizona by 5 at home, to dismantling Duke in the Sweet 16 a couple days ago.
Arizona truly had lived on the edge this season, with multiple games coming down to the final shot. The most recent of these games is the elite 8 battle with Connecticut that was decided on two missed threes in the final ten seconds.
Here is a countdown of the best games played by Arizona in the 2010-2011 season.
Honorable Mention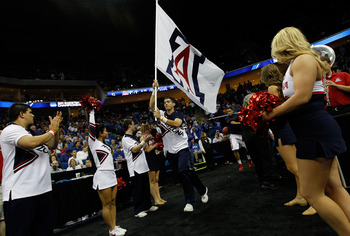 Tom Pennington/Getty Images
Memphis vs Arizona: 77-75 W
This was a back and forth game defined by runs. Memphis started the game hot, but Arizona fought back and ended up winning on a Derrick Williams walk-off block.
(PAC-10 Championship game) Washington vs Arizona: 77-75 L
This is becoming on of the better unheard of rivalries in College Basketball. This was a great game played by both teams, with Washington winning on an Isaiah Thomas GW jump shot.
Arizona at Washington State: 65-63 W
This game saw Arizona struggle early, falling behind by as much as 12. With a balanced offense and great defense on Klay Thompson, Arizona pulled through in Pullman.
Kansas vs Arizona: 87-79 L
The score may deceive you, but this game was within 5 points until Derrick Williams fouled out with about 3 minutes left. This game would've been much closer had he played until the end.
UCLA vs Arizona: 85-74 W
At the end of this game, Arizona coaches and player knew they had a legit shot at winning the PAC-10, which they did. This was also one of the only times Arizona was on national TV this year.
5. Arizona vs Connecticut, NCAA Tournament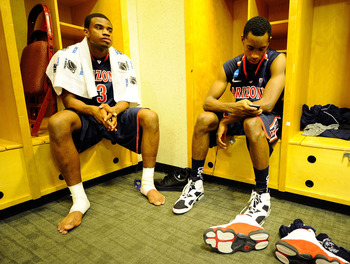 Kevork Djansezian/Getty Images
65-63 L
Even though it ended their season, their Elite 8 game vs Connecticut was one of the better games they've played in all year. Like their first round game vs Memphis, this game was defined by runs. Arizona would go on a 9-2 run, then Connecticut would respond with an 11-0 run.
As I watched the game, i knew that the team that ended the game on a run would win the game. Although it didn't happen like that, the ending to this game was easily the most heart-breaking loss of the season, due to the fact that it ended their season.
Down 6, Kyle Fogg buried a three on the wing to cut the lead to 3 with under a minute to play. Kemba Walker dribbled up the court, and sank a step back jumper, to push their lead to 5.
After a jump ball, Arizona inbounded the ball to their lone senior, Jamelle Horne, on the wing. He made a contested three, to cut the lead to two.
After a Connecticut missed shot, Arizona called time out to draw up a play. The play had originally been designed for Kyle Fogg, but he wasn't open. Derrick William took a long three with 8 seconds left on the clock.
Arizona got the offensive rebound and kicked it to Jamelle Horne for three. He missed from almost the exact same spot as the one he took a minute earlier, and with that, Connecticut moved to the Final Four, and Arizona went home.
4. Arizona at California, February 5th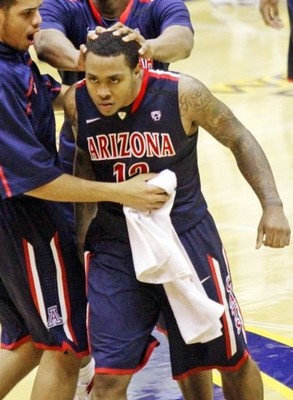 107-105 3OT W
This was easily the most dramatic game of the season for Arizona. Cal needed wins to boost their NCAA Tournament resume, and Arizona was in the hunt for a PAC-10 championship.
Cal was a very dangerous team with their iron man starting five, and had almost won at Arizona earlier in the year. Derrick Williams was fouled out for most of the overtime sessions, so at the time, this was a huge win for Arizona. It showed they weren't just a one man team.
With 20 seconds left in regulation, Lamont "Momo" Jones drove to the hoop. He put up a little floater over Markhuri Sanders-Frison. It went in, and he got fouled in the process. He made the free throw and tied up the game.
Near the end of the second overtime, with Arizona down 3, Jones called for a screen from Kevin Parrom. He crossed up Brandon Smith, and stuck a three with 5 seconds left. They held Cal, and forced a third overtime.
In the third overtime, Arizona lead for most of the way. Some of Cal's players had logged over 50 minutes, so i assume they simply ran out of gas late in the game.
For Arizona, Lamont Jones and Kevin Parrom each had 25+ points, and came up big when Arizona needed it most.
3. Arizona vs Duke, NCAA Tournament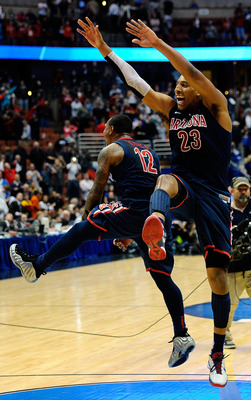 Kevork Djansezian/Getty Images
93-77 W
Arizona played their best half of the season in the second half, and got the best half ever played by Derrick Williams in the first half. Not a bad combination.
This wasn't what you would call a close game, but for Arizona it showed that they aren't Derrick Williams and company. It showed that they are Derrick Williams and 10 very good players. And when all those players show up, this team is a force to be reckoned with.
Down 9 with under 30 seconds left in the first half, it looked like Arizona was going to get blown out. Then Derrick Williams puller up from about 26 feet and nailed a three over Duke's Ryan Kelly.
Everyone is talking about the monster dunks and tip jams, but I think that play was the biggest play of the game.
In the second half, everyone played flawlessly. Derrick Williams probably played the worst out of everyone in the starting lineup, only scoring 7 points.
That also proves Arizona isn't a one man team. They outscored Duke 55-33 with their best player scoring 7 points. I know what a one-man team is, and that is the polar opposite of it.
2. Arizona vs Texas, NCAA Tournament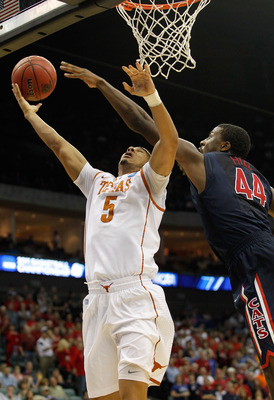 Tom Pennington/Getty Images
70-69 W
Most people had written Arizona off after a less than spectacular showing vs Memphis a day earlier. Going into the game they were big underdogs to an under seeded Texas team.
Texas was once in the hunt to be the #1 team in the country, and for Arizona to beat them gave Arizona much needed confidence headed into the Duke game.
With 14 seconds left, a controversial 5 second call gave Arizona the ball. Many Texas fans complained because it was actually 4.8 seconds not 5 seconds. What about all of the ticky-tack fouls called against Arizona on J'Covan Brown? 13 second half free throw attempts is unheard of, even if your name is Kobe Bryant.
Kyle Fogg and Derrick Williams ran a beautiful pick and roll with 9 seconds left that lead to a Derrick Williams and-one.
On the final play, J'Covan Brown drove to hoop and looked for one of the fouls he had been given the entire second half. He didn't get the call, and Gary Johnson grabbed the offensive rebound. The buzzer went off before he could get a shot up or get fouled.
This win was a huge confidence boost for Arizona heading into the sweet 16 just a year after not making the tournament.
1. Arizona vs Washington, February 19th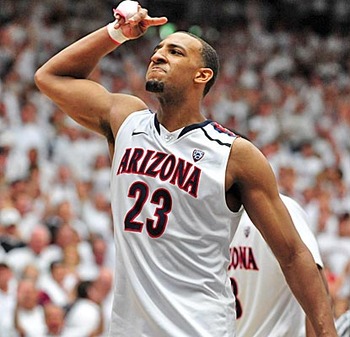 87-86 W
The famous "White-Out" at McKale was nothing short of spectacular. The atmosphere was electric, and the and the fans erupted every time something went Arizona's way.
Arizona got out to an early lead and didn't relinquish it until halfway through the second half. The game was back and forth the rest of the way, with Washington gaining the last possession, down by one.
Matthew Bryan-Amaning was called for a travel, giving the ball back to Arizona with 3 seconds left. Without any timeouts, Arizona was forced into an inbounds play without any coaching.
Solomon Hill threw it to Lamont Jones, and it bounced off Jones' feet, rolling out of bounds. That gave the ball back to Washington with 2.2 seconds on the clock.
The ball was inbounded to Darnell Gant, and he threw up a wild shot over Jamelle Horne. Derrick Williams came out of no where to block his shot ten rows into the student section.
Washington fans claim that it was a goal tend. However, if that ball was on it's way down, it would've air balled by almost a foot.
0.2 seconds were on the clock, and Washington was forced to lob it to Matthew Bryan-Amaning. Derrick Williams swatted that away too, and the victory for Arizona was wrapped up.
This game almost guaranteed Arizona a tie for first in the PAC-10.
Keep Reading

Arizona Wildcats Basketball: Like this team?