NFL Draft 2011, Denver Broncos, Jason Peters and Sunday's Top NFL News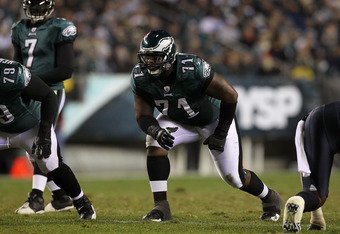 Jim McIsaac/Getty Images
The 2011 NFL Draft creeps ever closer and the inevitable reordering of the prospects continues.
Teams are getting closer looks, and game tape is getting ignored in favor of what is deemed the "latest information."
Meanwhile, the Denver Broncos are one big, happy family again now that John Elway is in the front office. Everything is just peachy in Broncos-town if you listen to the latest news out of that camp.
The Philadelphia Eagles now have two players willing to challenge the personal conduct policy during the lockout, as Jason Peters fell afoul of Johnny Law.
It is just another day in Lockout Land, and do not fear, there is another ridiculous story coming out of this debacle.
Thanks for stopping by as we run down the weekend's top news stories with commentary and analysis.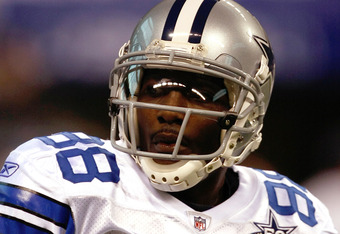 Sanders, Once Bryant's Mentor, Now Refuses To Speak To Cowboys WR
Dez Bryant and Deion Sanders used to have a very good relationship.
Not anymore.
According to a story on ESPN.com, Sanders believes Bryant is a very troubled man and has cut all ties with him. Bryant is mystified as to why things got so bad with one of his boyhood idols.
"I never knew the reason for Deion not saying anything to me," Bryant said. "The only thing I can believe is that when I stopped talking to Under Armour, Deion stopped talking to me. I never knew what Prime's problem was.
"That's my decision. That has nothing to do with Prime. That made me feel he must be getting something from Under Armour."
The relationship, which began to sour last year, got even worse after Sanders commented on Bryant's recent ban from a Dallas-area mall after a confrontation with police officers. The ban since has been lifted.
Sanders insists in his comments Bryant was "poisoning" other kids in his youth program and was dishonest with him. Bryant counters he has no idea what Sanders is talking about and wants a face-to-face conversation.
Where to begin with this?
Sanders always was a flashy guy, but he never had a reputation as a troublemaker off the field.
Bryant has an NFL-sized ego that has been well-documented since he was drafted. The latest mall incident only proved nothing has changed.
Bryant contends the police created a situation, and when it comes down to "Pants on the ground," I will agree with Bryant. Pick your battles.
However, the situation became worse once Bryant began throwing profanities around, which resulted in the temporary ban.
Bryant has admitted his mistake, but this just is another red flag for an athlete who only has one year in the league.
Personally, I think guys who wear their pants around their knees look like idiots, but I never was hip to fashion. What I do know is where there is smoke, there is fire. If Sanders thinks something is wrong and has distanced himself from the situation, everyone else better take notice.
Bryant may not think he has done anything wrong, but that means little when you have no perspective but your own.
For a look at the 2011 season (If there is one), check out 15 Players Ready To Break Out In 2011.
This article is
What is the duplicate article?
Why is this article offensive?
Where is this article plagiarized from?
Why is this article poorly edited?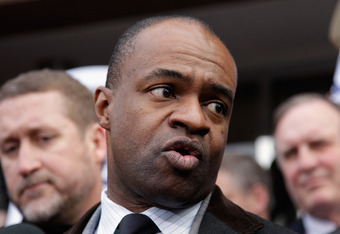 The NOT-NFLPA Continues To Make Everyone's Life Difficult
The NOT-NFLPA met with NFL Alumni President George Martin this week and immediately decided he was part of the problem.
Martin said in a memo to the owners he basically was interrogated for two hours amid an "atmosphere (that) was very defiant, accusatory, and outright disrespectful," according to a copy of the memo obtained by Profootballtalk.com.
Mike Florio responded to the memo in a very clear way.
"The players apparently suspect that Martin and his group are shills for the NFL. If they weren't before this past week, they may be inclined to be now," Florio wrote.
"Really, if the players are going to treat Martin and the group he runs as the enemy, why shouldn't Martin and NFL Alumni respond in kind? At some point, it's the only logical move."
The only consistent thing I have seen from the players since negotiations got serious in January is their commitment to be hostile and aggressive toward anybody who may even remotely be considered on the owner's side.
There never has been any real indication from the players they are willing to talk, unless it is to accept the owners surrender on the matter. That is not a bargaining position, that is just being stubborn.
The owners mistakes were signing the deal in the first place, being cagey about how they were approaching the latest negotiations and fostering an atmosphere of distrust.
The players have done nothing but make a bad situation worse. The owners were not going to accept the current deal, but the players decided to elect a leader who has no idea where he actually is leading anyone by following attorneys who stand to make more money in court than through a settlement.
This latest incident of lashing out at Mason and treating him like a criminal is shameful and another reason why it is difficult to find any sympathy for the players side of the argument.
For a look at the 2011 season (If there is one), check out 15 Players Ready To Break Out In 2011.
This article is
What is the duplicate article?
Why is this article offensive?
Where is this article plagiarized from?
Why is this article poorly edited?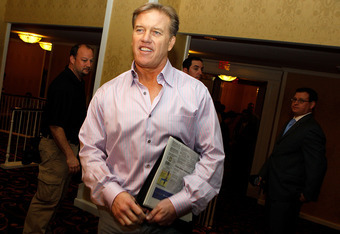 Nobody Is Stirring Up More Talk Than Former QB Turned VP
John Elway is the man in Denver once again, and this time he is the one in charge off the field.
Elway's return to Denver as executive vice president has brought a lot of fodder for local newspapers and bloggers alike.
Elway has not committed to any quarterback, except to say if there was a game next Sunday, Kyle Orton would be the starter.
That being said, Elway has not been all sunshine and rainbows when it comes to fan favorite Tim Tebow, and has spent a lot of the draft run up looking at quarterbacks.
Woody Paige, writer for the Denver Post and ESPN personality, wrote a column telling Elway to come to his senses.
"The Quarterback Quest, Question & Quandry gets Quriouser and Quriouser, Malice in Wonderland cried. 'Dee-Fence!' we scream."
While Paige's point that the Broncos really need to upgrade several positions on their defense is 100 percent justified, he goes on to say "smart" sports fans will not accept another quarterback with a high draft pick.
That is baloney. The fans will accept whoever wins. Period.
Whether it is Orton, Tebow or Brady Quinn hoisting a Super Bowl Trophy truly is irrelevant to Broncos fans. Whoever gets the team on the podium to hoist a Lombardi trophy not only is who the fans want, but who they will accept.
Orton has his issues but he played very well under extremely adverse conditions in 2010. Tebow is a very raw quarterback, and Quinn is equally mysterious.
There are as many people who think Tebow can be developed as there are those who think Tebow never will be a success in the pros.
Quinn was mismanaged in Cleveland and buried in Denver. Whether his career ever can be resurrected is a good question. My best guess is "Doubtful," but I have been wrong before.
Elway, at the very least, is throwing up a good smokescreen as to what the Broncos will do on draft day. For that, he deserves executive of the year.
For a look at the 2011 season (If there is one), check out 15 Players Ready To Break Out In 2011
This article is
What is the duplicate article?
Why is this article offensive?
Where is this article plagiarized from?
Why is this article poorly edited?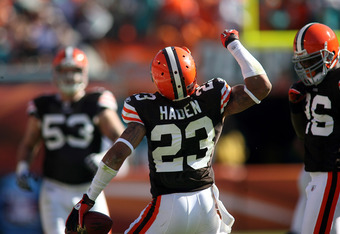 Last-Minute Scouting Is Not Always The Best Advice
What is the difference between a good draft pick and a bad draft pick?
If I knew the answer to that, I would not be talking to you here because some NFL team somewhere would be paying me a ton of money to answer that question for them every year.
What I do know is the best talent evaluator is game tape. Watching what the prospect did during his time on the field tells you more about a prospect than their 40 time or their workouts in shorts with no one trying to hit them.
One of the best sportswriters in the field, the Cleveland Plain Dealer's Terry Pluto, talks about this in his piece today.
"A few months before the draft, many 'experts' assumed the Browns would take defensive back Joe Haden," Pluto wrote. "But Haden ran a relatively slow 40-yard dash at the NFL Scouting Combine. That scared away some teams. It was rumored the Browns had backed off him, but Heckert never wavered. He thought Haden was a tremendous cover cornerback at Florida. He trusted his own eyes, the reports of the scouts, and production on the field over pure potential and what happens at the combine."
Cue this year. Reports this week indicate Nick Fairley and Da'Quan Bowers are dropping down the draft boards because Fairley's Combine was not as overwhelming as Marcell Dareus' was and Bowers has been injured.
If it were not for Dareus, Fairley still would be considered a potential No. 1 overall pick by many of the experts. Now Fairley has "work ethic" issues and Bowers may not be healthy enough to work out properly before the draft.
If you want to find out about Fairley's work ethic, ask the Auburn coaches. They will not lie.
If you want to find out about Bowers' knee, wait until it is healthy. Most pros play with injuries anyway. Bowers has game tape. Look at the tape and evaluate his performance.
As a Browns fan, if these rumors result in one or both prospects dropping out of the Top 5 for the Browns' taking, this is a good thing for the team, but still does not "fix" the problem of teams focusing on the wrong things.
Lots of draft busts have had great Combines, so go beyond the workouts and find out what your guy looks like on the field, ask his coach how he prepares and interview the guy to see if he is serious. If he is an entitled athlete waiting for a paycheck, that is when it is time to move on.
For a look at the 2011 season (If there is one), check out 15 Players Ready To Break Out In 2011.
This article is
What is the duplicate article?
Why is this article offensive?
Where is this article plagiarized from?
Why is this article poorly edited?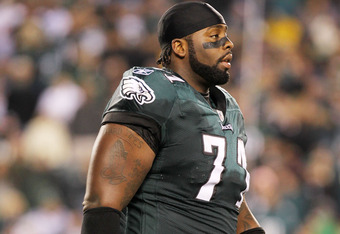 Arrest on Disturbing The Peace, Other Charges Speaks To Larger Problems
Eagles Tackle Jason Peters was arrested on charges of Disorderly Conduct and Disturbing the Peace, according to several media reports.
A specific report on KSLA.com states Peters was arrested along with rapper Rick Ross Saturday in separate incidents.
"Roberts was in town to perform at the Bay Bay Birthday Bash at the Kokopellis nightclub. Peters was one of the celebrity guests," the report states.
So we have a professional football player along with a professional musician being arrested for smoking weed and a football player arrested for being loud.
At a party.
Before anyone starts bashing either side, take a step back and consider the situation. I worked with several police departments in two states over the course of seven years, and I can tell you for a fact if a police officer arrests someone for disturbing the peace, it is for one of two reasons. Either the police were treated rudely and disrespected upon answering the call, or that was the third time they had been called.
According to the Philadelphia Inquirer, it gets better. Peters refused to provide identification when approached about loud music emanating from his car.
Bingo!! We have a reason for an arrest over something this stupid.
When police approach you and ask for identification, no matter how unjustified you think it is, you give it to them. If you really think your civil rights are being violated, take it up with an attorney in the morning. Antagonizing police only gets you arrested.
So, was this arrest necessary?
No, it was not. Peters appears, according to the police report, to have made a big deal out of nothing. I will put good money down saying the cops probably intended to tell Peters to turn the radio down. When Peters got confrontational, the police reacted accordingly.
I am quite sure there is a lot more to this story, and I would love to see if the contact and arrest was videotaped.
The Eagles have to be shaking their heads in frustration because this is the second player to get arrested since the lockout began, King Dunlap was charged with reckless driving earlier this month. If Roger Goodell does enforce the personal conduct policy after normal business resumes, the Eagles could be looking at a far bigger problem.
Then again, none of these offenses really are that serious, and all the players can afford the best attorneys to get them out of trouble–as long as they still collect paychecks in a regular 2011 season.
Hey, maybe Goodell should start HOPING for more arrests, it could get a deal done faster.
For a look at the 2011 season (If there is one), check out 15 Players Ready To Break Out In 2011.
This article is
What is the duplicate article?
Why is this article offensive?
Where is this article plagiarized from?
Why is this article poorly edited?