Martin Kampmann and Diego Sanchez met at the KFC Yum! Center in Louisville, Ky. on March 3. The three-round battle was the main event on the UFC on Versus 3 fight card. After three rounds of stand up action, a bloody Sanchez was declared the winner by unanimous decision.
Many fans in attendance booed the decision when it was announced, feeling that Kampmann had won the fight.
Kampmann has been lobbying for a rematch with Sanchez, upon learning of the request, Sanchez took to Twitter.
"You really want a direct rematch?" asked Sanchez. "I trained no boxing! Zero! I just wrestled my ass off. I underestimated your takedown defense and had to resort to my street-fighting loco skills and almost dropped you; I seen your legs. I was not in my best shape."
"Plus you just lost two in a row you need to get a "W" then we can talk rematch. Your punches had snap to cut but no power."
Kampmann replied to Sanchez, "Almost dropped me??? Nah, as far as I remember you where the only one that got dropped. Wise up."
Sanchez then seemed open to a rematch, "If we fight again it will be a even better fight. If it happens it happens your always a fun fight."
"Let's make it happen then," tweeted Kampmann.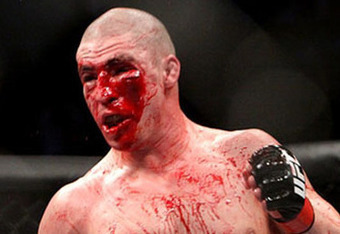 Sanchez answered "If I can't get a better fight that a win would move me up the ladder, I would love to fight you again!"
UFC president Dana White was a huge fan of the first fight between these two, awarding them each $160,000 in Fight of the Night bonus money.
After the fight, White told Yahoo! Sports, "I don't forget fights like that. That was an unbelievable fight. That was the kind of fight you saw back in the 1980s in boxing, a classic war. Diego Sanchez is one of the toughest [expletives] I've ever seen, man. It was a dogfight. They both gave every ounce of what they had. Kampmann got a loss on his record, but he didn't lose that fight. There are no losers when you're in a fight like that."
A Sanchez versus Kampmann rematch may very well be in the cards.