2011 NCAA Tournament Live Blog: Top Seeds, Cinderella's Featured Friday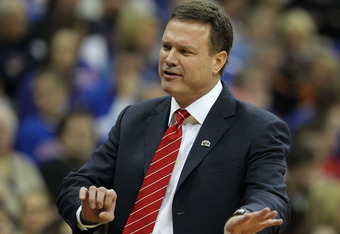 Jamie Squire/Getty Images
Hey everyone! Tonight the final Sweet Sixteen matchups will take place.
The schedule goes as follows:
Newark, NJ
7:15—No. 11 Marquette vs. No. 2 UNC
APPROX 9:45—No. 1 Ohio State vs. No. 4 Kentucky
San Antonio, TX
7:27—No. 12 Richmond vs. No. 1 Kansas
APPROX 9:57—No. 11 VCU vs. No. 10 Florida State
Follow the LIVE BLOG below!
Both games are in halftime. Blog to go on a short hiatus.
Richmond is down 15 points right now, but they are the type of team that can score in a hurry. They shoot a ton of three's. They are on a 6-0 run now.
I'm a bit nervous that these first two games are getting out of hand. Kansas is up 10 and Carolina is up 13. After last night, it will be hard to top the level of excitement. However, I do believe that the two teams that are currently losing will step it up. They are certainly better than they are currently playing.
Marquette cannot buy a basket here. It is a 12-0 run for North Carolina. I don't think that UNC can keep this up though. They really struggle defensively. Once Marquette gets it going, this game will probably be a little bit closer.
Kansas has opened up an eight-point lead on Richmond early in Texas.
UNC seems to have found where the basket is, they lead 18-10 now, and Buzz calls a timeout!
Devante Gardner just rammed into Tyler Zeller on the offensive end and the ball will go back to the Heels, as they lead 16-10 after a dunk by John Henson. 8-0 run for the Heels.
At this pace, UNC has the advantage with a guy like Zeller, who can get to the rim when the outside shots are not falling. The Heels lead 12-10 with about 10 minutes to go in the half.
With about 11:30 to go Marquette and UNC are grinding it out as the Golden Eagles have taken an 10-8 lead. Marquette is led by coach Buzz Williams, who I personally think is great. He is a fireball of energy, a fun coach to watch. Wouldn't expect anything less from a man named Buzz.
The Richmond-Kansas game is underway. I'm interested to see how Richmond does in their Princeton-style offense tonight. They are led by Chris Mooney, who is in the running for some of the other more high-profile jobs out there. Thes score is 4-2 Kansas as Marcus Morris slams it home for the Jayhawks.
Harrison Barnes with a putback slam gives the Heels an 8-6 lead. Is there a lid on the rim tonight. No scoring going on!
To preview the other game that will tip off in about 4 minutes between #12 seeded Richmond and #1 seed Kansas.
Richmond came back to defeat #5 seeded Vanderbilt in the second round, then cruised pas Morehead State in the third.
Kansas had two easier wins against Boston University, who kept them close in the first half. The Jayhawks then defeated Illinois.
Both teams are ice cold right now. Neither team is all that experienced being this far in the tournament, could be some jitters. 6-6 as we head to the first TV timeout.
Marquette is 1-5 from the field in the early going. The Heels are 3-6. UNC leads 6-4.
I think that who ever can limit turnovers and basically just score more will win. I realize it sounds stupid, but this game will be decided by who can outshoot the other.
Somewhat of a slow start for both teams, UNC leads Marquette 2-0 about two minutes in. Again, look for a high-scoring game!
UNC started off the season somewhat slowly but have picked it up and made it all the way to the ACC Championship, where they lost to rival Duke. Coached by Roy Williams, they have a very inexperienced postseason team led by Harrison Barnes, Tyler Zeller, and John Henson. They are the best rebounding team in the country and beat LIU and Washington to make it to the sweet 16.
Marquette is one of those teams to look closely at. They have no bad losses this season aside from a tough loss on the road against Seton Hall, which ironically was in the same building that tonight's game is played. The rest of their 13 losses were against teams that were ranked at least once during the season. They are led by senior Jimmy Bulter, and juniors Darius Johnson-Odom and Jae Crowder.
Marquette will take on North Carolina tonight in the first sweet sixteen game out of Newark, NJ. The game will be played at the Prudential Center, which is home of the New Jersey Nets, New Jersey Devils, and the Seton Hall Pirates mens basketball team.
Marquette comes into the game having beaten two higher seeds then them. They beat Xavier easily in the second round, then defeated Big East rival Syracuse in the third round. They are one of two Big East team remaining. There were 11 admitted to the tournament.
UNC defeated both of their opponents in high scoring games. They defeated Long Island University out of Brooklyn 102-87. They struggled defensively against LIU. They allowed 83 points to Washington in the third round, but scored 86 for themselves.
Both of these teams score a lot and struggle defensively. Should be fun.
Hey guys, the first game should tip off in about 12 minutes. Preview to come in a couple of minutes!
This article is
What is the duplicate article?
Why is this article offensive?
Where is this article plagiarized from?
Why is this article poorly edited?