NCAA Tournament Results, Scores: Complete Sweet 16 Live Blog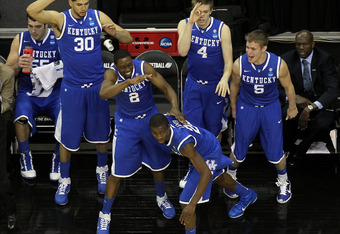 Nick Laham/Getty Images
Jimmer hit a jimmy. Kemba did the shimmy. And big, bad Duke got knocked right out.
Those are just a few of the things that happened last night in the Sweet 16, with Butler, Arizona, Florida and Connecticut advancing to the Elite Eight. Four spots remain, so how will the second night play out?
Check back here early and often for live updates. Send me your questions @dioselev.
Here are the games on tap for tonight:
7:15: 11 Marquette vs. 2 UNC
7:27: 12 Richmond vs. 1 Kansas
9:45: 4 Kentucky vs. 1 Ohio State
9:57: 11 VCU vs. 10 Florida State
With that I'm going to call it a night. Thanks for reading, everyone!
I don't see any way that VCU can beat Kansas on Sunday, but boy what a run they've had. They definitely deserve to be in the Tournament. Hell, this is what the Tournament is all about. It's never been about talent. It's about who wants it the most. The kids at VCU want this. And they're doing everything they can to get it.
Sorry for the caps, but it's been a long day. Brilliant call by Shaka Smart on the inbounds play. Easiest bucket all game.
WHAT A PLAY! VCU WINS! THEY'RE GOING TO THE ELITE EIGHT TO FACE NO. 1 KANSAS!
Singleton's single-handedly keeping Seminoles in this game. VCU needs a bucket. Very, very badly.
FSU with 8 assists and 16 turnovers in this game. That's an ugly stat.
Free-throw shooting killing VCU. They're just 12-20. They need every point they can get.
Both teams very, very tired. They couldn't keep up with the up-tempo pace all game. It's all about perimeter defense and the post game now.
Huge trey by Burgess. He's the only one scoring for VCU right now. Zero ball movement.
VCU looks discombobulated. Not a good sign.
As we start overtime, Burgess (game's leading scorer) with four fouls for VCU. Okaro White with four for FSU.
Andddd we're going to overtime. Terrible offensive execution by Florida State on the last possession. Oh well. At least they made it this far.
REJECTION! Seminoles get the last shot.
Big, big shot for the FSU forward. He was 4-15 (0-2 from three) on the day before that trey. Absolutely fearless.
SINGLETON! Oh man we're tied at 65. VCU looking for last shot.
Florida State needs to pick up the pace.
Derwin Kitchen can absolutely jump out of the gym. The FSU guard has 21 points and 10 rebounds, on top of 4 assists. Not bad.
Wow this is fun. We got another nail-biter between VCU and Florida State. Three minutes left in Sweet 16 action.
HOLY KNIGHT! What a baller! Kentucky wins on a game-winning shot by their rookie point guard. They face UNC next for a ticket to the Final Four.
Florida State keeps inching closer. VCU clearly is clearly at its best when playing an up-tempo game. They don't have any good half-court players.
Crunch time. Ohio State needs a stop.
That was a Kevin Love move right there. Sullinger might have to do this single-handedly.
Seminoles won't go down quietly. VCU going to slow it down to try to run off the clock.
Buckeyes really struggling from the floor, and nobody more than William Buford (2-13). Someone has to heat up.
This article is
What is the duplicate article?
Why is this article offensive?
Where is this article plagiarized from?
Why is this article poorly edited?