Titan FC 17 Results: Live Blog and Analysis from Memorial Hall in Kansas City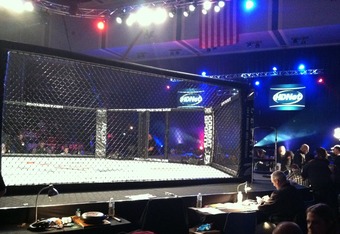 Live cageside from Memoral Hall In Kansas City, KS

If you don't get HDNet, don't sweat it. Once again, we got you.
Tonight starting at 8:00 CST, Bleacher Report MMA will be sitting cageside for what should be another great night of fights as Titan Fighting Championships returns to Memorial Hall in Kansas City.
Headlining tonight's card, Phil "The New York Bad Ass" will be taking on Nick Nolte, Bobby Lashley will be squaring off against John Ott, and Abe Wagner will be facing Aaron Rosa.
The rest of the fight card is as follows:
Eric Marriott vs. Willian de Souza (no relation to B/R MMA's Dale de Souza)
Anthony Gutierrez vs. John Hollis
Alonzo Martinez vs. Aaron Derrow
James Krause vs. Nathan Schult
Chilo Gonzalez vs. Travis Sevum
Also, there will be a female fight on the card. I'll be sure to get you that information as soon as myself and Robert Gardner are at Memorial Hall.
And don't forget to follow us on Twitter @BR_MMA for even more musings and off-the-wall banter.
More to come within a matter of hours. Stay tuned B/R MMA Nation!
Well, that does it for us. Check back later for many, many video interviews!
Play on Playa.
Official Result: Bobby Lashley def John Ott by unanimous decision (30-27, 29-27, 29-27)
Ott comes out to start the third and lands a few punches and Lashley looks tired and hurt. The crowd is going ape s***right now. Lashley throws a wild right that destroys the air around Ott's head. Ott lands a heavy right, and Lashley goes for a sloppy takedown that is nowhere close. A big left hook lands for Ott. If Ott Pushes forward, he could probably get Lashley out of there. He does just that, hurt Lashley, and Lashley gets the takedown.
Lashley is trying to do work from Ott's half guard, but he's super tired and the punches he's landing have little steam behind them. With a minute left, it looks like Lashley is gonna grind this one out and get the decision. Crowd yelling "Stand them up", but even if the referee does, it'll be too little too late. Round over. 10-9 Ott. 29-27 Lashley.
Ott starts the second swinging wildly but missing. Lashley can barely hold his hand up and Ott seems fresh, even after taking the beating he did. But to the surprise of nobody, Lashley gets another takedown and the beating continues. Lashley isn't doing nearly as much on the ground as he did in the first round, but now he moves to side mount to do more nothing.
Ott scrambles to north-south for a moment before Lashley gets him back against the fence and starts raining down with his right hand and elbow. Ott looks like he has a cut above his left eye now, probably from an elbow. Lashley throws a few more punches and the round is over. 10-9 Lashley this time around. 20-17 through two.
Lashley goes out throwing some leather then gets the HUGE slam takedown. Lashley is just way too big for Ott. He's just mauling Ott on the ground. Ott is trying to hang on for dear life, but Lashley is just putting a beating on him. More punches and elbows from Lashley makes Ott's head hit the mat so hard the thud could be heard throughout the arena.
No questioning Ott's heart...he's taking a beating and not giving up. This isn't even competitive.
Damn, Ott's face is already all bruised up from all the punches he's taken from Lashley. Ott looks just about out...but it looks like he's going to survive the round. 10-8 Lashley, but he looks like he's out of gas.
Middleweight (Ott) vs Heavyweight (Lashley). Only in the Midwest....
Look for Lashley to drag this fight in to the later rounds. He stated to me yesterday that he wanted to get some time in the cage tonight.
Main event up next: Bobby Lashley vs John Ott
Official Result: Aaron Rosa def Abe Wagner via rear naked choke at :35 of round 2.
Round two start with a flurry. Rosa lands a left hand that drops Wagner. Rosa get's Wagner's back, sinks in the RNC and it's all over folks! Rosa pulls off the major upset.
The big guys come out and are a little slow starting out. Wagner lands a couple of nice punches, but Rosa answers. Wagner lands a few knees from the clinch and the separate. Rosa charges in for the takedown, gets it and is working from half guard. Rosa is working a few elbows and punches, but nothing to write home about. Look for the stand up shortly. And there it is.
They start trading uppercuts and Rosa goes for another single leg, but Wagner is defending well. And that's the end of round one. Gotta go 10-9 Rosa.
Time for the big guys!!! Nothing better than a couple monsters mixing it up. Expect to see Wagner blast this guy.
Up next: Abe Wagner vs Aaron Rosa
Official Result: Phil Baroni defeats Nick Nolte via unanimous decision (29-28, 30-27, 30-27).
Crowd is booing so loud that we can't even hear what Baroni is saying over the P.A. system. Wow.
Third round starts and Baroni looks like his gas tank is empty. Nolte lands a good series of punches and kicks...Baroni looks like he's in trouble. Spinning back kick from Nolte slams right in to Baroni's face. Baroni is just swinging for the fences now. A good combo or tow from Nolte could get Baroni out of there.
Knee to Baroni's face followed by a few punches has Baroni hurt again. Baroni drops for the takedown, gets it and works the lay-and-pray. Baroni kind of has the mount, but he isn't doing anything with it.
Waiting for the stand-up....still waiting....wow, it looks like the referee is going to let Baroni ride it out while doing next to nothing. Yup, he does and the round is over. 10-9 Nolte. But the final decision should be 29-28 for Baroni after a less than inspiring performance.
Nolte comes out in the second with the same aggressive striking as he did in the first. Baroni is looking for the takedown and is finally able to get it. Not much going on right now. Baroni is looking a bit tired and the few strikes he is throwing look very labored.
Still not much happening on the ground. Waiting for the stand-up....and there it is.
Baroni catches a knee and Nolte goes for a triangle. Baroni is able to fight out of it and gets side mount. Baroni is breathing heavy and looks like he's trying to do just enough so the fight doesn't get stood back up.
The mount is open all day for Baroni but he's not going for it. Instead, he's landing little insignificant elbows and punches that aren't doing much damage. And that's how the round ends. Ack...20-18 for Baroni through two.
Nolte is putting up one heck of a fight so far. He's bringing it to Baroni, showing no respect for NYBA's striking. But after getting rocked, Baroni gets the fight to the ground and worked over Nolte. Sorry for the lack of updates, but the internet went down. 10-9 Baroni in the first.
The crowd is NOT down with the "New York Bad Ass". The only fighter to get booed so far.
Up next: Nick Nolte vs Phil Baroni.
Round three starts with a pair of combos from Marriott, then Souza goes for the shot and Marriott gets the back again. Punches in bunches coming from Marriott now. Souza flips and Marriott introduces Souza to his elbow over and over again.
Souza gets back up, only to eat some knees, then goes back to the ground to work more ground and pound. Marriott has Souza's left arm trapped, but lets him back up. Marriott throws yet another spinning kick and almost pays the price for it, but he is able to land top position on the ground. After some more scrambles on the ground, the round is over. Should be a clean sweep for Marriott 30-27 and all three judges see it the same way I do.
de Souza fires first, but his punches don't have hear the power behind them as Marriott's do. I'm not sure if Marriott is tired or what, but he seems a little hesitant to engage. Marriott misses with a looping right and they clinch up. Marriott goes for the arm-in guillotine, but nothing happening.
Another spinning back kick from Marriott misses the mark. Huge chant of "Eric" from the crowd. de Souza drops for a single, but Marriott ends up getting de Souza's back, then they stand back up.
Slow round, but gotta give it to Marriott. 20-18 through two.
Fight is a little slow to start out until de Souza goes for a shot that Marriott easily dismisses. Marriott landed a decent leg kick as de Souza landed a nige right. Another Right lands for de Souza and he gets the clinch. Marriott blasts de Souza's grill with a few knees before they break.
Pretty much a chess match right now with both guys trading leg kicks and jabs. de Souza finally gets the fight to the ground, but Marriott quickly reverses and is working from side control. de Souza is able to scramble his way back to half buard, but Marriott jumps back to his feet.
With seconds left in the round, Marriott lands a side kick to the body that hurts de Souza. Marriott takes round one 10-9.
By the way...after the fights, we're gonna be heading to the Power and Light District to get our party on. If you're in the Kansas City area, come out and have some beverages with us at the after party!
Up next: Eric Marriott vs Willian de Souza (no relation to Dale de Souza).
Official Result: Alonzo Martinez def Aaron Derrow via majority decision (28-28, 29-28, 29-28)
This article is
What is the duplicate article?
Why is this article offensive?
Where is this article plagiarized from?
Why is this article poorly edited?