Tiger Woods: Can Woods End His Drought with a 7th Win at Bay Hill?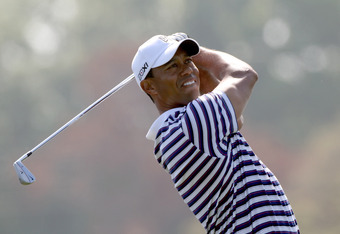 Tiger Woods is getting ready to tee off at the Arnold Palmer Invitational at Bay Hill, playing on the course that has seen him win six PGA tournaments. He will be looking to finally end a losing drought that has not seen him win a tournament since November of 2009. That is also around the time his life went into a downward spiral.
But Woods has shown a few signs of turning back into the player who used to dominate this serene sport. He used to be a cerebral mastermind on the golf course, but he has turned into an angry swearer and spitter, as he continues to struggle to control his temper. The more he allows his struggles to bother him, the more his golf game suffers.
Will this finally be the week that that all changes? Can Woods snap his long losing spell and capture his seventh tournament at Bay Hill? Or will Woods continue to wallow in mediocrity?
George Diaz of the Orlando Sentinel feels that Woods' losing streak will not only continue through this weekend, but that he is no longer someone who other golfers have to fear.
Diaz says that people view Woods differently. He wrote that "Some folks see him as a six-time Bay Hill champion and ready to roll a lucky seven. Others see much vulnerability. They see a guy still trying to overcome knee problems. A guy who continues to tinker with his swing, partly a concession to his health, his age and the perfectionist in him that isn't satisfied with status quo."
Diaz goes on to write that the younger golfers who are winning tournaments no longer need to concern themselves with Woods. "As Woods continues to tweak his swing and get his mind straight, the rising stars of the PGA Tour have no such worries," says Diaz. "Getting paired with Tiger was once an ominous death sentence—Tiger was going to crush you. Much like a tiger shark, you were the prey, like lowly sea turtles and seals."
I'm certainly not going to say that Woods maintains the same ominous presence that he once did, but neither am I ready to say that he is no longer a threat.
Edgar Thompson of the Palm Beach Post says that Woods will "begin pursuit of his seventh win on Palmer's home course, located near Woods' Orlando residence. Since 2009, Bay Hill has undergone as many changes as Woods, whose personal life and golf game came unraveled in the wake of scandal and divorce."
I admit that I love to poke fun at Woods. It is just so easy. But if he really does want all of the other outside talk about his life to stop or at least simmer down, he needs to win a tournament.
And with The Masters right around the corner, he could really gain a lot of steam by winning at Bay Hill on Sunday.
It has been a long time since that red shirt and black pants outfit has brought any amount of fear into his opponents.
For more on Woods and this weekend's tournament at Bay Hill, make sure to check out Bleacher Report Featured Columnist Sam Westmoreland, who takes a look at Tiger Woods Girlfriend: Latest on Tiger's New Babe and How Elin Nordegren Moved On, as well as Bleacher Report Correspondent Immer Chriswell, who previews Ernie Els and the 10 Golfers to Watch at Bay Hill.
Most recent updates:
This article is
What is the duplicate article?
Why is this article offensive?
Where is this article plagiarized from?
Why is this article poorly edited?