Mike Anderson, India Cricket, Michael Vick and Thursday's Top Sports News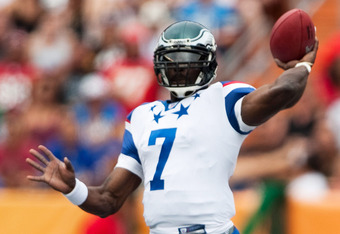 Kent Nishimura/Getty Images
We are close to the end of the week and there's plenty to talk about in the wide world of sports.
The Mike Anderson situation finally got resolved, and as it turns out he wound up taking the job with Arkansas. There were rumors and innuendo suggesting that he would leave or stay with Missouri. In the end, he took the job with the Razorbacks, where he was an assistant for 17 years.
Philadelphia Eagles quarterback Michael Vick has had quite the newsworthy week. He, along with Tony Dungy and others, paid a visit to some inmates at a Florida prison where they just talked to inmates, trying to give them inspiration and hope.
Now, word comes out that Vick's high school is refusing to rehang his high school jersey.
We will have updates on these stories and many more throughout the day as the news becomes available.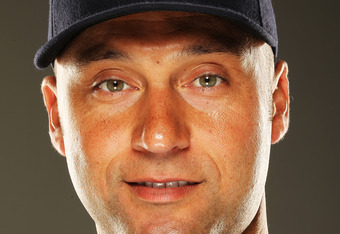 Derek Jeter Has Top-Selling Jersey In Baseball, But What Does That Mean?
Derek Jeter's new three-year, $51 million contract this offseason was criticized by a lot of people simply because it's difficult for most teams to compete with a 36-year old shortstop with no range defensively and declining skills at the plate.
However, with the news that came out yesterday from Major League Baseball and the player's association which Jeter had the top-selling jersey in all of baseball last year, it's easier to defend the large sum of money given to the Yankee captain.
Add to that the fact that he will get to 3,000 hits this season and you have someone who will move a lot of tickets.
However, do these accolades warrant paying Jeter the highest average salary among starting shortstops in all of baseball from ages 36-39?
Once Jeter gets to 3,000 hits, his value will diminish because there's no other milestone that he is going to break.
His performance on the field doesn't figure to get a lot better than his performance in 2010, which saw him post career-lows in average (.270), on-base percentage (.340) and slugging (.370).
On the ESPN baseball blog "Sweetspot" they listed Jeter as a "player to watch in '11". The author of the article was David Schoenfield, and he wrote that Jeter "will face more scrutiny than ever" this year.
"Jeter turned 36 during the season. Since 1960, 125 major leaguers qualified for the batting title (502 plate appearances) during their age 36 season," Schoenfield wrote. "Only five suffered a bigger drop from their career average than Jeter's 47-point tumble. Only four suffered a bigger drop from their career adjusted OPS (OPS+)."
Within the article are the projections from many prominent baseball analysts, who think that Jeter will have a slight resurgence offensively. PECOTA projects a .282/.348/.386 line for the Yankee captain. Bill James is a little more optimistic with a .295/.365/.410 line.
But even with a slight resurgence offensively, Jeter will still be a liability for this team because he is so bad defensively. According to Fangraphs, Jeter will be -4.7 in ultimate zone rating in 2011. That means he will cost the Yankees at least five runs this season because his defense is so bad. His wins above replacement fell to a career-worst 2.5 last season.
For comparisons sake, there were eight shortstops better than he was last year based on WAR. Included in that list of eight are Alexei Ramirez from the White Sox, Stephen Drew from the Diamondbacks and Cliff Pennington from the Athletics.
So while Jeter gets all the accolades, money, fame and women, he is now merely a product of New York. He's been a great player, a hall-of-famer. But as far as being someone still worthy of having the best-selling jersey in baseball, those days are long gone.
Related Story: 10 Things The Yankees Need To Do To Get Back To The World Series
This article is
What is the duplicate article?
Why is this article offensive?
Where is this article plagiarized from?
Why is this article poorly edited?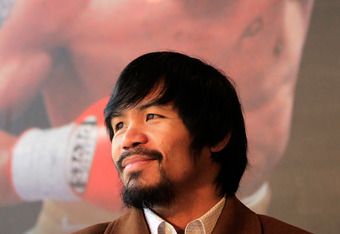 Manny Pacquiao Continues His Defamation Lawsuit Against Floyd Mayweather
Boxing champion Manny Pacquiao will be able to continue his lawsuit against Floyd Mayweather and others, thanks to a ruling from a Nevada judge on Monday.
In an associated press report found on NESN.com, Pacquiao is claiming defamation of character against Mayweather, Oscar De La Hoya, Golden Boy Promotions', among others for creating a "campaign to make people think he used drugs."
For those that don't remember, Pacquiao and Mayweather were working on setting up the super-fight to end all super-fights. Mayweather's camp wanted blood testing, in addition to urine testing, but Pacquiao didn't want to do that because he felt that he would be weakened by having blood drawn the week of a fight.
Ever since then, Mayweather and people in his camp have insinuated that Pacquiao has to be hiding something because he is steadfast in avoiding these tests.
Of course, Mayweather has a ton of legal issues to deal with, so I don't think he's in any position to talk about anyone else right now. I digress.
"Mayweather Jr. and the others set out on a course designed to destroy Pacquiao's career, reputation, honor and legacy and jeopardize his ability to earn the highest levels of compensation," the suit contends.
The lawsuit could get even more interesting if Pacquiao's camp brings in the racist, profanity-laden video that Mayweather made last September. The video was made with Mayweather surrounded by members of his entourage.
"I'm on vacation for about a year, about a year," Mayweather said. "As soon as we come off vacation, we're going to cook that little yellow chump." There's more, but it's too graphic to post here.
This is an interesting case, and one that seems to make the likelihood of ever seeing a Pacquiao-Mayweather fight even more remote.
That won't stop Pacquiao from fighting, though. He has a date with Shane Mosley on May 7 for Pacquiao's WBO Welterweight Championship.
Related Story: Shane Mosley Tests Manny Pacquiao On Twitter
This article is
What is the duplicate article?
Why is this article offensive?
Where is this article plagiarized from?
Why is this article poorly edited?
Chad Ochocinco Began His Tryout With MLS Team On Wednesday
Chad Ochocinco has done a lot of things on an NFL field. He is cocky, confident and entertaining. Now, he can add one more thing to his resume: MLS player.
Ochocinco began a four-day tryout with Sporting Kansas City on Wednesday afternoon. He is no stranger to the sport, having played it through high school before giving it up to focus on football. With the NFL in lockout mode right now, he has nothing else to do so he is giving soccer a chance.
In the ESPN.com report, Ochocinco is serious about this tryout. "The famously spotlight-hungry player insisted he was motivated by love for a sport that was actually his first choice until his grandmother persuaded him to focus on football after the 10th grade," is what the report says.
"I would play for free," Ochocinco said.
No one can accuse Ochocinco of not being passionate. He seems to have a genuine affection for the game. He wants to be successful doing it. He has made more than enough money playing football, so he could do this for free and not have to worry about it.
Another interesting development listed in the ESPN report was the criticism from Bengals head coach Marvin Lewis.
""How does he do at anything?" Lewis told reporters. "What has he ever done that he's completed? What circle has he ever connected in any way?"
Ochocinco didn't take to kind to those words and responded, as all athletes do, via twitter. ""Marvin Lewis won't say anything bad about Carson Palmer, stays kissing his ass, but disses @ochocinco daily #smh," he wrote.
Aside from the football drama, Ochocinco clearly wants this to workout and it could be good for the MLS because they are getting publicity that they otherwise would never get.
Related Story: Is Ochocinco Gone From Cincinnati?
This article is
What is the duplicate article?
Why is this article offensive?
Where is this article plagiarized from?
Why is this article poorly edited?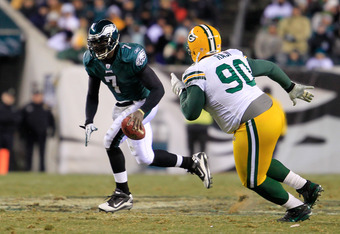 Does Michael Vick Deserve To Have His High School Display His Jersey Again?
Michael Vick has been trying to rehab his image for the last two years. He has been a model citizen on and off the field so far, and he got a big one-year contract to remain with the Philadelphia Eagles. Now, students at Vick's former high school in Virginia are rallying to get Vick's jersey back on display in the halls.
The report on NESN.com, says that the school is not planning on hanging the jersey back up. It's understandable, given Vick's past and the potential firestorm of controversy that would erupt if they were to hang the jersey back up.
There's no plan to revisit the issue either. Michelle Price, a spokeswoman for the Newport News schools, told the Virginian Pilot that in an interview yesterday. "It's the final decision. The school administrators just decided that they are not going to take action on the student's request."
There are two separate facebook pages that have been created to try and convince the administrators one way or another.
The facebook page that is for displaying the jersey has 891 people that "like" it, as of 10 AM Thursday morning.
The facebook page that is against the displaying of the jersey has 1,506 people that "like" it, as of 10 AM Thursday morning.
As much as some people might want to see the jersey hung back up in the school, those people have to understand the reasoning behind not doing it. Vick was convicted and sentenced to two years in prison for committing a serious crime. Whether you completely agree with the punishment - and don't throw out that he was "only" killing dogs - there would be constant media scrutiny that comes along with hanging the jersey up.
The school administrators would be facing constant questioning, there would be media surrounding the school for a long time following the displaying of the jersey.
This would be a no-win situation for the school. Plus, what happens if they hang the jersey back up and something happens to Vick again? You have to consider the hypothetical situations with something like this.
The high school is 100 percent right for not putting Vick's jersey back on display.
Related Story: Another Endorsement Deal For Michael Vick
This article is
What is the duplicate article?
Why is this article offensive?
Where is this article plagiarized from?
Why is this article poorly edited?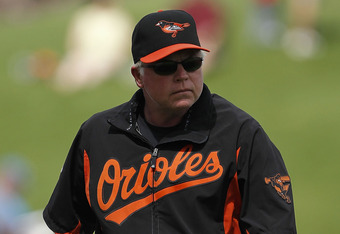 Buck Showalter Is Mad As Hell And He's Not Going To Take It Anymore
When you are a team in the American League East that isn't the Boston Red Sox or New York Yankees, it would be easy to cry about how difficult it is to compete in that division. Unfortunately, for the Toronto Blue Jays and Baltimore Orioles, the Tampa Bay Rays have found a way to not only compete with the big boys in the division, but beat the big boys of the division.
Still, that doesn't mean the Yankees and Sawx are immune to criticism for their big-spending ways.
Take for instance Orioles manager Buck Showalter, who has never been one to shy away from anything, bashing the Red Sox and the Yankees, specifically Derek Jeter, according to reports.
The interview will appear in the April issue of Men's Journal magazine, and in it Showalter does all he can to rile up the two of the five best teams in baseball.
"The first time we went to Yankee Stadium, I screamed at Derek Jeter from the dugout," Showalter said in Men's Journal, according to the Bergen Record. "Our guys are thinking, 'Wow, he's screaming at Derek Jeter.' Well, he's always jumping back from balls just off the plate. I know how many calls that team gets -- and yes, he [ticks] me off."
If you watch Yankees games, you know exactly what Showalter is talking about. Jeter will jump back at a ball that's on the black part of the plate and the umpire will call it a ball because if Jeter is moving away from it, it has to be a ball.
When the conversation shifted to the Red Sox, Showalter wasn't mincing words for them either.
"I'd like to see how smart Theo Epstein is with the Tampa Bay [Rays] payroll," Showalter told Men's Journal, according to the Record. "You got Carl Crawford 'cause you paid more than anyone else, and that's what makes you smarter? That's why I like whipping their butt. It's great, knowing those guys with the $205 million payroll are saying, 'How the hell are they beating us?'"
I don't necessarily agree with Showalter on this comment. I agree that it's easier to be successful when you have a big payroll, but the Red Sox and Theo Epstein changed the game for the big-market teams. They took a small-market approach to scouting and player development, while running a big market team.
Do you really think that Epstein would be a "worse" general manager if he was working with a team with a payroll the size of the Rays?
I don't. He is smart, business savvy, he understands the way to win is through drafting and developing because you can use the young guys to win a championship- as they did in 2007 with guys like Dustin Pedroia, Jacoby Ellsbury and Jon Lester - or he can use those assets to acquire someone who can fill a void on the team - as he did when he acquired Adrian Gonzalez from San Diego this winter.
It's easier to be consistently good with a payroll the size of the Red Sox, but I don't think that Epstein should be criticized by anyone because he's the general manager for one of the two most profitable teams in baseball.
Still, it's fun having Showalter in baseball because he doesn't care what he says. He wants his team to win and everyone else needs to get out of his way.
Related Story: Predicting The Orioles 2011 Season
This article is
What is the duplicate article?
Why is this article offensive?
Where is this article plagiarized from?
Why is this article poorly edited?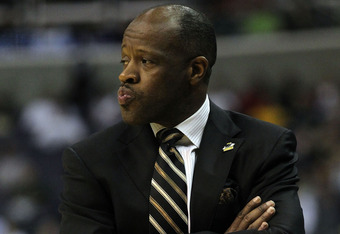 Mike Anderson Is The Fourth Head Basketball Coach For Arkansas In Ten Years
When Arkansas fired John Pelphrey earlier this month, they began the search for their fourth head coach since the 2002 season. That was the season they fired Nolan Richardson, named Anderson the interim coach.
They hired Stan Heath as their next head coach. He lasted from 2002-2007, with appearances in the NCAA tournament in 2006 and 2007. They lost in the first-round both times, and he was let go.
John Pelphrey was hired before the 2007 season, after the school's original choice, Dana Altman, decided that he wanted to stay at Creighton a day after being introduced as the Razorbacks coach. The team made the tournament in his first season as coach, but that was their only appearance in his four years.
Anderson brings with him an impressive resume as an assistant coach with the Razorbacks from 1985-2002, during the Richardson era when the team won a National Championship and made three Final Four appearances.
However, with all this coaching movement in such a short period of time you have to wonder if the Razorbacks are expecting too much from their basketball program.
They were a great program for a six-year period in the 90's, but they have never come close to that consistent success in the years before or after their back-to-back National Championship game appearances.
ESPN.com's Eamonn Brennan put this hiring perfectly in his blog post about Anderson.
"For Arkansas, it represents the hiring hybrid every once-storied program seeks to emulate: a return to glories past and a step into a new future," Brennan wrote.
This hiring is all about the past, the success that Richardson was able to bring to the program for a brief period of time. They want to believe that Anderson's connection to those past glories will be the missing piece to resurrect this once proud program.
Meanwhile, Missouri is left in a lurch thanks to Anderson's constant reassurance that he wasn't going to abandon them. He even made a personal phone call to a reporter with the Columbia Tribune assuring the Tiger fans that he wasn't going anywhere. Of course, if you know anything about the fickle nature of college coaching, you would have seen this one coming a mile away.
Yahoo! Sports Graham Watson says that the big issue with this whole ordeal was the posturing from Anderson.
"Many coaches who are being courted by other programs will give you the company line about being happy where they are and the future of their current program," Watson wrote. "But not many will go out of their way to call a reporter to put out a coaching rumor. Not many will tell media that he plans to retire as the coach of his particular school. Not many go through all that trouble."
Anderson did do a lot of good things for Missouri, and the program will be better because of the work that he did for them, but the way that he left is another reminder that this constant shifting of jobs is another red flag on the NCAA's policies.
Coaches can recruit players to come and play for them, always assuring them that they will be there the entire time to mentor them. But when they find a better job, they will walk away in a heartbeat and there's no punishment at all.
If a player commits to a school, but decides that he doesn't fit in and wants to transfer, he or she is forced to sit out an entire year.
But congratulations Arkansas, you got your man. Hopefully, he can help fill up your arena and bring glory back to the program while Missouri scrambles to find their next head coach. Don't feel too bad for them though because they will just swipe in and take one of these hot coaches from a smaller school and the cycle will continue.
Related Story: Anderson's New Contract With Arkansas Is Ridiculous
This article is
What is the duplicate article?
Why is this article offensive?
Where is this article plagiarized from?
Why is this article poorly edited?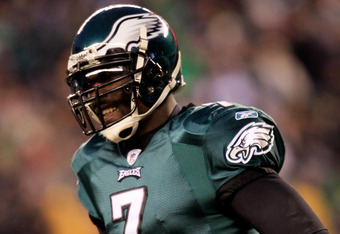 Michael Vick Went To A Prison In Florida As A Speaker Last Saturday
Michael Vick lost two years of his life to prison after being connected to and admitting that he ran an illegal dogfighting ring. He was suspended from the NFL indefinitely and lost all of his money, fame, friends and livelihood.
In 2009, Vick returned to football signing a two-year contract with the Philadelphia Eagles. He played sparingly that first year, but took the reins in the first game of the 2010 season and became a pro bowl player for the first time since 2005.
However, nothing Vick did on the field will compare to what he did last weekend when he, along with former NFL head coach Tony Dungy, well-listened to national radio host Dan Patrick, Sports Illustrated's Peter King and others, went to a prison in Florida to talk to the inmates about their lives and their futures.
Peter King talked about the experience with Vick in his Monday Morning Quarterback column.
"Vick, who had been in cells like these before, got right up to the bars, stuck his hand through them and tried to tell the men their lives aren't over," King wrote. "So I saw him doing the right thing, and he's been doing the right thing in Philadelphia. Those who monitor Vick, including Dungy and commissioner Roger Goodell, think he's doing well."
He thinks that Vick is doing really well right now and seems changed, but does admit that only "time will tell if the change can stick."
Dan Patrick mentioned the trip on his radio show, The Dan Patrick Show, on Monday morning.
"This wasn't about me exonerating Michael. But when I cover him I have to cover him as a football player not as a person, but as a football player," Patrick said. "But being around him, I enjoyed the conversation...To watch Michael, to see him interact with those inmates, this was certainly a weekend that I couldn't have scripted."
Vick is trying to do the right thing. He is trying to turn his life around. He is trying to be a better person because he knows that he only has one chance to make good with the NFL. But to go above and beyond by talking to these inmates, in that environment, it has to be a harrowing experience for him to go back to all that.
Like Patrick said, I am not trying to turn Vick into a sympathetic figure, but at least he is trying to do right now that he has been given another chance.
Related Story: Can Michael Vick Win An MVP Award In 2011?
This article is
What is the duplicate article?
Why is this article offensive?
Where is this article plagiarized from?
Why is this article poorly edited?