Tiger Woods: Are We Once Again Entering Tiger Season?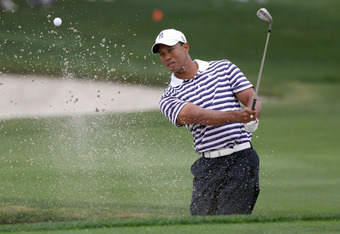 Tiger Woods Starting To Make Preparations As The Masters Approaches
It used to be like clockwork.
It was one of the signs that it was really spring. The flowers started to bloom, the weather started to get warmer.
And on that April Sunday in Augusta, the world's best golfer broke out the Sunday red, his own rallying cry doubling as the Imperial March for the rest of the field. That was Tiger Woods before.
Now we think of him and we think of broken car windows, girlfriends and that very weird Nike ad. We also don't think of winning, not the way he did in the 2008 U.S. Open and not even the way Charlie Sheen defines winning.
But as the Masters is less than a month and all the headlines surrounding Tiger are about his new girlfriend. It never used to be that way.
And you can't help but wonder if it'll ever be that way again.
Of course, winning cures most ills. If Tiger finally wins a tournament before the Masters or even wins the Masters itself, all these doubts about him suddenly vanish. All of a sudden, he'll be back and dominant again as soon as he was losing it.
And for his good, he needs to win again. Because the sport was better when Tiger was Tiger, when he was doing things only the sport's elite had ever done and the question was never if he would reach that magical number of 19 majors, but when?
Now the question is when and if Tiger will ever win again? And frankly, that's a question no one knows the answer to.
Not even Tiger.
For more golf news: Golf Etiquette: The 15 Strangest Unwritten Rules in the Sport
Most recent updates:
This article is
What is the duplicate article?
Why is this article offensive?
Where is this article plagiarized from?
Why is this article poorly edited?