Chad Ochocinco, Tiger Woods, Mike Anderson and Wednesday's Top Sports Stories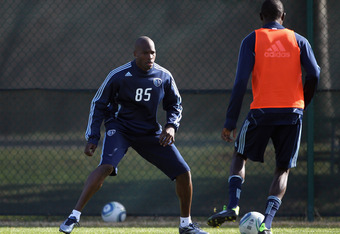 Jamie Squire/Getty Images
Greetings, everyone. Tom Copain with you today as a large chunk of the country looks outside their window and wonders where Spring went.
It hasn't been an extremely busy day in sports with the NCAA Tournament not starting up again until tomorrow. But that doesn't mean there isn't anything going on today in the sports world.
Missouri's head basketball coach Mike Anderson has been a hot name all day in the head coaching world, and there's been rumors all day about where he will be coaching next season, and we'll have the latest on that.
Then there's Chad Ochocinco, who in his spare time with no football on the horizon has taken on the chance to have a MLS tryout with Sporting Kansas City. And then there's Tiger, who according to reports has a new girlfriend. Plus he's also now in preparations with the Masters starting to loom in April.
We're going to take on those topics, plus we're going to hit a couple of other topics that are making news on this Wednesday afternoon. So stay tuned for all the latest news and updates on the latest news.
And as always, there's no need to switch the page, just keep it locked in for the very latest.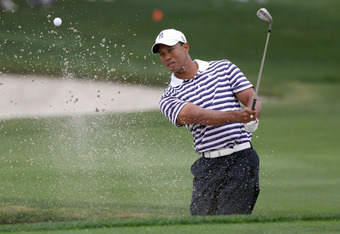 Tiger Woods Starting To Make Preparations As The Masters Approaches
It used to be like clockwork.
It was one of the signs that it was really spring. The flowers started to bloom, the weather started to get warmer.
And on that April Sunday in Augusta, the world's best golfer broke out the Sunday red, his own rallying cry doubling as the Imperial March for the rest of the field. That was Tiger Woods before.
Now we think of him and we think of broken car windows, girlfriends and that very weird Nike ad. We also don't think of winning, not the way he did in the 2008 U.S. Open and not even the way Charlie Sheen defines winning.
But as the Masters is less than a month and all the headlines surrounding Tiger are about his new girlfriend. It never used to be that way.
And you can't help but wonder if it'll ever be that way again.
Of course, winning cures most ills. If Tiger finally wins a tournament before the Masters or even wins the Masters itself, all these doubts about him suddenly vanish. All of a sudden, he'll be back and dominant again as soon as he was losing it.
And for his good, he needs to win again. Because the sport was better when Tiger was Tiger, when he was doing things only the sport's elite had ever done and the question was never if he would reach that magical number of 19 majors, but when?
Now the question is when and if Tiger will ever win again? And frankly, that's a question no one knows the answer to.
Not even Tiger.
For more golf news: Golf Etiquette: The 15 Strangest Unwritten Rules in the Sport
This article is
What is the duplicate article?
Why is this article offensive?
Where is this article plagiarized from?
Why is this article poorly edited?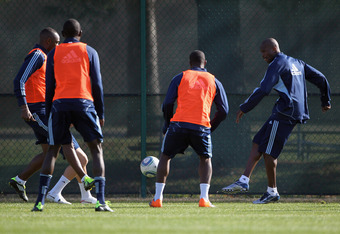 Chad Ochocinco Shows Off His Soccer Skills As He Tries Out For A MLS Team
Chad Ochocinco (or he's apparently going by Chad Johnson again) has always been one to show off his athletic ability.
He's also always been one to grab the spotlight.
So when news broke that Ochocinco was going to spend his time without the NFL on the soccer pitch, or at least attempt to, more than a few eyebrows were raised. Sure enough, Ochocinco is in the middle of a tryout with Sporting Kansas City of the MLS, trying to perhaps make the squad.
Of course, there were the ones who saw this as yet another publicity stunt by a guy who's seemed to have more of them then actual success on the football field these days. But then came this wire story from Adam Teicher that ran in the Toronto Star that put a different spin on things.
"While so many of this country's top athletes gravitate to the basketball court or, like Ochocinco, the football field," Teicher wrote, "soccer isn't about to reject one who wants in, no matter how eccentric or publicity-hungry he might be."
In retrospect, that gives this whole thing a lot of intrigue about it. Ochocinco is really the first major American star who's tried soccer as a second sport. Ochocinco might fail, but he could very well be that dynamic star that makes young kids and athletes gravitate more towards soccer.
We all thought David Beckham was going to be that player, but it never materialized. Now of course, if Ochocinco flops horribly, it might not turn out to be that way. But if he succeeds and can do some great things for MLS, all of a sudden the league could very well have a marketable star for one of the first times in its history.
We'll all have to wait and see.
For more soccer news: The 50 Greatest World Football Club Teams of All Time
This article is
What is the duplicate article?
Why is this article offensive?
Where is this article plagiarized from?
Why is this article poorly edited?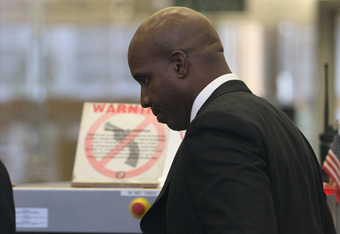 Barry Bonds And Former Trainer Linked To Syringe During Perjury Trial Wednesday
Perhaps one of the most publicized perjury trials in recent history is finally underway, and early in the proceedings there's already been some damning evidence against Bonds.
Bonds' friend Steve Hoskins testified today that he saw former trainer Greg Anderson leaving Bonds' room with a syringe during spring training back in 2000. According to the Associated Press, Hoskins said that when he saw Anderson and Bonds leave his room, Hoskins assumed Anderson injected Bonds with steroids.
According to the AP report, Hoskins also testified that "Bonds had ordered him to research the benefits and side effects of a steroid after the slugger had undergone elbow surgery." Among the other bombshells Hoskins dropped during his testimony was that he had a tape of a conversation between himself and Anderson talking about Bonds' use of steroids, according to the report.
If you've followed the entire case going back to the BALCO scandal, then none of this should sound surprising. But when Bonds' entire defense has been based on being misled about his steroid use, then it's not exactly a promising start for him and his legal team.
The AP reported Bonds' lawyers understandably tried to discredit Hoskins, but one has to think the damage has been done. In terms of the prosecution, it was a great start and one has to think the U.S. Government will have more of the same coming in terms of witnesses.
In the perjury trial of the century, the first punch has been landed. Now it'll be time to wait and see how the Bonds' camp reacts.
For more MLB news: MLB Power Rankings: B/R Columnists Rank all 30 Teams for the 2011 Season
This article is
What is the duplicate article?
Why is this article offensive?
Where is this article plagiarized from?
Why is this article poorly edited?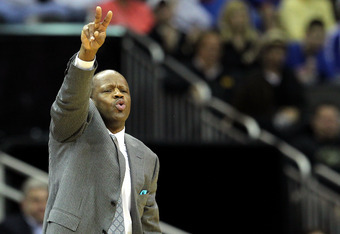 Mike Anderson Close To Leaving Missouri For Arkansas Job, According To Reports
Mike Anderson has been a hot coaching name the last couple of weeks after the Missouri Tigers were knocked out in the Round of 64.
And despite the efforts of the university to keep him around, the Associated Press is now reporting Anderson is close to becoming the next head coach at Arkansas, stating a source that told the AP "it's not a done deal yet, but it's getting close."
Anderson would definitely be an attractive hire for the Razorbacks, who took over Missouri basketball after the Quin Snyder era and turned it from a down program back into one of the better programs in the Big 12. In five seasons at Mizzou, Anderson went 111-57 and took the Tigers to an Elite Eight in 2009 according to the AP report.
But perhaps more attractive to Arkansas is his links to legendary Arkansas coach Nolan Richardson as a long-time assistant on top of his work at Missouri.
If this turns out to be true, then it's a great hire for the Razorbacks. It's a coach who understands the pressure to win at Arkansas and the tradition of the program. And if he can hit the ground running, he has the ability to turn the Razorbacks around.
The SEC isn't exactly a mecca of college basketball save for Kentucky and Florida, and especially in the SEC West where it's Alabama and everyone else. Auburn has struggled for a while, LSU hasn't been relevant since the Tyrus Thomas days and the Mississippi schools are up and down.If he can land some recruits, all of a sudden Arkansas has a chance to be extremely competitive in that division.
Would he be able to compete with Kentucky and Florida? Maybe not right away. But if he does decide to go back to Arkansas, all of a sudden the Razorbacks look a lot better.
For more NCAA news: 2011 NCAA Tournament: Ranking the Sweet 16 Matchups
This article is
What is the duplicate article?
Why is this article offensive?
Where is this article plagiarized from?
Why is this article poorly edited?