Tampa Bay Rays: 10 Things Manny Ramirez, Johnny Damon Will Bring in 2011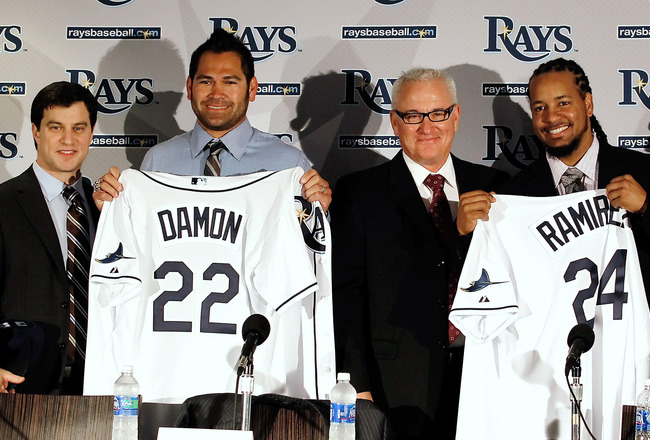 J. Meric/Getty Images
Unless you have been living under a rock, you should know that the Tampa Bay Rays have been wheeling and dealing and have managed to bring in a couple of aging ringers by the names of Johnny Damon and Manny Ramirez.
These guys are a big question mark for the Rays organization and for baseball fans in general.
Are they too old to be effective?
Will Manny being Manny be a little too much for Joe Maddon? (Because we all know Joe is going to be Joe.)
The following are the 10 things the dynamic duo will bring to the Rays this season:
Number 1: Experience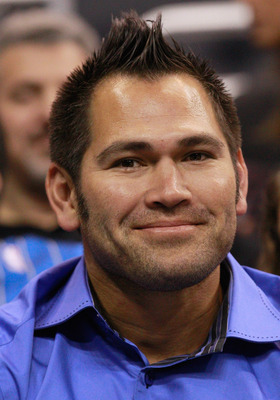 Sam Greenwood/Getty Images
Together, Johnny Damon and Manny Ramirez have played in 4,573 Major League Baseball games. They have a combined 34 years in the Major Leagues. To say these guys have seen it all is like saying that the sky is blue.
Johnny Damon has appeared in 140 or more games every season for 15 straight years.
The fact that these two superstars have already won a World Series ring while on the same team (Boston, 2004) speaks wonders.
Number 2: Dedication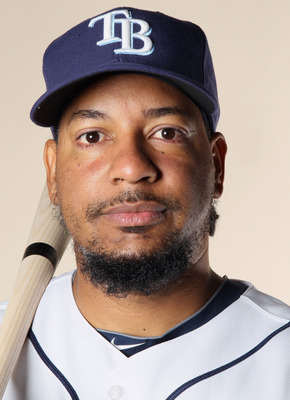 Elsa/Getty Images
Tampa Manager Joe Maddon is actually extremely impressed with the work ethic displayed by Manny Ramirez.
Ramirez has shown up on his days off to work in the batting cages, has been taking more fielding practice and has gotten along well with the rest of the team.
Perhaps Manny being Manny is something that will fit right along with the Rays' young clubhouse. If the younger players see Ramirez working on his days off, maybe his new-found work ethic will prove to be contagious.
Number 3: Consistency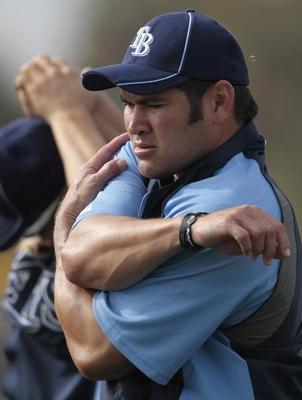 Johnny Damon is one of the most consistent players in MLB history. In 16 years, he has never had a batting average below .270.
He has always been a leader in the clubhouse and a hard-working individual.
He is among today's most accomplished players with 2,571 hits, 487 doubles and 1,564 runs. He has also earned, not won, two World Series rings with two different teams.
Damon says, there are a lot of fans out there who love him and a lot of fans who do not.
Tampa is going to love Johnny Damon. Unfortunately, he will be compared to Carl Crawford on a regular basis when he does something well and especially when he does something wrong, but Damon is a mature athlete who is going into this situation completely aware. Damon will prove to be a wise investment for the Rays. Perhaps the wisest this season.
Number 4: Excitement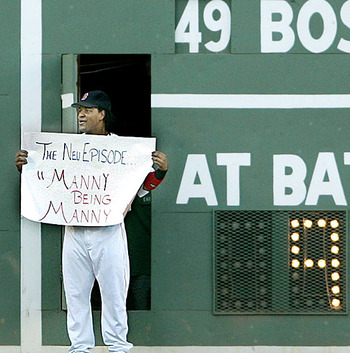 Manny is a funny guy.
No matter what anyone says or how many enemies Manny has developed, the fact that he does some of the things he does is hilarious.
Who makes $100 million a year, but still takes time to pose with his $500 grill to try and bring in more money when selling it on e-bay? Manny does.
Who takes a break at Fenway Park inside the Green Monster to take a pee, mid-inning? Manny does.
Who is going to be the best he has in years this season, just by looking at his off season track record (.333 / .379 / .593 with 2 HRs and 5 RBIs)?
Manny will.
Number 5: Value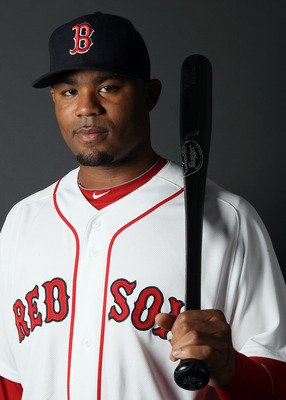 Elsa/Getty Images
Carl Crawford went to the Red Sox for $142 million dollars over seven years. Crawford leads the MLB in triples.
Johnny Damon is second in triples and came to Tampa for $5.25 million over one year.
Crawford, being younger, does have about five to seven years left in him for the pros, but Damon still has one or two. Damon has taken care of his body and has never been injury plagued, nor let his age affect his play to any obvious degree.
The Rays made a smart move in picking up Damon. This will definitely give the team some breathing room in salary negotiations after the draft next year and with some of the best players in AAA baseball moving up through the ranks.
Also, don't be surprised to see Johnny Damon in a Rays uniform again in 2012.
Number 6: Motivation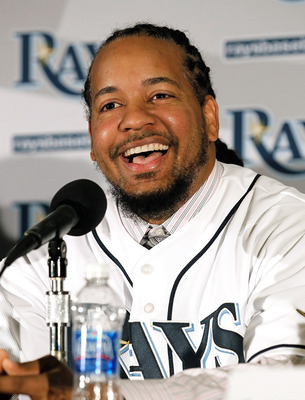 J. Meric/Getty Images
It's kind of like the old saying, "You can run a lot faster if you're running for your life."
That's kind of what Ramirez and Damon will be doing this year. They are battling Father Time.
The aging superstar duo knows that their time in baseball is in its twilight, but both athletes are stubborn. In a good way.
Neither wants to go out if they're not on top. They have many fans, press and players saying they are too old for the game, but that should provide the duo with a little added emotional boost from their egos.
Both of these players will strive to make a good impression on the fans and on baseball this year and the Rays will be all the better for it.
Number 7: Media Interest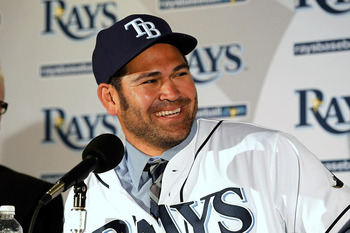 J. Meric/Getty Images
Manny Ramirez and Johnny Damon are, by far, the most sought after players on the Rays roster by the media. Everyone wants to know how they are going to do, what they think of the system and how much longer they are going to play baseball.
This is nothing but good news to the Tampa Rays.
Johnny Damon is somewhat of a media darling. He is witty, charming and a great player. He will elevate the Rays in national exposure, as well as put a positive spin on almost anything he does.
Manny is, well, Manny. He will always be a media fixture because he is so dynamic, both on the field and off.
And you know what they say—"Any press is good press."
The Rays are going to get a lot of it this year. This could have been one of the deciding factors in picking up the pair. If it was, it was a genius move by the front office.
Number 8: Attendance Boosts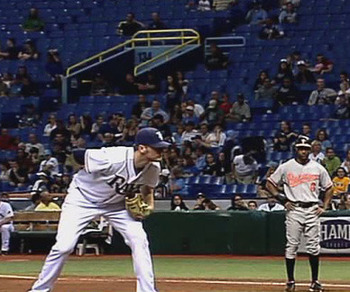 Tampa has had huge problems with attendance. No matter what the team does on the field, Tampa fans just aren't showing up to watch.
The addition of Manny Ramirez and Johnny Damon should help this. Especially when the the Yankees and Sox come to town. No one will want to miss those games.
If these guys can deliver just a little bit of promise, this could turn out to be one of the smartest acquisitions in Rays history.
Number 9: Stubbornness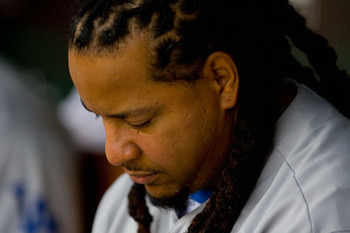 Dilip Vishwanat/Getty Images
There was a time when Ramirez could have faded into obscurity. Where he could have taken the hundreds of millions he has made playing the game he loves and retired.
He chose not to do so.
After an issue with performance enhancing drugs last year, Manny clawed his way back into the show from a AA team. He didn't have to try to come back after a 50 game suspension. He doesn't need the money. He really doesn't have anything left to win.
That's why he will be a valuable asset to the Rays organization. Manny is being paid peanuts this year (just $2 million for a one-year deal). He came to the Rays for one reason and one reason, only. To prove to himself and everyone that he is one of the greatest players in the game.
We are going to see a Manny possessed this year. That's why he has been working so hard, so often, this spring. That's why he has that fire in his eyes and that smile on his face again. Manny is going to be firing on all cylinders and will show that he still has it. That he can still win.
And he will do so against the toughest competition in baseball today, the A.L. East.
Number 10: Chemistry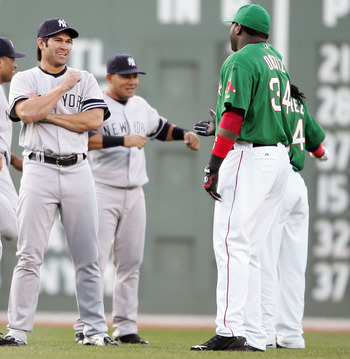 Elsa/Getty Images
Ramirez and Damon have been friends for years. They understand each other. They know each others weaknesses and strengths. They know they can count on one another.
The fact that these two greats get along so well will do wonders for the team chemistry in Tampa.
The Rays have always had great chemistry. The fact that so many things have been accomplished by Maddon and this scrappy little Florida team says it all.
The addition of a couple of baseball dynamos will only help Maddon's cause. He has some guys in the dugout that can help break the age barrier so many managers have with their young talent.
The Rays are an underdog this year after the load-up that Boston had in the off season. The Yankees are still the Yankees.
I wouldn't count out Maddon's bunch just yet, though.
One thing is for certain: 2011 is going to be a year to remember for the Tampa Rays.
Keep Reading

Tampa Bay Rays: Like this team?