NFL Kickoffs, Carson Palmer, Kevin Kolb and Wednesday's Top NFL News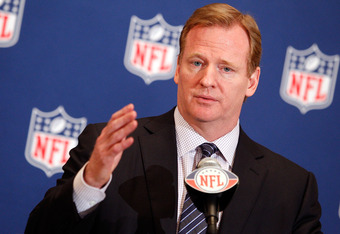 Sean Gardner/Getty Images
The rules of kickoffs have changed, mainly for the worse if you ask the top two return men in the league.
The debate over safety versus protecting the game continues, as it will in the future.
Then there is Kevin Kolb and Carson Palmer. Kolb is the most wanted quarterback on the market and Palmer will play for anyone except Cincinnati.
There is a lot of drama despite the lockout and I'm sure some lockout news will rear its ugly head before the day is out.
So thanks for stopping by and hopefully everyone will be entertained today as I run down the day's news with commentary and analysis.
Lovie Smith Does Not Understand Why Cutler Still Is Under Fire
Bears Head Coach Lovie Smith is starting to grow tired of the questions surrounding Jay Cutler and his knee injury suffered in the NFC Championship Game.
Smith, interviewed by the Chicago Sun Times, lashed out at Cutler's critics.
"I don't think any player should have to go through that because it wasn't warranted at all,'' Smith said. ''He was injured; he couldn't play. It's an insult for us to answer the questions on whether he's tough.''
While Smith may think it is an insult, when the camera shows images of Cutler walking around pain-free, followed by test results that showed a grade two sprain, questions of toughness are going to come up.
The immediate comparison is Brett Favre, who tried to play through numerous injuries in 2010 before a concussion ended his playing streak. There is no doubt Favre would have thrown on a brace and went back out on the field.
Cutler just sat on the bench and commenced to feel sorry for himself.
Smith complained about the TV coverage as well.
"To me, for the network to choose those pictures, it's wrong, too,'' Smith said. ''On the sideline, you can portray a player whatever way you like. You can look at any player that's injured and pick a snapshot of him, and he's not going to be [excited or animated].''
The problem with that comment is it was not just one shot, it was several over the period of about an hour. Each shot showed a completely disinterested Cutler doing his best to ignore everyone around him.
Body language says a lot, and Cutler's "Whoa is me" body language offended a lot of people, especially players who wanted to be on that field.
Smith also defended the team's handling of the injury updates, which listed Cutler as "questionable" prior to Caleb Hanie entering the game, noting the team was focused on winning, not giving reporters a story.
That is fine if the year was 1911 and not 2011. Social media rules and you have to stay one step ahead of the story or you lose control of it. What the Bears should have done is fire everyone in the public relations department for dropping the ball on this situation so bad.
Smith may not like it, but this story will not go away until Cutler talks to the media and wins games. That is just the way these things work. It is not fair, but it is what it is.
For a look at the 2011 season (If there is one), check out 15 Players Ready To Breakout In 2011.
This article is
What is the duplicate article?
Why is this article offensive?
Where is this article plagiarized from?
Why is this article poorly edited?
Questions Over Bowers Knee, Consistency Raising Red Flags
You can add Da'Quan Bowers to the list of former Top 5 draft prospects who are taking huge falls this week as more evaluation is done.
Bowers had significant knee surgery after the 2010 season and was not able to perform all the drills at the Combine. He also was not ready for the Clemson Pro Day as previously thought.
Bowers said at the Combine he was healthy and would be ready for the Pro Day, which turned out not to be true.
Bowers only has one great year at college, and past draft history shows teams need to be wary of one-year wonders. Sometimes one-year wonders are indicative of bad work ethics, sometimes it is just a case of talent emerging and the red flags are unwarranted.
It all comes down to the tape, of which there are mixed reviews. Many scouts say they see good stuff, but they also point out there is a lot of bad tape out there as well.
Mike Mayock of NFL.com has said in a few interviews in the last week that Bowers stock definitely is falling because of all the concerns that have sprung up since the Combine.
If Bowers can answer all the questions and perform for scouts before the draft, all those questions may be put to bed and Bowers will rocket back up into the top of the draft. If not, it could be a long slide for Bowers.
The draft Web Site Walterfootball.com moved him down to No. 12, mocking him to the Minnesota Vikings.
"Unless Bowers looks great at his Pro Day–whenever that may be–I believe he'll take a tumble on April 28. The Vikings could pick him at No. 12," Walt wrote.
If Bowers is not healthy enough to have a Pro Day prior to the draft, he could tumble farther than that. Teams do not want to draft a defensive end who already has a bad knee.
For a look at the NFL Draft, check out A Three-Round Mock Draft here.


This article is
What is the duplicate article?
Why is this article offensive?
Where is this article plagiarized from?
Why is this article poorly edited?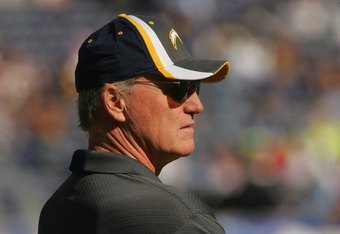 The UFL Continues To Make Big Moves As The NFL Waits For Court Hearings
The UFL will never be the NFL. Nobody debates that and no one in the UFL would pretend otherwise.
That being said, the UFL certainly is making the most of the NFL lockout by hiring their fifth former NFL head coach in Marty Schottenheimer, according to ESPN.com.
"I am excited to lead the Destroyers and am eager to return to the football field in Virginia," Schottenheimer said in a statement announcing his hiring. "I have been impressed with the fervor and passion that has been created in the region for a team that has yet to play a down of football. I promise the fans there that we will repay them with a great product on the field and a franchise to make them proud."
Of course, all the UFL fanatics out there know the Virginia franchise just relocated from Florida, where they were called the Tuskers. With a new coach and a new name, the team will forge ahead in 2011 and make a run for the title.
Schottenheimer also is the general manager of the club and reportedly will bring in Paul Hackett as his offensive coordinator and quarterbacks coach, according to the ESPN report.
The UFL now has four former NFL head coaches helming their teams. Should the lockout progress into the summer, this will be a boon for the UFL. Chances are interest in the fledgling football league will increase, and having former NFL coaches, especially one as credible as Schottenheimer, only help the cause.
The UFL has five franchises for the 2011 season as plans to expand to six fell through earlier this year. If the quality of the product is good enough, that may not be an issue in 2012.
The UFL now may have the chance to succeed where past attempts at rival football leagues have failed. The UFL wants to be in towns not supported by an NFL franchise and they are not trying to compete with the NFL by playing their games in August.
By August, people are ready for football but the NFL Preseason only is beginning. The UFL can step in and fill a niche market and be successful as long as it is marketed properly and they do not try and do too much.
For a look at NFL players who might wind up in the UFL, check out the 25 Most Worthless Players In The NFL.
This article is
What is the duplicate article?
Why is this article offensive?
Where is this article plagiarized from?
Why is this article poorly edited?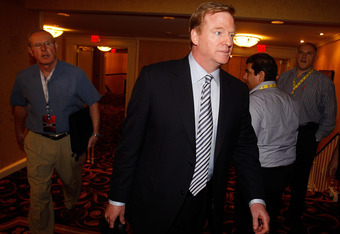 Roger Goodell States Deal Offered On Last Day Of Talks Could Be Off The Table
The thing about walking away from a deal you do not like is the next offer could be even worse.
The players, choosing to go to court rather than continue talks, walked away from the deal the owners put on the table a few weeks ago on March 11.
Now NFL Commissioner Roger Goodell is hinting that deal could be going away in a recent press conference as reported by ESPN.
"Every day that goes by," Goodell said, "makes it harder and harder to keep the elements in that proposal."
The proposal included an increase in their 2011 salary cap offer from $131 million to $141 million, which means the reports of the owners making concessions were true. The players had been seeking a $151 million cap for that year, plus a chance to earn a percentage of any higher-than-projected revenues above a certain threshold.
The 18-game season had been taken off the table, as many predicted, and the owners also had moved to take less money off the top before splitting the rest with players.
The players counter to that offer was an angry "no" followed by filing for decertification.
Given the players stance on things, the owners would be justified in telling the players the next time they meet, "That deal is gone and it is not coming back."
The longer this lockout lasts, the more it will affect the bottom line. While the owners will be fine in the long run, the players stand to lose a lot if there is no 2011 season.
But everyone is listening to lawyers instead of talking, so no progress is being made. It is time for both sides to fire the attorneys and get a deal done. This lockout thing has gotten real old real fast.
At the end of the day, the decertification was a sham to try and squeeze more money out of the owners. While I usually am all for the working man. The league minimum salary would take me several years to earn, so my sympathies for the players fade away.
The owners have the right to keep as much money as they want, they are the owners. The only thing the players should not budge on is the healthcare issue for retired players. That is the only issue the players should be staying strong on. The rest is pennies in the big picture.
For a look at the 2011 season (if there is one), check out 20 Players Who Need To Put Up Or Shut Up.
This article is
What is the duplicate article?
Why is this article offensive?
Where is this article plagiarized from?
Why is this article poorly edited?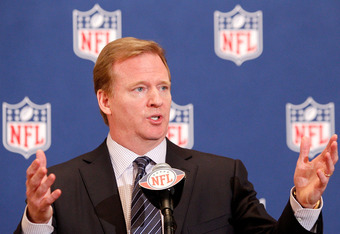 League Does Not Intend To Use Replacement Players, Could That Change?
At a news conference this week, NFL Commissioner Roger Goodell indicated the league had no plans to bring in replacement players for the 2011 season.
ESPN reported on the news conference and opened his story with the issue of replacement players.
"We have not had any discussions or consideration of replacement players," Goodell said. "It hasn't been discussed, it hasn't been considered, and it's not in our plans."
Replacement players were used in the 1987 player's strike, but this is a lockout. Since the owners are technically the ones not allowing the season to progress as normal, the logistics of bringing in replacement players becomes tricky.
According to Profootballtalk.com, an NFL official said the league could use replacement players if they wanted.
"Per the NFL official, there is nothing legally preventing the league from using replacement players in a lockout," wrote Mike Florio. "The official said that a decision has not been made."
If nothing else, the threat to use replacement players could be one way to spur the "real" players to get back to the negotiating table.
Right now both sides claim they want to settle, but neither side is willing to budge on the whos and wheres. This is a problem, and it makes the court ruling on the lockout April 6 just that much bigger.
Realistically, the owners are better off using replacement players as leverage. There will be football in 2011, even if the quality is down, and the "real" players will not be making money. That tactic helped break the strike in 1987, so from the owner's standpoint, it is worth looking into.
For a look at the NFL Draft, check out A Three-Round Mock Draft.
This article is
What is the duplicate article?
Why is this article offensive?
Where is this article plagiarized from?
Why is this article poorly edited?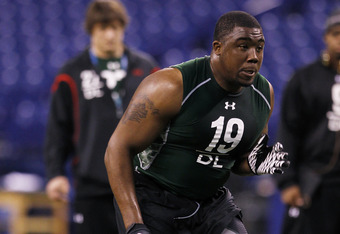 As Draft Approaches, Perceptions On Players Begin To Change
Nick Fairley once was considered a good candidate to be the top overall pick in the draft while Julio Jones was the consensus No. 2 wide receiver in the draft.
It is amazing how fast people's perception of a certain player changes. In Fairley's case, Marcell Dareus had such a good Combine, it forced all the scouts and GMs to go back and re-watch Fairley's game tape.
As ESPN's Todd McShay put it, via Profootballtalk.com, there now are "bust" warnings around Fairley.
"The more you watch Fairley on tape, the more worried you get he'll be a bust," said McShay, who also questioned Fairley's work ethic and consistency. "He has a chance to be a bust."
Turning to Julio Jones, I mocked Jones ahead of A.J. Green recently, sending him to the Bengals and noting Jones Combine performance could be enough to sway the opinions of a front office like the Bengals, who seem to go down the road less traveled when it comes to making draft decisions.
And then my opinion is validated by Peter King of SI.com, who reported the Bengals have Jones ranked ahead of Green on their draft board.
The bottom line here is game tape tells you almost everything you need to know. The rest is gleaned through interviews, talking to their coaches and just gut instincts.
If the college coach tells you a player has a sloppy work ethic, that is not going to change once they reach the pros in 99 percent of the cases. Players who get by on talent alone through high school and college quickly find themselves left behind in the NFL by guys with equal talent who work harder than they do.
For a look at where I sent Jones and A.J. Green, check out my Three-Round Mock Draft Here.
This article is
What is the duplicate article?
Why is this article offensive?
Where is this article plagiarized from?
Why is this article poorly edited?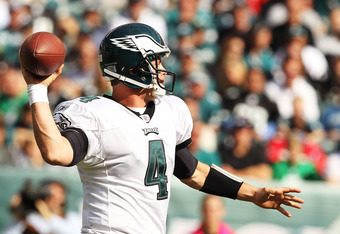 Kevin Kolb Is On The Trade Market, Let The Bidding Begin
Andy Reid and the Eagles have let it be known Kevin Kolb is on the trade market.
The two have not said exactly what they want, but the message through several interviews over the last few weeks is Kolb can be had for the right price.
The Eagles have indicated it would take a first round pick and another high-round pick to get Kolb, according to Peter King of SI.com.
Team President Joe Banner told the Philadelphia Inquirer there has been an "aggresive market" for the team's backup quarterback.
"You can figure if there's a quarterback that a number of teams are interested in, you're going to end up with some meaningful compensation," Banner said. "You can kind of figure out what that means and speculate from there. That's the situation we're in."
Gregg Rosenthal of Profootballtalk.com believes the Seattle Seahawks already have made a pitch for Kolb and further states Kolb would be a good fit there.
"Pete Carroll fired offensive coordinator Jeremy Bates and brought in Darrell Bevell in part because he wanted a more traditional West Coast offense based on short timing throws," wrote Rosenthal. "That's Kolb's skill set in a nutshell."
Really, you could put Kolb at the helm of any of the NFC West teams with the exception of St. Louis and see an instant improvement.
The Cardinals are believed to be thinking about trading for Kolb, according to several media reports, and the 49ers always come up in conversation when quarterback rumors start.
Kolb just wants to start, and the Eagles do have an interest in taking care of Kolb because they voluntarily moved on with Michael Vick. The Eagles are going to try and get the best deal they can for Kolb.
For a look at the 2011 season (if there is one), check out 20 Players Who Need To Put up Or Shut Up.
This article is
What is the duplicate article?
Why is this article offensive?
Where is this article plagiarized from?
Why is this article poorly edited?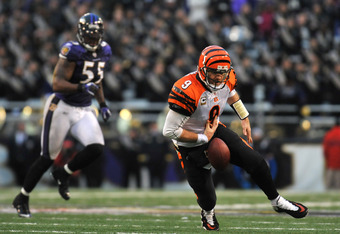 Carson Palmer Will Not Play For The Bengals In 2011
Cincinnati Bengals Owner Mike Brown said he has no intention of trading Carson Palmer and there is no "value" out there in which to trade for.
So Brown will watch his team stink yet again in 2011 while he bravely cuts off his nose to spite his face.
Palmer signed a contract and he should live up to that contract, that is not a debatable point. However, Palmer claims to have leverage in the form of financial security and will retire if he is not traded.
So the Bengals must accept the reality of the situation and move Palmer.
Except Brown seems to think some milk and cookies will make everything better. Not to mention Brown has won these kinds of games in the past, therefore he is emboldened.
Brown is not going to win this round and someone he trusts needs to get that through his head. Palmer was quiet all season and not a word was heard about Palmer wanting to leave until after the season. He then leaked the word out he wanted traded, sold his house and left town.
That is a man who was biding his time and planning for the future. He can not be called a locker room cancer or a bad teammate. He kept his mouth shut and played hard all season.
To address Brown's assertion there is no "value" for Palmer out there. You get that "value" by asking for first-round draft picks. Then again, given the Bengals history with first-round draft picks, I can see Brown's point.
As for the quarterback pool, there is Vince Young, a headcase; Donovan McNabb, old and breaking down; and Kevin Kolb, the shining star of the bunch.
There are plenty of good trades, though, not necessarily for a quarterback. The Bengals could try and fill another position of need, get a high draft pick and then sign a veteran while they try and develop Dan LeFevour, Palmer's brother Jordan, or a draft pick.
These are the options, the Bengals need to make the best of what is around.
For a look at bad players, check out the 25 Most Worthless Players In The NFL.
This article is
What is the duplicate article?
Why is this article offensive?
Where is this article plagiarized from?
Why is this article poorly edited?
Star Returners Believe Rule Change Will Eliminate Return Specialists
Joshua Cribbs is very upset the league will be moving kickoffs up five yards as he believes it eliminate a lot of return possibilities and return specialists will become a thing of the past.
Since Cribbs made his name in football by being one of the best return men in the league, it is understandable why he is upset about the league messing with what got him a permanent job and a big contract in the NFL.
Speaking to the NFL Network on Tuesday, Cribbs did not hold back on his feelings.
"I totally disagree (with the rule change)," Cribbs told the Network. "I don't think they take special teams serious enough. You can say you're making it safer for players, but that's part of it, not taking special teams serious enough. That ticks me off, because we, the Cleveland Browns, win games on special teams."
Cribbs goes on at length about this, and the entire piece is worth reading. Cribbs is very passionate and details his feelings very well.
Devin Hester was not happy about this either, taking to Twitter to express his feelings.
"I see the NFL is trying to take the kickoff game out. They already punt out of bounds. What's next?"
The rule change actually just moves the ball back to where it used to be. The league moved the ball to the 30-yard line in the 1990's in an effort to increase scoring.
It worked.
So moving the kick back to the 35-yard line in the name of player safety makes sense on the surface, but when you listen to guys like Cribbs, Hester and Leon Washington (the guys in the trenches), you see why this is a bad move.
None of these return specialists see where the safety factor comes in. Granted they are trying to protect their jobs, but if there was a safety factor, these guys would have been all over it.
The NFL made the wrong move here, and we only can hope after a few years the NFL sees it made a mistake and put things back the way they should be.
For a look at players who were not carrying their weight in 2010, check out the 25 Most Useless Players.
This article is
What is the duplicate article?
Why is this article offensive?
Where is this article plagiarized from?
Why is this article poorly edited?