Barry Bonds: Why Jeff Novitsky Testifying Could Hurt Bonds' Case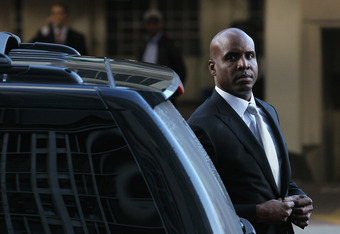 Barry Bonds Perjury Trial Could Be In Some Trouble With Jeff Novitsky Testifying Again
Barry Bonds' perjury trial will continue on Tuesday with Jeff Novitsky, the lead investigator in the government's case against the former slugger, taking the stand for the second consecutive day.
According to the associated press report on ESPN.com, Novitsky has been called as the lead witness in three different steroid-related federal trials. He is an important figure in this whole thing because it was his investigation that led to Bonds being connected to BALCO.
"Sipping from a water bottle, Novitzky testified that Bonds came to his attention when he found in the trash magazine articles connecting him to Anderson and BALCO founder Victor Conte at a time when he was investigating both men," according to the AP report.
Novitsky worked for the IRS and, according to the report, was given a tip to look into the finances of BALCO. When he was looking through the books, he stumbled upon the information involving Bonds.
Yesterday, Novitsky got into it when he was on the stand being cross-examined by Bonds' attorney Allen Ruby.
In a different AP report, this one on SI.com, Ruby said that the claims against Bonds are "ridiculous and unbelievable."
One note that struck me in this report is when it talks about the opening statement that Ruby made and mentioned that it was "a former Bonds girlfriend, a former business partner and a former personal shopper only came forward against his client after the baseball star broke off relationships with them."
While that may be true, it doesn't necessarily mean that they were lying. When you have a relationship with a person, you aren't likely to spill any of their dirty secrets. If the relationship gets broken off, you won't hesitate to tell anyone anything you saw.
The problem with this whole trial is they are trying to prove that Bonds knew what he was taking when he testified to a federal grand jury that he "unwittingly took steroids." It's difficult to prove something like that, which is where this case will inevitably fall apart in my opinion.
Novitsky testifying is a good thing for the prosecution because of his knowledge and experience in these situations - he is the lead investigator in the Lance Armstrong case - but if they have enough to prove that Bonds knew what he was doing is a different story.
Related Story: When Bonds' Jersey Comes Off, Nobody Cares
Most recent updates:
This article is
What is the duplicate article?
Why is this article offensive?
Where is this article plagiarized from?
Why is this article poorly edited?