NFL Kickoffs: Is the NFL More Concerned About Safety or Entertainment?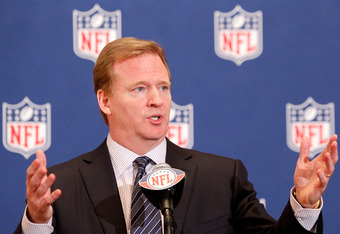 Does The New NFL Kickoff Rule Help Or Hurt The Game And It's Players
Yesterday, the NFL owners approved a rule change that will place kickoffs at the 35-yard line instead of the 30-yard line. There was no change in position for a touchback, which will still be placed at the 20-yard line.
There are a lot of players unhappy with this change, specifically Josh Cribbs of the Cleveland Browns and Devin Hester of the Chicago Bears.
On his twitter account, Cribbs wrote, "NFL rule changes are BS... U not making the game safer u messing a great sport, trynna hide behind safety just to add 2 games...smh."
"... This means it will be touchbacks all over the place...," he continued. "Essentially taking returners out of the game...injuries will still take place, then what move it up again, or eliminate it all together.."
The NFL countered Cribbs' argument with their own argument. The chairman of the NFL competition committee Rich McKay said, ""We have no answer [to the objections], but player safety will always trump any other consideration."
There's certainly no shame in cleaning up the game and trying to make it a safer product, but by nature the NFL is a dangerous game to play. It's a full-contact sport where players are trying to stop opposing players from scoring by hurling their bodies at each other to prevent them from moving.
This is going to drastically change field position in the games, which are always an indicator of who wins a game. By giving kickers an extra five yards, touchbacks are going to skyrocket.
The league wants so desperately to make the game safer, but they are doing so at the expense of the product. For people who like to watch Devin Hester work his magic, you are going to see it a lot less next year.
If they really want to make the game safer, come up with a helmet that doesn't rattle your brain around your skull. Major League Baseball has developed a helmet that protects against a 100 MPH fastball, why can't football come up with something with a little more padding and protection?
It's admirable what the league is trying to do, but when you are taking one of the most important elements of the game out of the equation you aren't doing justice to your players, fans or game.
Related Story: Seven Ways The New Rule Changes The NFL
Most recent updates:
This article is
What is the duplicate article?
Why is this article offensive?
Where is this article plagiarized from?
Why is this article poorly edited?