2011 NFL Mock Draft: The First 5 Picks You Didn't See Coming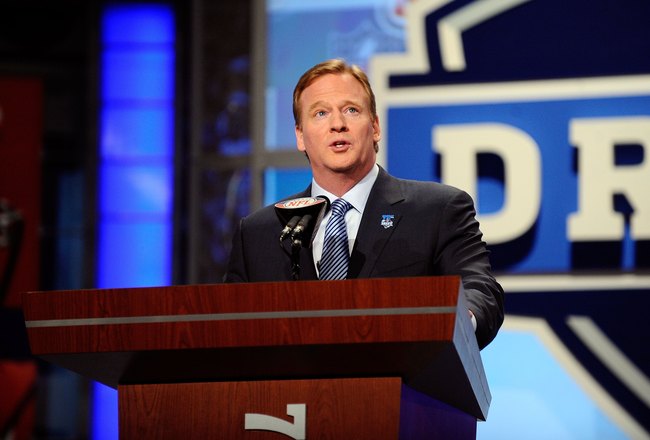 Jeff Zelevansky/Getty Images
This April, Roger Goodell will call a player's name, and proceed to hand them a Carolina Panthers jersey. The fans attending the draft will most likely give mixed reviews of how the NFL and NFLPA handled the lockout situation this offseason.
My friend Cody and I were looking at many different mock drafts floating around the web and couldn't find a mock that we agreed with, or one that was reasonably acceptable to us.
That's why we decided to make our own 2011 NFL mock draft. We looked at all of the team's current rosters, looked at all 32 teams' needs, and composed what we think is one of the better mocks on the internet.
It took us hours to create our full first round mock draft. We spent many hours arguing and debating each pick, and it almost ruined our friendship. But we battled through and produced this 2011 NFL mock draft.
1. Carolina Panthers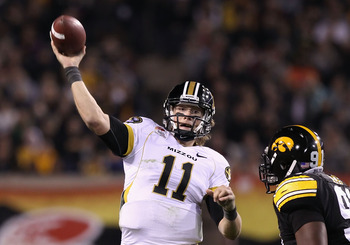 Blaine Gabbert vs Iowa
Christian Petersen/Getty Images
Blaine Gabbert: Missouri QB
Why this makes sense:
Next to the Arizona Cardinals, the Carolina Panthers had one of the worst quarterback situations in the NFL last season. With Gabbert, their offense would be infinitely more balanced, and they would have a franchise QB that they could build around for years to come.
Gabbert makes more sense then Cam Newton if you don't want to take a chance at No. 1. Gabbert played in a spread offense at Missouri, so he would have to learn how to take snaps under center, and also develop footwork dropping back in the pocket. Newton also only played one year of college ball, so there is much more of a risk factor than Gabbert.
Why this doesn't make sense:
This draft is certainly heavy on defensive players, so scouts could be overrating Gabbert by saying he's the best offensive player in the draft. If Carolina wants a "sure thing" with the top pick, they could either go with Patrick Peterson or Marcell Dareus to sure up their defense.
Other Possibilities:
Cam Newton
Marcell Dareus
Patrick Peterson
2. Denver Broncos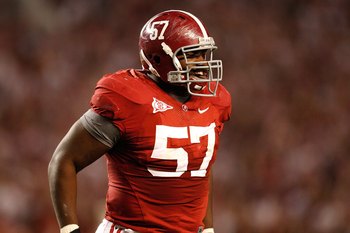 Marell Dareus
Kevin C. Cox/Getty Images
Marcell Dareus: Alabama DT
Why this makes sense:
Denver had one of the worst defenses in the league last season. Marcell Dareus' stock has risen immensely since the combine. With newly hired coach John Fox switching to a 4-3 defensive scheme, the Broncos need a disruptive force to anchor their defense, and they get that in Dareus. Denver has many holes to fill, but they fill a huge hole with this pick.
Why this doesn't make sense:
Champ Bailey isn't getting any younger, and the Broncos could be tempted to select Patrick Peterson to be his replacement, and Peterson could also help in the return game. Some argue that Dareus isn't even the best player at his position; many people are saying that Nick Fairley would be a better pick. But similar with Cam Newton, he only had one productive year in college.
Other Possibilities:
Nick Fairley
Da'Quan Bowers
Patrick Peterson
3. Buffalo Bills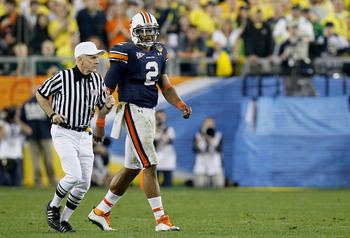 Cam Newton vs Oregon
Kevin C. Cox/Getty Images
Cam Newton: Auburn QB
Why this makes sense:
Ryan Fitzpatrick is a decent quarterback in the NFL, but he is not the guy that is going to lead you to championships. Cam Newton impressed the scouts at his pro day, showing much improved accuracy and poise. The Bills need a playmaker on offense that can give them a boost every day. Newton could sit on the bench for a season or two behind Fitzpatrick to learn the offense. Then come in and be that franchise player every team needs to have.
Why this doesn't make sense:
Again to say that this draft is stronger defensively is an understatement. This draft is loaded with defensive studs that you could build your defense around. Von Miller would make sense for the Bills here, but they need a franchise player to build around. He only played one year at a major university, so that is a concern for scouts.
Other Possibilities:
Von Miller
Patrick Peterson
Da'Quan Bowers
4. Cincinnati Bengals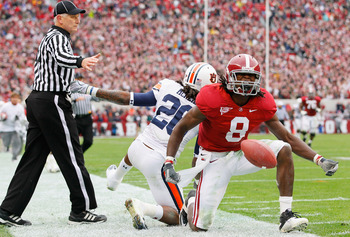 Julio Jones vs Auburn
Kevin C. Cox/Getty Images
Julio Jones: Alabama WR
Why this makes sense:
Cincinnati is going to need playmakers at the wide receiver spot with the likely departures of Terrell Owens and Chad Ochocinco. It is very likely that they would like to grab one of the top two QBs in this draft. However, Julio Jones was a beast at the combine, and he did it all on a broken foot. Cincinnati could draft a project QB, but I doubt they have the patience to let him develop. They need results, now.
Why this doesn't make sense:
Carson Palmer has made it clear that he does not want to play for the Bengals anymore. Because of that, I believe it is likely that the Bengals will trade this pick for Kevin Kolb, or swap first round picks in the draft. Although, if either Newton or Gabbert are available at No. 4, they will most likely take either one. Quarterback is the position in most need for the Bengals.
Other Possibilities:
Pick traded for Kevin Kolb
A.J. Green
Da'Quan Bowers
5. Arizona Cardinals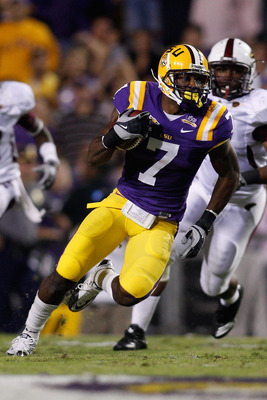 Chris Graythen/Getty Images
Patrick Peterson: LSU CB
Why This Makes Sense:
Yes I know, Von Miller is still on the board, But Peterson is just way to hard to pass up on. He is the No. 1 overall player in this year's draft and I don't see how Arizona cannot take him. Peterson does not fill a glaring hole on the defense but he and Dominique Rodgers-Cromartie could really shut down teams in the near future. Also, Andre Roberts muffed about three punts last year so Peterson could really, really, help with that. Cardinals get one of the biggest steals in the draft with taking the No. 1 player available.
Why This Doesn't Make Sense:
With such a huge need at outside linebacker, it would be very hard to pass up on Von Miller at No. 5 if you're the Cardinals. There have even been rumors that the Cardinals were talking to the Broncos about switching places in the first round. Presumably to move in front of the Bills who are rumored to be interested in Miller.
Other Possibilities:
Von Miller
A.J. Green
Pick traded for a QB
Keep Reading