Kobe Bryant, Tiger Woods, Hines Ward and Tuesday's Top Sports Buzz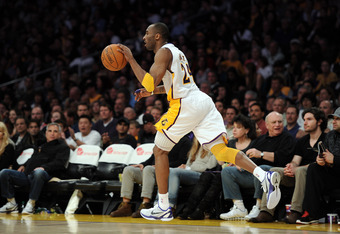 Harry How/Getty Images
Good morning everyone. Tom Copain here to take you through the news of the day on this first Tuesday of spring. Although it might not feel like it to some in the Northeast, who could see more snow soon.
Anyway, there's nothing better to take your mind off of Jack Frost's last stand than reading up on all the latest sports news. And there are some big names in the news today.
There's Hines Ward, who's filling the temporary void of the lockout by appearing on a reality show. The Pittsburgh Steelers receiver is part of the cast on the new season of Dancing With The Stars and Ward made his debut on the premier last night. Kobe Bryant's in the news as well, as he continues to deal with injuries while still trying to lead the Lakers to a third consecutive title.
Then there's Tiger Woods, who's back in the news again—but not for a tournament victory. Instead, it's his new girlfriend (or purported new girlfriend), who was put into the public eye after her DUI arrest. We're going to touch on all of these topics and all the other news that's making headlines today.
So make sure to keep it right here for the latest updates.
Donald Miralle/Getty Images
Kelly Gneiting Makes History As The Largest Man Ever To Finish A Marathon
In the grand scheme of things, the 2011 Los Angeles Marathon probably won't be remembered for who won.
But for the 40-year-old sumo wrestler, the one who according to reports lost three pounds during the marathon, it'll be one of the highlights of his life.
By now, you've probably heard the story about Kelly Gneiting, the 400-pound man who finished the Los Angeles Marathon in 9:48:52 and therefore earning a Guinness World Record for the largest man ever to finish the marathon. In fact the final time was actually cut by two hours from when he last ran the marathon back in 2008.
That's the story everyone's heard, but the hidden story is the kind of achievement it is to run a marathon to start with, not to mention a sumo wrestler. I don't think I could ever have the endurance to run a marathon, not even mentioning finishing it.
But then there's Gneiting, who pushed himself, lost three pounds during the entire thing and cut two hours off of his time.
"I was really struggling in the last five miles," Gneiting told the New York Daily News. "But I said to myself, 'If I have to crawl, I will.'"
How can you not be inspired by that?
We've all had our moments when we've perseverated, or pushed something off, or never got around to that task we always said we would. Then you see someone like this, and it just changes things. It's not the most important thing in the world, but it's one of those things that should make you take a breath and decide to do whatever it is you've been pushing off.
For more news: NCAA Tournament 2011: Power Ranking the Sexiest Cheerleaders of the Sweet 16
This article is
What is the duplicate article?
Why is this article offensive?
Where is this article plagiarized from?
Why is this article poorly edited?
Victor Decolongon/Getty Images
Justin Williams Will Miss The Rest Of The Season After Injuring His Shoulder Last Night Against Calgary
If you've followed Justin Williams' career, the news from the Los Angeles Kings that he'll be out for the rest of the season with a separated shoulder, according to TSN.ca, shouldn't come as a surprise. In the last couple of years alone, he's missed significant time with major injuries to his ACL, MCL and achilles tendon.
But now he's out again, and the bigger question is where will the Kings turn now in the middle of a very compact and very heated playoff race in the Western Conference. The Kings' hunt for a top six forward has been well documented all season, from Ilya Kovalchuk to Jarome Iginla to Brad Richards before the Kings finally settled on Dustin Penner.
In Williams, however, the Kings didn't just lose a forward, they lost their second-leading scorer and one of the few players on the Kings' roster with Stanley Cup Final experience. For a team who's been offensively challenged at times this season, it's a crushing blow. And especially now considering the trade deadline has passed and super-prospect Brayden Schenn is in juniors for the rest of the season.
TSN reported the Kings have called up center Oscar Moller to fill the roster spot, but that won't help replace the contributions Williams made to the Kings. The replacement will have to come in the form of someone stepping up on that roster and filling the offensive void.
In terms of the playoff race that seems to change every night, the Kings are in fifth but even a small losing streak can change that. The only consolation is that with the exception of Chicago, Anaheim and possibly Dallas, the teams chasing the Kings aren't exactly offensive powerhouses.
So given the skill on that roster, the Kings should be able to get back into the playoffs. Advancing in the postseason without Williams and having to face a San Jose, Detroit or Vancouver, that's a different story.
For more NHL news: NHL Head Shots: Matt Cooke Proves Rule 48 Not Working, but Punishing Teams Would
This article is
What is the duplicate article?
Why is this article offensive?
Where is this article plagiarized from?
Why is this article poorly edited?
Elsa/Getty Images
Luis Castillo Will Either Make The Philadelphia Phillies Roster Or Be Cut, According To GM Ruben Amaro Jr.
Luis Castillo didn't do himself any favors when he didn't show up in Clearwater today and forced himself to be scratched from the Phillies' lineup today according to Todd Zolecki of MLB.com. The Phillies aren't going to send him home tonight by any means, as Ruben Amaro told the press that this was just a "little bit of a miscommunication with his agent," according to Zolecki.
But it means Castillo has one less day to make an impression on the Phillies or else he's back looking for a team. And considering it's only 10 days until the Phils open their season next Friday, he needs all the playing time he can get.
That's amplified once you take into account that Amaro has already said publicly he will be released if he doesn't make the Opening Day roster, again according to Zolecki. So the next week will be very important for Castillo, and this is one game he can't get back.
Personally, I think he can be a benefit if he makes the roster, if only that he gives the Phillies a marginally better bat than Wilson Valdez (assuming Chase Utley won't be on the Opening Day roster) and also gives the Phillies a little more lineup fluidity than Valdez would.
Still, he's not the player he once was and Valdez has had a pretty strong camp. So if Castillo wants to make this team, he's going to have to make a very good impression in a very short amount of time, which is now even shorter thanks to today.
Considering the doubt behind Utley's knee, having a veteran replacement like Castillo is never a bad idea and they're not exactly breaking the bank to bring him to Phillies camp. But the Phillies have made it very clear from their end that this is a low-risk move for them, and that they will cut ties if it doesn't work out.
So now every game counts for Castillo. Well every one except for today's, that is.
For more MLB news: MLB Predictions: Forecasting Winners For The 10 Biggest Position Battles
This article is
What is the duplicate article?
Why is this article offensive?
Where is this article plagiarized from?
Why is this article poorly edited?
Jamie Sabau/Getty Images
Matt Cooke's Words Won't Mean Anything Until His Actions Show The Same
Don't get it twisted, Matt Cooke is very good at what he does. He's an agitator, he's a pest, he's one of those players you hate to play against but you'd love to have on your team. Unfortunately, he's now gained a penchant for trying to decapitate opposing players.
His latest gem was a flying elbow to Ryan McDonaugh of the New York Rangers Sunday afternoon and while it was around the same level as Dany Heatley's elbow last week, not surprisingly the NHL finally made an example of Cooke and suspended him for the remainder of the regular season and the first round of the playoffs.
But then we saw something we hadn't seen before: Matt Cooke showing contrition.
"The (Players Association) talks, they argue their point; and your agent gets on and defends you a lot. I realize and understand, more so now than ever, that I need to change," Cooke told reporters Monday night, according to the Sporting News. "That was what I wanted my message to be."
Cooke can say all he wants about being contrite, and if he is then kudos to him. But no one is going to believe him until he proves he can change.
It's a tricky proposition, considering the type of player that he is. But he's put himself and the Penguins organization in an awful position by making Mario Lemieux and the entire organization look like hypocrites. So there's a chance Cooke's saying the right things now just to save his job in Pittsburgh, although with his track record the Penguins might be his only chance.
But still, the NHL had to make a stand on Cooke and they did just that. And if Cooke is truly contrite about changing his game, it has to come on the ice and it has to show the first couple of times he has a chance to line a player up.
Matt Cooke's saying all the right things now. But actions speak louder than words.
For more NHL news: NHL Head Shots: Matt Cooke Proves Rule 48 Not Working, but Punishing Teams Would
This article is
What is the duplicate article?
Why is this article offensive?
Where is this article plagiarized from?
Why is this article poorly edited?
Harry How/Getty Images
Kobe Bryant Starting To Show His Age As The Injuries Begin To Mount
Kobe Bryant made it through the sprained ankle scare of a couple of weeks ago, and he had a nice game in the win against Portland Sunday night.
But still, Bryant's struggled at times this season and he's having an somewhat off year by his standards. Now averaging almost 25 points a game and being the league's seventh leading scorer sounds like a fantastic season for most players and it's the status quo for Bryant, but something just feels off about this season.
Which perhaps begs the question, is this the beginning of the decline of Kobe Bryant?
He's averaging 24.7 points per game, which is still phenomenal. But it's also his lowest scoring average since 2003-04 when he averaged 24.0 points even per game. Not to mention that it's the third lowest scoring average for him in this millennium since he averaged 22 points per game in 1999-2000.
He's playing around 33 minutes per night, which is also one of the lowest numbers of his career, the only time he's played fewer minutes a night was when he was a young bench player.
There are a couple of reasons for this. He has a lot more help around him now then he did in his prime, and he's had some injury concerns this season. Kelly Dwyer of Yahoo! Sports had an interesting post breaking down his injuries and how he's battled through them this season, especially his drained knee, basically making the point that he's paying the price for all the minutes and his style of play.
Frankly, she's right. And the fact of the matter is Kobe Bryant is starting to pay for all the hard minutes he put on himself in the prime of his career. No one can blame him for doing so, he's become one of the most prolific scorers in this era and has five rings to show for it. But this trend of injuries isn't exactly encouraging,
He's still a star, but he can't be that guy for much longer. We can't know for sure if this is the beginning of the end, but this is usually how it starts.
For more NBA news: Brian Shaw or Byron Scott: Who Would Fans Rather See Replace Phil Jackson?
This article is
What is the duplicate article?
Why is this article offensive?
Where is this article plagiarized from?
Why is this article poorly edited?
Marc Serota/Getty Images
Tim Duncan Will Be Out Indefinitely After Spraining Ankle In Spurs' Win
Well what will the Spurs do now?
They won again last night, a 111-96 victory against Golden State to move to 57-13, seven wins away from the single-season franchise record. But in the process the Spurs lost Tim Duncan indefinitely to a sprained ankle, and Gregg Popovich told the media there was no timetable for his return, according to the Associated Press.
In terms of importance, this is the one guy the Spurs can't afford to lose. And now all of a sudden the Spurs' chances for a title don't seem that bright anymore.
He's not the dominant player he was a few years ago, and Tony Parker and Manu Ginobili are the go-to guys on offense now. But he's still the one player who makes the Spurs go and he's still the leader of that team.
And now how do the Spurs' replace him?
If Parker and Ginobili get hurt, the Spurs do have some depth behind them at guard (Gary Neal, George Hill). But outside of Dejuan Blair and Antonio McDyess, the pickings are pretty slim up front for the Spurs. One would imagine McDyess would move into the starting lineup, but that leaves Matt Bonner and Tiago Splitter holding down the fort off the bench.
Not exactly intimidating to opponents, is it?
The Spurs still have a very good team, and while the Lakers are playing well right now they're still seven games back with 12 to play. Not out of the question, but not exactly within distance either. The best record should be safe considering the tough schedule the Spurs have left.
Now if Duncan misses time in the postseason, that's a different story.
For more NBA news: Brian Shaw or Byron Scott: Who Would Fans Rather See Replace Phil Jackson?
This article is
What is the duplicate article?
Why is this article offensive?
Where is this article plagiarized from?
Why is this article poorly edited?
Jonathan Daniel/Getty Images
Hines Ward Makes His First Appearance On Dancing With The Stars As Lockout Looms
So Hines Ward went on television last night, but not to talk about the NFL lockout, the players' decertifying as a union or any other labor matters. Instead the world got to see him ballroom dance.
Ward made his debut appearance on the season premiere of Dancing With the Stars last night, making him the second active NFL player to appear on the show, joining Jason Taylor not that long ago. I'm not going to break down his performance, but suffice to say it was very odd to see him last night with the labor mess playing out in front of him.
If anything it was a case of deja vu. Taylor's season on the show happened just as his standoff with Bill Parcells was starting, the standoff that eventually saw him traded to Washington. But that was between one player and a team, not a player who, along with the rest of the Union, might not have a season in 2011.
Now I wouldn't expect Ward to say anything about the lockout, nor will anything be asked about it. It's not the venue and I wouldn't expect Ward to go off. But it is really interesting to see Ward smiling and doing his best John Wall impersonation while his union is digging in their heels and preparing for a fight.
I'm not saying he shouldn't do it; other players are doing things to fill the time. Chad Ochocinco will have an MLS tryout, among other things. He should also have some fun with it, because that's what it's about.
But just know it may be the last time you see him in action for a while. And unfortunately, even something like this can't shake the looming lockout.
For more NFL news: Madden NFL 12: B/R Experts Debate All 32 Choices for Madden Cover Athlete
This article is
What is the duplicate article?
Why is this article offensive?
Where is this article plagiarized from?
Why is this article poorly edited?