MLB Trade Ideas: 10 Closers the Rangers Could Target If Feliz Becomes Starter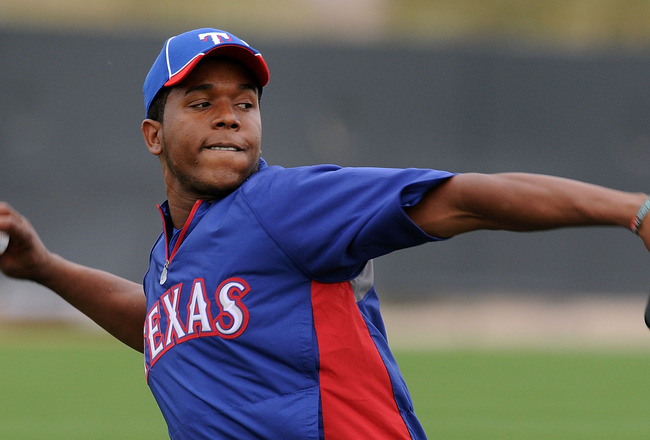 Norm Hall/Getty Images
This time last year, Neftali Feliz was just another reliever.
Well, not quite.
Feliz entered last season as one of baseball's five best prospects, but with the Rangers rotation full and Frank Francisco seemingly entrenched as the team's closer, Feliz started the season pitching in the middle innings.
Francisco, however, faltered early in the season. Feliz stepped in, and the rest is history. From the All-Star game, to the 40-save season, to the Rookie of the Year Award.
Generally, when a player has so much success in one role, a team is hesitant to move him—and that is likely the case in Texas.
However, the Rangers are a smart organization. They realize how much more valuable a great starting pitcher is than a great closer—and coming through the minor league, Feliz was a great starting pitcher.
But will he start?
That remains to be seen, even with Opening Day fast approaching. But it is a distinct possibility.
Should he start, the Rangers will be in need of a closer.
Frank Francisco, of course, was traded for Mike Napoli this past winter and the internal options are rather thin. Arthur Rhodes, Darren O'Day and Alexi Ojada are interesting options, but Ron Washington has indicated he'd prefer someone with closing experience.
So who might the Rangers traget? Here are 10 possibilities.
Joakim Soria, Kansas City Royals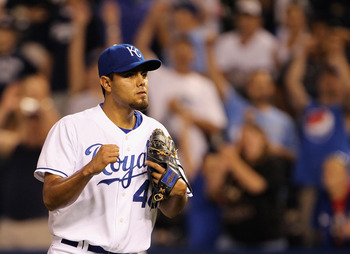 Jamie Squire/Getty Images
This past winter, the Rangers were attached to another Royals pitcher.
Zack Greinke was on the market and Texas was a major bidder. Should Neftali Feliz move to the rotation, the Rangers will likely be giving GM Dayton Moore another call.
The situation with Joakim Soria is a bit different. The Royals had to trade Greinke. He was far more valuable on the open market than he was to them, and with free agency fast approaching, he was likely to never see a winning season in Kansas City.
With this in mind, the Royals gladly took a group of talented young players and prospects to bolster the best farm system in baseball.
Soria, on the other hand, is under team control for four more seasons at an average annual value of just under 6.7 million dollars a season. That's relatively cheap, especially for a player of Soria's caliber, and the Royals are likely to be competitive within four years.
The bottom line is that they will probably be more hesitant to trade Soria than they were to trade Greinke.
At the same time, the Royals are in it for the long haul and the Rangers need to win right now. They have the prospects and young Major League talent to keep Dayton Moore on the phone.
Jonathan Papelbon, Boston Red Sox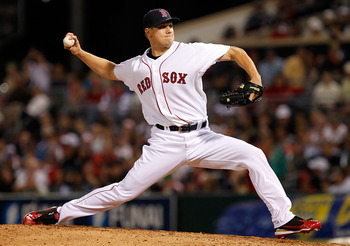 J. Meric/Getty Images
Two years ago, Jonathan Papelbon was arguably the best closer in the game, a fan favorite in Boston and nearly untouchable in trade negotiations.
However, a couple of sub-par seasons later and a bunch of tripple-digit fastballs by Daniel Bard have significantly altered Papelbon's standing with the team.
Would the Red Sox really trade him, though?
No question, the rumors have been rampant. Papelbon is a free agent after the season and for whatever reason it seems unlikely that he'll remain with the Red Sox.
Bard is seen as the future—the closer of a dynasty, led by Carl Crawford, Kevin Youkilis, Adrian Gonzalez and Jon Lester.
Papelbon is a part of the past, a part of the Manny Ramirez, David Ortiz and Curt Schilling dynasty of the last half-decade.
The team also made a couple of plays to bolster their bullpen this offseason by signing former closers Bobby Jenks and Takashi Saito. They even made a competitive offer to Yankees great Mariano Rivera.
I think a Papelbon trade is a long-shot.
The Red Sox are going for it all this season. If they lose Papelbon to free agency, they can do what they do best and draft a couple of talented kids with the compensation pick(s).
Theo Epstein is a smart guy. If the right trade presents itself and the Rangers become desperate, the Sox could move their All-Star closer.
David Aardsma, Seattle Mariners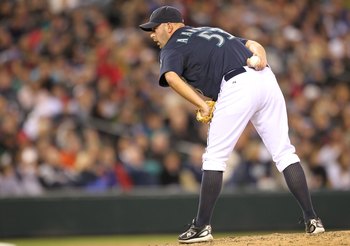 Otto Greule Jr/Getty Images
Rarely do you see a team trade their closer to a division rival, but given how far Texas and Seattle are apart at the moment, it's really not that far fetched.
The Rangers were American League Champions last year and the Mariners will pick second in the upcoming Rule 4 draft.
Aardsma would presumably be one of the cheaper options on the market.
Despite saving 69 games in the past two seasons, Aardsma has poor control and is prone to giving up the long ball. He also saw his strikeout rate drop by a full strikeout per nine last season.
Before joining the Mariners, their pitcher-friendly ballpark and league-best defense, Aardsma was a journeyman.
The Rangers aren't likely to part with top-tier young talent for Aardsma, but they wont have to if they decide he's a good fit. The Mariners farm system is lacking in depth and a couple of solid, low-level prospects would likely get the job done.
JJ Putz, Arizona Diamondbacks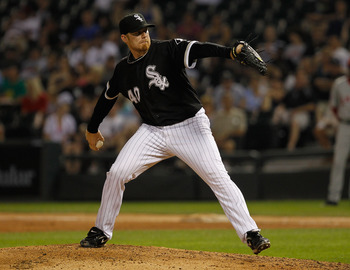 Jonathan Daniel/Getty Images
The Diamondbacks are not likely to contend this season and their farm system is in desperate need of talent. So why does this trade seem so unlikely?
A few reasons.
For starters, the Diamondbacks aren't a truly terrible team. It's tough to be truly terrible when you have Justin Upton, Stephen Drew, Kelly Johnson, Miguel Montero and a solid, young rotation.
Major League teams don't like to take themselves out of contention early in a season, and with that kind of roster, the Diamondbacks might not throw 2011 under the bus for a couple of solid prospects.
Secondly, the Diamondbacks bullpen was absolutely terrible last season. Historically bad, in fact. It might be difficult for the team to justify moving their closer when their setup guy had an ERA over five last season.
Finally, the Diamondbacks were the high bidder on Putz this offseason—and it's not like the Rangers just realized they might need a closer.
If the Rangers weren't willing to pay JJ Putz to be a part of their bullpen this winter, why would they be willing to both pay him and send a couple of prospects to Arizona now?
That being said, Putz is a solid closer who could probably be picked up without giving up elite talent. The Rangers could end up closerless on Opening Day and Putz could become a more attractive option.
Heath Bell, San Diego Padres
Jeff Gross/Getty Images
The Padres were a competitive team last season, but losing Adrian Gonzalez can really hurt, especially when you struggle to score runs like San Diego does.
Fourth in the pecking order behind Los Angeles, San Francisco and Colorado, San Diego has been shopping Bell for several months.
While they probably wouldn't mind keeping him around, and he has expressed interest in a long-term deal, the Padres have two closers in waiting in Mike Adams and Luke Gregerson.
This team needs to bring in young, cost-controlled talent and trading Bell might just be the perfect solution.
Make no mistake, Heath Bell is one of the best closers in baseball.
A two-time All-Star, Bell led the league in saves with 42 back in 2009. He topped that figure with 47 saves last season.
In 70 innings in 2010, Bell struck out 86 with a 1.98 ERA. He finished eight in Cy Young balloting, second only to the Giants' Brian Wilson among National League relievers.
The Rangers have the talent to make a run at Heath Bell, and the Padres seem willing to listen. He's probably the most likely candidate to land in Texas should Feliz end up in the rotation and the Rangers do look outside the organization for a closer.
Jonathan Broxton, Los Angeles Dodgers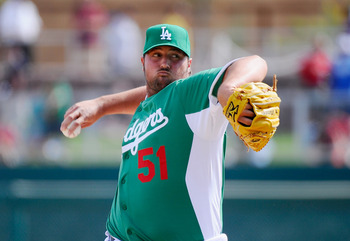 Kevork Djansezian/Getty Images
A year ago, the idea that Jonathan Broxton might be traded was unthinkable.
However, his struggles in the second half of 2010 and Hong-Chih Kuo's emergence as a potential replacement could spell the end.
The Dodgers also failed to make the playoffs last season and are seen as longshots heading into 2011. Could Broxton be on the move? The short answer is yes.
Of course, the Dodgers would be hesitant to move this kind of pitcher cheaply.
A year ago, Broxton struck out 114 batters in 76 innings with a 2.61 ERA and 36 saves. He's made the past two All-Star teams and looked as good as ever in the first half of last season. He's approaching free agency, and at 26, he's the kind of reliever you lock up long term.
However, as good as the Dodgers rotation is, their lineup is lacking.
Casey Blake is getting up there in age and his play has suffered. James Loney is probably nearing the end of his rope in Los Angeles as well after hitting around .260 last season. The left-field platoon of Jay Gibbons and Tony Gwyn Jr. isn't exactly going to make LA fans forget Manny Ramirez. Rod Barajas is also a below average, big league starting catcher. The Dodgers could use some players.
The Rangers have a bunch of extra pieces on offense. including Mitch Moreland, Michael Young, Matt Treanor, Mike Napoli, Yorvit Torrealba, David Murphy and Julio Borbon.
Each one enters 2011 fighting for playing time between catcher, first base, left field and DH. This plethora of offensive talent makes the Dodgers a particularly good fit.
Matt Thornton, Chicago White Sox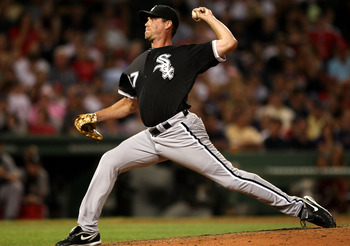 Elsa/Getty Images
Since becoming a major part of the White Sox bullpen in 2008, Matt Thornton has been perhaps the best left-handed reliever in baseball.
His combination of closer stuff and top-of-the-line command has allowed him to dominate hitters in the late innings.
His past success finally paid off when Ozzie Guillen named him team closer last week. Earlier this month, Thornton signed a long-term extension with the South Siders.
Why, then, might Thornton end the season in another uniform? The answer is fairly simple.
Chris Sale.
Sale, their first round pick from a year ago, will start the season as the setup man just as Neftali Feliz did in 2009 for the Rangers.
While the White Sox could always move Sale into the rotation (probably a smart player development move), and keep Thornton in the ninth inning, there is some appeal in moving Sale into the closer role.
Sale dominated in the bullpen last season, striking out 32 in 23 innings with an ERA under two. Transitioning him into the rotation will no doubt have some hiccups.
This is a long shot, but still something to keep an eye on.
Francisco Rodriguez, New York Mets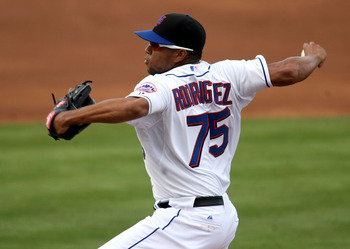 Marc Serota/Getty Images
When Francisco Rodriguez signed a four-year deal with the New York Mets in 2008, he was coming off a record-setting season.
Rodriguez has been fairly successful as the Mets' closer, but the team seems unlikely to let his 2012 option vest.
What's more, given his trouble off the field and the Mets' problems on it, Rodriguez could find himself out of New York by the end of the year.
The question is whether a team like Texas would be willing to take on Rodriguez's salary and the baggage that comes with him.
If Feliz is moved to the rotation and Texas is serious about finding an outside replacement, they might just consider K-Rod.
Just consider what Rodriguez did last season.
In 57 innings, he struck out 67 and walked just 21. His strikeout to walk rate reached its highest level since 2006 as his control showed significant improvement. His 2.20 ERA was among the best in baseball, and he saved 25 of 30 opportunities.
While K-Rod is expensive and has his share of off-field issues, his talent is undeniable. He could be an option if the Mets feel they're out of it and want to acquire some pitching or bolster their farm system.
Joel Hanrahan, Pirates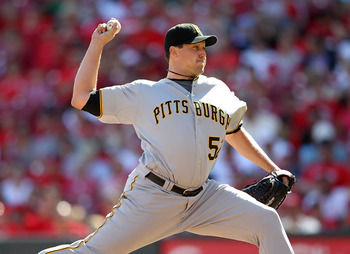 Andy Lyons/Getty Images
It may surprise you to find out that Joel Hanrahan is 29-years-old.
It seems like Hanrahan has only been around for a few years, but the Pirates closer didn't break into the big leagues until his age-25 season in 2007.
The Pirates are the Pirates—if they have a valuable commodity at the big league level that can be traded for young talent, they'll make the deal.
However, would Texas consider Hanrahan an improvement over their current internal options?
He clearly has the stuff it takes to close.
Last year, in 70 innings with Pittsburgh as a middle reliever, he struck out 100 batters and walked just 26. His 3.62 ERA was also a huge improvement over 2009. But 2009 is the real problem.
When Hanrahan was given a chance to close in Washington, he failed miserably with a 7.71 ERA and a 50 percent success rate for the Nationals. Last season, in 10 opportunities for Pittsburgh, he again struggled and blew four saves.
The Rangers have a few good relievers, but what Ron Washington wants is someone he can trust in the ninth inning—someone who has succeeded in that role before.
I'm not sure Hanrahan quite fits the bill, but he'll certainly be available and the Rangers might take a gamble on his raw ability.
Mike Gonzalez, Baltimore Orioles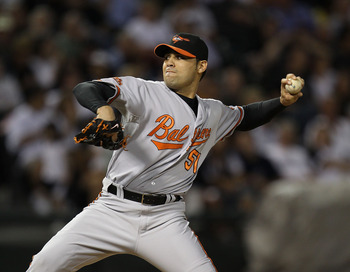 Jonathan Daniel/Getty Images
In any other division, the Orioles might be gearing up for a playoff run.
In the AL East, however, they're trying to stay out of last place. Mike Gonzalez could certainly help that effort, but the Orioles aren't playing for 2011 as much as they are playing for 2012 and beyond. Adding a young arm would certainly be helpful down the road.
Mike Gonzalez has been highly successful in the closer role before.
He saved 24 games with a 2.17 ERA in 2006 with Pittsburgh and saved 24 games between 2008 and 2009 with Atlanta, posting a 3.00 ERA.
However, injuries have been a problem.
Gonzalez missed much of last season and may not start the season as the closer.
Given his past success, he seems like the most likely Orioles reliever for the Rangers to target should they go that route, but Kevin Gregg and Koji Uehara could also be on the move.
Keep Reading

Texas Rangers: Like this team?