New York Knicks: Who's at Fault for Current 1-6 Stretch?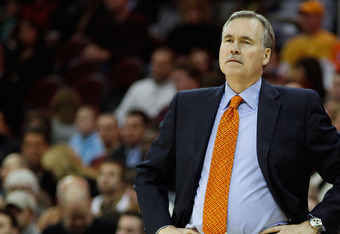 Jared Wickerham/Getty Images
When the New York Knicks traded for Carmelo Anthony towards the end of February, the plan wasn't to win a championship this season. But that didn't mean the plan was to completely stumble down the stretch and into the playoffs—if they even get there at this point.
The Knicks were 28-26 at the time of the trade and were looking pretty good to close out the first half with their other team.
With Anthony, they've gone 7-9 and have now lost six of seven after the fourth-quarter debacle against Boston. The statistics and win-loss record have been really strange. Entering the game against the Celtics on Monday night, the Knicks were 6-2 against playoff teams and 1-6 against lottery teams.
They played well enough for 45 minutes against Boston and nearly pulled out another victory against a great team. They came out way better than they did when they trailed 32-9 after one quarter in Milwaukee the previous game.
It's the way they lost to the Celtics that shows just how bad they've been during execution time. There was no reason for the Knicks to blow a 15-point lead and 14-point halftime lead, even though it was the Celtics.
If the Knicks are going to take the step towards being a great team, they have to close these games out, especially at home no matter who the opponent is.
Who do you blame for Knicks recent struggles?
Up 51-37 at halftime, Anthony said it was all about "pride" and "protecting home court." It sounded nice and felt good with the big lead, but it all fizzled in the final three minutes when the Celtics flat-out took over.
The Knicks showed they can compete with Boston and perhaps give them a good fight in a potential first-round playoff series, but the result is 0-3 this season.
The game was physical and a lot of blood was drawn with players getting knocked down and around. The Knicks desperately tried to nurse a lead of seven and nine throughout the third quarter. Both teams went back and forth and the Knicks took a six-point lead into the fourth quarter.
Like usual, they had stars in foul trouble and after Anthony got a bloody eye from taking a shot to the face with about three minutes left, the game was over.
The last moment for the Knicks came on a four-point play from Chauncey Billups that gave them a nine-point lead, but they barely scored from that point on. The offensive execution and shot selection were awful and it led to easy layups for Boston.
A tie game became a 10-point deficit, and the next thing you knew, the Knicks were being booed off the court by irate Garden fans.
This same movie has been seen again and again. The Knicks struggling to win games that are close with minutes remaining due to two things: the inability to get stops and the awful shot selection.
In the final minutes, the Knicks refused to move the ball towards the paint. They kept hanging around the perimeter and were going nowhere against a fantastic Celtics defense.
All of these recurring issues have led to a 1-6 stretch that's seen the Knicks drop into seventh in the Eastern Conference. Let's face it: If it weren't for the East being so horrible towards the bottom, the Knicks would be fighting for their playoff lives right now.
So, who's at fault for this complete mess since Anthony's arrival a month ago? Is it the head coach, Mike D'Antoni? His lack of preaching defense has always hurt the team's chances, but is his offensive system now a problem with new players?
Amar'e Stoudemire has said it should work because it always has in Phoenix and New York pre-Carmelo, and Anthony has said to give it some time.
Is this whole thing Anthony's fault for playing with bad body language and looking lost during crunch time?
If this kind of play continues through the final 12 games and into the playoffs, D'Antoni will have to be let go. The Knicks have tried so hard to make it possible to get under the cap and bring in stars, and they can't blow it by keeping a coach aboard who only knows how to play one way.
You have to give this team some time because they haven't had a training camp together but beating the Cavaliers twice, Pacers twice, along with the Pistons and Bucks is something they should've done with their eyes closed. Now blowing a 15-point lead with two "finishers" on the team is unacceptable.
D'Antoni said during the postgame after the Celtics loss that he has to figure things out. It'll be hard to do that with three weeks remaining and his time may be running out if something doesn't change for the better immediately.
This article is
What is the duplicate article?
Why is this article offensive?
Where is this article plagiarized from?
Why is this article poorly edited?

New York Knicks: Like this team?