NCAA Bracket 2011: Why This Is the Best Year Ever To Watch March Madness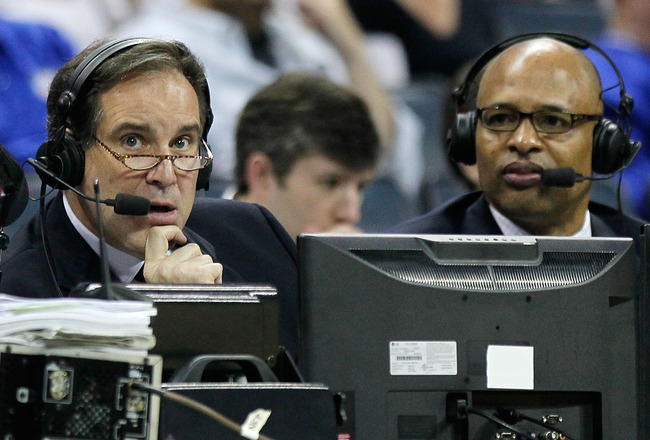 Kevin C. Cox/Getty Images
If you like basketball and have a cable box with a remote, you were probably in heaven for the opening weekend of the 2011 NCAA Men's Division I Basketball Tournament.
CBS's loss of exclusive broadcast rights for the tournament games is everyone else's gain, and the difference is unmistakable.
The sharing of games between CBS and cable networks TNT, TBS and TruTV ensures that every game is able to be seen by any viewer.
The NCAA's decision to expand the broadcast rights of the NCAA tournament is a rare one. That is, one that benefits anyone but college athletics' governing body itself.
With the new arrangement, everybody wins. Here are five reasons why.
You Can Watch Every Single Game of the Tournament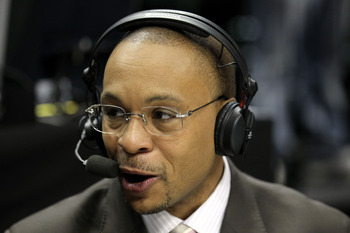 Andy Lyons/Getty Images
When CBS held the rights to every game, you could only watch one at a time and hope for a timely "Tournament Update" with Greg Gumbel. Many times, the timing of the cutaways or the chosen cutaway caused me to scream obscenities at Gumbel, as if he made the decision of which game to cut to.
I'm exceedingly happy to say that this is no longer the case.
With four channels broadcasting four games at a time, cutaways and watching commercials are obsolete. When one game goes to commercial or halftime, you can flip to another channel where another game is chugging along.
You remember all those ridiculously awesome finishes from the first four days of games? You would have missed most of them if you only had CBS to watch on. You would have missed Gus Johnson losing his mind while announcing a buzzer-beater as he does almost every time he calls a game.
In fact, all those close finishes would have caused the CBS producers to have heart attacks trying to show them all to you live. When a great finish is happening on Tru, you can watch it without having to worry about a cutaway or missing something on another channel.
All you have to do is change the channel. Just make sure you know the number for TruTV, or you'll spend the next 10 minutes trying to figure out how to get back to it.
Networks Get a Huge Increase in Viewership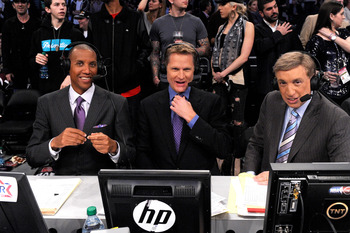 Kevork Djansezian/Getty Images
Usually when March Madness rolls around, every network not named CBS experiences a dip in ratings because everyone leaves CBS on the TV all day.
Imagine how giddy the executives at Turner Broadcasting System were when they inked the new TV agreement. Not only were they not losing the audience they are accustomed to, but they stood to garner huge gains in audience by having tournament games and studio coverage.
Obviously, the increased network exposure is beneficial to get people coming back to watch your channel for original programming (especially for little-known TruTV), but it isn't the only benefit for the networks...
Audience Drives Ratings Drives Advertising Prices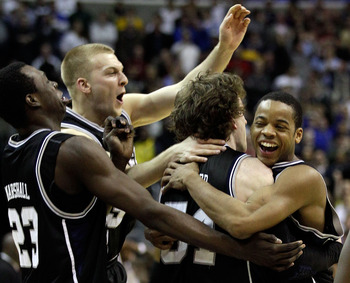 Rob Carr/Getty Images
It's a simple equation: The higher your audience, the greater ratings your network draws and the more you can charge for advertisers. The bottom line is that with the new broadcast format, Turner Broadcast System, which owns TBS, TNT and TruTV, makes a truckload of advertising revenue.
Instead of simply pocketing that money, the networks have done a fantastic job with the production of the broadcasts and the studio coverage. The heavy hitters, including the Inside the NBA trio from TNT, have all been brought in to talk about the games before and after they happen; this ends up driving the ratings even higher because people love listening to Charles Barkley and seeing his "turrble" bracket after he loses another game.
Teams and Players Get More Exposure Than Ever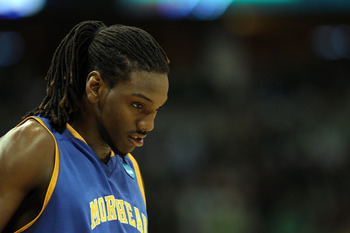 Justin Edmonds/Getty Images
Let's face it. Few people would even know Kenneth Faried's name, much less that he is second all-time in the NCAA in career double-doubles, if not for the upset that his Morehead State Eagles pulled on Louisville on Thursday.
The fact that the game was on TBS instead of being an ancillary CBS game made a huge difference in getting his name into your household and onto the radar of NBA scouts.
The major network stage is huge for schools looking to get their name out their for mainstream notoriety and for players who need TV exposure to help them continue their basketball careers at the next level.
There are no losers here. It isn't a zero sum equation where more exposure for one team means an equal amount less for another. Everyone gets more uninterrupted time on national TV than ever before.
It Weakens the ESPN Stronghold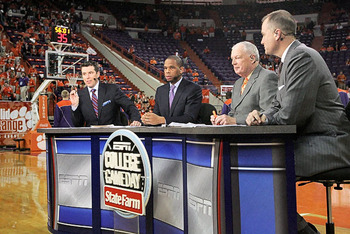 This arrangement between CBS and TBS has caused people to absolutely forget about ESPN for three of the most important weeks in the sports calendar.
That sounds ridiculous, but it's true. How can it be?
Here's how: I watched two full days of NCAA tournament action without so much as turning to ESPN until the games ended. And really, why would I? All the action is going on on four other channels, including the analysis, provided by Ernie Johnson, Kenny Smith, Charles Barkley and the standard CBS crew. What do I need to turn to ESPN for during March Madness?
This really hurts the ESPN profits and cachet. They are the flagship of college basketball all year long, then they disappear when buzz and ratings for the sport peak. The network executives have to be furious about this, but there's nothing they can do. This new TV deal has them locked out of the March Madness cash cow for 12 more years.
ESPN/ABC and its subsidiaries have virtual monopolies on the NBA, MLB, Monday Night Football and college football, so keeping college basketball's biggest stage away from Worldwide Leader is crucial.
Keep Reading