Danica Patrick: Was Danica's Wreck at Bristol Really an Accident?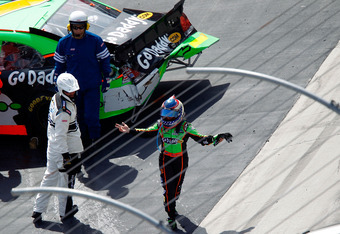 Danica Patrick Says Her Wreck at Bristol 'Could Have Been Avoidable'
Two weeks removed from her career-best fourth-place finish in Las Vegas, Danica Patrick was once again doing pretty well in the Scotts EZ Seed 300 at Bristol Motor Speedway on Sunday. After spending much of the afternoon in the Top 15, Patrick found herself in 17th place in lap 247, and she was just two laps off the pace.
That's when Mark Truex got a little too close for comfort, and Patrick was spun around. She ended up having to take her car to the garage, and she finished 29th.
Immediately after the incident, Patrick was shown getting out of her car and throwing her arms up in Truex's direction. Clearly, she wasn't entirely convinced that the accident she had just suffered was really an accident.
"I was just running down the straight and it felt like he came into my right front," she said afterward. "I don't know exactly what happened but I don't think I did anything."
Both Patrick and Truex were making their debuts at Bristol, and Truex himself was decidedly apologetic about the incident.
"My car was really loose for about half the race," he said. "I just came off the corner dead sideways. I was either backing into the wall or going down the hill and hoping to save it. I came off and came up—the right rear just almost hit the wall and came down to save it. [Patrick] was there and I came down on her and pretty much ended her day. I feel bad about that. It wasn't on purpose and I'm sorry."
This was the fourth of 12 NASCAR races that Patrick plans on running in 2011. She is now going to take a break to partake in the IndyCar Series, and will return to the Nationwide Series in June. Because of that, she would have preferred to at least have finished at Bristol.
"It would have been nice to finish this race at Bristol...it would have been nice to get the finish especially not being back for a couple of months," she said.
She then went on to say, "That accident sure feels like it could have been avoidable but I don't really know. I'd have to see the replay."
Maybe. Maybe not. In fact, all the signs seem to indicate that it was indeed nothing more than an accident. What you had was two drivers who were trying to negotiate one of the toughest tracks in the country, and they happened to get tangled up.
It's obviously quite easy to see why Patrick would be frustrated, but Truex summed it up best when he said "it's a racing deal."
Of course, one of Patrick's critics might go so far as to point out that something like this can be avoided if she were to make a full-time commitment to NASCAR, instead of trying to balance the Nationwide Series with her IndyCar roots. And this is probably true.
One way or another, Patrick isn't doing herself many favors with NASCAR purists by complaining about the wreck, but maybe that's neither here nor there.
For more racing coverage, check out our latest NASCAR Power Rankings.
Most recent updates:
This article is
What is the duplicate article?
Why is this article offensive?
Where is this article plagiarized from?
Why is this article poorly edited?