Liverpool FC Transfers: 5 Midfielders Kenny Dalglish Should Target in the Summer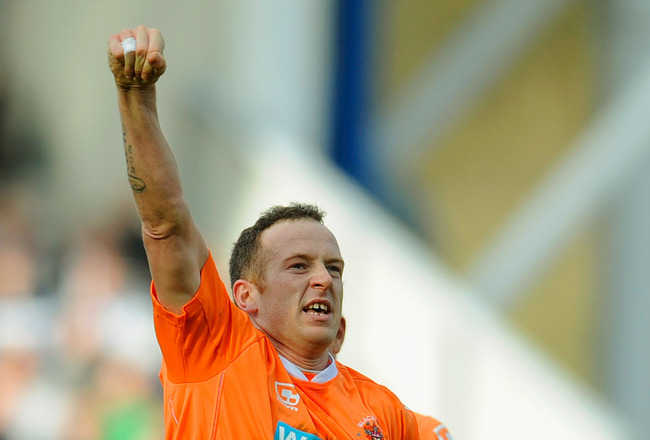 Michael Regan/Getty Images
Liverpool FC have been in the market for a standout midfielder pretty much ever since Xabi Alonso left for Real Madrid in the summer of 2009.
Now that the season is rounding out and the Reds don't really have too much to fight for (fifth place and Europa League qualification is a long shot), the front office can turn its focus to two things: Kenny Dalglish's contract and summer transfer targets.
The Reds finally got more attacking power by signing forwards Luis Suarez and Andy Carroll in January, and now it's time to make sure they have people getting the ball up to them.
John Henry and Fenway Sports Group gave Kenny over £50 million to spend in January, and the King has said he expects them to be just as, if not more, supportive in the summer (to whoever is in the manager's seat, but let's just all assume that's going to be Kenny).
That being said, here are five midfielders the Reds should target in the summer.
1. Charlie Adam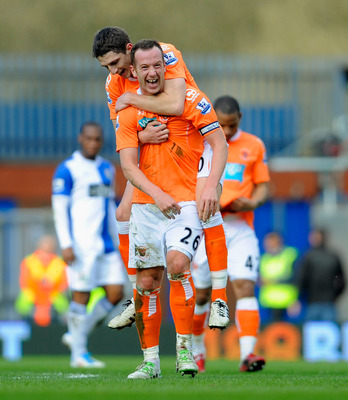 Michael Regan/Getty Images
Charlie Adam was a whisker, or a couple million quid, away from joining Liverpool in January on the transfer deadline day, just like Andy Carroll.
But Blackpool and Ian Holloway understandably wouldn't let their prize asset go, no matter how much he wanted to.
Whether Blackpool stave off relegation or not, it looks as though they'll have to lose their captain in the summer.
Tottenham apparently put in a last-minute bid for the midfielder as well, and if Spurs beat Liverpool to European qualification, Adam may be more inclined to join the London club.
What's more is Adam plays primarily in the central midfield role, like Liverpool's Lucas Leiva. Lucas has had to work hard for every ounce of respect he's gotten from the Reds faithful, but Adam still brings a few things to the table the Brazilian does not.
Adam is tougher than Lucas and also scores more, especially from set pieces. He can score directly from corner kicks and takes excellent free kicks. Add his dead-ball abilities to Luis Suarez and Steven Gerrard, and the Reds have all sorts of threats.
He would also be another penalty taker when Gerrard is out.
Bringing in Adam would not permanently send Lucas to the bench; it would encourage squad rotation. Lucas has become a fantastic midfielder in the Premier League, but most of the top clubs have guys like him in their starting XI and on the bench.
2. Arda Turan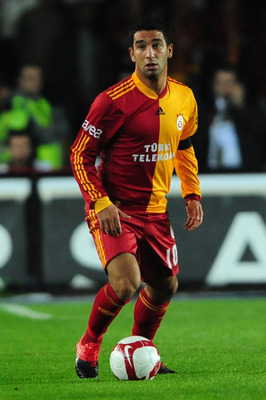 EuroFootball/Getty Images
Arda Turan is only 24 years old, and he already has 40 caps with Turkey under his belt and is the captain for his club Galatasaray. He plays as an attacking midfielder or left winger—the latter a position Liverpool are in dire need of.
The Reds have no width in the squad at the moment, and guys like Maxi Rodriguez and Joe Cole (who's been played mostly on the left despite being better, apparently, in the center) could very well be shown the door in the summer.
Turan doesn't score an exorbitant number of goals, but he racks up assists like nobody else, and a big guy like Andy Carroll doesn't even need that great of a ball to put it in the back of the net.
Having a capable, pacy winger would allow Luis Suarez to stay in the center more alongside his strike partner instead of creating opportunities the whole game.
The left is also the Reds' weaker side because of a deficiency at left back, and adding Turan to that side would bolster that aspect.
The addition of Turan would again create depth in the Liverpool squad and make young players like Dani Pacheco, who is similar to Turan, compete harder in an attempt to just get on the bench.
3. Niko Kranjcar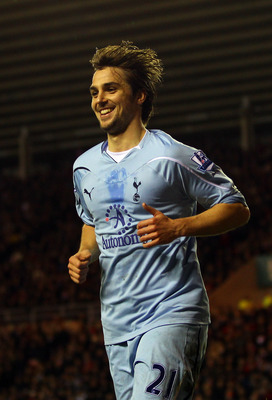 Julian Finney/Getty Images
Niko Kranjcar has fallen out of favor this season at Tottenham, where attacking midfielders seem to grow on trees and a new one sprouts up to become a star each season.
He was expected to leave in January but opted to stay due to his wife's pregnancy, but with the arrival of Steven Pienaar in that time, he looks almost certain to leave White Hart Lane this summer.
He, like Arda Turan, plays as an attacking midfielder or winger and also does not score buckets of goals himself, but he scores timely ones and sets up plenty for his teammates.
He's got plenty of Premier League experience to his name, and he may like the idea of coming to Liverpool with the idea of usurping his former team, among others, in the Reds' resurgence.
Niko Kranjcar has followed the same path at Tottenham as Robbie Keane and Peter Crouch. Tottenham boss Harry Redknapp praises them endlessly for a few months, and then all of the sudden they are sitting on the bench each game and soon enough are loaned out.
If Kranjcar were to join the Reds, also like Keane and Crouch, hopefully his stay would be more successful than the former and more impressionable than the latter.
4. Moussa Sissoko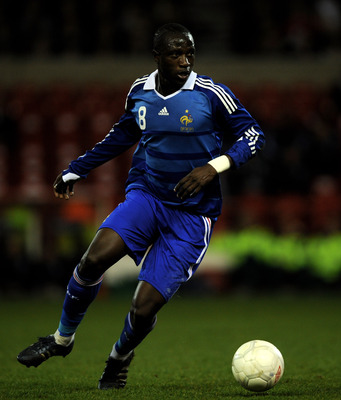 Shaun Botterill/Getty Images
Javier Mascherano became famous at Liverpool for his strong tackles and command of the midfield, while Xabi Alonso became famous for his pinpoint passes and ability to dictate the attacking play.
Moussa Sissoko can do both.
The 21-year-old Frenchman is a complete midfielder capable of playing in the holding or attacking role, and he has drawn comparisons to the likes of Patrick Vieira and Mahamadou Diarra.
He plays as a box-to-box midfielder covering almost the entire pitch in a game, while holding down in front of his back line and simultaneously getting up right behind his forwards to provide the ball for attacks—quite an asset to have on your team.
He's been chased by other big clubs, including Tottenham and Manchester City, leading Toulouse to put a €30 million price on his head.
He's capable of scoring in streaks, which could only help the likes of Luis Suarez and Andy Carroll, who, with the right support, are capable of scoring in buckets.
5. Clint Dempsey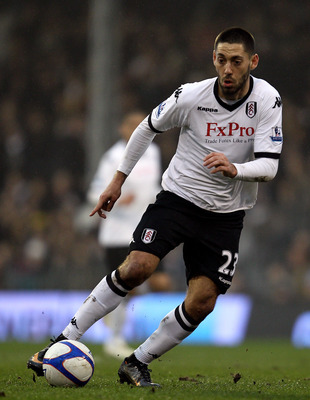 Paul Gilham/Getty Images
As an American, this is my personal favorite. Clint Dempsey can play on either wing, positions both missing at Liverpool, or as a central striker.
He wouldn't be needed much up front, but having guys like him and Dirk Kuyt, who work hard and run tirelessly all game long and can score when needed to, is never a bad thing.
Coming off the wings, he can provide plenty of balls for Luis Suarez and Andy Carroll to attack, and a line of Dempsey, Raul Meireles and Kuyt behind Suarez and Carroll has got goals, goals, goals written all over it.
He can score at any moment and from all different positions on the pitch as well. He is a threat to get his head to corners and free kicks and can also let it fly and trouble the keeper from long range—just ask Robert Green.
He's scored plenty of goals and established himself as a big threat for Fulham, but he's had to shoulder a bit more pressure than he should for the Cottagers. At Liverpool, with two excellent strikers up front and a guy like Steven Gerrard behind him, the pressure would be off, and the goals would start flowing.
The Option That Won't Cost Anything: Bring Back Alberto Aquilani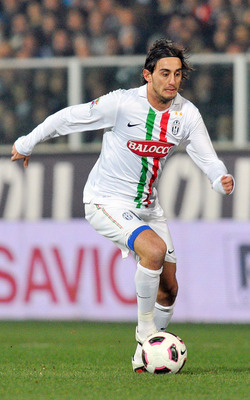 Roberto Serra/Getty Images
Rafa Benitez purchased Alberto Aquilani from Roma for £20 million to take the place of Xabi Alonso in 2009. The problem was Benitez hardly played him, despite Aqua showing some good promise in the Premier League.
Then Roy Hodgson came in and loaned the Italian to Juventus, where he has flourished this season and supposedly wants to stay.
With Raul Meireles currently blossoming in the central role behind the strikers (that's the position Roy bought him for but then never played him there, God knows why), Aquilani may not have a spot to return to.
But he can also play alongside Steven Gerrard in the center of midfield with either one getting forward while the other holds down the fort.
Or Liverpool could probably get around £15 million from Juventus for Aquilani, which would likely equal the price of a guy like Clint Dempsey and exceed that of Niko Kranjcar or Charlie Adam.
There's also the possibility that Aqua returns and Kenny buys another midfielder/winger to add to the ranks. The owners have money and have shown the desire to take the club back to its rightful place, so don't bet against a few of these guys donning Red come next season.
Keep Reading

Liverpool: Like this team?