UFC 128 Results: 10 Burning Questions Heading Into UFC 129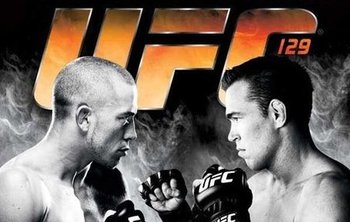 UFC 128 ended with Jon Jones walking out of Newark's Prudential Center with the UFC light heavyweight championship belt strapped around his waist.
Jones put on a dominant performance, never giving Mauricio "Shogun" Rua time or space to adapt to Jones' unorthodox style.
Jones used every "flashy" move in his arsenal in defeating Rua—spinning elbows, flying knees, spinning fists. The elbows he delivered from top position while the fighters were on the ground did the most damage, setting up the knee that ended the fight in the third round.
Following the UFC 128 results, Bleacher Report brings you 10 burning questions heading into UFC 129.
Jon Jones defeated Mauricio "Shogun" Rua via TKO at 2:37 of round three.
Urijah Faber defeated Eddie Wineland via unanimous decision (29-28 all three judges)
Jim Miller defeated Kamal Shalorus via TKO at 2:15 of round three.
Nate Marquardt defeated Dan Miller via unanimous decision (30-27 all three judges)
Brendan Schaub defeated Mirko Cro Cop via TKO at 3:44 of round three.
Luiz Cane defeated Eliot Marshall via TKO at 2:15 of round one.
Edson Barboza defeated Anthony Njokuani via unanimous decision (29-28 all three judges)
Mike Pyle defeated Ricardo Almeida via unanimous decision (30-27, 30-27. 29-28)
Gleison Tibau defeated Kurt Pellegrino via split decision (29-28, 29-28, 28-29)
Joseph Benavidez defeated Ian Loveland via unanimous decision (30-27, 30-27, 29-28)
Nick Catone defeated Constantinos Philippou via unanimous decision (30-27 all three judges)
Erik Koch defeated Raphael Assuncao via KO at 2:32 of round one.
What Does the UFC Have in Store for Its Biggest Event Ever?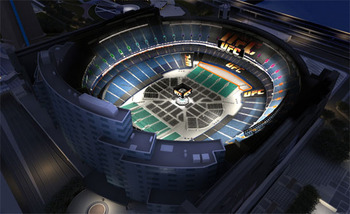 UFC 129 will be the biggest event that the UFC has ever put on. It will be held in the Roger's Centre, home to MLB's Toronto Blue Jays. The event is sold out, with 55,000 tickets being scooped up almost as fast as they were offered for sale. The fight card will also mark the promotions first trip into Ontario, Canada.
The UFC has said that they will have many surprises for the fans attending the event. The promotion also made it clear that the fan experience was the most important thing they considered when agreeing to stage the event in a stadium the size of the Rogers Centre.
It will be interesting to see what the UFC does to make the event enjoyable for all that attend.
How WIll Ben Henderson Fare in His UFC Debut?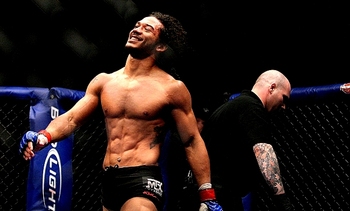 The last time Ben Henderson walked into the cage he was the WEC lightweight champion. The last time he walked out of the cage, the belt was around the waist of Anthony Pettis.
While not every MMA fan saw the fight, many have seen the highlight reel "Showtime" kick that Pettis delivered in the fifth round of that fight, on his way to a unanimous decision victory.
Knowing that the lasting image fans have of him is the manner in which he was kicked in the head is probably not sitting well with Henderson. He will get the chance to erase that image from fan's minds when he enters the Octagon for his UFC debut at UFC 129.
Standing across from Henderson will be UFC veteran Mark Bocek, who is 9-3 and coming off of a "Submission of the Night" win over Dustin Hazelett at UFC 124.
Will Nate Diaz Rebound from His Loss to Dong Hyun Kim?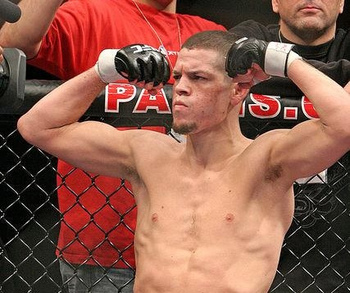 Nate Diaz faced Dong Hyun Kim on January 1st at UFC 125, losing to Kim via unanimous decision and dropping his record to 13-6.
Diaz ripped the judges after the loss, telling Scrap Pack Radio,"When it was over I knew that they were going to give it to him for sure because he had the top position and that's the way the judging goes."
"I think the scoring should be like, say a guy gets a takedown, it should count for a takedown for sure. What is a takedown in wrestling, two points? In a grappling match it's two points, so he gets a takedown. But if he takes you down and lands in your closed guard and gets punched in the head forty times, is he still ahead on points?"
"If you're on top, you're winning, and I think it's ridiculous."
Knowing that the judging sometimes does not favor the style he used in the Kim fight, will Diaz come in with a different game plan?
Is Lyoto Machida's Job on the Line?
Jon Kopaloff/Getty Images
Lyoto Machida went from undefeated UFC light heavyweight champion to a fighter that has suffered two consecutive losses, one by knockout (Mauricio "Shogun" Rua) and another by split decision (Quinton "Rampage" Jackson.)
Machida has said that he feels his job may very well be on the line when he faces Randy Couture at UFC 129.
The UFC has not been shy about releasing fighters after they have fallen in three consecutive fights, but is it realistic for Machida to be worried about being cut or is that manufactured talk aimed at generating interest in the fight?
Machida is a very popular fighter and the UFC may very well be hard pressed to release a strong draw such as Machida.
Is This the End of the Line for Randy "The Natural" Couture?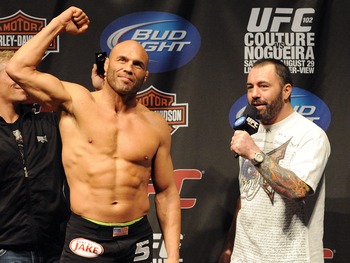 Jon Kopaloff/Getty Images
Back in December, Couture posted the following on twitter, "Thanks to everybody who's been tweeting about seeing my fights I must have missed the memo :) I think I'm at the end of it y'all. It's time."
He later sent the following text to Loretta Hunt, "I think I'm done. The time is right. I'd fight Machida or Shogun but outside of that, I wanna focus on other things in my life."
Out of the two fights that Couture requested, the UFC booked the Machida fight.
Machida is currently a 78 percent favorite to win the fight.
Couture has been competing in professional mixed martial arts since 1997, debuting at UFC 13, the 47-year-old has put together a record of 19-10 in that time. Couture has worn UFC gold on five different occasions during his career and has become one of the most popular fighters in the history of MMA.
"The Natural" has a burgeoning movie career, so the question is out there, will this, the largest event in UFC history, be the last time we see Couture fight in the Octagon?
Does Mark Hominick Have What It Takes to Dethrone Jose Aldo?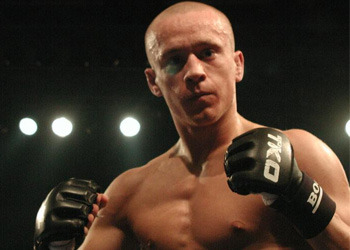 Mark Hominick earned a shot at UFC featherweight champion Jose Aldo when he stopped George Roop via TKO in the first round of their fight at the UFC:Fight for the Troops 2 event.
Hominick, a native of Ontario, will step in front of a huge home town crowd with a lot of confidence, "Aldo has faced everybody—he's faced top grapplers, top jiu jitsu guys, wrestlers," Hominick said on HDNet's Inside MMA. "But he hasn't faced a top elite striker like myself. I'm going to be in his face."
Will that confidence translate to a dominant performance?
The oddsmakers are betting against Hominick, giving him a 20 percent chance of winning this fight.
Is Jose Aldo Ready for His UFC Debut?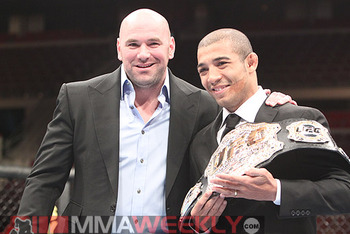 The first time Jose Aldo stepped into the UFC Octagon it was to receive the UFC Featherweight championship belt from UFC president Dana White before UFC 123 in Detroit.
That event took place in November of last year and Aldo was not fighting on the card, he was transitioning from WEC champion to UFC champion after the UFC absorbed the WEC.
Aldo has not fought since September of last year as a neck injury forced him to withdraw from UFC 125 where he was scheduled to put his UFC title on the line against Josh Grispi.
Aldo will make his UFC debut at UFC 129, facing Mark Hominick.
Will Aldo (18-1) be impacted by the time off? Will he be tentative after the injury? Will making his UFC debut in front of a crowd of 55,000 fans in Hominick's home Province of Ontario affect him?
We will find out on April 30.
Will the "Superfight" Talk Prove to Be a Distraction to Georges St-Pierre?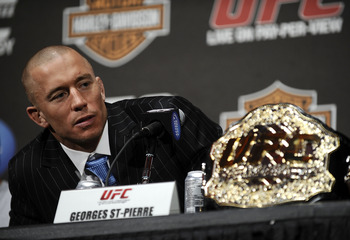 Jeff Zelevansky/Getty Images
After UFC Middleweight champion Anderson Silva defeated Vitor Belfort, UFC president Dana White said that the next fight to make would be Silva vs. Georges St-Pierre.
Since that time there has been a great deal of talk about this proposed "superfight." St-Pierre has been peppered with questions about the potential fight since White openly discussed the possibility of the two champions meeting at some point.
I would venture to guess that St-Pierre has answered more questions about Silva than he has about his UFC 129 opponent Jake Shields.
St-Pierre is a professional and has shown that he has a great deal of focus, but one can't help think that the questions about Silva are wearing on him and maybe (and that's a big maybe) getting into his head, at least subconsciously.
Will Jake Shields Use the "Superfight" Talk as Inspiration?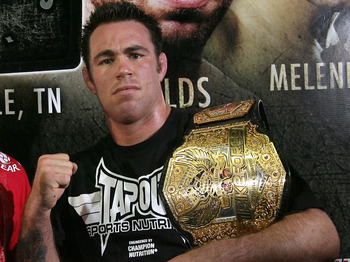 Valerie Macon/Getty Images
Jake Shields is a big underdog going into his fight with UFC welterweight champion Georges St-Pierre, as GSP is an 83 percent favorite to win.
Another point, many fans are looking past Shields and already have St-Pierre booked in a "superfight" against UFC middleweight champion Anderson Silva.
These slights will surely serve as a motivating factor for Shields, who has not lost since December 2004, compiling a 15-0 record since that loss. Shields has taken out a who's who of fighters such as Yushin Okami, Carlos Condit, Mike Pyle, Paul Daley, Robbie Lawler, Jason Miller (for the Strikeforce Middleweight title), Dan Henderson and most recently Martin Kampmann.
Will the fact that many are looking at Shields as a bump in the road for St-Pierre be enough to drive Shields to victory?
Will This Be the First of Many Stadium Events?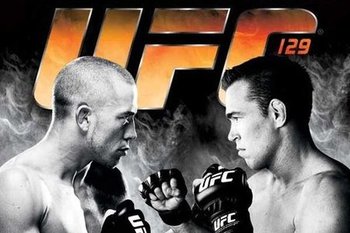 At this point in the game, it is most likely a foregone conclusion that the UFC's first stadium event will be a rousing success as far as the fan's and the organization are concerned.
UFC president Dana White has said in the past that he never wants fans to walk away from UFC events feeling unsatisfied, so to think that they will stumble in their first stadium sized event would be foolhardy.
With that in mind, it is safe to assume that the promotion dedicated a great deal of time figuring out every logistical nuance involved with presenting an event as large as UFC 129.
With that kind of investment in resources, the question then becomes, is this the first of many stadium-sized events for the UFC?
Keep Reading