Matt Cooke Suspended: Does NHL's Punishment Fit the Crime?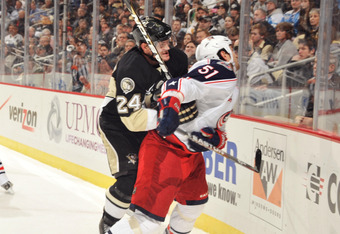 Matt Cooke has been suspended by the NHL for the remainder of the season as well as the first round of the Stanley Cup playoffs. Cooke's most recent punishment is on the heels of his elbow to the head of Ryan McDonagh of the New York Rangers during Sunday's game.
Cooke is a repeat offender, and thus his punishment was more harsh. But to tell you the truth, I'm still not sure it was severe enough. The NHL should not have stopped at the first round. The suspension should have been the rest of the regular season as well as the entire playoffs, depending on how far his Pittsburgh Penguins are able to advance.
Cooke is a thug. While fighting and hard hits are part of the game, someone who goes out and continues to dish out cheap shot after cheap shot has no room in this league. Maybe he ought to give the MMA or WWE a shot. His antics would make him the ultimate heel.
The NHL has clearly had enough, and issued the following statement when they handed out Cooke's suspension.
"Mr. Cooke, a repeat offender, directly and unnecessarily targeted the head of an opponent who was in an unsuspecting and vulnerable position," Colin Campbell, the NHL's senior V.P. of hockey operations, announced in the statement. "This isn't the first time this season that we have had to address dangerous behavior on the ice by Mr. Cooke, and his conduct requires an appropriately harsh response."
This is now the fourth time that Cooke has been suspended, and this one should have cost him more than a maximum of 17 games and less than $220,000 in forfeited salary. He should have been forced to sit out the rest of the regular season and all of the playoffs.
The suspension is a step in the right direction. The NHL is trying to clean up the dirty hits. But as long the likes of Matt Cooke are allowed to remain in the game, then it will never be quite clean enough.
For more on the vicious hits handed out by the Penguins goon, check out Bleacher Report Featured Columnist April Weiner, as she takes a look at Matt Cooke: Ranking the Worst Hits From the Pittsburgh Penguins Forward.
Most recent updates:
This article is
What is the duplicate article?
Why is this article offensive?
Where is this article plagiarized from?
Why is this article poorly edited?