Bruce Pearl Fired: Does Jim Tressel Deserve the Same Fate at Ohio State?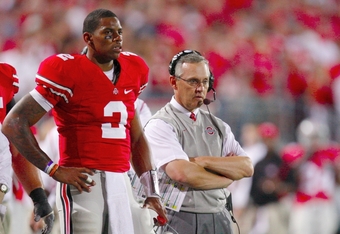 Bruce Pearl has been fired as men's basketball coach at Tennessee, according to multiple reports. An official announcement is expected within the next 24 hours.
Pearl knowingly committed NCAA rules violations and then lied in an attempt to cover it up, ultimately to no avail. He was caught by his school and received a punishment from the school and conference before the NCAA had a chance to hand down their own penalty.
Pearl was suspended for the first eight conference games of the SEC season, received little support from athletic director Mike Hamilton, and was subsequently dismissed this afternoon, according to numerous reports.
The violations were bad, but the lies were worse.
Jim Tressel knowingly committed NCAA rules violations at Ohio State and then lied in an attempt to cover it up, even after a former player tipped him off to the violations. He denied his knowledge and hoped that everything would get better and go away, but also to no avail.
Tressel's five Buckeyes were suspended for the first five games of the 2011 college football season, even though the scandal was originally discovered before the team's bowl game in January. Those five players helped lead Ohio State to a Sugar Bowl victory over Arkansas, when they should have been forced to serve as spectators and cheerleaders only.
Tressel, however, was hit with just a two-game ban and was fined by the school, all the while knowing that the players received a five-game suspension. The school imposed an absolute joke of a punishment, although Tressel did his best to try and make things slightly better. He told OSO to add three games to his suspension to equal the suspensions of the five players involved in the violation.
Dennis Dodd of CBS Sports says, "After careful examination of his conscience over the last 216 hours, Jim Tressel has decided to do the right thing."
Took him long enough, did it not?
Timing really is everything, and lack of timing is even worse. Especially when said timing is just downright bad.
After Pearl admitted his wrongdoings, he failed to notify Tennessee of other possible recruiting violations that took place just four days after his clearly staged press conference.
Was it all an act, coach Pearl? The tears. The emotions. The promises to set a good example for the kids. Was it all part of a big show?
Sure, Pearl admitted his mistakes. But only after he got caught.
Tressel finally admitted his mistakes. But only after he got caught.
So what is the difference? One broke the rules, lied, got caught, cried a little, lied again, got off fairly easy and was ridiculed by people across the sports world.
The other got fired from Tennessee this afternoon.
If Ohio State really wants to set the right example in a school desperate for some positive press attention, then AD Gene Smith ought to take a page out of Tennessee AD Mike Hamilton's book and fire Tressel.
The fact that he only handed down a weak two-game suspension that will be served in games against powder-puff squads leads me to think that he will not do the right thing and terminate Tressel's contract immediately.
But it is just my gut feeling.
And to Ohio State fans ready to type up their comments, this is not just directed against your Buckeyes. It is meant to serve as a wake-up call to every coach in America who continues to try and cheat the system and come out ahead. You will get caught, and you should get fired.
Pearl is out. Tressel should be right behind him.
For more on the Tressel suspension and "Tattoogate," make sure to check out Bleacher Report Featured Columnist Brandon Galvin, who takes a look at the Jim Tressel Suspension: 10 Reasons the Ohio State Punishment Is Not Enough.
Most recent updates:
This article is
What is the duplicate article?
Why is this article offensive?
Where is this article plagiarized from?
Why is this article poorly edited?