Barry Bonds: Names and Storylines to Look for as Bonds' Perjury Trial Begins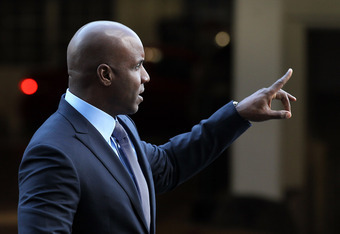 Barry Bonds is set to finally begin his trial for perjury on Monday, over seven years after he appeared before a grand jury and denied ever taking performance-enhancing drugs.
The government has been looking to get to Bonds for quite some time now, and they will finally get their chance. Bonds faces four counts of perjury and one count of obstruction of justice stemming from his testimony before the Bay Area Laboratory Co-Operative grand jury.
Way back in December of 2003, Bonds testified that he used substances identified by the government as "the cream" and "the clear," which are both anabolic steroids, yet Bonds said that he believed they were arthritis balm and flaxseed oil.
You can't make that stuff up; that is actually what he said.
If Bonds is actually convicted of perjuring himself before the grand jury, he will undoubtedly receive a jail sentence of at least a couple of years. But if he never testifies, which is the popular expectation, even if he is found guilty, he will probably not see the inside of a jail.
The government is looking to make an example out of Bonds, as this case will likely have implications for Roger Clemens and Lance Armstrong, who will have their own day in court sooner rather than later. This could be very big in determining both of their futures.
Here is a look at some of the major players who will have an impact in the case:
Gregg Anderson: This is Bonds' buddy who became his personal trainer. He has been involved with Bonds and linked to steroids for quite some time, and has served over a year in prison for refusing to testify about Bonds. Anderson is expected to once again disregard a subpoena and be imprisoned for the length of the trial. Without Anderson, the judge has ruled crucial pieces of evidence that could have helped implicate Bonds inadmissible.
Kimberly Bell: The former Playboy model and mistress of Bonds will tell the jury that he was using steroids. After all, how else could he look like a runaway from Easter Island without taking something? Look at his head growth! Unfortunately, she may not be the most credible witness, and the defense will look to make her out as a jilted lover who was sour at the fact that Bonds owed her money after the two took a hit on a house purchased in Arizona.
Stan Conte: This Conte is the former trainer with the San Francisco Giants. He will be asked to testify about Bonds and his relationship with Anderson.
Victor Conte: The other Conte—no relation to Stan—is the brains behind BALCO. He dabbled in the music industry before teaching himself biochemistry. He is the one credited with coming up with "the cream" and "the clear" to help athletes defeat the drug testing system.
Jeff Novitsky: The top man in BALCO. He will undoubtedly try to make a spectacle out of this entire ordeal and accuse the government of singling out Bonds the entire time. If nothing else, he will be entertaining.
Susan Illston: Here comes the judge. Here comes the judge. Maybe nobody will be singing that, but Illston will be the ultimate x-factor in one way or another.
Lester Munson of ESPN says of Illston, "She ruled that lead agent Jeff Novitzky and his team of agents broke the rules when they raided labs in April 2004 and grabbed test results and urine samples that had been collected as part of Major League Baseball's 2003 testing for steroids. In unusually harsh language, she ripped Novitzky, saying: 'I think the government has displayed a callous disregard for constitutional rights.…I think it's a seizure beyond what was authorized by the search warrant [approved by another judge] and, therefore, violates the Fourth Amendment.'"
Aside from all of the aforementioned characters, many former and one at least one current player could be called to testify. Amongst them, look to hear the names of Jason and Jeremy Giambi, Benito Santiago, Marvin Benard, Armando Rios and Randy Velarde.
This is going to go on for quite some time. Some say the government has been going after Bonds for too long. Others want to see Bonds penalized for what they perceive are lies about taking steroids. In the long run, you can count on a couple of things holding true.
First, Bonds will not be forced to ever see the inside of a cell. Second, he will also never be allowed to see the inside of the MLB Hall of Fame. Those are guarantees.
For more on Bonds, make sure to check out Bleacher Report Featured Columnist Eric Ball, who previews the Barry Bonds Trial: Is Jason Giambi the Most Important Person In Trial?
Most recent updates:
This article is
What is the duplicate article?
Why is this article offensive?
Where is this article plagiarized from?
Why is this article poorly edited?