NCAA Tournament 2011: Which Mid-Major Is the Most Surprising Tourney Team?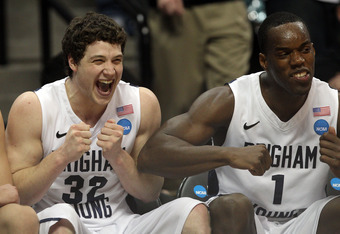 NCAA Tournament 2011 Has BYU and Richmond Surprising Early in March Madness
The BYU Cougars were essentially supposed to be one win-and-done in the NCAA tournament after losing an integral part of their team in Brandon Davies to suspension.
Sure, they have Jimmer Fredette, the leading scorer in the nation, but one player can only take a team so far, and the Cougars simply don't have stars beyond Fredette now.
But that hasn't stopped them.
They beat Wofford (which was predictable) and came out firing against Gonzaga (which wasn't).
Don't take Gonzaga's No. 11 seed for real. The Zags had just beaten a tourney favorite St. John's in the Round of 64, demolishing them I might add.
Going into their matchup with the Cougars, I fully expected them to win that game.
But something happened to the Cougars: They got better...in a hurry.
Sure, Fredette still scored his usual 34 points, but guard Jackson Emery contributed 16, Noah Hartsock contributed 13 on 5-of-5 shooting, and Stephen Rogers added 10 off the bench.
The Cougars scored 89 points that game, and had me thinking differently about this team.
In fact, I find them to be a more surprising team than Richmond right now.
The Cougars win actually had Zags coach Mark Few saying "you have to pick your poison" after the game.
Via the NY Daily News:
"When you've got a guy that can get 50, he creates a lot of 'help' situations on defense. Those other guys have not been shooting as well as they shot it tonight."
Exactly.
Few came into the game with a great game plan, make the other guys beat you.
Well, for one, that still doesn't seem to stop Fredette.
But where did those other guys come from?
The win had Cougars coach Dave Rose saying the team played its best ball all year.
As the Jay Drew of the Salt Lake Tribune pointed out, "It came when it really wasn't expected."
As for the Richmond Spiders, there's no doubt they've been a surprise, beating No. 5 seed Vanderbilt and going on to beat Morehead State.
But that doesn't compare to the Cougars beating Gonzaga in my mind, when the loss of Davies was considered all but the end for the team.
The Cougars have impressed a slew of doubters with just one win; I was one of those doubters.
Want more NCAA Tourney Talk? Check out the March Madness Hub on Bleacher Report.
Here's your very own: NCAA Tournament Printable Bracket.
Most recent updates:
This article is
What is the duplicate article?
Why is this article offensive?
Where is this article plagiarized from?
Why is this article poorly edited?