NCAA Basketball Results: Are the Tar Heels Playing Up to Their Potential?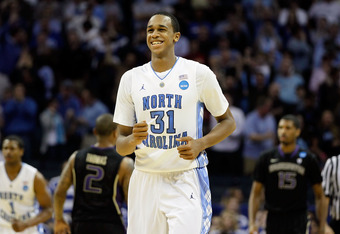 NCAA Basketball Results See North Carolina Escape Matchup with Washington
OK, the North Carolina Tar Heels are headed to the Sweet 16, so obviously they're pretty good.
But how good are they?
After all, there were plenty of miscues, turnovers and boneheaded plays at the end of the game, a game that could have easily gone the Washington Huskies' way if they didn't create more miscues, turnovers and boneheaded plays.
It's something I've been thinking for a while now; the Tar Heels' talent outweighs their play on the hardwood.
And I'm not the only one.
Writes Matt Crossman of Sporting News after the Tar Heels' second-round victory in the NCAA Tournament:
If you can't figure out this North Carolina Tar Heels team, which rolled through the second half of the regular season, stumbled in the ACC tournament and showed flashes of brilliance and inexperience Friday in the second round of the 2011 NCAA Tournament, don't worry. Neither can coach Roy Williams.
"I have no idea what to expect sometimes," he said after his No. 2-seeded team completed an uneven 102-87 win over No. 15 Long Island University. "I can't tell with this group when we leave the locker room when we're going to play well and when we're going to play poorly."
And that is exactly the problem, the Tar Heels simply play poorly for stretches at a time.
Not just poorly, but glaringly poorly compared to how they play just a few minutes before.
It's the inconsistency, the turnovers, maybe the youth that bothers me about this team.
Sure, they have talent across the board, from Harrison Barnes to Tyler Zeller to John Henson.
But Zeller's a junior, Henson is a sophomore and Barnes-maybe their player with the most potential-is just a freshman.
On Sunday, we saw Henson make a couple of scattered, potentially devastating mistakes late in the game.
With the clock winding down, the Huskies, down three points, threw up a wild shot from beyond the arc that was destined to go out of bounds and give the Tar Heels the ball with less than a second left.
Except Henson, in a play that can kill teams in the NCAA Tournament, tried to catch the ball, subsequently fumbling it off his fingertips and giving the Huskies one last shot.
That wasn't the end of it, though.
Off the inbounds, the Huskies' Isaiah Thomas threw up a 3-pointer that was headed for the front of the rim.
All of a sudden, there was Henson again, apparently jumping up to block it like Kevin Garnett blocks a free throw.
He was dangerously close to touching the ball, and thus goaltending, and thus sending the game into overtime.
But his outstretched hands barely missed the ball, and the Tar Heels were headed to the Sweet 16.
I don't question this team's talent, I certainly don't question that its athleticism can afford them some errors, but it is these mental errors that bother me about this team.
They are still a Sweet 16 team, but I feel like they could be more, and I don't think they will be this season.
Want more NCAA Tourney Talk? Check out the March Madness Hub on Bleacher Report.
Here's your very own: NCAA Tournament Printable Bracket.
Most recent updates:
This article is
What is the duplicate article?
Why is this article offensive?
Where is this article plagiarized from?
Why is this article poorly edited?