NCAA Tournament Scores: Latest Results and Reaction from This Weekend's Games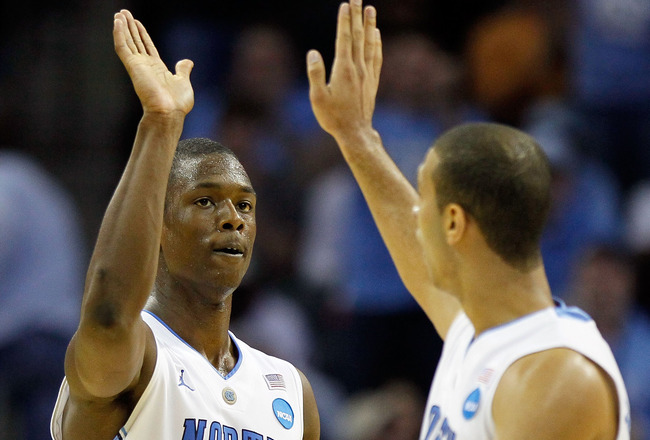 Kevin C. Cox/Getty Images
NCAA tournament scores are filtering in today, with North Carolina already pulling off a squeaker against the Washington Huskies, 86-83.
The Tar Heels will advance to the Sweet 16 and play the winner between Marquette and Syracuse.
Right now, the Duke Blue Devils are leading a tight game with the Michigan Wolverines, 37-33, at the half.
The winner moves onto a Sweet 16 matchup with the winner of Arizona and Texas.
Still plenty of March Madness to get to, and plenty of interesting stories to dissect.
So follow along, fellow college basketball fans, and let's get started.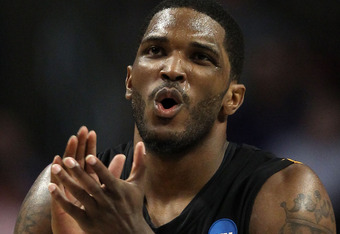 VCU Basketball Headed for a Third Straight Upset?
Coming into the NCAA Tournament, the VCU Rams were considered by many to be the questionable selection by the Selection Committee.
The Committee was blasted for putting a team such as VCU among the 68 teams in the NCAA Tourney field.
Now, after two straight upsets and the Rams currently battling a strong Purdue team, it appears we were all wrong and the Selection Committee was right: when do we ever hear that?
As Jerry Palm of CBS Sports pointed out before the Rams' game against the Boilermakers, "Now comes the biggest of the boys the Rams have faced all year. Naturally, they know they are up to the challenge.
"One thing is for sure -- VCU will be ready, chip firmly planted on its shoulder."
It's this chip on the shoulder that leads many teams such as VCU to shock the world, winners against USC and Georgetown thus far.
In the Rams' trouncing of Georgetown on Friday, four different players scored in double figures, including guard Brandon Rozzell, who had 26 points and six 3-pointers.
Rozzell averaged a little over 11 points per game leading up to the matchup with the Hoyas.
The Rams have undoubtedly been the biggest surprise of the tournament, fueled by the most important thing of all, desire to prove everyone wrong.
As VCU leads Purdue by 15 points with a little more than 14 minutes remaining in the game today, the Rams are proving what Pete Diprimio of the News-Sentinel highlighted:
"Go ahead and bad-mouth VCU about its appearance in Sunday night's NCAA tourney third-round game against Purdue. The Rams dare you."
Want more NCAA Tourney Talk? Check out the March Madness Hub on Bleacher Report.
Here's your very own: NCAA Tournament Printable Bracket.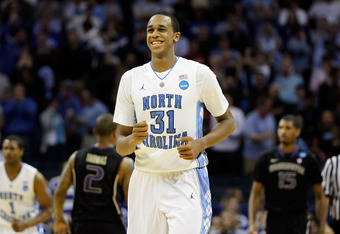 NCAA Tournament Sees Questionable Calls from Officials in Two Prominent Nail-Biters
There's a saying among officials that goes something like, "If nobody knows your name by the end of the game, then you know you've done your job."
Leading up to the NCAA Tournament, officiating coordinator John Adams put his name on the line, saying, "We don't want to become the story," as pointed out by the New York Times' Pete Thamel.
Considering Thamel's article was titled, "Officials Become the Story of Butler-Pittsburgh Game," you know where this is heading.
Two games in particular have come into question after controversial calls so far: Butler-Pittsburgh and, today, Washington-North Carolina.
It's worth noting that in both games there have been no complaints about the officiating from coaches or players.
But that hasn't stopped onlookers from giving their opinion.
Two questionable calls in the late seconds of the Butler-Pittsburgh games particularly peeved the Boston Globe's Bob Ryan:
It all comes down to my premise that there is one, and only one, question every official, at every level, must ask himself or herself prior to every game.
That question is "Why am I here?"
The answer is "To ajudicate the smooth flow of the game, using the rules, and when applicable, my common sense."
Were the officials in question utilizing my philosophy, the Pitt-Butler game would have ended with no fouls being called.
The main argument, as Ryan points out, is not whether there were clear fouls during the Pittsburgh-Butler game, but whether they should have been called given the circumstances.
I don't agree with Ryan's assessment in his column that Pittsburgh's Gilbert Brown trailing an errant inbounds pass at halfcourt would have amounted to nothing if he wasn't fouled by Shelvin Mack (he could have caught up to it and made a 3-pointer at the buzzer, it's happened all the time in the tournament).
But I do agree that the foul called on Pitt's Nasir Robinson against Matt Howard off a missed free throw and ensuing rebound was laughable.
OK, I get that Robinson grabbed Howard going for a rebound, but Howard ended up with the ball and it should have gone into overtime right there.
A ticky-tack foul 90 feet from the basket should not determine who moves on to the next round.
As for the Washington-UNC game, all I can say is, "Wow."
The North Carolina Tar Heels could very well have seen the game go into overtime.
In the final seconds, the jittery John Henson first tried to grab an airball headed out of bounds that would have given the Tar Heels the ball, instead it bouncing off his fingers and giving the Huskies one last shot.
The next play saw Henson apparently goaltend on the final shot attempt by the Huskies, but that wouldn't have mattered anyway because the Huskies were down by three points and Isaiah Thomas stepped on the 3-point line on the shot.
What really irked me, and many after the game, was when Henson's fumble went out of bounds, there was still about 1.2 seconds remaining in the game.
But the clock wasn't stopped until the official's whistle, dropping the clock down to 0.5 seconds.
That's a drastic change for a last-second shot.
That can be the difference between a better look at a 3-pointer and a wild shot, which it ultimately ended up being.
The worst part of it was the officials decided not to check video for the right time in a crucial moment of the game.
It marks careless officiating, something that has no place in the NCAA Tournament.
Want more NCAA Tourney Talk? Check out the March Madness Hub on Bleacher Report.
Here's your very own: NCAA Tournament Printable Bracket.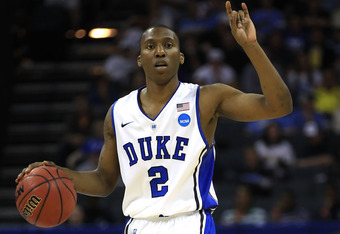 Duke Basketball Senior Nolan Smith Holds More Weight for Blue Devils' Chances Than We Think
When Kyrie Irving went down for the Duke Blue Devils during the regular season, a constant energy surrounded the team, everyone worrying about if he could return to the court before the NCAA Tournament.
Once he returned, all the buzz centered on Irving, understandable given the freshman could be the No. 1 pick in the 2011 NBA Draft.
But, amidst all of this buzz around Irving, one player hasn't fully gotten the credit he deserves.
That player is Nolan Smith, the senior guard who has been under coach Mike Krzyzewski for four years, who has learned under Duke's leader for his whole collegiate career, who has become a leader himself.
Against Michigan on Sunday, Smith went off, scoring 24 points on 8-of-13 shooting and helping lead the Blue Devils to the Sweet 16.
What people forget throughout Irving's season with the Blue Devils is Smith has been arguably their best player since Irving has been out.
He's averaged 20.9 points and 5.3 assists this year, led the Blue Devils to a 32-4 overall record, and been their rock all year.
As USA Today's Marlen Garcia writes, Smith "will be remembered for his evolution as a player and enthusiasm befitting a motivational guru."
Also, as Garcia notes, Smith is not only a leader, but listens to his teammates, gives them voices, including Irving, who he sometimes asks for counsel regarding scoring opportunities.
He's been the heart of the team throughout the season.
Without Smith, Duke loses parts of its heart, part of its balance, part of its cohesion.
Without Smith, Duke wouldn't be anywhere near where they are now.
Want more NCAA Tourney Talk? Check out the March Madness Hub on Bleacher Report.
Here's your very own: NCAA Tournament Printable Bracket.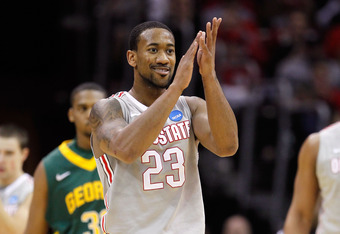 Ohio State Basketball Senior David Lighty Hoping to Close Out Collegiate Career Graded Better

We've all heard about freshman sensation Jared Sullinger.
But what about senior guard David Lighty?
Lighty doesn't have the jump-out-at-you stats that Sullinger does, nor does he compare in that department to other teammates.
But he's a complete player, a player that can score when called upon, rebound the ball effectively and pass the ball well.
According to Mike DeCourcy of Sporting News, "Lighty is someone (Buckeyes) coach Thad Matta reveres so much he suggested the school should erect a statue of him outside Value City Arena."
Lighty, who will likely not be selected in the NBA draft, will leave college basketball fittingly being featured on the regional cover of Sports Illustrated's NCAA tournament preview, as pointed out by Marla Ridenour of the Akron Beacon Journal.
With a slew of accomplishments and postseason appearances, "Lighty's resume is one that Charlie 'Winning' Sheen could love," Ridenour said.
Matta calls Lighty the best practice player he's ever had.
And Buckeyes senior Jon Diebler encapsulates Lighty's impact on the hardwood perfectly.
"Where do I begin?" senior Jon Diebler said. "Dave is just amazing. I'm sure every team in the country would want one.
"He does so much that doesn't show up in the stat book. He covers up a lot of mistakes on defense. He plays so hard. He's a guy you never have to worry about practicing hard or being ready for a game. He's a guy we all look up to. I respect him so much, just the work he puts in."
As the Buckeyes lead the George Mason Patriots Sunday at the half, 52-26, Lighty has a game-high 17 points on 6-of-7 shooting, including 5-of-5 from downtown.
Underrated?
Yeah.
But probably not after today.
Want more NCAA Tourney Talk? Check out the March Madness Hub on Bleacher Report.
Here's your very own: NCAA Tournament Printable Bracket.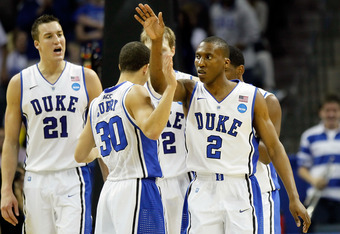 Duke University Blue Devils Fight Through Matchup with Michigan
The Duke Blue Devils are headed to the Sweet 16 after defeating the Michigan Wolverines on Sunday, 73-71.
Nolan Smith did what he's been doing all season for the Blue Devils, scoring 24 points on 8-of-13 shooting.
Kyle Singler added 13 points, eight rebounds and four assists.
Michigan's Darius Morris had a chance to tie it with a floater as time winded down, but his shot hit the back of the rim and the Blue Devils came out as winners.
B/R's Adam Wells recently broke down 10 experts' picks on who would go to the Final Four and who would win the national championship.
Of these 10, five have Duke going to the Final Four.
Only one of these experts has Duke going to the National Championship Game, SI.com's Stewart Mandel, who has the Blue Devils ultimately losing to the Kansas Jayhawks.
Mandel said he sees the Blue Devils coming out of the West Region, saying, "(Nolan) Smith is the kind of player that wins championships, and he's getting nice support from Kyle Singler and Seth Curry. While the Blue Devils' road isn't easy, they're more tested than the (San Diego State) Aztecs and more complete than anyone else."
Mandel sees Duke beating Kentucky in the Final Four.
While I do agree with Mandel's assessment that Kansas will win the national championship, that's about all I agree with him on related to Duke.
I do see the Blue Devils going to the Final Four, but I see them losing to Ohio State after their very close game against Michigan today...too close for the Blue Devils.
Let me put it this way...if the Blue Devils match up with Ohio State in the Final Four and win, I'd be shocked.
If they do match up with Kentucky in the Final Four, I would agree with Mandel, seeing them going onto the championship game.
Want more NCAA Tourney Talk? Check out the March Madness Hub on Bleacher Report.
Here's your very own: NCAA Tournament Printable Bracket.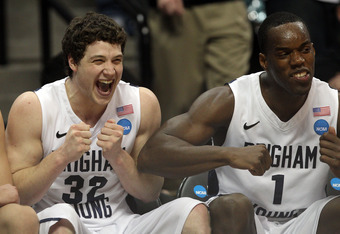 NCAA Tournament 2011 Has BYU and Richmond Surprising Early in March Madness
The BYU Cougars were essentially supposed to be one win-and-done in the NCAA tournament after losing an integral part of their team in Brandon Davies to suspension.
Sure, they have Jimmer Fredette, the leading scorer in the nation, but one player can only take a team so far, and the Cougars simply don't have stars beyond Fredette now.
But that hasn't stopped them.
They beat Wofford (which was predictable) and came out firing against Gonzaga (which wasn't).
Don't take Gonzaga's No. 11 seed for real. The Zags had just beaten a tourney favorite St. John's in the Round of 64, demolishing them I might add.
Going into their matchup with the Cougars, I fully expected them to win that game.
But something happened to the Cougars: They got better...in a hurry.
Sure, Fredette still scored his usual 34 points, but guard Jackson Emery contributed 16, Noah Hartsock contributed 13 on 5-of-5 shooting, and Stephen Rogers added 10 off the bench.
The Cougars scored 89 points that game, and had me thinking differently about this team.
In fact, I find them to be a more surprising team than Richmond right now.
The Cougars win actually had Zags coach Mark Few saying "you have to pick your poison" after the game.
Via the NY Daily News:
"When you've got a guy that can get 50, he creates a lot of 'help' situations on defense. Those other guys have not been shooting as well as they shot it tonight."
Exactly.
Few came into the game with a great game plan, make the other guys beat you.
Well, for one, that still doesn't seem to stop Fredette.
But where did those other guys come from?
The win had Cougars coach Dave Rose saying the team played its best ball all year.
As the Jay Drew of the Salt Lake Tribune pointed out, "It came when it really wasn't expected."
As for the Richmond Spiders, there's no doubt they've been a surprise, beating No. 5 seed Vanderbilt and going on to beat Morehead State.
But that doesn't compare to the Cougars beating Gonzaga in my mind, when the loss of Davies was considered all but the end for the team.
The Cougars have impressed a slew of doubters with just one win; I was one of those doubters.
Want more NCAA Tourney Talk? Check out the March Madness Hub on Bleacher Report.
Here's your very own: NCAA Tournament Printable Bracket.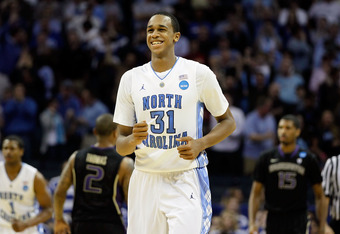 NCAA Basketball Results See North Carolina Escape Matchup with Washington
OK, the North Carolina Tar Heels are headed to the Sweet 16, so obviously they're pretty good.
But how good are they?
After all, there were plenty of miscues, turnovers and boneheaded plays at the end of the game, a game that could have easily gone the Washington Huskies' way if they didn't create more miscues, turnovers and boneheaded plays.
It's something I've been thinking for a while now; the Tar Heels' talent outweighs their play on the hardwood.
And I'm not the only one.
Writes Matt Crossman of Sporting News after the Tar Heels' second-round victory in the NCAA Tournament:
If you can't figure out this North Carolina Tar Heels team, which rolled through the second half of the regular season, stumbled in the ACC tournament and showed flashes of brilliance and inexperience Friday in the second round of the 2011 NCAA Tournament, don't worry. Neither can coach Roy Williams.
"I have no idea what to expect sometimes," he said after his No. 2-seeded team completed an uneven 102-87 win over No. 15 Long Island University. "I can't tell with this group when we leave the locker room when we're going to play well and when we're going to play poorly."
And that is exactly the problem, the Tar Heels simply play poorly for stretches at a time.
Not just poorly, but glaringly poorly compared to how they play just a few minutes before.
It's the inconsistency, the turnovers, maybe the youth that bothers me about this team.
Sure, they have talent across the board, from Harrison Barnes to Tyler Zeller to John Henson.
But Zeller's a junior, Henson is a sophomore and Barnes-maybe their player with the most potential-is just a freshman.
On Sunday, we saw Henson make a couple of scattered, potentially devastating mistakes late in the game.
With the clock winding down, the Huskies, down three points, threw up a wild shot from beyond the arc that was destined to go out of bounds and give the Tar Heels the ball with less than a second left.
Except Henson, in a play that can kill teams in the NCAA Tournament, tried to catch the ball, subsequently fumbling it off his fingertips and giving the Huskies one last shot.
That wasn't the end of it, though.
Off the inbounds, the Huskies' Isaiah Thomas threw up a 3-pointer that was headed for the front of the rim.
All of a sudden, there was Henson again, apparently jumping up to block it like Kevin Garnett blocks a free throw.
He was dangerously close to touching the ball, and thus goaltending, and thus sending the game into overtime.
But his outstretched hands barely missed the ball, and the Tar Heels were headed to the Sweet 16.
I don't question this team's talent, I certainly don't question that its athleticism can afford them some errors, but it is these mental errors that bother me about this team.
They are still a Sweet 16 team, but I feel like they could be more, and I don't think they will be this season.
Want more NCAA Tourney Talk? Check out the March Madness Hub on Bleacher Report.
Here's your very own: NCAA Tournament Printable Bracket.