Weak Rankings: Philadelphia Phillies' Worst Players at Each Position Since 1980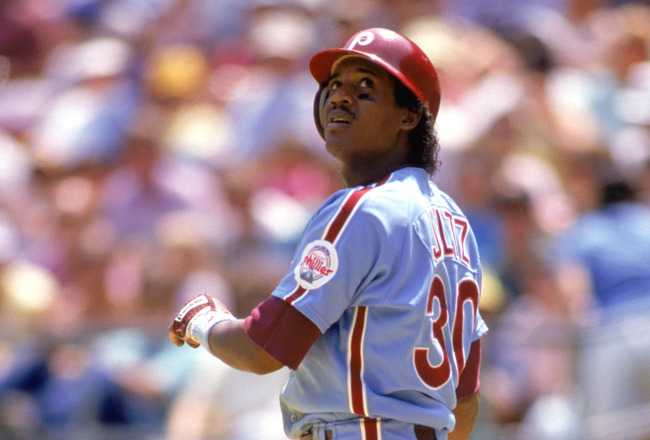 Steve Jeltz is the poster boy for Philadelphia Phutility!
Rick Stewart/Getty Images
As Phillies fans, we have all shared times of pain and futility.
If you are unfortunate enough to remember the '84 to '92 years, or more recently, the '94 to '00 seasons, then you've experienced as much heartache as any Phillies fans in history.
Thank goodness, we've been fortunate enough to experience quite a bit of team success in our times as well.
I began my journey with the Phillies as a six-year-old in 1979, and I've been very lucky to see my team come away with five NL pennants and two World Series championships.
Is it enough to forget the lean years? It is, but in true Philadelphia fan self-contradiction, it really isn't.
I wanted to make a list of players who, in the last 30 years, have frustrated me, disappointed me and just flat-out made me want to break my own television set.
I will say before I begin that I am not including statistics herein at all. I do believe that statistics can be a good measure of a player's value at times, but I also believe that they can be quite misleading.
Many of the players on this list had some decent numbers, and I'm certain that there will be many vehement disagreements.
I will list reasons for each player, and each player has a special place in the blackest part of my Phillies heart, so without further ado, let's get into it!
Catcher: Mike Lieberthal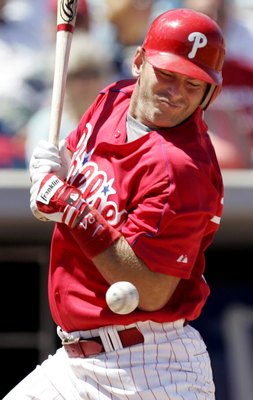 If only he'd done things like this more often.
Gregory Shamus/Getty Images
Mike Lieberthal may have put up the best career offensive numbers in franchise history, for a catcher.
Remember, numbers aren't everything.
The guy is one of only three Phillies receivers in team history to amass 30 or more homers in a season.
The guy was, admittedly, a more than decent hitter. So why does he get top honors here?
He was once quoted speaking to a reporter, saying "I'm not here for defense."
Are you serious? You're a catcher!
The great catchers in team history (Boone, Daulton and now Ruiz) put defense and the pitching staff first. If they had a good day at the plate, that was a bonus.
Now, Lieberthal was not a horrid defensive catcher. He received the ball well, didn't let too much get past him and had an above-average arm.
However, he was probably the worst handler of pitchers I've ever seen. He simply didn't care about the most important part of his job, and that my friends, is why he gets this honor.
Honorable Mention: Lance Parrish (talk about not coming remotely close to expectations)
1B: Travis Lee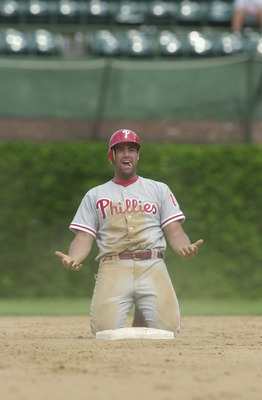 Good for you, Travis, you got dirty.
Jonathan Daniel/Getty Images
Maybe its just my assessment, but this guy was the walking epitome of "I just don't care."
I loved Curt Schilling, and perhaps I always held that against Vicente Padilla, Omar Daal and Travis Lee.
Having admitted that, I'll even go so far as to say that Lee was truly one of the better defensive first basemen that I've seen, but he's just one of those guys that makes it virtually impossible to like him.
One thing I could never stand was a player who is described as having that "sweet swing," but never does much with it. Lee was one of those.
To say that Lee never lived up to his billing as a No. 1 overall pick is an understatement. Pat Burrell never did either, but Burrell always worked hard to improve himself, endearing him to many of the Phillie faithful.
Lee, for his part, never had that problem.
Honorable Mention: Len Matuszak (Remember him? Probably not.)
2B: Juan Samuel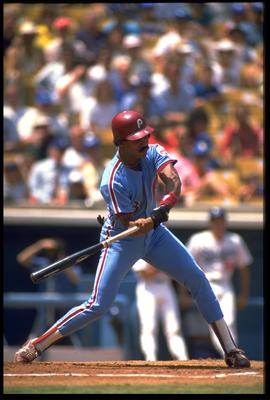 "Sammy" getting ready to strike out on one in the dirt!
Tim DeFrisco/Getty Images
This is one of two selections that I imagine will bring ire from some of those Phillies fans out there that are actually nostalgic about the mid- to late-1980s Phillies period.
Admittedly, most of the people that are nostalgic about this era were young kids who were not lucky enough to experience the 1980 World Series team.
Growing up with the defensive wizard that was Manny Trillo, having to watch Juan Samuel field the same position brought bile into contact with the uvula!
He was, without question, the worst defensive player in either league at a fairly important defensive position.
However, baseball is played at the plate as well.
Sure, Samuel put up some decent numbers. He was second in the NL MVP voting in 1987.
What I will say about Samuel is that he struck out—a lot! He struck out with runners on base, and he struck out with the bases empty. Most of all, he struck out quite often when hits were needed.
If a pitcher had "Sammy" in the hole, all he had to do was break one off into the dirt low and away, and Samuel would bite every time.
Am I a little biased against Samuel? Could we have had Ryne Sandberg? Was a future Hall of Famer traded because the "phenom" that was Samuel was waiting in the wings?
The answers to all questions here are, not surprisingly, yes.
I will say that we did get Lenny Dykstra for him, so he did do something for us.
Honorable Mention: Marlon Anderson: A nice player and a well-liked Phillie, but nowhere near terrific.
SS: Steve Jeltz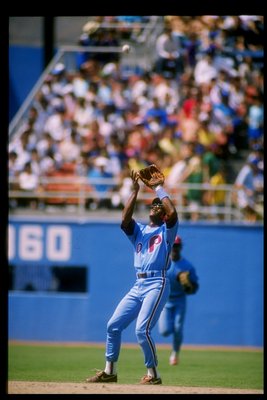 Jeltz getting ready to miss a pop up.
Tim DeFrisco/Getty Images
Steve Jeltz is quite possibly the worst player in Phillies history.
In my opinion, he is the worst player in the last 30 years, at least of those that I've seen.
A batting average at or underneath the Mendoza line would be semi-acceptable if a player provided stellar defense and did the things necessary to win ball games.
Jeltz had none of that.
He was a horrid fielder, an even worse hitter and had one of the lowest baseball IQ's of any player I've witnessed.
The best thing I can say about this guy is that he made many of us think that it might be possible to play in the major leagues. Hey, if someone as bad as Jeltz could do it...
The best example I can give for Jeltz would be the Paul O'Neill story.
We are all aware of the story of O'Neill bobbling a ball so many times, that he actually kicked the ball all the way home in frustration.
You may also be aware that this kick actually held a moronic baserunner on third base when an old lady with a walker could have scored.
Who was that daydreaming dimwit?
You guessed it!
Jeltz is without question, the inspiration for this list. I'd go on from here, but it gets a little nasty!
Honorable Mention: Ivan DeJesus: A solid, though unspectacular, shortstop that will always be vilified by Phillies fans because of the Sandberg trade.
3B: David Bell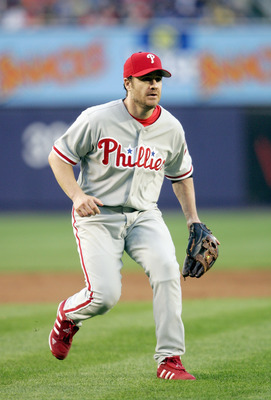 Bell getting ready to screw something up on the field.
Nick Laham/Getty Images
Here is another choice that people will find difficult to refute.
David Bell came to Phillies with modest to decent expectations.
He fulfilled absolutely none of them.
The best thing you can say about Bell's time in Philly is that sometimes he got hurt and didn't play.
Bell's anemic bat was equaled only by his ineptitude at third base, and the Phillies quickly learned that his prior teams' collective successes had nothing to do with his presence.
A prime example of Bell's timely pathetic play lies in a very important 2005 game against the Astros.
Billy Wagner gave up a three-run home run to Craig Biggio, effectively ending the Phils' Wild Card hopes.
What many do not remember is that Wagner had two outs and none on base when an error was made by...?
You guessed it!
This led to a hit batter, and one of the worst moments in the "wait til next year" Phillies history.
Honorable Mention: Charlie Hayes and Todd Zeile.
LF: Gregg Jefferies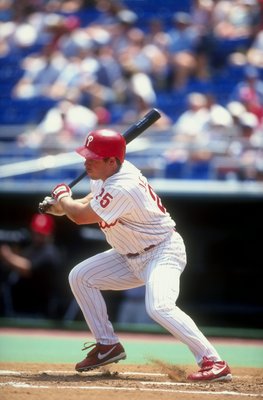 Gregg Jefferies batting. Probably grounding out.
David Seelig/Getty Images
Signed to a very lucrative deal in 1995, Gregg Jefferies did nothing to advance the team.
In fact, he did much to push them back down to mediocrity.
Jefferies actually had some decent batting average seasons as a Phillie, but his hits were often insignificant.
The man had virtually no pop in his bat, with his slugging average hovering around .400 for most of his time with the club.
In addition, he played three different positions with the Phillies, and regardless of where he played, his defensive performances were largely forgettable.
He always did look as though he was trying and hustling, but when every at-bat seems to end with a ground-out to second base, that hardly matters.
Honorable Mention: Sil Campusano.
CF: Rickey Otero
This guy was so forgettable that there wasn't even a Phillies photo available on Bleacher Report.
The '96 Phillies were so bad that he was actually the starting center fielder.
He was decent in center, with a solid glove but a below-average arm.
He had speed, but was not a very good base stealer.
He could hit a single here and there, but had no pop in his bat.
Other than that, there really isn't too much to say about the guy.
Honorable Mention: Juan Samuel (Yep, had to name him twice!)
RF: Von Hayes
Von Hayes: unfufilled potential personified!
Stephen Dunn/Getty Images
Here is another choice that will make some Phillies fans cringe.
After all, how could I possibly put Von Hayes on this list? The guy was an All-Star.
I'll admit he put up some good numbers for a few seasons, but this is yet another example of that "sweet swing" which never brought what it should have.
Perhaps the Phillies overvalued his talent, but Hayes never came remotely close to bringing his lofty expectations to fruition.
He was a decent fielder, a good baserunner and a good base stealer, to boot.
He could absolutely hit, but was one of those guys that came up extremely short when it mattered.
However, the biggest reason that Hayes is on the list is not really his fault: "Five for One!"
Yes, in 1982, the Phillies sent five players to the Cleveland Indians for one Hayes. Among these five players were perennial defensive wiz Manny Trillo, and a guy that went on to be an All-Star and batting champion, Julio Franco.
Imagine a 1980's Phillies team with a middle infield of Ryne Sandberg and Franco.
Might have been a significantly different team, don't you think?
Instead, we had Juan Samuel and Hayes, and a yearly sub-.500 record.
Anyone out there still wondering why these guys are on this list?
Honorable Mention: Ruben Amaro Jr. (Great GM, a not-so-great player.)
SP: Adam Eaton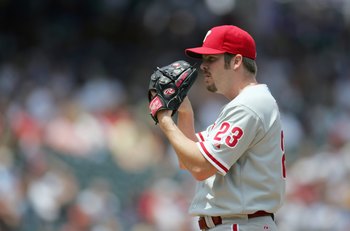 Adam Eaton. In a word, "loser!"
Doug Pensinger/Getty Images
When the Phillies signed Adam Eaton to a three-year, $24 million contract, I could not have been the only fan who objected.
After all, the guy had never had an ERA under 4.00, even in the pitcher-friendly confines of San Diego.
None of us, however, could have possibly been prepared for the dreadful three years of "pitching" that were provided us by Eaton.
He had the slumping posture of a loser and a non-competitor. That is exactly what he was.
Though he showed flashes of halfway decent pitching, Eaton's three years in Philadelphia (the second time, that is) were perhaps the most dreadful of any pitcher in team history.
The worst thing about Eaton? They actually gave him a World Series ring in 2008. I think that I deserved a ring more, just for watching the team and having faith in them, despite Eaton.
Honorable Mention: Kevin Millwood, Bruce Ruffin, Randy Lerch, Mike Maddux and Tyler Green
RP: Steve Bedrosian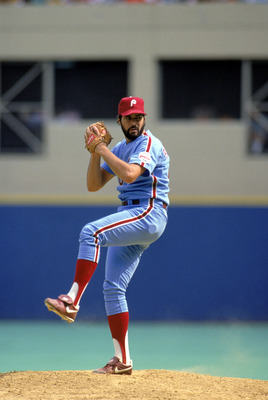 1987 Cy Young winner Steve Bedrosian, perhaps an unfair choice.
Rick Stewart/Getty Images
This may be an unfair choice, as Steve Bedrosian had a season for the ages in 1987, leading to his selection as the Cy Young Award winner.
Besides the '87 Cy Young, the thing I remember about "Dead Rock" is that he gave up a lot of home runs.
He even gave up 11 home runs in his '87 campaign.
Perhaps my memory is askew a bit, but I remember many surrendered home run in tight situations, which eventually led to losses.
Here is the problem. Bedrosian was a good closer. However, that is the one thing that the Phillies have consistently had, even in the lean years.
Fire away on this one, I probably deserve it.
Honorable Mention: Ricky Bottalico and Jose Mesa (maybe a better choice, but still the all-time Phils saves leader)
Special Honorable Mentions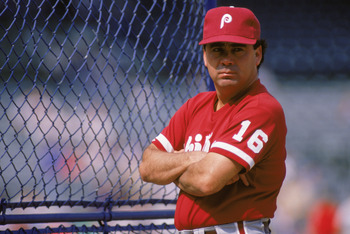 Nick Leyva. One of the worst managers in team history.
Jonathan Daniel/Getty Images
Most Overpaid Player: Danny Tartabull, 1997, approximately $300,000 per at bat...but then, fouling a ball off of your toe is right up there with colon cancer.
Worst Manager: Nick Leyva, John Felske, Lee Elia and Terry Francona.
Worst Bench Performer: Dale Sveum, So Taguchi and, oh yeah, Dale Sveum!
Worst Announcer: Andy Musser and Scott Graham.
Okay folks, these are my controversial picks for worst Phillies. You will have input, which I want to hear. Please share. Thank you for reading!
Keep Reading

Philadelphia Phillies: Like this team?