NCAA Bracket 2011: Predictions for Morehead State, Gonzaga and the NCAA Darlings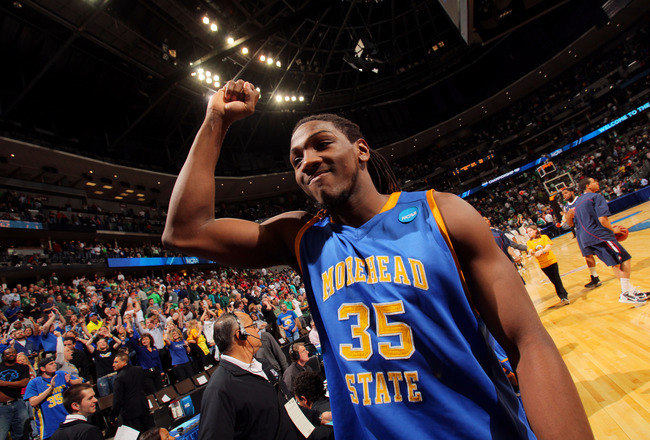 Doug Pensinger/Getty Images
A word of warning:
If Louisville was your pick to topple the mighty Jayhawks, you're probably not going to enjoy this article. And even less, you won't enjoy its proceedings.
That's okay. I recognize that at no point in the story Cinderella did the protagonist cost the reader thousands of dollars, and thus she is easier to root for.
That's okay.
This article actually advocates your neutrality.
This article means only to analyze a Day One of the tournament that included four game-winning shots and at least three legitimate upsets.
It means only to ask questions...
Is Morehead State in the opening chapters of something greater, or will Richmond be writing a story of their own?
To go past Round 3, both teams would have to beat Kansas: Can they?
Who will be the next Cinderella to emerge?
...and then use a reasonable facsimile of coherent thought to come up with some answers.
It's supposed to be cathartic.
Stay with us all day or as long as you need.
We'll do our best to take your mind off your troubles.
Do not make a subsequent bet.
(Check out the B/R NCAA Tournament page for more tourney info.)
(Download your B/R NCAA bracket here!)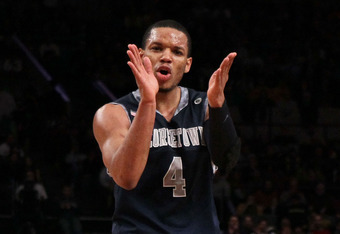 Can VCU beat Georgetown in the NCAA Tournament?
At 9:50 tonight, No. 6 seed Georgetown takes on 11th seeded VCU in what the Hoyas hope will be a return to form. John Thompson's bunch finished the season losing its last four games, but there's reason to believe things will be different entering the Tournament.
From Yahoo!:
"According to the team doctors, senior guard Chris Wright has been cleared to play in the NCAA Tournament and [was] able to participate fully in practice in the days leading up to the first-round game.
That's great news, considering that the Hoyas have not won since he suffered a broken hand against Cincinnati on Feb. 23. They enter the postseason on a four-game losing streak, thanks in large part to the loss of their veteran point guard."
Senior G Austin Freeman and junior G Jason Clark help Wright to supply the majority of the Georgetown offense. But it is Wright alone who provides its engine and stability. Georgetown runs a modified version of the Princeton offense that can be derailed with physical defensive play, but the chances of that happening with Wright back are dramatically reduced.
At least, provided the Chris Wright in uniform is the one who had the Hoyas blazing midway through the season. His first full-contact practice was Monday and he hasn't played a game in over three weeks. Expecting an immediate return to form – Wright was averaging 21.7 points on 50 percent shooting in the last three game before he got hurt – might be a little much to ask.
Still, Wright is seems confidant that he'll be okay.
From Yahoo! Sports:
"'Nothing is restricted or anything. Just go out there and play,' said Wright, who wasn't wearing any kind of brace or wrap on his left hand during Thursday afternoon's practice at the United Center and finished the session by swishing a half-court shot. 'My teammates came up to me and said, 'You look fine; you played fine.' I wasn't favoring it or anything. So I feel good.'"
John Thompson, perhaps the man closest to the situation, agreed.
From Washington Post via Yahoo!:
"He's a senior. He's as tough and competitive as they come. From the day doctors allowed him to begin cardio (conditioning), he's been doing as much as he could to keep his wind up. So I don't anticipate any drop-off."
If those two are right, there won't be much VCU can do to slow down Georgetown.
(Check out the B/R NCAA Tournament page for more tourney info.)
(Download your B/R NCAA bracket here!)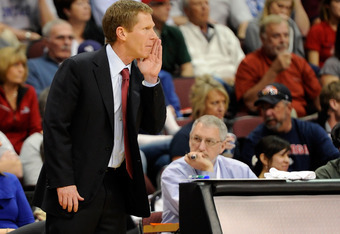 Is the NCAA Tournament's preeminent Cinderella Gonzaga still a Cinderella?
Coming off their 86-71 drubbing of No. 6 St. John's, the Gonzaga Bulldogs are once again the talk of the NCAA tournament – the No. 11 seed that no one saw coming, the little mid-major that could.
Again.
Which begs the question: If they've done this before, is Gonzaga the NCAA's preeminent Cinderella, or does any type of preeminent-status preclude them from Cinderella consideration at all?
Let's approach that question in the most amateur way possible.
We're going to the dictionary.
"Cinderella (attribute) – Rising unexpectedly from obscurity to success, [as in a Cinderella team]."
So is Gonzaga rising from obscurity to success?
That's the equivalent of my asking if you've heard of Gonzaga before, to which question I'm guessing your reply would be yes.
In nine of the past 12 years a Bulldog has won the West Coast Conference player of the year, and perusing that list we find a collection of recognizable names whose weight far outweighs their mid-major status.
Casey Calvary, Dan Dickau, Blake Stepp, Ronny Turiaf, Adam Morrison, Derek Raivio, Jeremy Pargo, and Matt Bouldin.
You know why most of those names sound familiar? Because they've been in the NCAA Tournament every year.
And furthermore, they've succeeded.
Few has thus far turned in one of the most impressive tourney resumes ever submitted by a mid-major. This is his 12th year as coach of the Zags, and it's the 12th consecutive year he's led them to the Tournament. In those 12 appearances, only three times have they been eliminated in the first round, and four times they've made it to the Sweet Sixteen.
That is a run of postseason success only surpassed by the nation's elite, and as things are, Few's program is among the most respected and recognizable in the nation.
Is Gonzaga a Cinderella?
The fact that we saw this coming is evidence to the contrary.
Says Bulldog coach Mark Few (AP):
"I think people know we're a good program so it doesn't surprise them anymore. We certainly didn't consider ourselves an underdog in this game."
Nor should we.
Nor should anybody.
(Check out the B/R NCAA Tournament page for more tourney info.)
(Download your B/R NCAA bracket here!)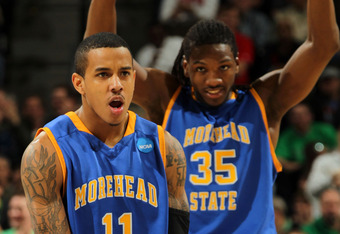 Morehead State's Kenneth Faried is making a splash in the NCAA Tournament, but there's more to this team than the NBA-bound big.
From the AP:
"On the verge of seeing his unheralded, 13th-seeded Morehead State program turn into something much more impressive, the coach could have called a pay for his NBA-bound center or his guard who couldn't miss.
Instead, he decided to go with a dream.
Executing a play that came to his coach the night before, Morehead State's Demonte Harper dribbled patiently and watched the clock tick down. Then, he stepped u behind the 3-point line and swished the shot with 4.2 second left Thursday for a 62-61 victory over No. 4 Louisville and the first big upset of the NCAA tournament."
This Morehead team is as talented as it is unheralded.
Faried is the NCAA's all-time leading rebounder in the freshman eligible-era (1973 to present) – taking the mantle from Tim Duncan – and a surefire NBA lottery pick who's drawn comparisons to Dennis Rodman.
Junior G Terrance Hill went for a career-high 23 points and 8 rebounds (5-6 3pts) against Louisville.
And then there's Harper. The most notable hero of the first round may be the most important player for the Eagles moving forward. He was the MVP of the Ohio Valley Conference Tournament, but he was inconsistent for long stretches of the season. Yahoo! describes Harper as the type of player who "can score 30 on any night or shoot 3-of-15 the next."
What does that portend for the next round?
On Saturday, Morehead State will face fellow Cinderella-hopeful No. 12 Richmond, who made it to the second round by way of a 69-66 knocking off of No. 5 Vanderbilt.
Both Morehead and Richmond are tough, experienced, and excellent on the boards. As such, tomorrow's game will be decided by its two biggest names – Kevin Anderson and Kenneth Faried.
Faried scored 17.6 points a game this year to go along with his nation-best 14.5 rebounds (plus two steals and 2.4 blocks). He is the emotional heart of the Eagles. Kevin Anderson makes the Spider offense run, and he'll be a difficult matchup for Eagles on the perimeter.
I'd bet that whichever of the two has the stronger game will turn the course of the game. Anderson played out of his mind to deliver Richmond an upset Thursday night, while Farried struggled from the floor (4-17, 12 points).
My guess is that Anderson will have a more difficult task in replicating his performance than Farried will have in improving his.
Behind their highly-touted center, Morehead State will move on.
(Check out the B/R NCAA Tournament page for more tourney info.)
(Download your B/R NCAA bracket here!)
Can Kevin Anderson lead the Richmond Spiders into the Sweet 16 of the NCAA Tournament?
Might Kevin Anderson have brought a bit of fairy dust to the NCAA Tournament?
The Spider senior scored 16 of his 25 points in the second half, and hit a running jumper with 18.7 seconds remaining that helped wrap up a 69-66 win over No. 5 seed Vanderbilt.
From the AP:
"'A very gutty effort by our team," Richmond coach Chris Mooney said. "I thought our poise and veteran leadership really showed through in this game.'
Like many others around the nation, Mooney doesn't quite see this win as an upset, especially given the fact that No. 12 seeds routinely knock off fifth seeds in the tournament."
Commodores coach Kevin Stallings agreed: "These teams are very, very close in talent and very close in ability."
Trailing by nine early in the second half, Richmond was able to work its way back into the game in large part due to the hot shooting of Anderson. He hit three straight 3-pointers, triggering a 12-0 run that gave the Spiders a 51-48 lead they never relinquished.
It was the second upset of the day at the Pepsi Center.
No. 13 Morehead State knocked off fourth-seeded Louisville just hours earlier, and it is against those Morehead State Eagles with whom the Spiders will next do battle in a matchup that, as Cinderellas go, is pretty cannibalistic.
The Morehead win also means that the Spiders can certainly get to the Sweet Sixteen, and they now find themselves the most unusual of No. 12 seeds – favored to do so.
That's the good news.
The bad is that Richmond is likely a Cinderella for the next week only. Should they defeat Morehead State, their Sweet Sixteen opponent will most likely be Kansas.
No amount of fairy dust is getting them out of that one.
(Check out the B/R NCAA Tournament page for more tourney info.)
(Download your B/R NCAA bracket here!)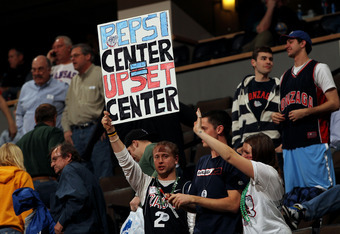 Will Gonzaga Make a Run in the Southeast of the NCAA Tournament?
Our first in formation Cinderella story comes to us from New Orleans where Gonzaga, fresh off scoring a legitimately impressive win against No. 6 seed St. John's, is as dangerous a team as any in the Southeast Region.
What makes me think that the Zags resurgence will last more than just a game?
Well for one thing, it already has.
Gonzaga has won 10 straight games, and finished the season playing their best basketball of the year. Furthermore, off all the upsets the Zags' was the most convincing. They defeated No. 6 seed St. John's 86-71, and were in control of the game from start to finish.
This Gonzaga team is tough, talented, and big. They feature nine players 6-foot-5 of taller. On Thursday, Mark Few's team put their size on display by battering the Red Storm inside. They outrebounded them 43-20.
St. John's coach Steve Lavin (AP):
"'Their size was able to dominate at the rim and in the land at both ends of the floor,' said Steve Lavin, who's in his first season in charge of a programs brought to power decades ago by Lou Carnesecca. 'That was a concern coming in and it played itself out.
We haven't been outrebounded all year.'"
The Red Storm lost top rebounder D.J. Kennedy (torn ACL) during the Big East tournament, but it was still surprising to see the Bulldogs handle them to that extent.
Next up for Gonzaga is No. 3 seed BYU, who is also without a fallen star (Brandon Davies). Yahoo! Sports analyzes the matchup:
"Gonzaga, despite its No. 11 seed, would seem to have a good shot at beating the No. 3-seeded Cougars. The Bulldogs thrived when they were the postseason underdogs a decade ago, and they seem to be enjoying that role this season as well. The Bulldogs have been playing their best basketball lately, and they played their best game of the season on Thursday. …
Gonzaga gas won 11 in a row and seems to be getting better every game, as Marquise Carter gets more and more confedent. He was the star over St. John's, scoring 24 points.
Meanwhile, BYU has not played as well since losing Brandon Davies to a suspension. He was the team's No. 3 scorer and leading rebounder, and the Cougars have lost a bit of their edge since his loss. The Cougars lost twice in the final two weeks of the season and didn't exactly manhandle Wofford either."
This is the 13th consecutive year that Gonzaga has been in the Tournament.
Suddenly, expectantly, the Bulldogs aren't sounding like a No. 11 seed.
They're sounding like Gonzaga.
(Check out the B/R NCAA Tournament page for more tourney info.)
(Download your B/R NCAA bracket here!)