UFC 129: Randy Couture vs. Lyoto Machida, an Early Breakdown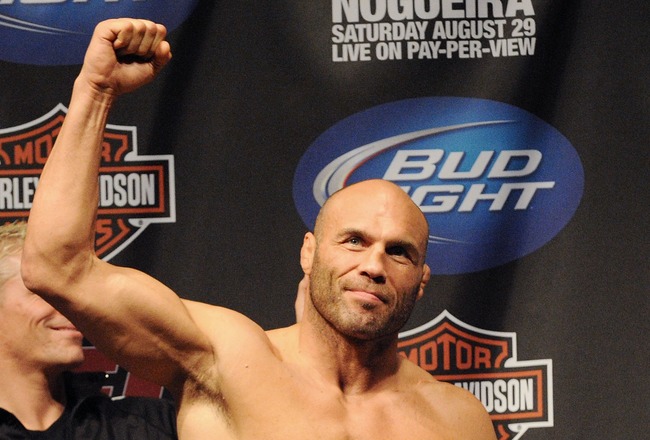 Jon Kopaloff/Getty Images
With a stacked card for UFC 129 next month, some fans might overlook the big bout between former UFC Light Heavyweight Champions Lyoto Machida and Randy Couture in the undercard.

As the two fighters meet for the first time in Toronto, they are on two different paths when you look over their recent fights.

For Couture, the former two-time champion is definitely on a hot streak. He's riding a three-bout winning streak after dropping two straight to Antonio Rodrigo Nogueira at UFC 102 and Brock Lesnar at UFC 91, respectively.

Since defending his Light Heavyweight title against Mauricio Rua at UFC 104, Machida has lost two straight. He lost the title to current champion Rua and followed that up with a split-decision loss to Quinton Jackson at UFC 123 last November.

With the fighters ready to make a statement in the upcoming fight, let's get to the breakdown of the two light heavyweights who will attempt to steal the show on April 30th at Rogers Centre.
Follow me on Twitter @ twitter.com/_cbh_.
Background of Randy Couture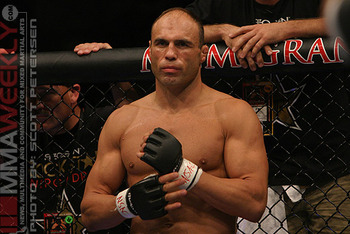 Birthdate: June 22, 1963
Nationality: American
MMA Career: 1997-Present
Nickname(s): The Natural
Fighting Out Of: Las Vegas, Nevada
Team(s): Xtreme Couture
Background of Lyoto Machida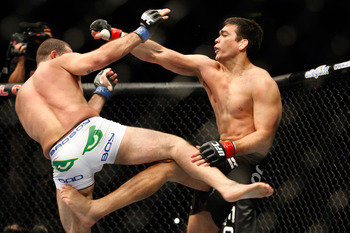 Richard Wolowicz/Getty Images
Birthdate: May 30, 1978
Nationality: Brazilian
MMA Career: 2003-Present
Nickname(s): The Dragon
Fighting Out Of: Belém, Brazil
Team(s): Black House
Height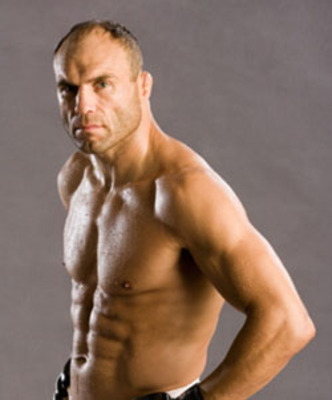 Couture: 6'1
Machida: 6'1

Edge: Push. With both fighters coming in at the same height, this category will not give either person an edge during the fight at UFC 129.
Reach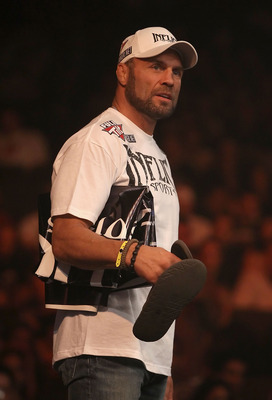 Christian Petersen/Getty Images
Couture: 75 Inches
Machida: 74 Inches

Edge: Couture. With a single inch of reach advantage, Couture will have the edge in this category, but it might not be something that would sway the fight toward the Natural over the Dragon.
Fighting Style
Jon Kopaloff/Getty Images
Couture:
Greco-Roman Wrestling
Boxing
Submission wrestling
Catch Wrestling
Machida:
Machida Karate
Shotokan Karate
Brazilian Jiu-Jitsu
Overall Record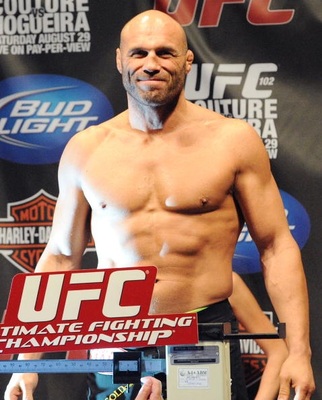 Couture: 19-10
Results via Knockout: Seven Wins, Five Loss
Results via Submission: Four Wins, Four Loss
Results via Decision: Eight Wins, One Loss

Machida: 16-2
Results via Knockout: Five Wins, One Loss
Results via Submission: Two Wins
Results via Decision: Nine Wins, One Loss
Last Five Fights
Couture: 3-2
Machida: 3-2

Career Accomplishments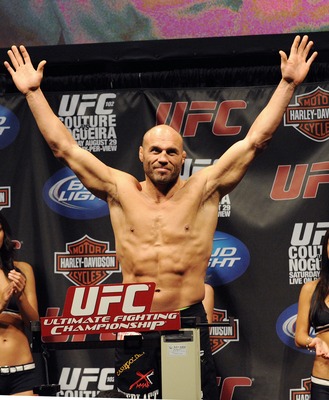 Jon Kopaloff/Getty Images
Couture
UFC Hall of Famer
Three Time UFC Heavyweight Champion
Two Time UFC Light Heavyweight Champion
UFC 13 Heavyweight Tournament Winner
First Fighter to Win Championships in Two Separate Weight Classes

Machida
UFC Light Heavyweight Champion
Prediction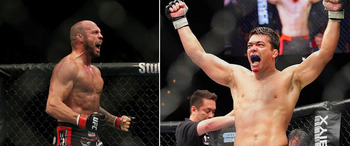 With the two fighters being at a near stalemate when you look at the tale of the tape, the intelligence and experience of Couture has to give him the edge in the fight, with Machida including the ground game that has made a legend of the former multiple-time Heavyweight and Light Heavyweight champion.

When it's all over, Randy Couture will defeat Lyoto Machida via unanimous decision at UFC 129.
Keep Reading